This post may contain references and links to products from our advertisers. We may receive commissions from certain links you click on our website. As an Amazon Associate Rhythm of the Home earns revenues from qualifying purchases.
Share this article:
A key element that should be done when it comes to the landscaping process for your swimming pool is to plant some well-chosen trees. Your backyard pool needs shade and trees are excellent options to provide it. The downside of trees and plants near the swimming pool is the increased risk of poor water conditions caused by the falling debris. This is why you shouldn't just pick any tree that looks good and try to stick to those options that don't leave as much debris.




Aside from the leaf drop of the tree, there are other considerations that you need to keep in mind when you're selecting trees for pool landscaping. You also need to take into account the root system of the tree. Deeper roots might cause problems for the plumbing and the concrete of the pool. For some people, it might be important to find a flexible small tree that can be grown in a container and moved around to maintain adequate shade throughout the day.




Finally, an essential aspect of the tree selection process is to ensure that your choice fits the theme of the pool. For example, if you own a Mediterranean pool, it will look strange to add Japanese trees. It's all about figuring out the right type of tree to match the aesthetic vibe of the outdoor space where the pool is situated. This article focuses on the most suitable trees you could pick for pool landscaping. If you need a reliable shade provider that fits the look of your pool, check out the following trees.




1.

Citrus Trees





From lemon and orange to tangerine and lime, citrus trees represent one of the best choices for pool landscaping. It's not just the extra pop of color of these trees, but you can also take advantage of the fruit-producing feature. Urban farmers will definitely appreciate this aspect of citrus trees.




You can grow a citrus tree in a container to provide flexible shade throughout the day. Some varieties will work better in containers than others. Focus on dwarf citrus types to ensure it would be a good fit. It's also recommended in case you don't have a lot of space available near your swimming pool.




2.

Japanese Maples





If you're going for a Zen theme when it comes to the look of your pool, perhaps landscaping using Japanese maples represents an inspired choice. Although it looks like a tree, this maple is also considered a shrub. The Japanese maple grows very slow and its maximum height is around 20 feet. Due to their delicate shape and vibrant changing leaves, Japanese maples can fit at home with the relaxing vibe of a Zen garden. Lots of pools can benefit from their tranquil effect as well.
3.

Palm Trees





Those that live in tropical climates should look no further than palm trees for pool landscaping. Whether it's a Sabal, Cane, or Sago variety, palm trees make solid choices given how their roots will usually grow straight down. This aspect can be important for pools.




Palm trees can be incorporated in groups to maximize the shade and boost the level of privacy for the pool. Aside from their functionality, palm trees are primarily appreciated for their looks which are sure to bring in some tropical vibes to any area. The vibrant green fronds with a feather-like texture are the perfect match for a luxurious swimming pool.




4.

Fruitless Olive Tree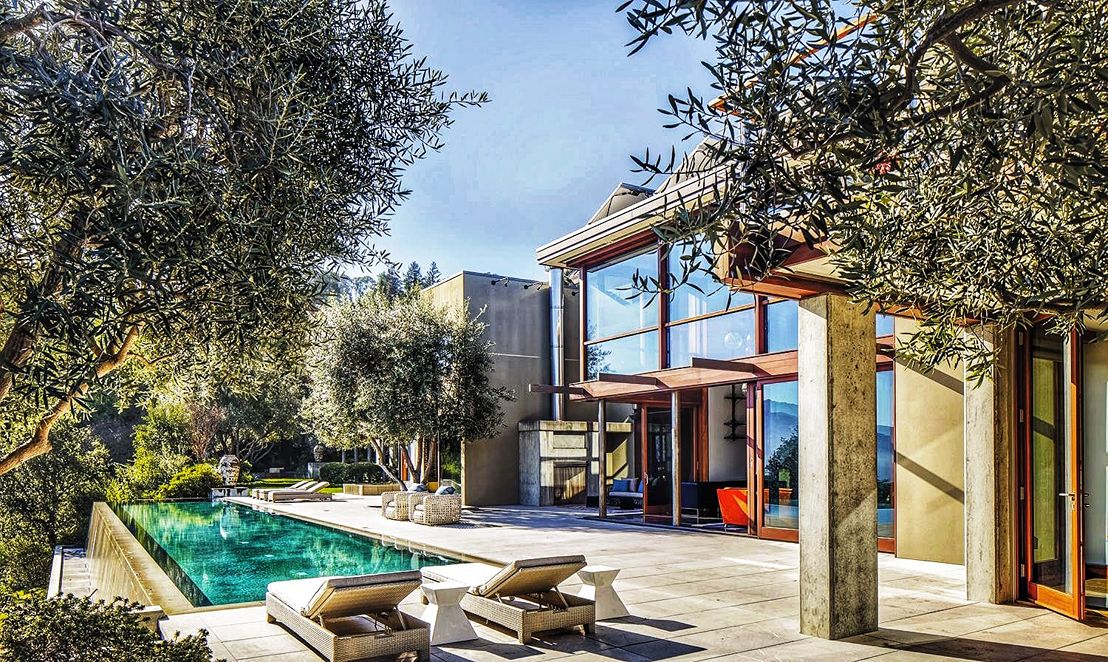 Given how this tree is native to the Mediterranean region, it can complement the look of your Mediterranean pool beautifully. Don't expect this tree to grow very fast and the maximum height it can reach is 30 feet. Those who live in hot and dry areas should definitely take into account the fruitless olive tree for pool landscaping. Just make sure you have a rich type of soil to plant it to fulfill the tree's needs correctly.




5.

Banana Tree





While technically speaking the banana plant is actually a herb, the fact that it resembles the look of a tree more is enough of a reason to include it. This fast-growing perennial has broad leaves that can fit nicely for landscaping a pool in tropical style. You can find both seeds and already grown trees on Amazon.




The banana tree can reach 15 feet in height in just a matter of weeks. Thanks to the large leaves, you will be able to enjoy a canopy-like shade for the pool. The only problem to consider is that you will need warm conditions to grow this tree. There's also the slight sensitivity of the banana tree to powerful winds.




6.

Floss Silk Tree





With its large spikes and thorns found on the trunk, the floss silk tree may not look like an ideal choice for planting near the swimming pool. This is only a fitting choice if you can manage to plant it farther from the pool. It can provide a striking visual effect that contributes to the beautiful landscape of a pool.




A native of South America, the floss silk tree can get quite large as the tallest specimens reach approximately 60 feet. It's also the kind of tree that will become wide so it's recommended to provide enough space for it. After the pink flowers finish their blooming stage, you will be delighted by the large capsules produced by the tree. Inside there are strings of white floss that have a great level of softness.




7.

Palo Verde





Palo Verde, also known as the Parkinsonia tree, is ideal for extremely dry regions. Owners of swimming pools shouldn't overlook this tree as it's capable of producing elegant spring blossoms. It resembles a willow in terms of overall looks and there are multiple varieties to choose from. Whether you go for the Sonoran, Foothill, or Mexican Palo Verde, this tree can enhance the look of any swimming pool and can face drought periods without issues.




8.

False Cypress




Dwarf varieties of False Cypress could be excellent trees for pool landscaping. They can often be found with brilliantly colored foliage and the tallest trees reach a maximum of 25 feet in height. This is a good tree if you want the area surrounding the pool to feel denser and full of texture. At the same time, the False Cypress isn't known for occupying a lot of space. Interestingly, the tree is well adapted for multiple growing conditions, including partial shade. It prefers slightly acidic soil.
9.

Ironwood





When it comes to smaller trees to add to the pool, one of the best choices is the hop hornbeam or ironwood tree. This tree likes shade and has sparse foliage with pale green leaves. One reason to consider the ironwood tree for pool landscaping is the texture of the foliage that resembles tissue papers. The slim trunk is also an attractive point of this tree.




10.

Cascalote





With shiny yellow flowers and striking foliage, the Cascalote tree shouldn't be overlooked if you want to add a splash of color to the greenery surrounding the pool. It can reach a maximum height of 20 feet and the yellow flowers can resist even some mild winter conditions.




11.

Red-Cap Gum





This small tree stands out due to its 4-lobed scarlet bud caps that create a vivid contrast with the yellow flowers. The Red-Cap Gum tree is a species of Eucalyptus with lush and long leaves that match the colorful flower clusters very well. It can be used for many residential areas to provide shade and given its quick growing style, it's recommended for pool landscaping.




12.

Leather Leaf Acacia





An Australian native, the Leather Leaf Acacia is a very drought-tolerant tree that can be included to decorate the pool and offer some much-needed shade. As its name suggests, the leaves of the tree are thick and stiff resembling the texture of leather. One solid advantage of this tree is that it won't leave too much debris even when fully developed into a dense tree.




The Leather Leaf Acacia produces small yellow flowers in the spring. Expect the tree to reach a maximum of 12 feet in height and 8 feet in width. Both full and partial sun conditions will allow this tree to thrive. There's no need for a complicated maintenance process so that's one more reason to consider this tree.




13.

The Juniper Tree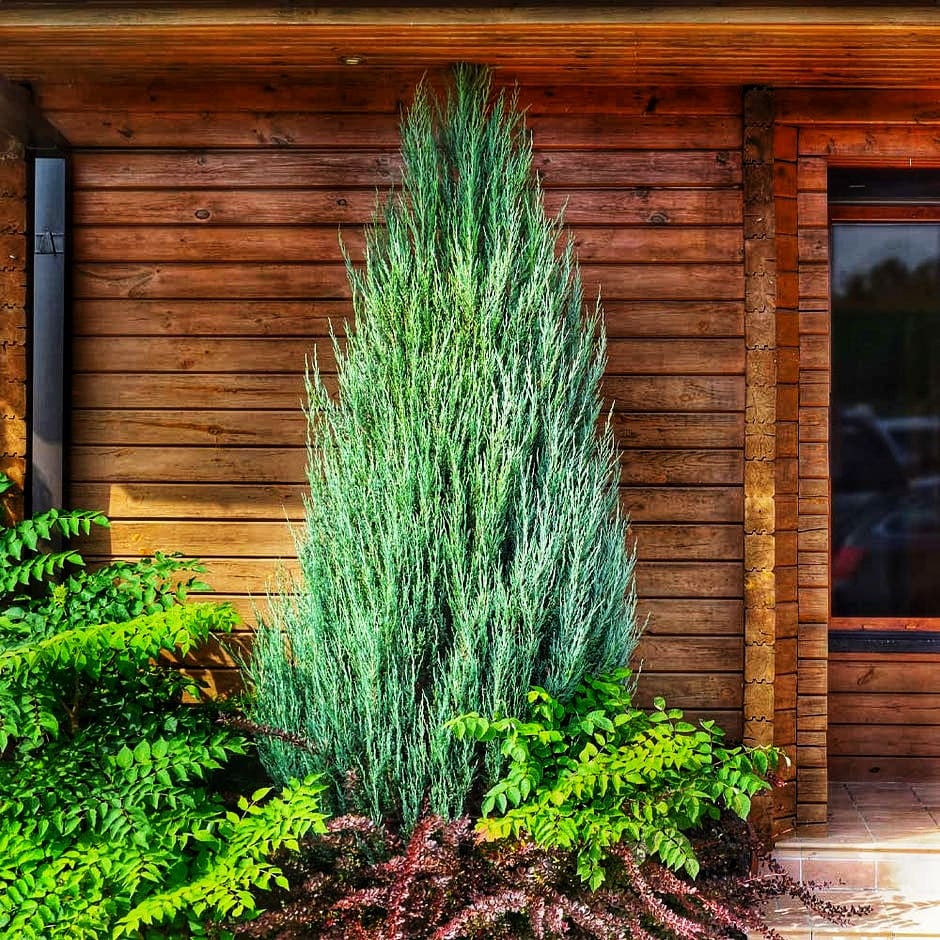 There are many varieties of Juniper trees and shrubs that can be successfully incorporated for pool landscaping. This is an evergreen conifer which has decent resistance to arid weather. It's best used for traditional pool designs and the tree is capable of providing good privacy.
The Skyrocket juniper is a compact tree that works best for pool landscaping. It features a mix of gray and green foliage and has a narrow look. Given the maximum height of 40 feet, you can count on this tree for adequate shade.