This post may contain references and links to products from our advertisers. We may receive commissions from certain links you click on our website. As an Amazon Associate Rhythm of the Home earns revenues from qualifying purchases.
Share this article:
When someone mentions a sunflower, the first thing you think of is the gorgeous tall yellow flower. Surprisingly there are over 70 different species of sunflowers with different colors, heights, and requirements. If you are serious about growing these beauties in your garden, this post is for you.
Despite enjoying the sight of their gorgeous vibrant petals, these flowers yield edible seeds rich in nutrients. With so many lovely sunflower types, it was tough to choose the best ones. Besides, we managed to create a carefully curated collection of the most beautiful sunflower varieties. Make sure to go through them all and pick the one that matches your preferences!
1.

Skyscraper Sunflowers
If you want to add a sense of dimension, try the Skyscraper Sunflowers. These lovely giants grow up to 14 feet tall, making a remarkable statement in your garden. However, make sure to provide them a non-shaded spot so that they can soak up sunlight all day long.




2.

Early Black Heart Sunflower
The Early Black Heart grows to a manageable height of 6 feet, making it the ultimate choice for a vase. Keep in mind that it is a pollen-free plant, featuring a black center surrounded with lovely golden petals. If you don't want to wait until you see the results of your effort, keep in mind that this sunflower variety reaches maturity within only 55 days.
3.

American Giant Hybrid Sunflower
The American Giant is another large sunflower variety, which can grow up to 16 feet tall. Even though it has a thick stem, the flower itself grows to a modest 10 inches. As with other varieties, they prefer to enjoy full sun exposure throughout the day. If you provide them with plenty of water and good draining soil, your beauties will compensate for the effort with lovely bright yellow petals.




4.

Sunforest Mix Sunflowers
This variety can grow up to 15 feet tall, allowing you to develop a sunflower forest. Whether you want to protect your garden from curious views or offer your kids a play area, the Sunforest will exceed your expectations. However, make sure to plant the seeds 3 feet apart to give them enough space.
5.

Russian Mammoth Sunflower
The Russian Mammoth is a low-maintenance sunflower, which will surprise you with stunning blooms from mid to late summer. All you need to do is provide well-draining and slightly fertilizer soil, and this beauty will award you with 14-inch flowers. It will attract pollinators, birds, and squirrels, so be aware of this fact.




6.

Schweinitz's Sunflowers
If you are a true sunflower enthusiast, this variety will amaze you with its aesthetics and history. It is quite a rare flower, which grows to a maximum of 6 feet tall. The Schweinitz's Sunflower was named after the botanist that discovered this gorgeous variety.
7.

Sundance Kid Sunflowers
If you don't have enough space but still want to adore sunflower's beauty, the dwarf species are the right pick for you. The Sundance Kid Sunflowers grow up to 2 feet, making them a perfect fit for small gardens. You will fall in love with the astonishing petals, which start with yellow and gradually change to rich red towards the center.




8.

Giant Sungold Sunflower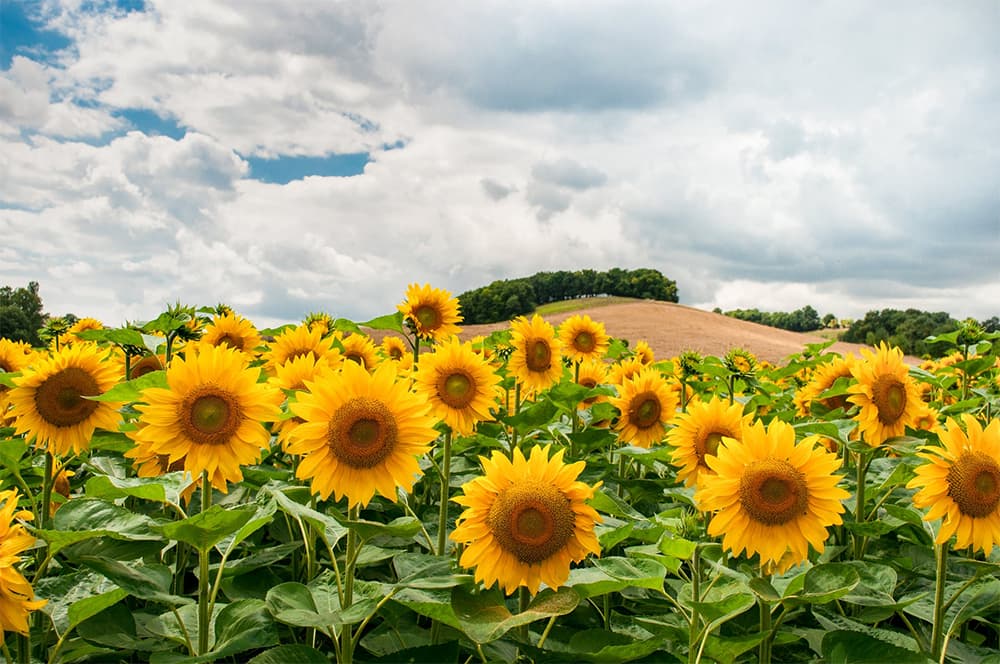 If you want to enhance your sunflower collection with a unique variety, you will never go wrong with the Giant Sungold. It has a distinctive appearance, with unique fluffy petals in deep golden tones. The stem will grow up to 8 feet tall, supporting the gorgeous golden flower on top. Provide a sunny spot and fertilized soil, and you will enjoy the large and vivid blooms through the summer.
9.

Little Becka Sunflower
Little Becka is an impressive dwarf sunflower, with colors that range from golden to orange and deep red. They reach a compact size that ranges from 1 to 2 feet, making them the ultimate choice for tiny gardens. When you want to decorate your patio, have in mind that these beauties are perfect for growing in containers.




10.

Helios Flame Sunflower
The Helios Flame has a dark ring in the center, growing up to 6 feet. The beautiful petals gradually change from yellow to a rusty orange tone while making a visual statement. The pollen-free flower is a perfect fit for your stunning flower beds.
11.

Suntastic Yellow Sunflower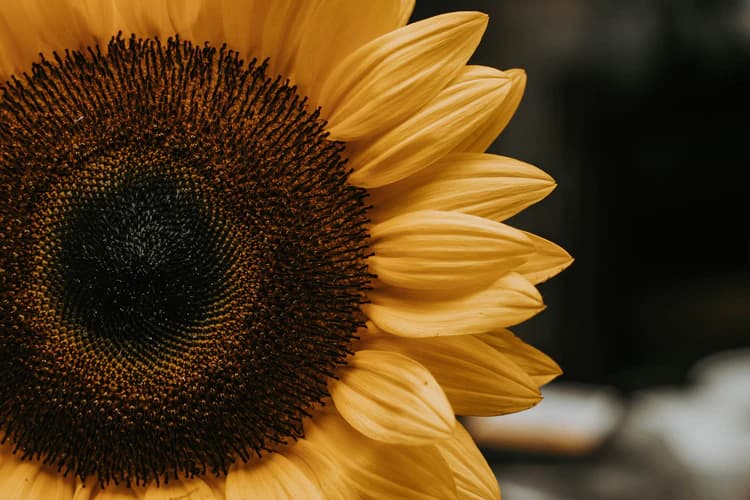 The Suntastic Yellow grows up to 20 inches while yielding multiple flowers from the stem. Expect to witness the beauty of the blooms within only two months from sowing. Whether you want to enhance your flower beds, decorate the window boxes, or grow them in pots on the deck, this is one of the sunflower varieties to have in mind.




12.

Teddy Bear Sunflower
This cute sunflower variety comes with fluffy blooms, so the origin of the name is quite clear for you. The densely packed petals are edible so that you can enjoy them along with your favorite salad. From planting to blooming, the process takes 75 days. You can enjoy their full potential from midsummer until the first frosts in fall.
13.

Firecracker Sunflower
The Firecracker is a gorgeous variety, which ranges from 1 to 3 feet in size. It features a unique color combination, ranging from yellow on the ends to a dark red tone in the center. Whether you choose to plant them by the hedge or have them as the main stars in the flower beds, this pollen-rich plant will attract pollinators to your garden.




14.

Pacino Sunflower
Pacino sunflowers are pretty famous for floral arrangements due to their vibrant appearance and size. The short bright yellow petals and sizeable dark head will wish your guests a warm welcome in your sunny garden. However, keep in mind that these plants need large quantities of water.
15.

Moulin Rouge Sunflower
If you want to add dramatic statements to flower beds, the Moulin Rouge is the right choice. With its deep pink and burgundy tones, it is one the boldest among the beautiful sunflower varieties.
16.

Strawberry Blonde Sunflower
The Strawberry Blonde features lovely petals, which fade from yellow to deep pink, and rich burgundy. This pollen-free flower requires good draining soil and sunlight to thrive. However, it is still possible to grow them indoors.