This post may contain references and links to products from our advertisers. We may receive commissions from certain links you click on our website. As an Amazon Associate Rhythm of the Home earns revenues from qualifying purchases.
Please consider making a donation if you like our article. Our website depends on donations from visitors like you! Share this article:
Whether you want to bring a dose of visual interest or turn your home into an exotic retreat, we share the best tall indoor plants. Make sure not to waste your time trying to find the perfect plant for you, and get straight to our carefully picked selection!
1.

Dragon Tree
Knowing that it can reach an impressive height of 6 feet, Dracaena Marginata is a perfect choice for the ones looking for the best tall indoor plants. Also referred to as the Dragon Tree, this plant has astonishing sword-shaped leaves with red edges. Even though you are a beginner, you don't need to worry whether this plant will survive or not. They are low-maintenance plants but perform best under indirect light and frequent watering during growing.




2.

European Olive
If you want to bring the Mediterranean vibes to your home, we would recommend the European olive. In nature, they will grow as regular food-bearing trees. However, they can reach up to 10 feet in height when grown in a container. Make sure it gets plenty of sunlight but not directly since it can burn the fragile leaves.
3.

Parlor Palm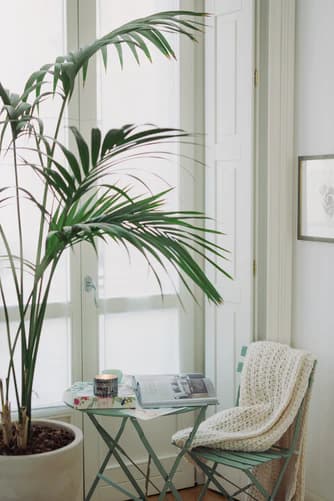 With being low-light tolerant and requiring less water, the Parlor Palm is a perfect pick for your busy lifestyle. If you have pets, have in mind that this is one of the toxin-free plants available on the market. On top of that, it is a pretty budget-friendly option if you want to create a lush indoor jungle without spending much money.




4.

Fiddle Leaf Fig
The Fiddle Leaf Fig is pretty popular in the category of tall indoor plants. However, it is considered to be the drama queen among the plants due to its requirements. This adorable tree prefers to stay in one place and isn't keen on direct sunlight. Knowing that it can grow into a stunning 10 feet giant with astonishing waxy leaves, the effort will definitely pay off.
5.

Majesty Palm
While it isn't the easiest plant to grow, it will bring tropical beach vibes to your home for sure. They grow in humid areas, so you will need to provide your plant with plenty of water to keep it happy. This shade-loving plant will do perfectly in any corner of your home, as long as you keep it away from air conditioners, doors, windows, or anything that causes sudden temperature drops.




6.

Rubber Tree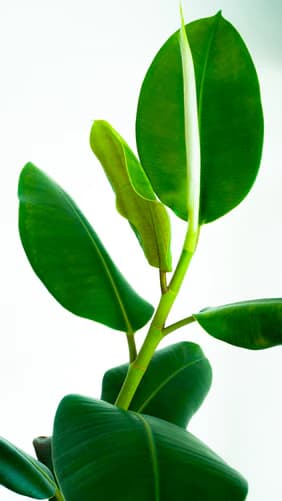 The rubber tree is a stunning plant that can grow from 6 to 10 feet indoors. With that being said, it is a perfect choice if you love tall indoor plants. The thick waxy leaves with a dark green color will make a bold statement in your home and purify the air.
7.

Triangle Ficus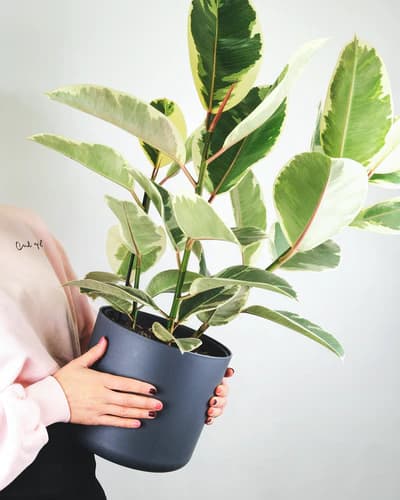 The Triangle Ficus comes from South Africa and can grow to stunning 8 feet when kept indoors. This stunning ficus has unique triangular leaves, while some varieties come with impressive green and white patterns.




8.

Umbrella Plant
The bright green foliage of the Umbrella Plant will bring exotic vibes to your home without much effort. It can grow up to six feet in height, becoming a statement on its own or adding dimension to your existing indoor jungle. If you want to stimulate growth, make sure to pot your umbrella plant in a larger container.
9.

Yucca
Native to the Caribbean, this beautiful plant is drought tolerant, so you don't need to put much effort into maintaining one. It grows slowly, so it might take a few years before reaching its full potential. During the summer, feel free to place it in a shaded area outdoors.




10.

PonyTail Palm
The Pony Tail Palm belongs in the succulent family, so this indicates low maintenance. It has a stout trunk topped with long curly leaves, making a stunning visual impact. Although they can reach 30 feet in nature, indoors, they can grow up to an incredible 8 feet in height.
11.

Bird Of Paradise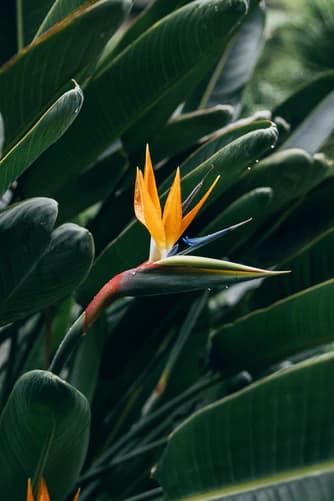 The fantastic tropical plant got its name by the specific flower shape, which resembles an exotic bird. They can grow higher than 6 feet indoors, making a fantastic focal point on a sunny spot in your home.




12.

Norfolk Island Pine
The Norfolk Island Pine can thrive in various conditions, but make sure to protect it from cold drafts. Although it is commonly used as a Christmas tree alternative, it can be grown as an indoor plant all year round.
13.

African Candelabra
The African Candelabra is another succulent that will grow to stunning 6 feet in height, making a striking visual statement. It is a stylish cactus-like plant that will bring the desert look to your home, which is why many stylists love it.




14.

Philodendron
The philodendron is a no-fail plant that has sizeable green foliage with heart-shaped leaves packed in a cluster. This plant can adapt to different conditions, so it is a suitable house plant for beginners. Besides, there are so many philodendron varieties with different colors and sizes.
15.

Natal Mahogany
Natal Mahogany has glossy dark green leaves and can grow up to 7 feet. It is a water-loving plant, so you don't need to worry that you will kill it by overwatering. However, keep in mind that it can be toxic to pets or children.




16.

Corn Plant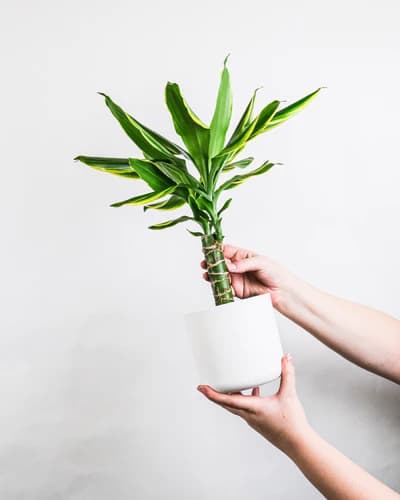 The Corn Plant belongs to the Dracaena family, recognizable for the signature striped stem. With being easy to grow, this plant is a perfect addition to your collection. They can grow up to 6 feet tall and love lightly moist soil and indirect sunlight.
17.

Sunny Star Croton
The Sunny Star Croton has bright and vibrant foliage, with a combination of golden and green. The best thing is that you can control the color and patterns. Expose it to morning sunlight and indirect light during the day to get a nice golden color.
18.

Swiss Cheese Plant
This incredible Monstera variety will amaze you with the unique foliage, which brings tropic vibes. A mature plant can reach up to 8 feet in height and 3 feet in width, making a lovely visual statement in any room.