This post may contain references and links to products from our advertisers. We may receive commissions from certain links you click on our website. As an Amazon Associate Rhythm of the Home earns revenues from qualifying purchases.
Share this article:
If you want to upgrade the visual style of the home's exterior, you've probably considered different siding materials. Stone is one of the best options in that sense because it provides excellent durability and an attractive look. With the help of high-quality stone siding, you will be able to enhance curb appeal and enjoy a sense of timelessness for your home. There are multiple types of stone siding out there making it hard to choose the best for the exterior of your house. Let's explore their benefits and drawbacks to help you decide on the ideal stone siding type that matches your budget and aesthetic preferences.




1. Limestone Siding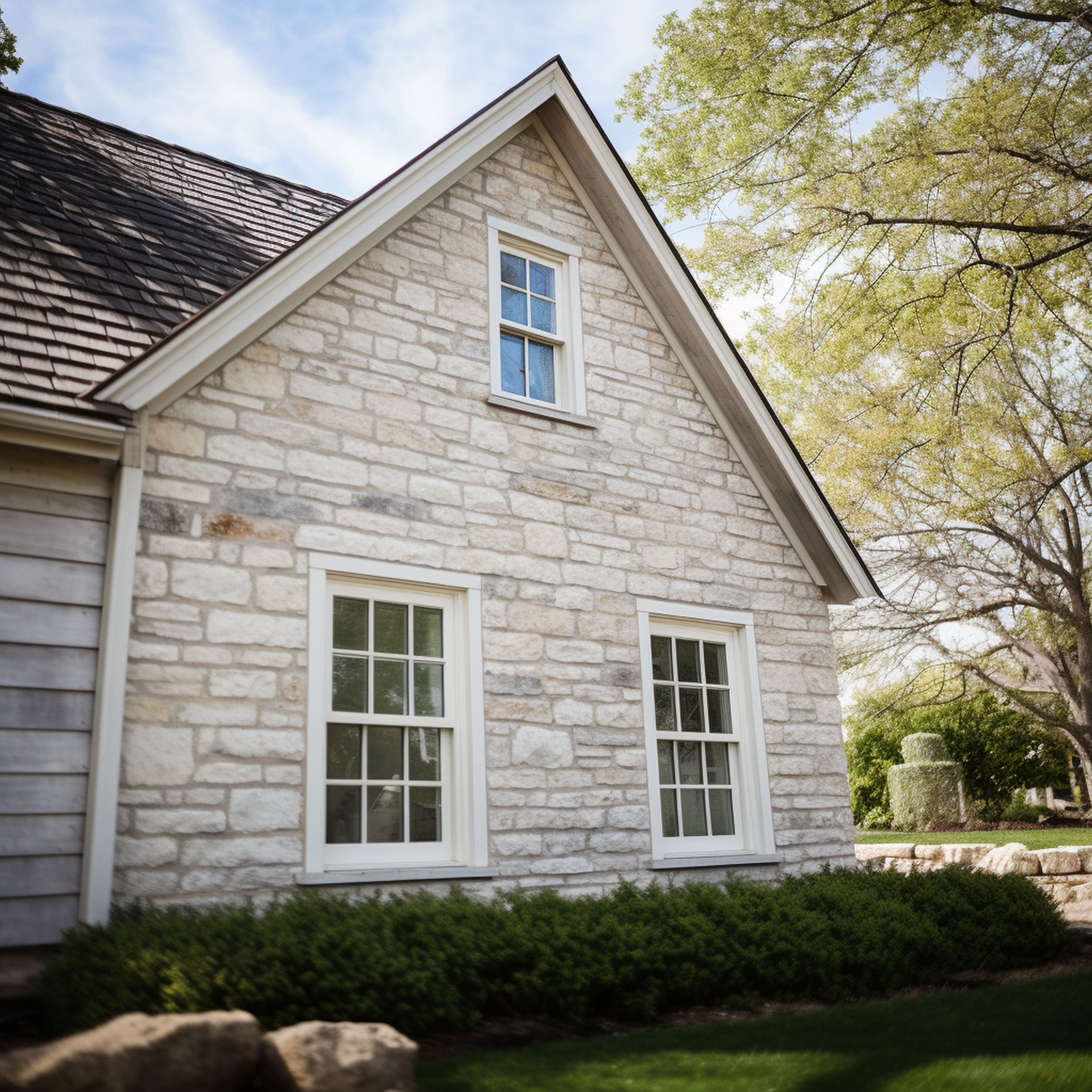 When it comes to natural stone siding options, limestone is among the most popular ones. This type of natural stone boasts high workability ensuring that it won't take too much effort to customize and install. There are various shapes and color styles available for limestone. You will be able to enjoy a stylish siding finish whether you prefer rustic or elegant aesthetics.




Limestone has a beautiful texture that will become even more attractive as the stone siding weathers over the years. Compared to other types of stone sidings, it's important to mention that limestone features reduced durability. It's more vulnerable to scratching or staining so you need to pay attention to this aspect and avoid damaging it. Limestone is generally available in white, brown, and gray colors as well as smooth and veined textures.




2. Granite Siding





When it comes to premium natural stone siding options, granite represents an ideal choice. This is a type of igneous rock that formed in the process of magma cooling. As you can expect from its origins, granite shows off superior durability compared to other stone types. The reliable heat resistance makes granite an optimal material for exterior installation. It can withstand harsh weather and will most likely last a lifetime with good maintenance.




In terms of aesthetics, granite offers an elegant variation of colors together with a characteristic speckled grainy texture. If you prefer a more sophisticated appearance, granite stones can be polished to add extra modern appeal to the siding. Due to its natural resistance to cracks and moisture penetration, granite is typically the best choice for natural stone cladding. The main disadvantage of granite siding is the high cost which isn't surprising considering its solid benefits. Another aspect to keep in mind is the labor-intensive installation process.




3. Quartzite Siding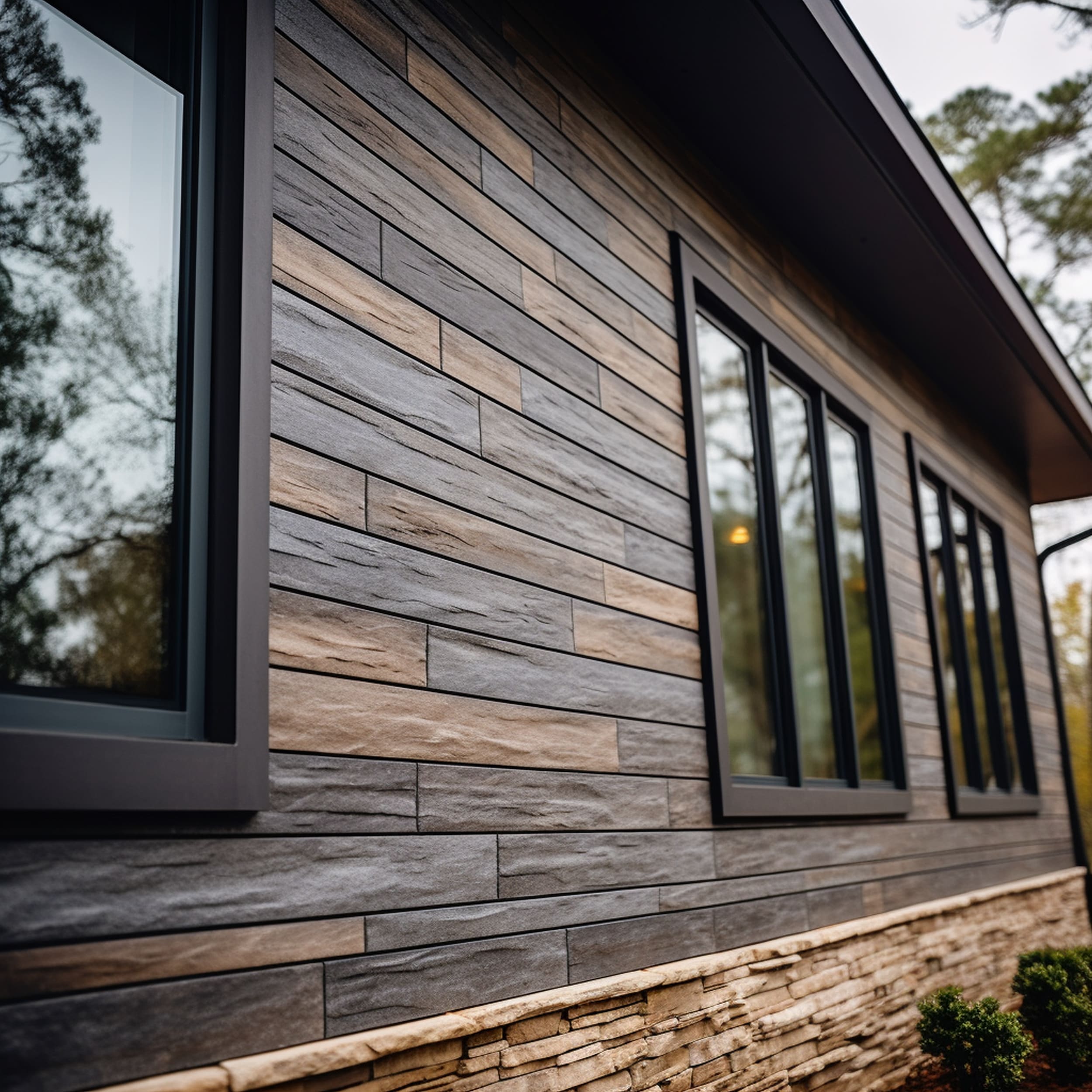 Comparable to marble when it comes to appearance and durability, quartzite is another excellent siding material if you favor natural stone. Although it works great for stone siding, quartzite is highly versatile as it can cover different exterior applications. Thanks to a reliable level of durability, this type of stone can be used successfully for natural stone cladding. It's able to maintain its properties quite effectively in both sunny and rainy environments.




Aside from good toughness and hassle-free maintenance, quartzite comes with another advantage. It provides a characteristic glistening texture that will make the exterior walls of the home very appealing. The natural stone is available only in white and gray but it's possible to encounter slight color variations depending on the presence of certain minerals. Quartzite siding is commonly used to show off the rustic beauty of traditional-style houses.




4. Sandstone Siding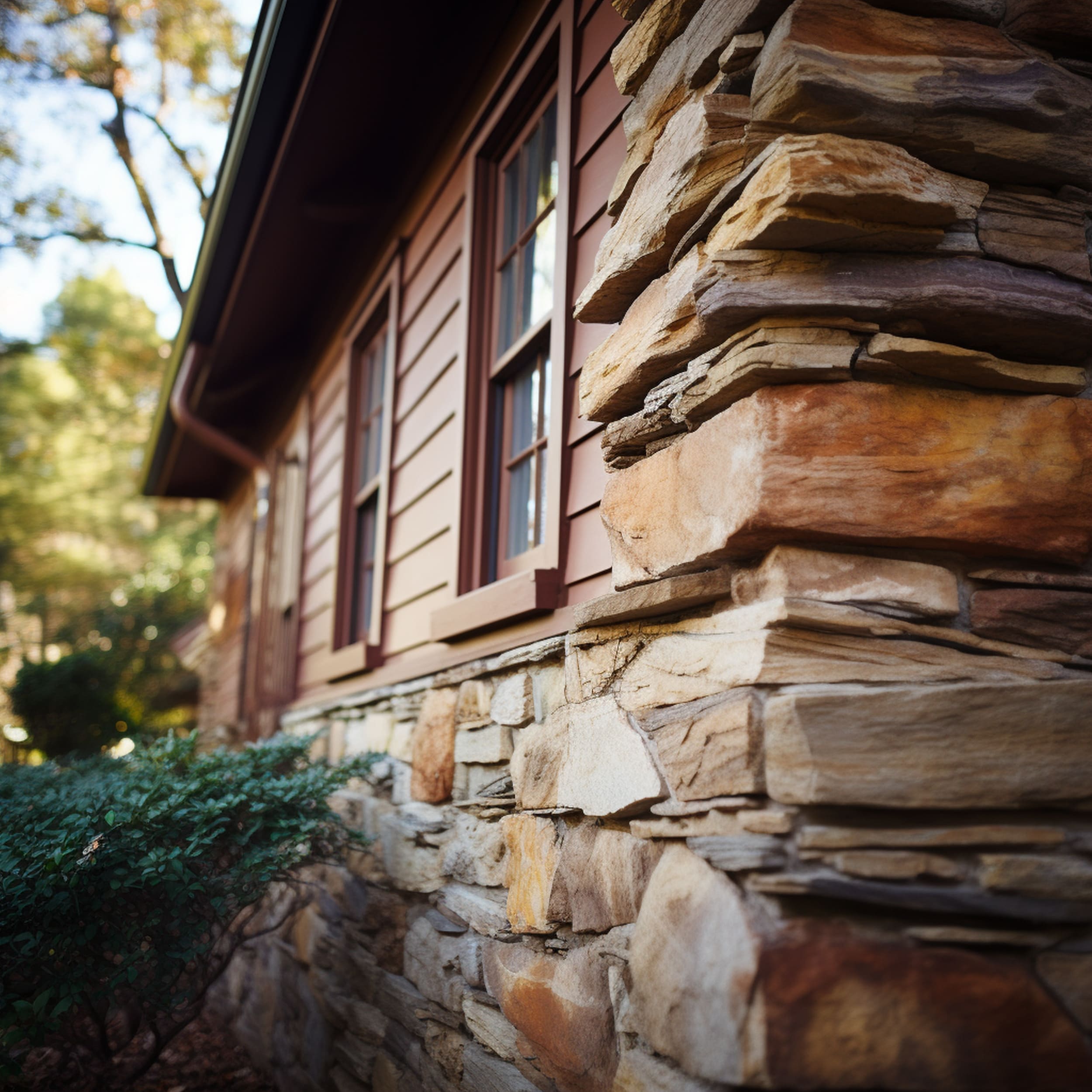 If you're searching for a highly customizable type of stone siding, sandstone would be your best bet. This natural stone is incredibly malleable making it a breeze to cut, shape, and chisel. Sandstone can be personalized with more creative patterns compared to other stone siding types. It's also worth mentioning that you can enjoy a more stylish look thanks to the natural reflectivity of the stone.




Due to being a type of sedimentary rock, sandstone performs well in terms of durability. It's hard enough to handle a variety of exterior house projects. The most common type of sandstone is brown but you might be able to find some colorful options in orange, pink, and yellow. This type of stone siding can bring a rustic touch to the look of the house.




5. Travertine Siding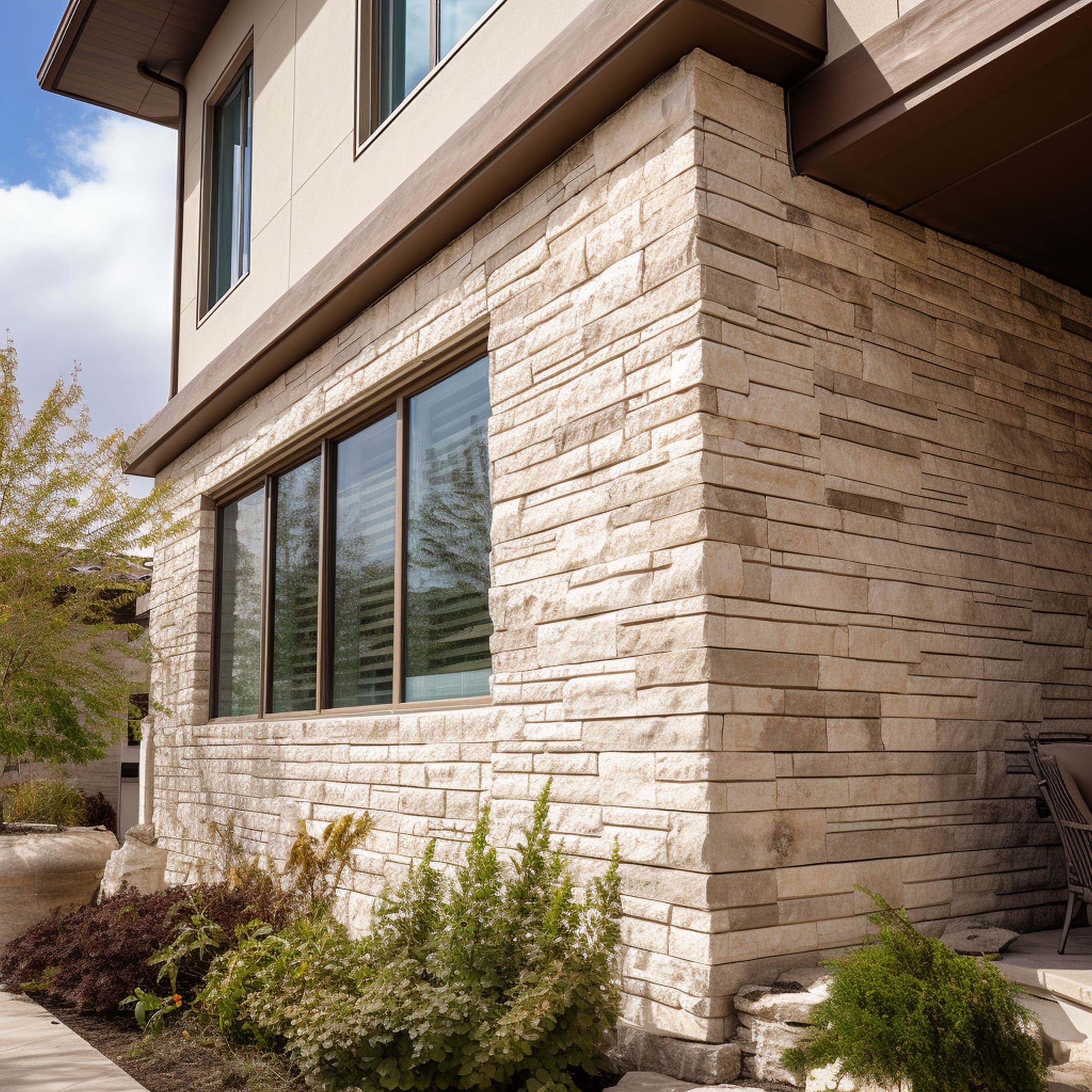 With extreme reliability against heat, travertine siding is usually the best choice for homeowners who live in hot climates. This is a type of natural stone that features distinguished patterns that will make any home stand out. Travertine isn't as common as other stones but it offers some great overall benefits to make it worth considering.




Aside from heat resistance, travertine also provides good overall durability and has great potential in terms of aesthetics. The stone contains more beautiful patterns due to its varied mineral content. Travertine is a sedimentary rock type that can be used for siding in multiple colors such as white, brown, cream, and rust orange. Keep in mind that travertine siding doesn't work well in cold climates and should be generally used only in hot environments.




6. Marble Siding





Marble is often used for interior applications such as countertops and flooring. However, this type of natural stone also works like a charm to create attractive siding for the home's exterior. It's safe to say that marble provides a luxurious vibe that's hard to match by more common natural stone materials. With the help of its distinctive patterns and smooth texture, marble siding can increase curb appeal with a solid dose of sophistication.




As you'd expect from a premium type of natural stone, marble is also known for its great durability. It's a long-lasting material that provides stunning aesthetics but you need to be aware that marble takes a lot of effort to install properly. The process is more meticulous as the stone is cumbersome to handle showing an apparent fragility despite its heavy-duty look.




7. Slate Siding





Slate is a type of metamorphic rock that can be safely used for exterior siding. It's a fairly versatile stone that's suitable for different climates, including environments with a lot of rainfall. Slate siding is generally durable and simple to keep clean. It comes in panels because they're easier to maintain while ensuring better long-term durability. You can also take advantage of the slate's natural impermeability more effectively in this form.




As opposed to other types of stone siding, slate is usually available in darker colors. It's one of the reasons why this is a solid option if you want to enhance the elegance of your home using gray or black natural stone siding. The level of color variation is more reduced than others. Another disadvantage of slate is that it's quite expensive, available in a price range that's similar to granite.




8. Gneiss Siding





Due to their almost identical visual features, gneiss stones can often be confused with granite. However, this type of natural stone can be recognized by its distinctive white, brown, or black bands that give it a characteristic look. Gneiss has a certain level of roughness to it that can be considered attractive to provide the home's exterior with a natural texture style.




The natural coarseness of gneiss can be reduced through polishing which gives it a shiny visual appeal. Although gneiss being used for siding is not as common, this natural stone is very popular for various commercial applications. It's worth taking into account for a siding project if you like the stylish stripe patterns and need a minimally porous type of natural stone.




9. Natural Stone Veneer Panel Siding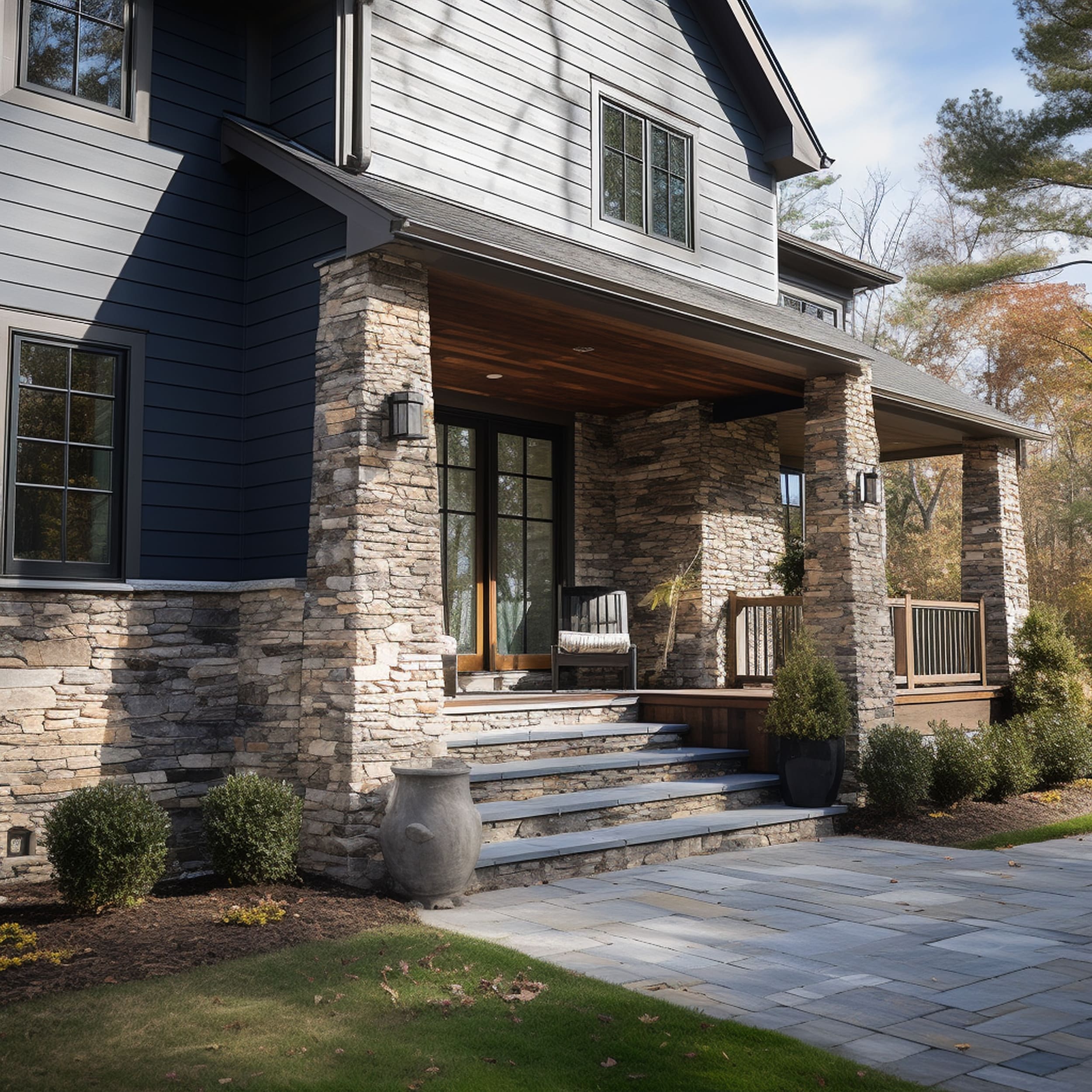 Don't want to limit yourself to just one type of stone when designing the home's siding? A great option involves the use of a natural stone veneer panel. It brings a sense of multi-dimensional texture by incorporating a variety of different types of natural stone in a convenient panel system that's simple to install.




With the help of this kind of veneer panel, you can get rid of the usual hassle associated with installing siding based on natural stone. You don't need to sacrifice the authentic stone look by opting for alternative faux stone materials. Although standard panels don't offer a lot of variety when it comes to shapes and patterns, you can enjoy a charming look through different colors and textures. The natural stone veneer panel is also more budget-friendly compared to typical stone sidings.




10. Faux Stone Siding





Any homeowner who likes the look of natural stone but doesn't want to spend a lot of money on siding should try a faux stone solution. Although the affordable cost is the main highlight of this type of siding, there are some other potential advantages to consider. It can be installed much faster than real stone because the artificial material is based on concrete pigments that are not as heavy.




Faux stone siding can often incorporate natural aggregates that will give it a realistic stone look. It's also fairly long-lasting and doesn't require any maintenance under typical conditions. Despite some aesthetic sacrifices, it's safe to say that faux stone siding remains an attractive option for lots of homeowners mindful of their budgets.