This post may contain references and links to products from our advertisers. We may receive commissions from certain links you click on our website. As an Amazon Associate Rhythm of the Home earns revenues from qualifying purchases.
Share this article:
Whether you're remodeling your office or setting up a new home office, it's essential to pay attention to the furniture items. Having a desk is mandatory for the majority of workers who plan to design a productive office. But what about a sofa? Other types of furniture can bring some great advantages to consider. However, depending on the particularities of your office layout, it might not always be practical for everyone to add a couch to their office.
If you have the space available and you're willing to transform the current configuration of your office space, it's recommended to add a couch to your office. Once you take a closer look at the multiple benefits of having this kind of furniture item where you work, you will easily realize that it's not a complicated dilemma. Check out the reasons why it's worth bringing in a couch to your standard or home office.




1. Advantages of Putting a Couch in Your Standard Office
1.1. Look of Professionalism
If you wish to create an office environment that evokes professionalism, adding a couch might offer a contribution. It inspires a sense of trustworthiness as the office doesn't feel just like a rigid working space. The presence of a couch shows that you're committed to both reliability and relaxation.




1.2. Productivity Increase
Having a couch in the office might suggest a decrease in productivity but the opposite is true. Both employees and clients can take advantage of a mood boost by having a pleasant sitting area to relax in the office. Many modern studies have shown that productivity can't be maintained continuously. You need to take some occasional breaks to recharge your energy meaning that a relaxing couch can be essential for a productive environment.




1.3. Better Health
Working at a desk all day in the office will take its toll on your back. Comfortable furniture is recommended to tackle this issue. Putting a comfy couch in the office is a great idea to prevent back problems and ensure pleasant rest time. Some workers might even prefer working from the couch occasionally if they can accomplish their tasks using a laptop. Productivity can be enhanced by alternating sitting modes from the desk to the couch.




1.4. Client Satisfaction
Clients coming into your office will be pleased by seeing more diverse furniture such as a couch. It makes a great first impression as the idea of a sleek office environment suggests that your business or organization has attractive qualities. Even though most clients might not even use the couch, just the presence of it reflects the dedication to maintaining a business space that's professional and relaxed at the same time.




1.5. Good Workplace Culture
The couch in your office is more than just a simple piece of furniture. It helps to reinforce good workplace culture. Your colleagues feel more welcomed to hold conversations with you thanks to providing a comfortable office environment. For some workers, the presence of a couch in the office may not directly translate to having better relations with their colleagues. However, the important aspect is that people know that the couch is there and just that simple fact can establish a sense of trust and transparency.




2. Benefits of Having a Couch in Your Home Office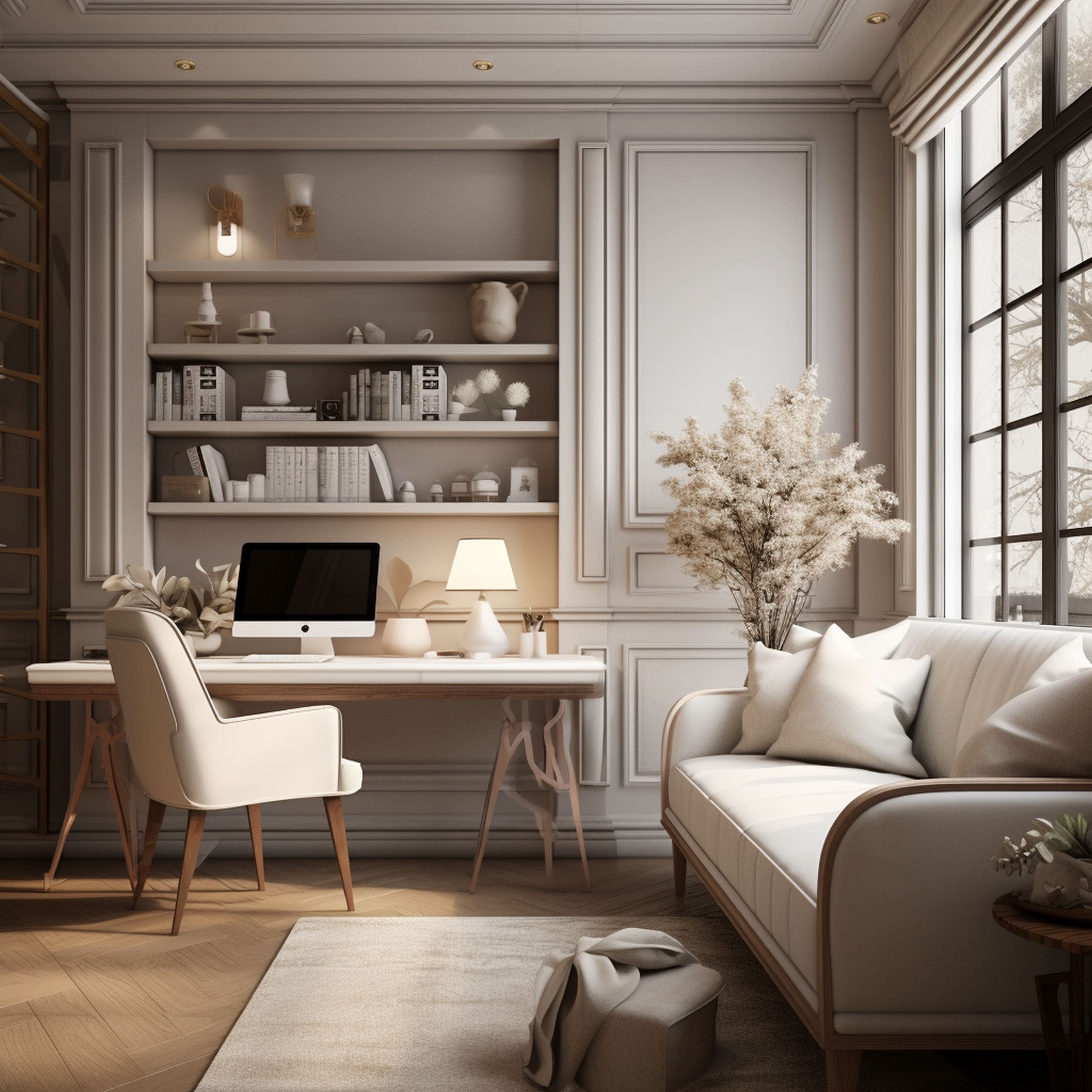 2.1. Space to Unwind
Working from home can be just as tiring as working in a regular corporate cubicle. The main advantage of using a home office is customizability. There's greater freedom when it comes to furniture items that can be used and you should take advantage of that. A couch provides a comfortable space to unwind during a break. If you leave to relax on your living room sofa, you might get too easily distracted. Therefore, it's often convenient to have your own home office couch.




2.2. Separate Working Zone
The couch in your home office can work as a productive zone instead of an area that's only reserved for relaxing during breaks. It helps to customize the home office and keep a more multi-functional environment. Perhaps you can meet clients on the couch or it can be used for distinctive business activities. If you need to read documents or write on a laptop, you can usually accomplish such tasks more comfortably by using the couch instead of your regular chair at the desk.




2.3. Conversation Area
Some people find it difficult to concentrate on their work when using a home office because of the presence of their loved ones. Others may actually enjoy the occasional distraction and can keep a work-life balance quite effectively. If you resonate better with the latter category, it may be worth including a couch in the office to have a chill sitting area for conversations with other members of your family. Instead of being distracting, they can often help to reduce work-related stress.




2.4. Lively Home Office
Creating a more pleasant home office layout contributes to better productivity and overall work satisfaction. Using more furniture pieces could be a relevant aspect in this case because home offices that feel too empty and lifeless won't appear very inviting to use. A couch is a big furniture element that helps to make your work environment cozier and livelier. Complement it with extra additions like a small coffee table and wall decorations to instantly transform the home office with a positive vibe.




3. Potential Drawbacks of Adding a Couch in an Office
If you're the kind of person that's susceptible to procrastination, it's safe to say that the presence of a couch in the office can negatively impact your productivity.
Having a plush couch can feel so comfortable that you might be tempted to extend the breaks too much. However, as long as you manage your time efficiently, the danger of procrastination shouldn't be significantly increased just by adding a couch. There's no harm in resting from time to time, especially when work gets more stressful. Keep in mind the purpose of the couch and don't let it be an obstacle in achieving your goals.