This post may contain references and links to products from our advertisers. We may receive commissions from certain links you click on our website. As an Amazon Associate Rhythm of the Home earns revenues from qualifying purchases.
Share this article:
Named after the way they're uniformly arranged side by side in a line, rowhouses are commonly found in many urban areas in the United States. Houses are neatly grouped together in rows and often share architectural features such as rooflines or walls. Rowhouses can create a striking impression because they're usually extremely similar in appearance. Although the design concept is usually associated with older cities, rowhouse architecture is still prevalent in modern times.
1. Key Features
Rowhouses can have unique characteristics and personalities depending on the architectural inspiration they draw upon. That being said, these buildings all share certain key features that help to recognize them. These are the most common elements that define rowhouses:




Shared roofline
Low-rise buildings
Spreads over entire blocks or neighborhoods
Limited natural light that usually comes only from the front side of the house
Usually built for one or two families
Uniform architectural style
Individual entryway
2. Rowhouses vs Brownstones
Rowhouses multi-dwellings can sometimes be confused with brownstones. It's important to understand the difference between them. A brownstone can be considered a type of rowhouse. It gets its name from the use of a sandstone style usually colored in a shade of reddish-brown. As long as they're built using sandstone, brownstones enter the definition of rowhouses. They're typically found in Brooklyn.




3. History of Rowhouses
The rowhouse architecture took form in the 16th century in Europe. Buildings were found only in countries like the Netherlands and Belgium but the design spread to other places later on. Rowhouses became particularly popular in 17th century Paris when historic areas were lined with cohesive buildings made of brick. The architectural style provided a sense of uniformity to urban places influencing city planners around the world to adopt the idea of rowhouses.
4. Pros and Cons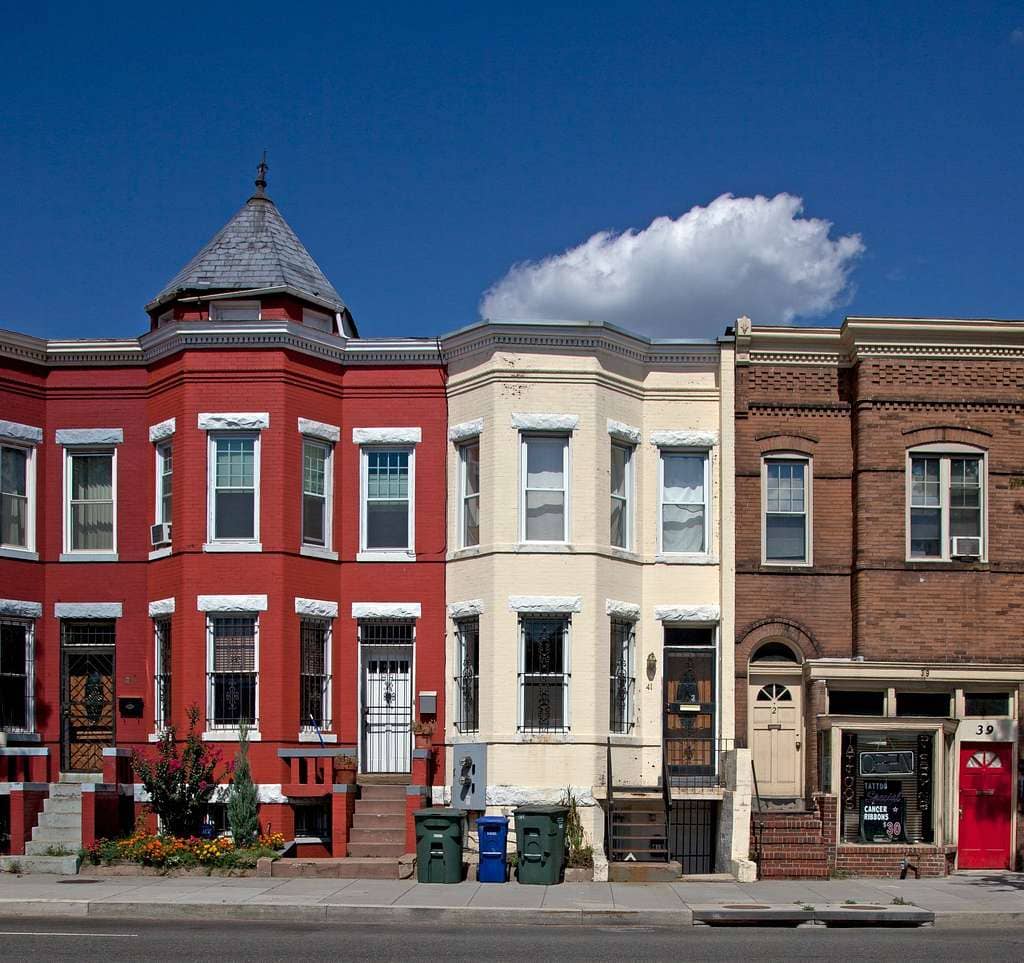 Is living in a rowhouse worth it? There are some notable advantages to consider but drawbacks exist as well. If you're considering this type of dwelling, check out the most important pros and cons of rowhouses:




This is perhaps the main advantage of choosing a rowhouse over other options. If you're searching for less expensive urban housing, rowhouses come out ahead compared to free-standing homes.
Maintaining a home can be quite difficult. Rowhouses don't have big requirements in terms of upkeep considering the lack of a yard and more limited surface area.
Depending on your point of view, the privacy level of a rowhouse can be either an advantage or a disadvantage. It's a much better option compared to condominiums but you need to find a single-family rowhouse if you want a more comfortable level of privacy. Otherwise, you need to get used to the potential lack of privacy when living in a multi-family complex.




Although rowhouses are generally cheaper than other homes, it's worth noting that homeowner association (HOA) fees can sometimes be quite expensive. There are various shared amenities that may require maintenance and repairs.
As opposed to free-standing homes, the HOA of your rowhouse might limit freedom through certain restrictions. For example, there could be rules that forbid pet ownership or renovating the facade of the home.
5.

Examples of Gorgeous Rowhouse Styles
Now that you have a solid idea about what rowhouses are, it's time to explore some inspirational examples that can be found in the US. Check out the most gorgeous rowhouses that will make you seriously consider moving into one:
1. Gothic revival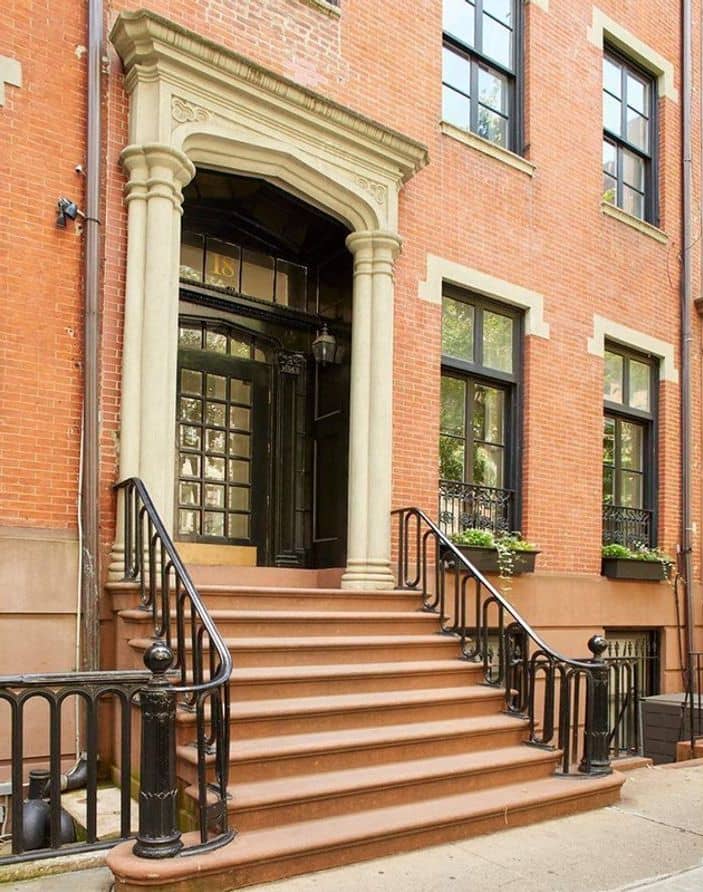 The gothic revival architectural style wasn't limited only to the design of churches when it became popular in New York. It also inspired residential architecture as evidenced by this beautiful rowhouse style with specific gothic revival style elements. Even though rowhouses don't offer a lot of space for the most complex design aspects of gothic revival, you can still find some notable influences in details such as the ironwork in balconies and ornate stone window lintels.




2. Federal
Some of the oldest rowhouses in NYC show a strong influence of the federal style. This building is a great example considering its simple architectural details that are characteristic of the style. The most notable detail that suggests a federal inspiration for a rowhouse is the Flemish bond. This refers to an alternating brick pattern that was frequently used when building this type of rowhouse.




3. Italianate
Inspired by Italian Renaissance architecture, the Italianate rowhouse showcases many beautiful design elements such as attention to symmetry and the focus on organic forms. This rowhouse style tends to feature a full brownstone facade. The windows are typically large and doors have arched overhangs. Another interesting detail is the projecting ornamental cornice.




4. Neo-Grec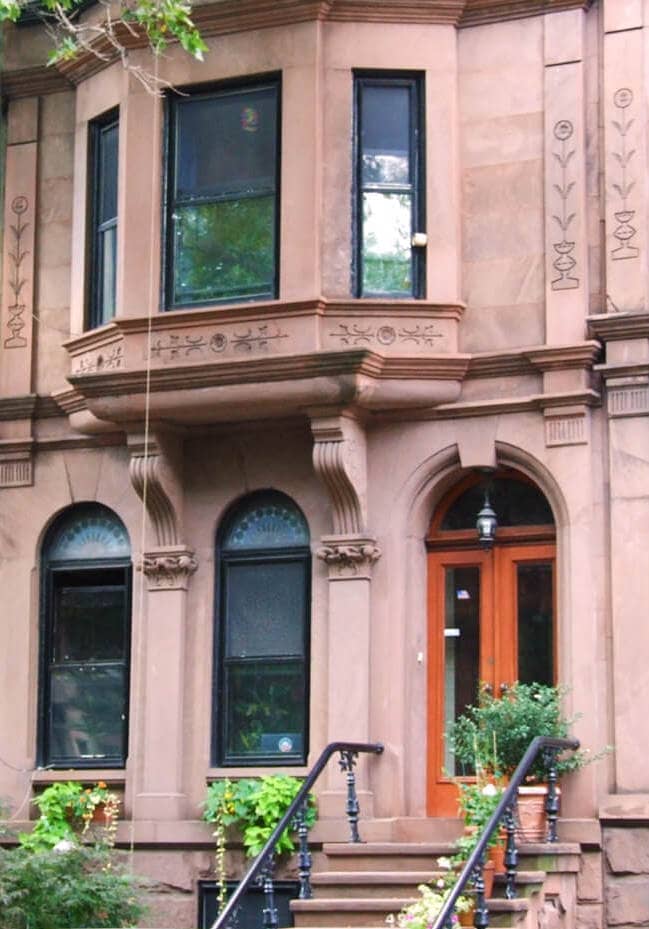 As opposed to the more feminine characteristics of Italianate rowhouses, the Neo-Grec style stands out through its sharper lines and angles. This type of rowhouse is usually pretty tall and imposing while featuring a high stoop. A very striking element of the Neo-Grec rowhouse is the doorway that shows off a pedimented hood. Carved detailing represents another typical characteristic of the style.




5. Queen Anne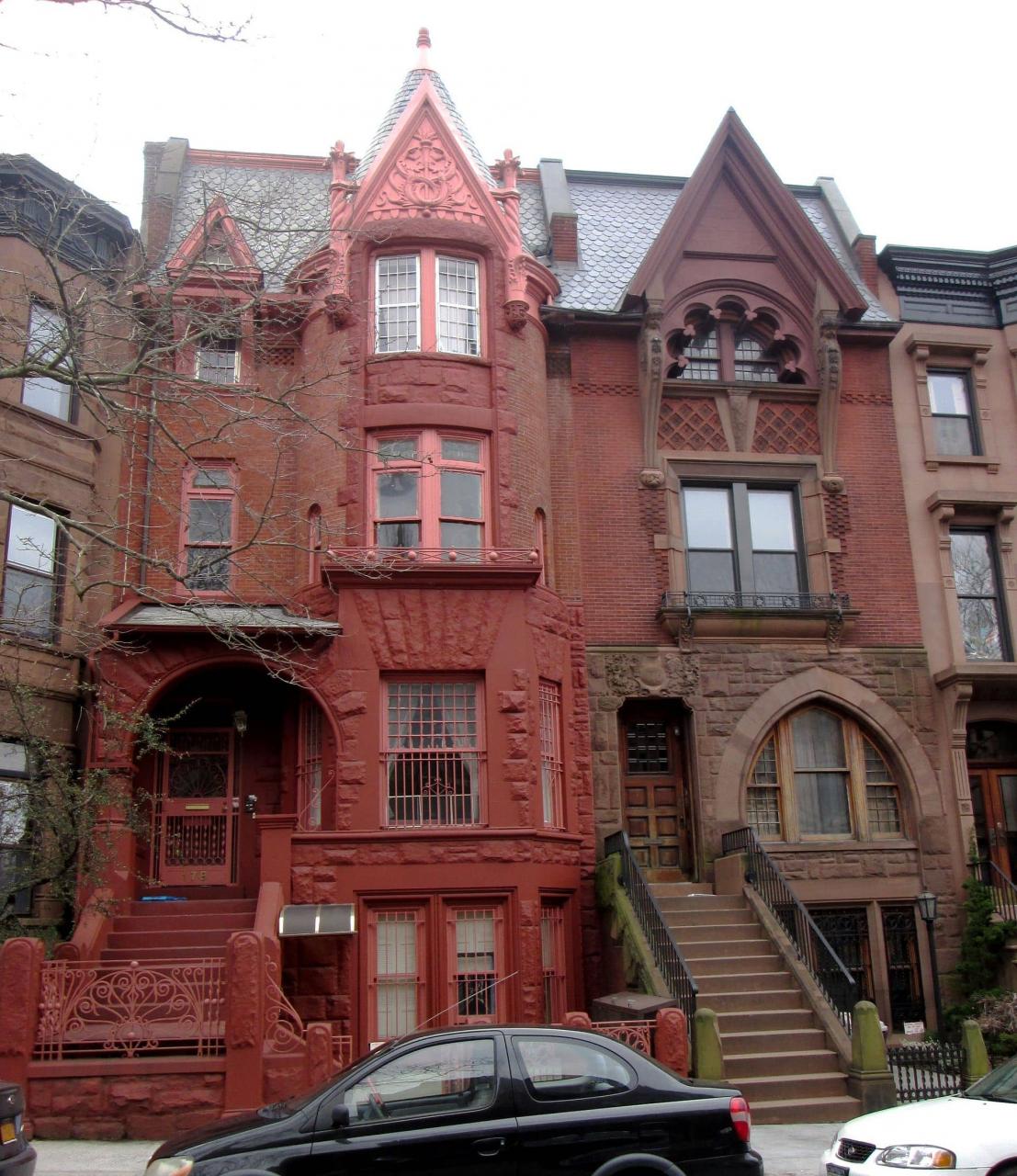 Whereas most rowhouse designs focus on symmetry and subtle aesthetic enhancements, the Queen Anne style seems to take a different approach. Colors, textures, and materials can often clash in an eclectic blend to create a more whimsical facade. Different window pane sizes can seem odd but that's just one typical feature of this rowhouse style. The gabled roof complete with dormers and chimneys can also be part of this aesthetic.




6. Renaissance Revival
With a focus on elegant classicism and typical ornamentation of the Renaissance period, this revival style is quite popular among rowhouses in New York. Decorative motifs dominate the facade of Renaissance Revival rowhouse styles. Other characteristic details include the right-angled stoops, iron cornice, and full stone enframement surrounding the entrance.




7. Greek Revival
The influence of classical Greek design extended quite prominently in the world of architecture. Rowhouses built in this style appeared in the 19th century in the US. While there is some resemblance to Federal design, Greek Revival is a bit bolder considering the height and decorative touches. Some of the notable details of Greek Revival rowhouse design include the flat roofs, brick upper facade, and cast-iron railings.




8. Second Empire
The Second Empire rowhouse is designed very similarly to those influenced by the Italianate style. Mansard roofs and ornate window lintels are some of the more distinctive elements of these rowhouses. The mansard roof is typically made of slate while the style relies on a brownstone facade. Second Empire rowhouses tend to feature segmental arched pediments.




9. Romanesque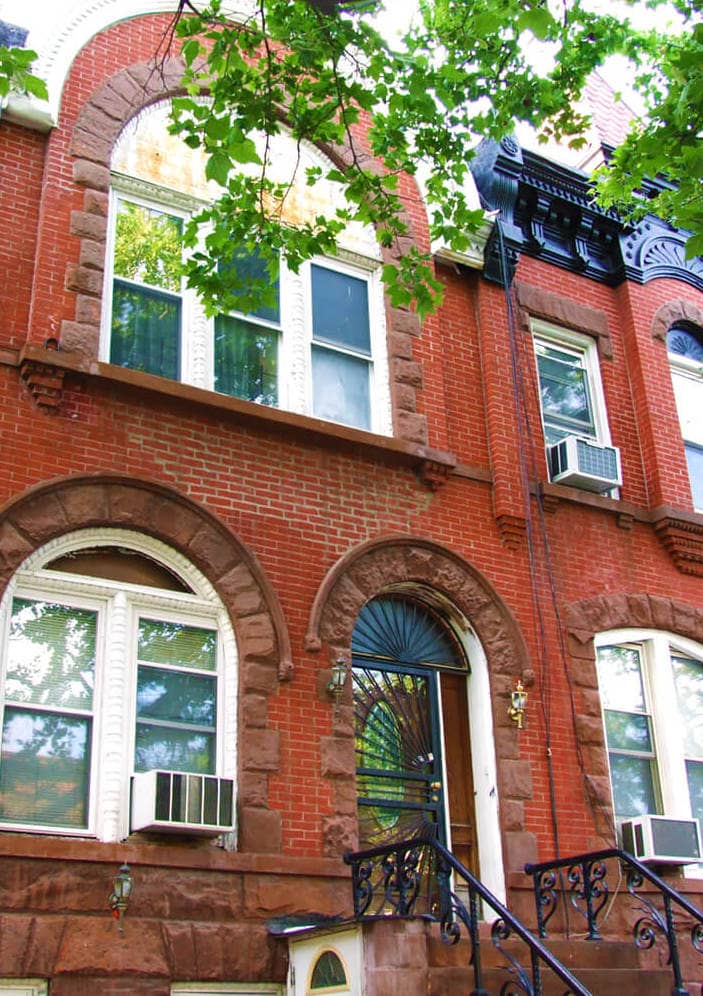 Packed with heavy rusticated forms and different materials, Romanesque rowhouses can appear quite distinctive compared to other styles. They typically feature large, semi-circular arches and stained glass transom windows. The structure has a straightforward expression and gives off the impression of permanence thanks to the use of solid stone. Byzantine-style ornaments can often decorate Romanesque rowhouses.




10. Anglo-Italianate
This type of rowhouse is designed with a low stoop and rusticated brownstone basement. The Anglo-Italianate influence reached its peak in 1860. Rowhouses were usually built three to five stories high and featured a round-headed wood door. The windows openings in this architectural design style could be either square-headed, segmental-headed, or round-arch.




11. Colonial Revival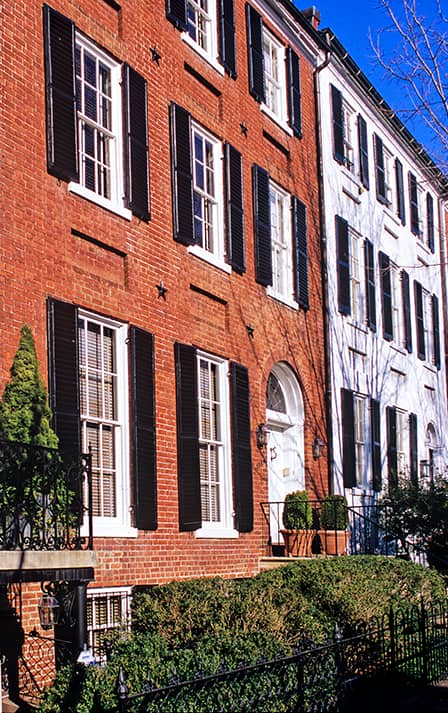 Mixing Greek Revival and Federal characteristics, the Colonial Revival is another interesting design approach used for rowhouses. It borrows various elements from these other styles while also incorporating colonial motifs. The red brick facade uses a Flemish bond design while the windows are built in multi-pane, double-hung style. Some notable details of Colonial Revival include broken pediments, urns, and delicate moldings.
12. Beaux-Arts
Beaux-Arts architecture is characterized by strict academic adherence to design rules. Rowhouses inspired by this style feature symmetry and uniform elements. Facades tend to be more light-colored due to the use of materials such as limestone or white marble. Other typical details of Beaux-Arts rowhouse styles include bold stone carvings, curved projecting bay windows, and a steep mansard roof.