This post may contain references and links to products from our advertisers. We may receive commissions from certain links you click on our website. As an Amazon Associate Rhythm of the Home earns revenues from qualifying purchases.
Share this article:
Named after the architectural school with the same name in Paris, Beaux-Arts represents a flamboyant style that makes use of various influences such as Renaissance, Baroque, and Greek classicism. It's an architectural style that reached its peak popularity in late 19th century and started to fall out of favor around 1930. Beaux-Arts architecture was the preferred style for lots of government buildings as well as art museums, libraries, and other types of institutions. The main reason for its popularity was the grandiose and ornate appearance. It was carefully designed to encapsulate the essence of European style and flair.
Some of the most famous and most admired buildings in the world can be seen as notable example of this theatrical style of architecture. Beaux-Arts is nowadays considered over-the-top and obsolete but many old buildings remain as living monuments to a faded era when the style was highly revered. Some of the essential features of Beaux-Arts architecture include symmetry and balanced proportions. This is where the heavy inspiration from classic Roman and Greek architecture is most apparent. Beaux-Arts incorporates columns, cornices, colonnades, pavilions, and arched windows. It also relies on durable materials like stone and marble while including elaborate Renaissance elements such as statues and sculptural decorations.
Iconic Beaux-Arts Buildings
1.

National School of Fine Arts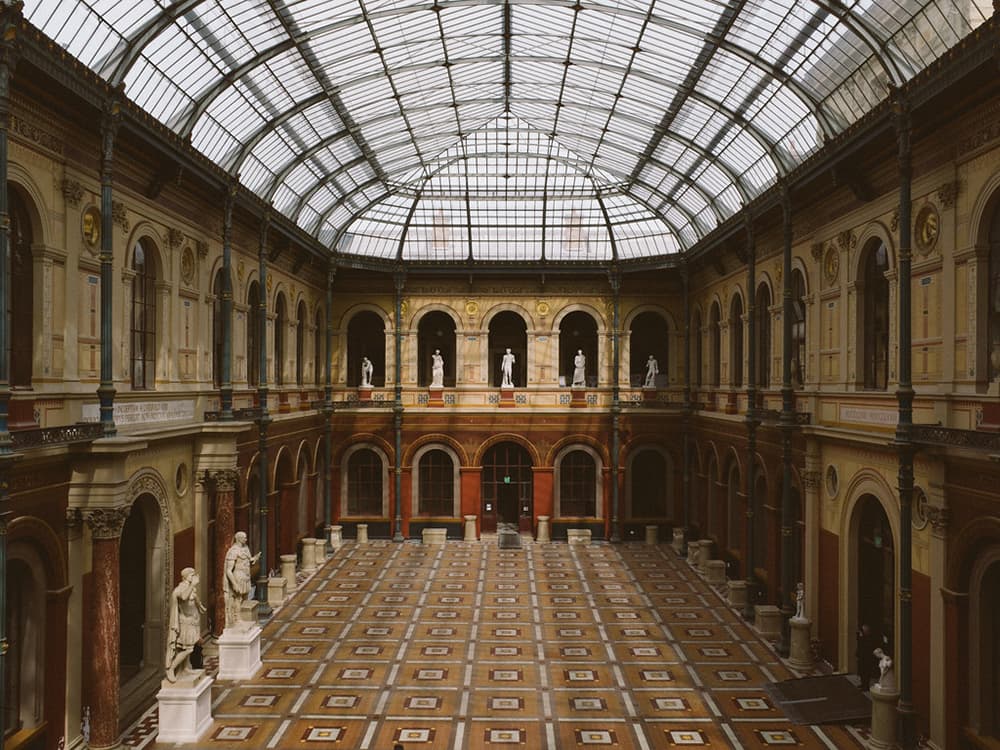 The National School of Fine Arts in Paris was the main place where the beaux-arts architectural style developed. The entire design concept was created right here in this institution considering that beaux-arts translates to fine arts. This school was an influential place for many great artists in Europe and it helped lots of students to develop their talents in different types of art including sculpture and painting.




Once the beaux-arts became more than a simple style and became an influential movement, the school became an important place for studying this architectural style. Beaux-arts had strong roots in classical 'antiquities' aesthetics because its aim was to preserve timeless design concepts for future generations. The school building is a huge complex and the premises include a museum that showcases many great art pieces.
2.

Bibliotheque Sainte-Genevieve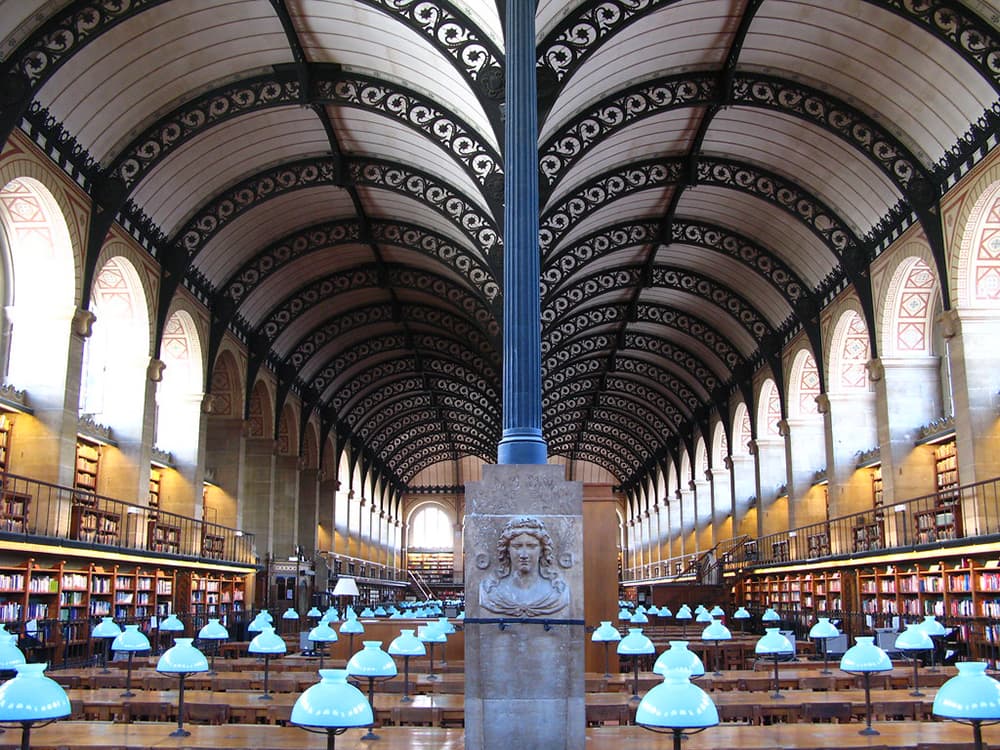 Another monumental beaux-arts building from Paris, the Bibliotheque Sainte-Genevieve conveys through its architecture the fundamental features of the style. It's crafted using limestone, a material that's commonly used in beaux-arts architecture. Some notable highlights of this building include the use of elegant arches and symmetrical columns to pay homage to classical aesthetics.
The library building feels like a palace from the Renaissance era. It's decorated with murals and busts at the entrance while the reading room occupies a huge space. Bibliotheque Sainte-Genevieve incorporates the most advanced building technologies available at the time for beaux-arts architecture. One of the most attractive aspects is the use of a cast-iron framework that's put on display instead of hidden away. It creates a dramatic visual effect together with the barrel-vaulted ceiling.
3.

Grand Central Terminal
The US has some memorable examples of beaux-arts architecture. The first building that comes to mind is the Grand Central Terminal in New York. It's an important transport hub for the country while also showing off characteristic details of this famous architectural style. This majestic landmark is considered a symbol of the transformation experienced by the city at the beginning of the 20th century.




Grand Central Terminal has a distinctive architecture and unique interior design that also makes use of stunning art pieces. It's not surprising that this historic landmark is among the most visited tourist attractions on the planet. The facade of the building stands out most impressively thanks to the use of elements such as large arched windows, ornate clocks, and marvelous sculpture works. The architects intended to make the terminal appear as a gateway to the city.
4.

Art Institute of Chicago
This is a fine arts school and museum with a long history considering that it was founded in 1879. The Art Institute of Chicago features multiple gallery expansions since its inception and houses a superb collection of art pieces to make the museum internationally recognized. Just by taking a close look at its exterior architecture, you can immediately notice the tell-tale signs of historic beaux-arts architecture.
The building is crafted using limestone materials that offer support for the masonry walls. There are two symmetrical wings designed to have an identical look while classical-era ornamentation can be spotted through the building's accents. Some important highlights include the Corinthian columns and a triangular pediment. Both the southern and northern facades are adorned with beautiful statues.
5.

Palais Garnier
Designed by Charles Garnier, this beaux-arts building in Paris is considered a grand achievement for theater art architecture. It's a historical monument in France that's primarily used for ballet. This opera house incorporates many elements that are characteristic of the Napoleon III style. However, the building's architecture incorporates a fusion of different styles including Renaissance and Baroque.




Palais Garnier features axial symmetry and advanced techniques that innovated beaux-arts architecture when it was built from 1861 to 1875. Lavish statuary work and elaborate marble friezes have been used to give a strong sense of opulence. Despite the focus on eclectic aesthetics, the interior areas were designed carefully to ensure the easy movement of big crowds. As proof of that, you can find lots of stairwells and interweaving corridors as well as socializing spaces.
6.

Thomas Jefferson Building
Drawing heavy inspiration from Palais Garnier, the Thomas Jefferson Building in Washington, D.C. represents a superb example of beaux-arts architecture. This building opened its doors in 1897 when it was considered one of the most attractive libraries in the city. It was known as the Library of Congress at the time.
Typical of the beaux-arts style, the building's architecture makes use of an elaborate facade that takes you back to the Roman and Greek eras. The interior design is just as impressive considering the multiple ornate decorations used. An entire compendium of artistic work is showcased so that makes this building one of the most interesting and richest public interiors in the country. The most obvious parallel to Palais Garnier lies in the design of the central block of the building that's just as ambitiously built to suggest the cultural triumph of the beaux-arts movement.
7.

Musee D'Orsay
Found on the banks of the river Seine in Paris, the Musee D'Orsay has mesmerized many visitors through its magnificent beaux-arts architecture. While it was originally used as a train station, the building is now a world-renowned art museum that lets you admire some of the most celebrated French masterpieces. At the time of its transformation to a museum, this building also entered the list of historical monuments.




Musee D'Orsay is one of the largest museums in Europe and it specializes in impressionist and post-impressionist works of art. You can find masterpieces made by well-known artists such as Monet, Van Gogh, and many more. One of the most impressive aspects when it comes to this museum's architecture is the use of approximately 12,000 tons of metal to build it. The building features a classic beaux-arts style appearance with an ornate facade and stylish barrel vault.
8.

Rmn Grand Palais

Also commonly referred to as Grand Palais des Champs-Elysees, this is an iconic beaux-arts building found in Paris. As opposed to other majestic beaux-arts landmarks, this building stands out a bit considering a more prominent modernity vibe. It's designed with strong Baroque and Classicism influences so you can expect the typical opulent ornamentation and attention to grandiose architectural details. The modern touch comes from the use of more innovative materials.
The Rmn Grand Palais is built using a lot of steel, stone, and glass. Various parts of the building appear to have been constructed as a result of experimentation through distinctive beaux-arts techniques of the time. A notable example is the superb iron scrollwork but the glass vault is also quite remarkable. A large team of artists worked on the embellishments used for the exterior facade of the building to showcase the fine arts at the beginning of the 20th century.
9.

San Francisco City Hall
After the old city hall was destroyed in a fire, the authorities in San Francisco decided to build a new symbol to properly illustrate the city's resilience. The new San Francisco City Hall was designed in beaux-arts style. It featured classic materials that are typical of this architectural style such as granite and white marble.




The use of opulent details such as the glitzy exterior and lavish staircase make this an excellent beaux-arts example. This building stands out among others in the city thanks to its impressive domed room and stunning placement of its courtyards.
10.

New York Public Library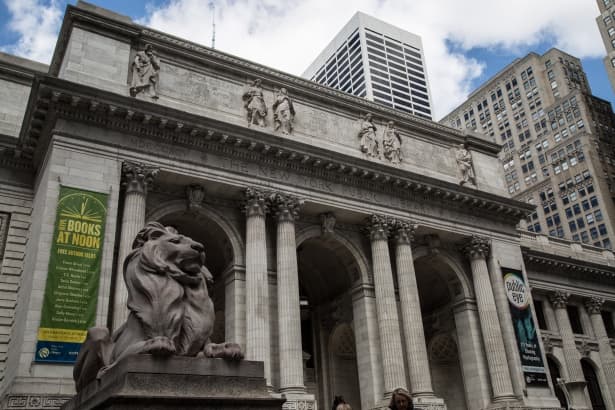 There are many great beaux-arts buildings in the United States. New York City, in particular, offers a solid selection of stunning examples of this architectural style. Check out the public library located in Midtown Manhattan. This is an imposing landmark of the city that's highly appreciated by both residents and tourists alike. It features iconic lion statues at the entrance that contribute to the grandiose design of its ornate marble facade. There are 9 interior divisions in the New York Public Library but the main reading room is probably the most aesthetically pleasing thanks to the look of the huge ceiling.