This post may contain references and links to products from our advertisers. We may receive commissions from certain links you click on our website. As an Amazon Associate Rhythm of the Home earns revenues from qualifying purchases.
Share this article:
1.

Entering the World of Raised Bed Gardens
There are many benefits to consider for planting on raised garden beds instead of the usual method of planting on the ground. In some instances, it may not even be possible to grow a garden due to soil contamination in your area. That's why creating a raised bed for gardening represents a smart solution. The basic idea of this planting technique is to grow plants higher than the ground while using enclosures made up of various materials.
You can take your pick from a wide range of design and material ideas for crafting your own raised bed garden. If you plan to go ahead with this project, there are some things that you need to keep in mind. Depending on how elaborate you want your garden to be, you will most likely have to spend more money initially. The good news is that once the raised bed garden has been properly set up, you won't have to deal with costlier maintenance compared to normal gardens. Also, there is always the option of buying a pre-made raised bed garden and just plant and take care of your plants.




One solid advantage of raised bed gardens is the portability. In most cases, you will be able to move around your plants quite easily. It can be argued that growing plants in a raised bed garden is more productive as you will be able to manage the needs of the plant more effectively. Water drainage represents a good example in that case. Those with back problems will also appreciate the advantage of tending to the plants without constantly having to bend so far down. Critters and pests will also have more difficulties in reaching a raised bed garden.




Now that you've seen the multiple advantages of raised bed gardens, it's time to check out our inspirational ideas to help you design your own. There's a lot of freedom when it comes to the look of the planting box. Build it in your favorite shape and style or repurpose and upcycle old items for a unique design. Creating a raised bed garden isn't as hard as it seems given how lots of concepts can be brought to life in just a few hours with a bit of DIY work.
2.

Fenced Garden Bed
Some vegetable gardens need additional protection from pesky predators in your area. This idea involves the placement of a fence to keep squirrels and rabbits at bay. Crafting this raised bed only requires three wood boards and adding a sufficiently large fence to enclose the planting area and prevent unwanted visitors from stepping in.
3.

Small Raised Bed with Legs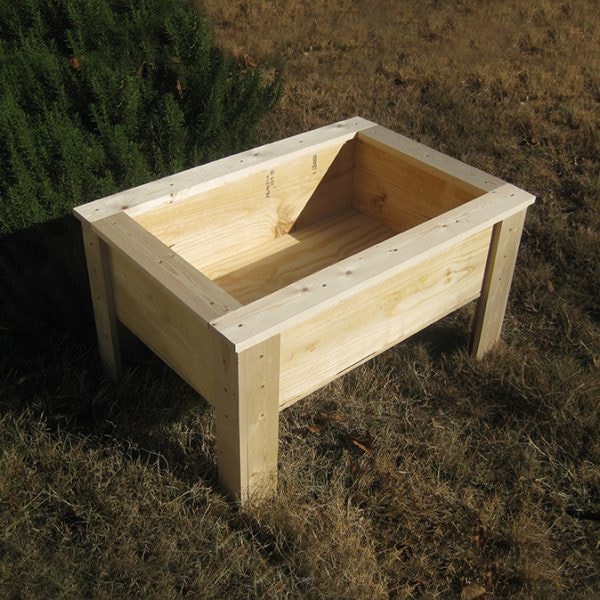 Those who lack the space to create a large raised bed garden will probably like this space-saving idea. The raised bed here is a fitting choice for a beginner in the world of gardening. Thanks to the incorporated legs, the small raised bed can be easily placed in a different spot for optimal plant growth conditions. Many raised garden beds are designed with permanence in mind, so this small unit is perfect if you favor portability.




4.

Vertical Garden Pyramid
Another ingenious solution to consider if horizontal space comes at a premium is this vertical garden pyramid. It's easy to see why vertical gardening exploded in popularity in recent times considering how it's so much more practical to grow certain plants in this manner.




As long as you're careful of the building process and the correct angles for the raised bed, you will enjoy a highly functional and elegant garden design. Harvesting is a breeze with this vertical garden pyramid. If you feel capable of tackling this DIY project yourself, check out all the details here.
5.

Trough Bed Gardens
Crafting raised bed gardens from scratch can pose some difficulties. There are some easy alternatives to consider like this one which uses troughs as raised garden beds. All you need to do is fill the animal trough with a generous amount of planting soil and develop your vegetable garden.




Don't forget about adding some drainage holes to the throughs. That's pretty much it, no other assembly work is needed. Some gardeners will probably appreciate the industrial vibe given off by the metal look of this raised bed garden project. Keep in mind that you might be required to add some extra water if it's hot outside as the metal of the bed gets warmer than other materials.
6.

Spiral Garden
An ideal growing environment for plants, the spiral garden has a very interesting design. The planting area slopes downward to give you a flexible space where you can grow plants according to their sunlight exposure needs. Some plants will thrive at higher elevations while others will prefer the south slope.




Even though this raised bed garden design seems quite impressive at a first look, it's not that difficult to build. Whether you opt for a stone or wood spiral garden, this is a versatile environment for plants and the snail shape will look attractive in any backyard. We recommend planting herbs here, but many other types of plants can work well for this design.
7.

Reused Masonry 
In case you have some unused masonry pieces laying around, they could prove ideal for a raised bed garden project. Depending on the area available for growth, you could plant various plants as long as you respect their space requirements.




Recycling old masonry parts represents an eco-friendly way to build your raised bed garden. There are a few extra supplies needed to craft this project. Check out the complete DIY guide if you're interested in building something similar.
8.

Mosaic Patterns
Instead of a simple planting box made of wood, you can try to integrate some interesting designs to spice things up for your raised bed garden. By incorporating different types of wood, the creator of this raised bed added a stylish mosaic pattern to the frame.




The distinctive color variations improve the look of any raised bed to create a garden that stands out from the rest. It takes some extra work to cut different pieces of wood and come up with an aesthetically-pleasing pattern, but the end result is worth the effort.
9.

Dog Proof Garden Beds
Do you have an issue with your dog that enjoys digging in the garden? Going for a raised bed could be the right solution in this case. Your dream of a well-maintained garden can easily clash with the needs of your dog to dig and roll in the dirt.




These tall garden beds are designed to eliminate the issue of dogs digging through them. You might even add a fence if your dog is more agile and determined to mess around with your plants.
10.

Potato Towers
A great method to increase productivity for your potato plants is to use specially designed towers which save space. This raised bed garden project makes use of galvanized metal shaped into cylinders covered with bamboo. Keeping them tightly in place is important and that's why the creator uses rebar for this purpose.




Harvesting the potatoes is much easier if you work with a raised bed like this one. All you have to do is lift the cylinder and collect the resulting pile of tubers. Take a look at the step-by-step tutorial for this growing project and learn to make your own potato towers. There's also the option of raising potatoes in garden bags like these.
11.

Curved Raised Bed
This raised bed garden is built using reclaimed brick where your plants can find a comfortable home. It's quite a smart space-saving approach to have a curved raised bed placed in a back garden. It enables you to maximize the available space and incorporate plants throughout for a harmonious look.
12.

Built-In Benches
Considering how raised bed gardens are built at a more comfortable-to-reach level, it's not surprising to find some projects with interesting additions like benches. You will need to build your raised bed at a higher elevation to pull off this design idea.




Including a little place to sit down is both functional and stylish. After watering or harvesting, you can simply take a break and relax in the garden. This garden set-up works best for older gardeners or anyone who wishes to integrate a more eye-catching design in the backyard. If you have some woodworking experience, you can tackle this DIY project yourself.
13.

Landscaping Timbers
Fans of neat-looking raised beds will appreciate the style of landscaping timbers as the primary material for this type of garden. The great news about this project is that it suits well larger backyards and doesn't involve huge costs. Take advantage of fresh vegetables while creating a focal point of interest in the garden.




To get started with this raised bed garden idea, the first thing required is to purchase 8' landscaping timbers. Then it's simply a matter of figuring out the right dimensions to cut the wood timbers to fit your ideal raised bed plan. You will need some stakes to keep the landscaping timbers secured.
14.

Colorful Concrete Blocks
It's fun to recycle materials for a DIY project as you will often have the opportunity to give it a new design twist and craft something unique. This raised bed that uses concrete blocks represents a fine example as the colorful paint adds a personalized touch.




If you're interested in a similar raised bed look, it's important to note that old cinder blocks aren't recommended. Stick to concrete which is suitable for vegetable gardens. The only thing you have to worry about is the lime leeching that could affect the soil's pH. Still, that's a small price to pay considering the design potential for a really unique raised bed garden.
15.

Square Foot Grid
Are you planning for a small garden and wish to maximize crop productivity? A square foot raised bed grid could be the optimal solution for that. Budget-conscious gardeners will also appreciate the minimal costs involved for this project. You can find some really cheap wood that works nicely for this kind of grid design.




Among gardening techniques, the square foot style is one of the most efficient. Enjoy fresh vegetables grown in an organized space by following the tutorial for this raised bed garden idea. It's easy to do it yourself even if you're a novice gardener.
16.

Repurposed Dining Table
Repurposing various furniture pieces represents a great method to create a unique raised bed garden. If you have an old dining table you can transform it into a little garden to plant lettuce or herbs. In case you don't have antique furniture lying around, visit your local flea market to discover some interesting pieces that can be repurposed in this manner.




17.

Chicken Coop Raised Bed
Here's a great save-spacing idea if you already plan on raising backyard chickens. You can design your chicken coop to incorporate a raised bed where plants can be grown. Aside from the efficient use of space, this idea has other advantages like offering superior sound insulation from rain.
18.

Multi-Level Raised Bed
Growing fresh vegetables in a small area like the front porch can be done more conveniently if you choose a multi-level raised bed like this unit right here. It can also be used to display flowers or to fit it in the balcony of your apartment.




A nice feature of using raised bed gardens such as this multi-level planter is the ability to extend the longevity of cool season vegetables and grow them even in the hotter times of the year. The raised bed offers shade underneath and extra sun on the upper level while it also protects the plants from stray animals.
19.

Modular Boxes
Everything is simplified when you choose to grow crops in planter boxes instead of the traditional way. This garden has been transformed with the help of raised beds where various vegetables such as eggplants, zucchinis, and tomatoes are grown.




A drip irrigation system has been installed into the modular boxes to take care of the plants' watering needs. While there's quite an investment and effort required to set up this kind of project at first, the high yield of resulting fresh produce is definitely worth it in the end.
20.

Full-Fledged Garden Enclosure
If you wish to take your raised bed garden to a new level, consider a larger construction like this full-fledged enclosure where plants and flowers can grow safely and happily. The structure of this construction is built using wood that provides some rustic charm to the backyard.
It's recommended to go for this kind of raised bed idea only if you have the space available for a large enclosure. Thanks to the size of this raised bed, you can create a varied garden without the fear of pests and other threats. Check out the full instructions to start building this DIY project.
21.

Sheet Metal Raised Bed
Choosing sheet metal for your raised bed gardening project can provide great benefits. The most notable advantage of this material is its ability to keep the soil warmer as it retains the heat of the sun more efficiently. Lots of plants such as lavender or sage prefer some extra heat to grow healthy.
Crafting a sheet metal raised bed garden is easier compared to working with other materials. This is because the flexible properties of sheet metal that enable users to bend it into shapes in a hassle-free manner.
22.

Raised Bed Arbor
Another great example of vertical gardening, this raised bed arbor can help your bean poles grow at a superior rate compared to other methods. This isn't just a more reliable technique for growing certain vegetables, it also makes harvesting a breeze.




The bean poles are much neater organized and don't take as much space as opposed to having the plants sprawling on the ground. With the help of a garden teepee trellis like this one, you can create a green arbor in the backyard and enjoy a rich harvest.
23.

Inexpensive Raised Bed
There are lots of interesting raised bed projects out there but unfortunately, many of them can be very costly and hard to build for inexperienced users. Take a look at this raised garden bed tutorial that shows you how to craft a simple planter box for your garden without breaking a limited budget. The project makes use of untreated cedarwood to add subtle beauty to the backyard.
24.

Used Tire Raised Bed
Used tires feel like an unusual choice for a raised bed but they seem to work quite nicely. Finding used tires won't prove to be very difficult so this means you can assemble a small raised bed garden for a minimal cost. This is also an eco-friendly method to give a new life for those old tires you have laying around.




There's a bit of cutting work involved for this DIY project but once you get over the initial steps, you just need to find good dirt to fill the tires and start planting. You can have some unique-looking raised garden beds in no time.
25.

Raised Bed Grid
Those who prefer a more interesting look for their raised bed garden will probably love the geometric appeal of this project. Multiple raised planting boxes have been arranged in a grid of squares providing a stylish pairing for any modern garden. This approach is also great to help you separate plants and keep herbs and veggies organized as they each have their own planter.
26.

DIY Salad Table
Growing your own little salad garden can take quite a lot of work if you're going the traditional route and grow the veggies on the ground. While you have to build the structure of this table, it's still a better solution considering how it simplifies the salad growing process.




This is a DIY salad table that stands out compared to other projects thanks to the higher elevation which makes it simple to harvest the produce and almost completely pest proof. It also comes with its own automated watering system so that once you set up the salad table, there's virtually no maintenance needed.
27.

Keyhole Garden
Few raised garden bed designs are as attractive as this one which comes with a keyhole shape. The raised bed garden provides multiple layers that have an important nourishing role for the soil. A composting basket has been integrated to enable the garden to recover its nutrients.
Plants will grow more efficiently in this kind of raised bed design. The good news is that the materials used can be purchased without spending too much money. While it can be a bit more complicated to build a keyhole garden initially, the multiple benefits of this type of raised bed make it an excellent plant growing solution.
28.

Milk Crate Raised Beds
Raised bed gardening makes use of a wide variety of repurposed and recycled items. Milk or wine crates are good examples due to how easy it is to obtain them and how flexible and practical are overall. You can come up with a personalized configuration to suit your backyard and the great portability enables you to move around the raised bed garden whenever it's needed.




As opposed to other raised bed gardening projects that reuse items and materials, milk crates won't even require drilling the drainage holes. Changing the soil of a planter box is a breeze as well. Crates like these are definitely underrated when it comes to creating a productive raised bed garden.
29.

Half Barrel Raised Bed Garden
This is a nice idea to try in case you prefer a classy look for your raised bed garden. Old wine barrels can be cut to transform them into stylish flower displays or boxes to grow vegetables. You will just need to integrate some support legs and you're done.
Half barrel raised beds are convenient to use for places where space comes at a premium like balconies or small patios. The fact that you can move your little raised bed garden with ease is another great aspect of this idea.
30.

Repurposed Garage Doors
Instead of spending money on materials and putting in a lot of effort to build raised beds, you could just repurpose some old garage doors. These panels can be transformed into planter boxes without too many difficulties. You will probably need to do some cutting work to craft the raised beds to your specific dimensions.
To construct this kind of raised bed garden, you will also need other key elements such as vinyl fence posts. Fill the beds with garden soil and add a sprinkling system to keep the maintenance of the plants to a minimum. The extra durability is a nice advantage of this idea over the usual wood products.