This post may contain references and links to products from our advertisers. We may receive commissions from certain links you click on our website. As an Amazon Associate Rhythm of the Home earns revenues from qualifying purchases.
Share this article:
Available in many types of finishes, plywood represents an affordable and flexible material that can be used for flooring, furniture, and more. Plywood is manufactured by combining together veneer sheets. The result is a strong engineered wood that can withstand common problems such as warping or shrinking. The best part is that it retains the beauty of wood making it suitable for multiple applications.




Although plywood has been often associated with cheap building materials, it's now experiencing a resurgence in popularity. There are many high-quality options for plywood available. Many of them show off more sophisticated designs to work for projects such as kitchen cabinets or roofing even though flooring remains the best application. The way plywood strikes such a great balance between durability and versatility made lots of homeowners recognize its value. Here are the most important things to know about plywood if you're thinking about integrating the material as flooring.
1.

Grades of Plywood
When you're shopping for plywood, there are some things to consider. The plywood's grade is an important aspect because it determines the visual quality. Letter grades don't refer to structural performance but they're still overall excellent indicators of quality. Keep in mind that plywood panels are rated using two letters. This is because both faces of the panels are rated for quality.
The best plywood grade to get is A. It lacks any knots and defects or other notable imperfections. B-graded plywood has small issues but nothing too severe. The lowest grades for plywood are C and D which may present multiple problems like open knots or other defects. Finally, there's also the X-graded plywood which is essentially a scrap panel.




It's generally recommended to aim for the best plywood quality if you want to enjoy the most attractive veneer finish. A smooth and clear panel face can be quite costly though. Lower grades may work for certain flooring applications as long as there are no serious surface problems. If you want to paint the plywood floor, it could be more cost-effective to opt for B-graded options. Grades C and D are ideal for subfloors and underlays.
2.

Floor Finish Types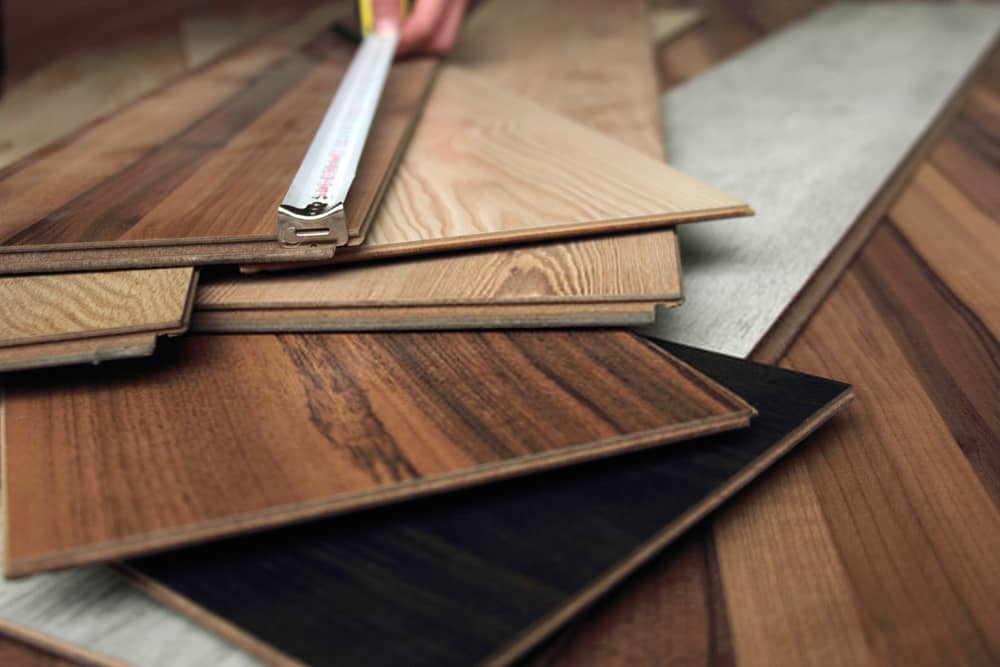 Plywood floor finishes can be separated into different types depending on the style of the project. The following are the most popular finish types for plywood flooring.
A favorite approach for DIY enthusiasts, this finish type involves adding patterned wallpaper to create a more exciting look. Any gaps in the plywood subfloor have to be properly finished before integrating the wallpaper. It may sound unusual to use wallpaper for the floor but this idea provides great potential in terms of creativity. You can cover the whole surface or just restrict yourself to strips for specific designs. A clear floor finish is needed to complete this project.




Whether you prefer planks, squares, or other shape styles, plywood sheets can be transformed to suit the subfloor and obtain similar looks to hardwood floors. Depending on your DIY skills, it could be required to use the services of a contractor to properly glue the plywood planks to the subfloor. Costs can add up when you also take into account the need for stain and polyurethane. However, it's still a more affordable finish compared to hardwood or tile.
If you're interested in designing your plywood floor with a marble-like finish, the best solution is to try paper bagging. This is a plywood subfloor treatment method that relies on randomly-shaped brown kraft paper pieces to create a stylish layer. Compared to other residential flooring projects, paper bagging finishes are extremely affordable. The only difficult aspect worth considering is that it involves quite a lot of planning and construction effort overall.




Plywood is an ideal flooring material if you want to play around with paint. There's virtually no limit when it comes to compatible paint types to obtain a beautiful finish. You just need to figure out which creative colors or patterns fit best for your particular flooring project. The secret to getting a nicely finished painted plywood look is to prepare the floor very well beforehand. A high-quality primer is recommended.
3.

Installation Options
Plywood floors are relatively easy to install compared to other options. The material is DIY-friendly and laying this flooring should take just two or three days for most projects. Cutting down the plywood can be considered the only part that requires a bit more expertise. However, most hardware stores can handle this job for you.




If you want to cut the plywood planks yourself, your best bet is to use a table saw. It's also possible to deal with this task by using a circular saw but there's an increased risk of plywood splintering if you're not careful. Make sure you use high-quality blades designed for clean finishes.
One notable problem you might experience when installing plywood is the mismatched look created together with your existing furniture or trim. The solution comes from using a good quality floor stain. It prevents the appearance of blotchiness or other unpleasant visual effects but the stain product has to be applied correctly, usually after a sanding sealer. Staining is also recommended for plywood flooring if you prefer the weathered appearance style. Try out this water based wood stain from Amazon.
4.

Durability
Even plywood floors that are carefully treated with protective coating may still be susceptible to damage from scratches or dents. If durability is a major concern for you, perhaps it could be worth the investment in more expensive flooring options. Plywood scratches very easily if you don't take proper precautions to avoid such occurrences. Simply moving heavy furniture around can damage the planks.




5.

Cost-effectiveness
Plywood is often considered a more affordable alternative to hardwood when it comes to flooring options. This is true because the price per square foot is not as high compared to hardwood. That means you're getting a lot of bang for your buck if you opt for plywood as someone who prefers the look of a wood floor. Plywood works great as a flooring option for all kinds of homes, regardless of budget. It's even recommended for mobile homes.
6.

Maintenance
Is plywood difficult to maintain? While the material leaves things to be desired in terms of durability, it seems that it's pretty easy to clean. You can keep a plywood surface clean using just a microfiber cloth or mop. Avoid using bleach staining products and you will be able to enjoy the beauty of your plywood floor for many years to come.




7.

Noise
Compared to other flooring options, plywood has a reputation for making some extra noise. It's not really a huge issue for most homeowners, but it could be an important thing to know about this material if you prefer your living space to be as quiet as possible. Most plywood floors that are installed correctly won't experience squeakiness at first but can become noisy in time as cracks develop in the long run. Excessive noise is certainly abnormal for plywood flooring but can be fixed without too many difficulties.
8.

Aesthetics
Considering the amazing flexibility of plywood, it's safe to say that you won't be disappointed if you use this material for flooring. It lets you enjoy a wide range of different aesthetics to match the style of any room. Whether you think about painting, staining, or stenciling, every creative approach works nicely for plywood. This is a budget-friendly flooring solution that makes hardly any compromises in terms of aesthetics.
Although the look of plywood flooring is impressive for the cost, it will still not be able to rival premium hardwood floors. It's not just simply a matter of aesthetical comparisons, there's also the problem of raising the value of the house. Plywood won't be able to increase the resale value of the home in the same way as hardwood does. If you're really considering selling your house in the future, this is an aspect that you should take into account. It's likely that plywood floors will need to be covered with laminate to prevent holding up sales.