This post may contain references and links to products from our advertisers. We may receive commissions from certain links you click on our website. As an Amazon Associate Rhythm of the Home earns revenues from qualifying purchases.
Share this article:
Looking to keep your patio area sheltered from strong sunlight? An awning might be the best solution to consider. Compared to other options, awnings are more convenient to use and can be incredibly versatile in terms of style. Many types of patio awnings feature retractable abilities that let you only use its protective canopy when needed. If an awning sounds exactly like what your patio needs, consider the following design ideas that focus on bringing a touch of stylish color to your outdoor area.




1. Pastel Stripes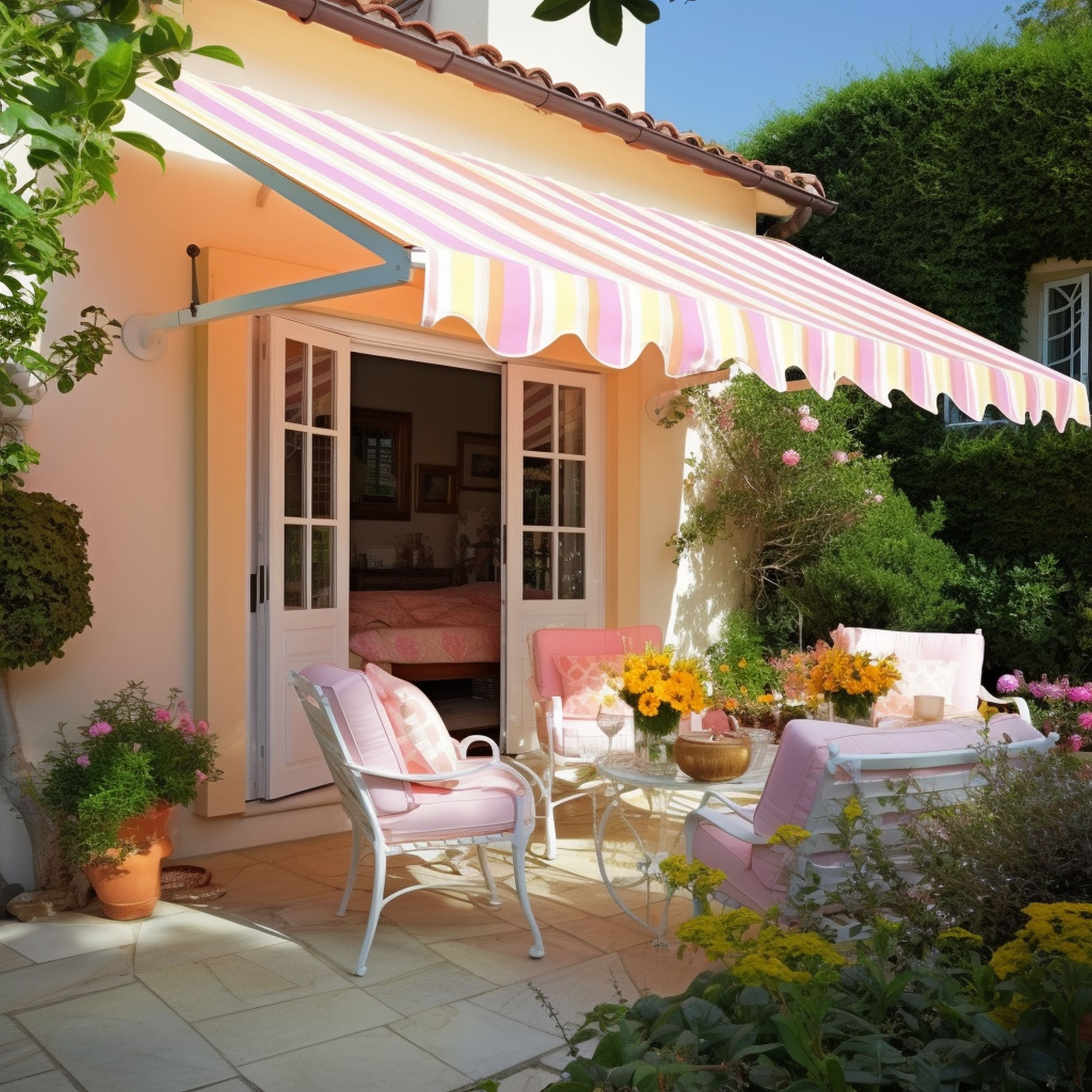 If you're interested in adding a Mediterranean vibe to your garden, it's a good idea to opt for a colorful patio awning design. Consider pastel tones mixed with simple geometric patterns to complement other décor pieces in your outdoor space. The soft shades bring a vintage touch to the area without feeling overwhelming to the eye. It's a great idea for sunny climates.




2. DIY Awning





Whether you're renting or don't want to make the considerable investment necessary for a retractable awning system, you should consider a DIY solution. This kind of improvised look can have its own charm as it's easily reminiscent of campgrounds or music festivals. The fact that such an awning offers increased portability represents a great advantage. It's recommended if you don't plan to make structural changes to the patio.




3. Shade Cloth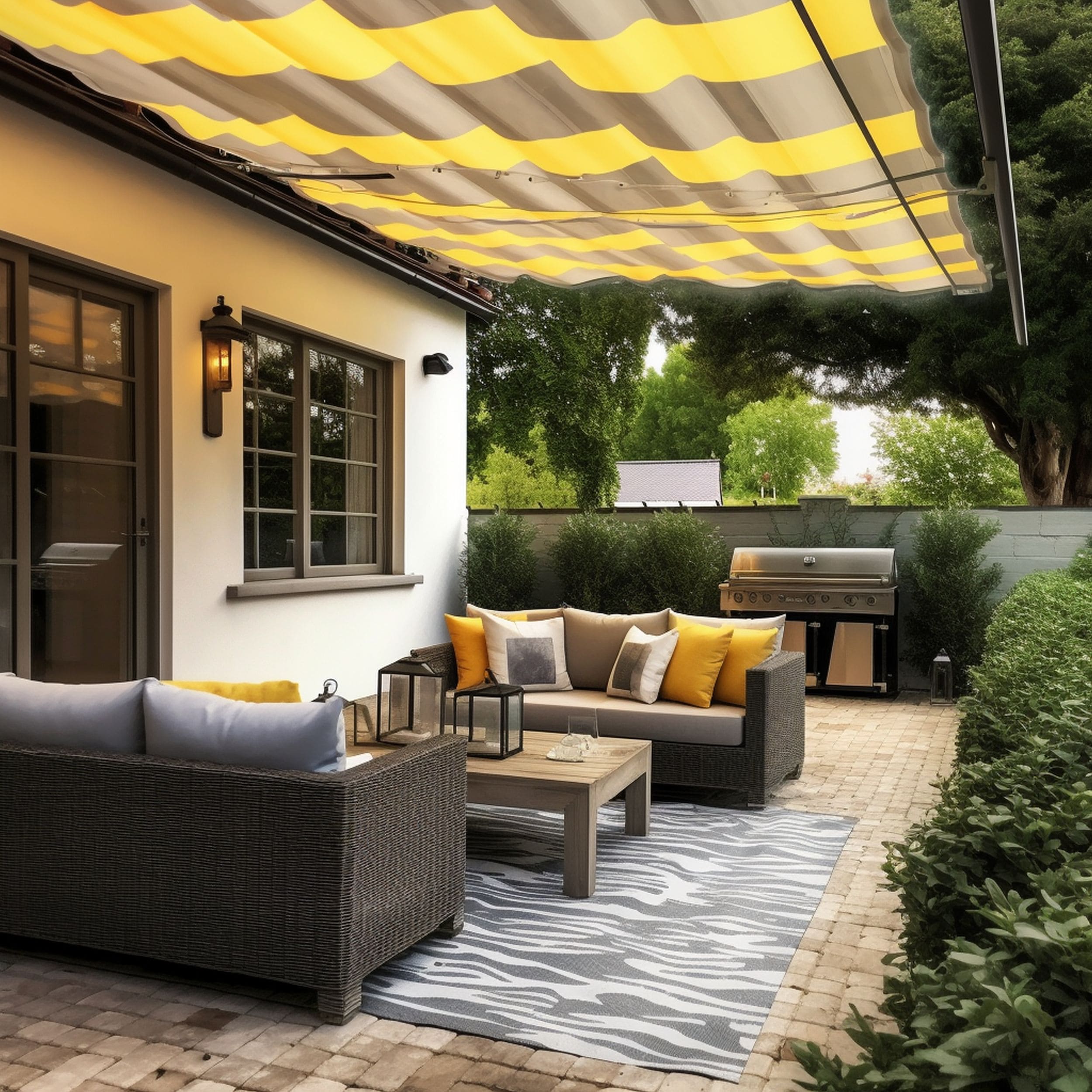 Anyone who wants to cover their patio with a pergola should consider an awning based on shade cloth. This style makes use of breathable fabric that adds good protection from intense sunlight. At the same time, you can take your pick from various shade cloth types to find the right color and pattern that matches the surrounding design of your outdoor area.




4. Sunny Retractable Awning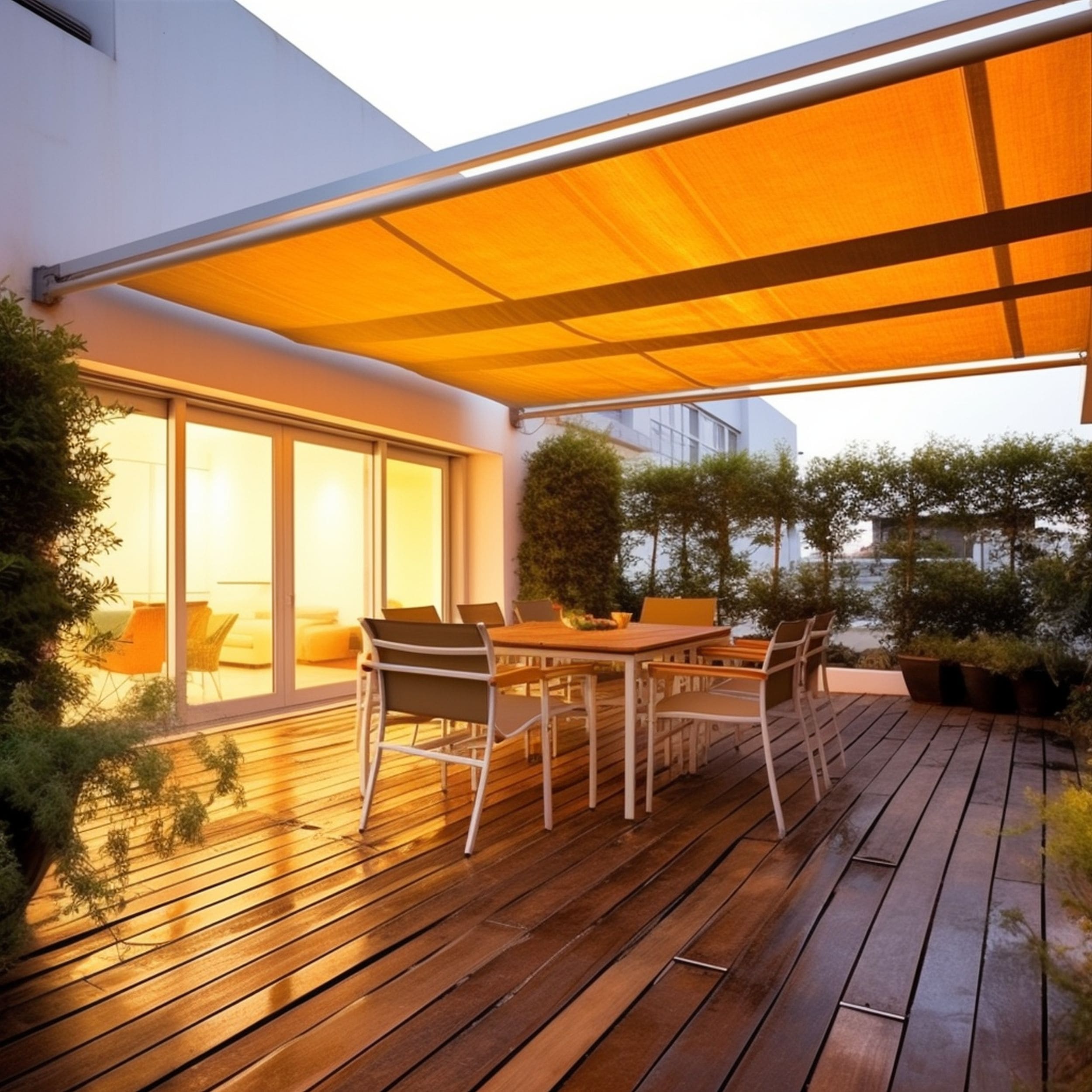 Patios in urban areas are typically designed with more neutral color schemes devoid of bright hues. If you want to make your outdoor area stand out from the rest, you should consider a sunny retractable awning like this one. It provides plenty of shade and is a breeze to use considering the ingenious roll of metal rods that allows the user to adjust the level of sunlight reaching the patio.




5. Green Awning Design





When you're trying to decide on the best color to use for your patio awning, take a good look at your surroundings. If there's plenty of fresh greenery in your yard, it could be a smart solution to maintain a cohesive look by opting for a green awning. Pick a subtle shade like mint green that feels soothing and relaxing.




6. Pergola Style





A pergola is considered a type of awning but it fulfills a more decorative role compared to others. The structure requires some extra patio space and will often remain open at the top. You can paint a pergola in a custom color to match the style of the area or hang various decorations from its beam or grid ceiling patterns. Add a fabric canopy on top of the pergola to benefit from proper UV protection.




7. Black and White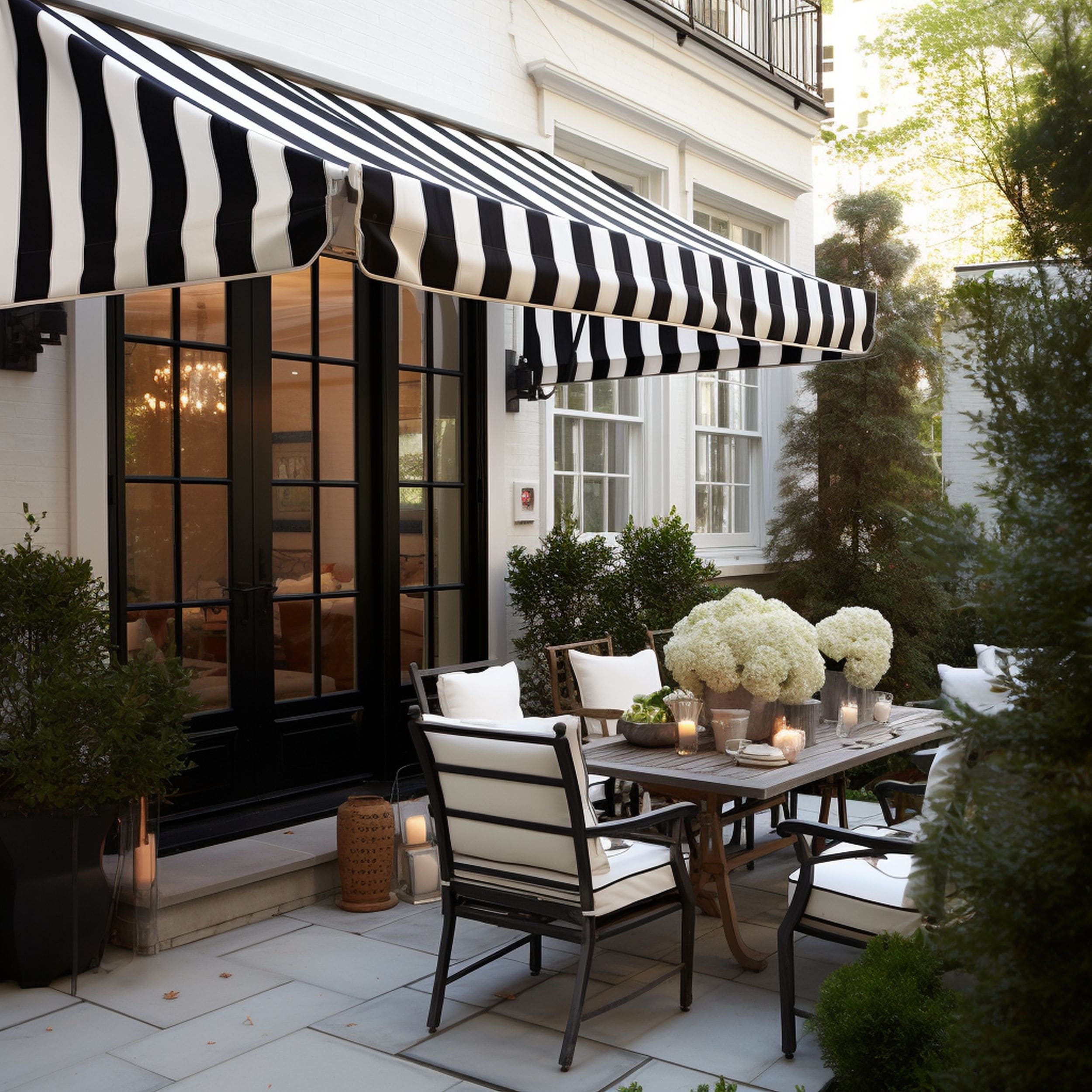 Mixing two colors in your patio awning design can be a smart decision if you favor a more eclectic vibe. Take a look at this Mediterranean patio that features an extended black-and-white awning fabric. It's a welcomed look considering the colorful surroundings while the striped patterns bring additional visual interest overhead. This awning design needs to be balanced out by matching patio furniture to integrate it harmoniously.




8. Portable Awning





Similar to a DIY-style awning, this portable option is recommended if you don't feel ready to commit to a fixed design. It's a versatile solution considering how it can bring shade anywhere in the patio area while also offering decent protection from the elements. Many portable awning designs are collapsible and highly customizable to enhance their overall appeal even further.




9. Roof Extension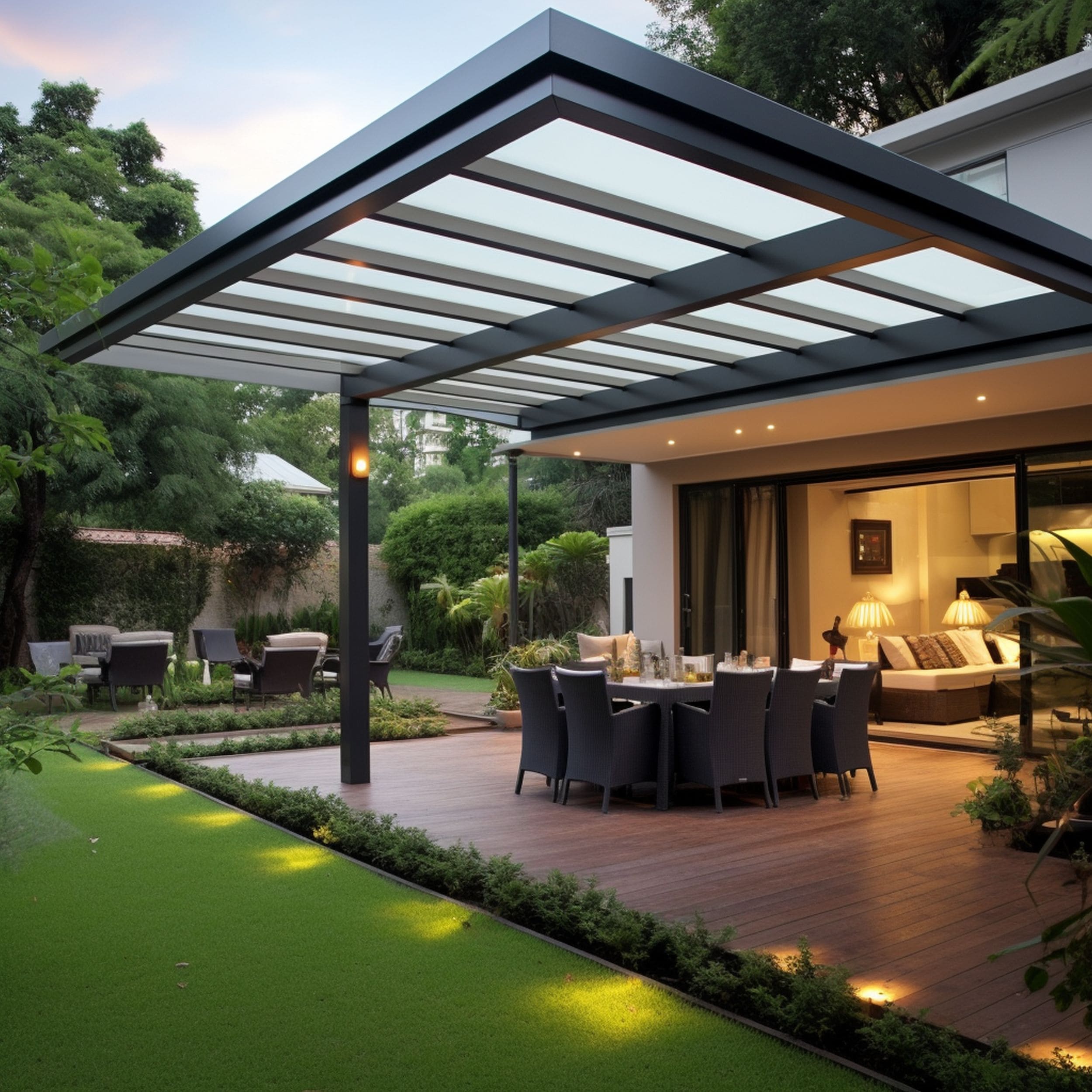 If you like the idea of a solid patio awning, it's often more practical to just extend your roof. This idea takes advantage of great stability and durability but there are some solid aesthetic benefits as well. You can make the awning match the color scheme of the house more easily to maintain visual consistency.




10. Modern Beauty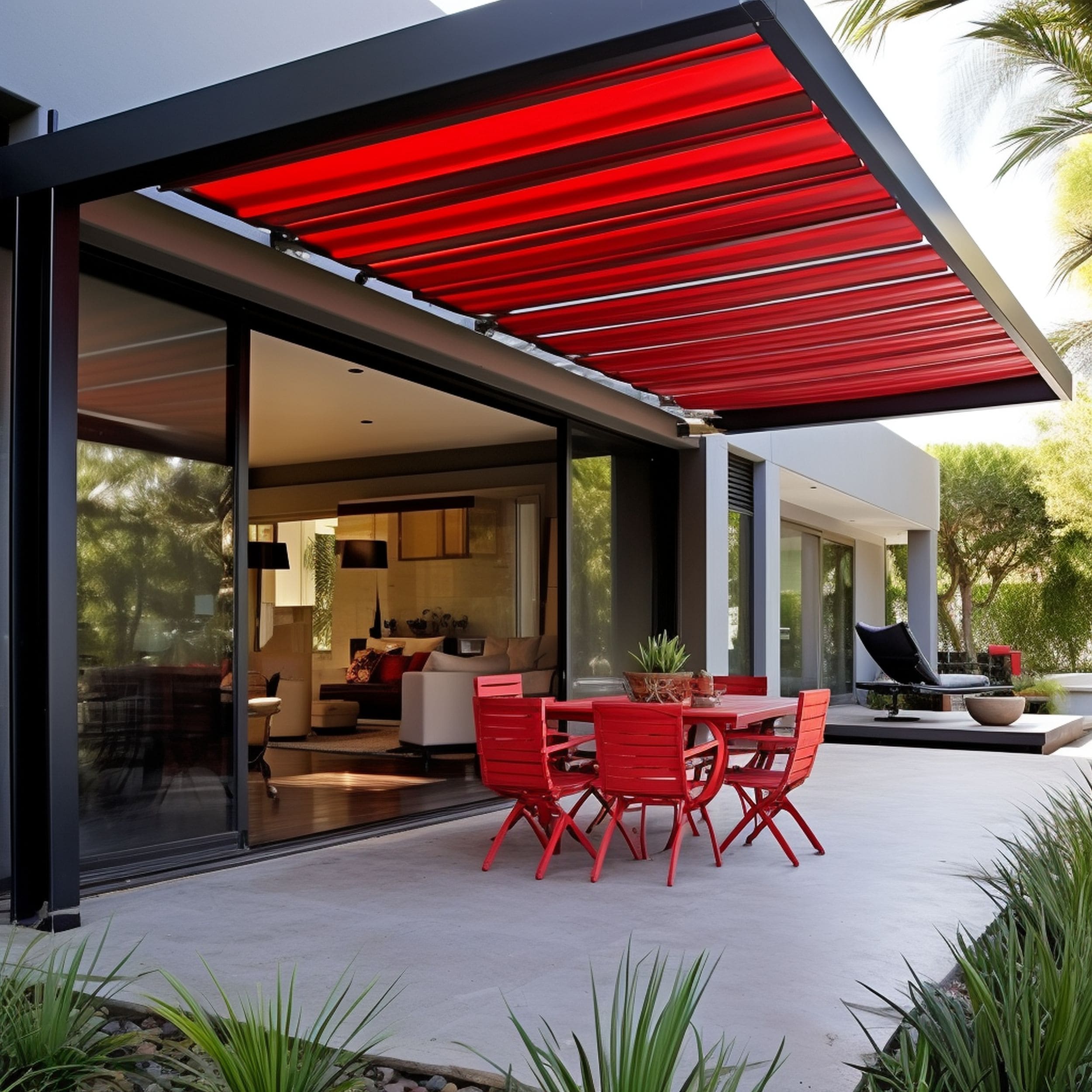 Providing good UV protection to your modern patio is important. A high-quality awning can tackle this job while also accenting your architecture with a stylish pop of color. Take a look at this vibrant red patio awning that brings comfortable shade to the outdoor area while making the entire space glow with a sense of summery cheer. It's a highly recommended awning idea if you prefer vibrant hues to make a bold patio statement.