This post may contain references and links to products from our advertisers. We may receive commissions from certain links you click on our website. As an Amazon Associate Rhythm of the Home earns revenues from qualifying purchases.
Share this article:
Memphis design is considered a ground-breaking postmodern style that seems to experience a resurgence in popularity in recent times. Created by Memphis Group in Italy, the style attempted to revolutionize the design trends of the 80s through its unapologetic mishmash of bold colors and patterns. At the time, Memphis design didn't really catch on and was widely criticized for its radical approach that challenged conventional design norms. However, the style managed to endure the test of time and is now considered an influential source of inspiration for lots of modern designers.
Key Features of Memphis Design
The style has many distinctive features that made it stand out against the prevailing design trends of the 60s and 70s. The designers at Memphis Group led by Ettore Sottsass wanted to create a rebellious response to minimalism and midcentury-modern styles that dominated the world of design.




Instead of accepting the Bauhaus design philosophy which stated that form follows function, Memphis design went in the complete opposite direction. It infuses simple geometric shapes and a bold color palette to provoke an emotional response. The style seems to emphasize unorthodox combinations of patterns, colors, and graphics that flout the standard notions of what represents good taste in design.
Due to its seemingly kitschy and tacky nature, Memphis design has been the target of many critics. It's considered a love-it-or-hate-it type of style because the design can often appear delightful for some people and garish for others. The polarizing nature of Memphis design was an intentional aspect of the style. Such a provocative and unconventional design approach was never supposed to become mainstream. Despite that, Memphis designs have returned in recent years due to a fond nostalgia for the 80s. Many designers continue to challenge the status quo and take inspiration from the alluring Memphis trend in their creative projects.




Take a look at some of the best examples of design ideas based on the radical style created by Memphis Group.
1.

Carlton Library
Found in an art museum in Paris, the Carlton Library is perhaps one of the most iconic designs produced by the Memphis Group. This bizarre creation of Ettore Sottsass doesn't appear to have a well-defined purpose considering the fusion of a bookcase with a dresser. It also vaguely resembles a unique room divider due to its sharp geometric lines. The Carlton Library is a great example of Memphis design considering its vibrant color palette and structural construction.




2.

Wall Decal
When it comes to home design, the Memphis style has a considerable presence among nostalgics. Check out this geometric wall decal that's clearly inspired by this retro design. The multiple shapes crowded together seem to instantly recall the features of Memphis design. A wall decal or wallpaper could be a nice starting point if you're interested in bringing a touch of this style to your home. You'll be able to enjoy a distinctive ambiance if you pair the wall design with matching geometric elements in bold colors.




3.

Memphis-Inspired Building by Camille Walala
Many different types of designers have taken inspiration from the unmistakable Memphis aesthetic. A nice example is in the world of architecture where Camille Walala tried to infuse a five-story building with the dreamy features thought up by the Memphis Group. The result is the Dream Come True Building which shows off flashy color tones together with various patterns and shapes piled on for a dramatic visual effect. The Memphis design allows this building to stand out compared to the rest of conventional London architecture.




4.

Bathroom Design
The Memphis style can be neatly incorporated into a bathroom if you focus on the essential characteristics of this design approach. The blend of bold colors and different patterns brings a retro vibe that's reminiscent of the Memphis era. Hints of the style can be recognized from the use of multiple geometric shapes seamlessly mixed together in a striking fashion. The bathroom can be considered a somewhat unexpected place if you wish to pay homage to the Memphis design yet it looks like a fabulous choice when you have the right aesthetic vision.




5.

Modular Sofa
When you think of a sofa, you're probably not very likely to picture a mishmash of shapes and colors. Take a look at this Memphis-inspired modular sofa that strays far from the usual furniture design conventions. It's a spectacular blend of nostalgic appeal with a whimsical vibe that will easily grab all the attention. The allure of Memphis design is very well represented by the rounded forms and elegant geometric style in different color tones.




6.

Luxurious Office Space
Integrating Memphis design elements in a luxurious space seems to feel natural when it comes to this style. The aesthetic goes hand in hand with the idea of an expensive art showroom. Remember the core conceptual ideas that are considered fundamental for Memphis design. This is a bold style whose main driving force is being as provocative and unapologetic as possible. It's not surprising that it's such a great fit for this kind of luxurious office showroom.




7.

Kartell Store Tribute
If you wish to find a striking example of Memphis design, look no further than this nostalgic design showcased by the Italian furniture brand Kartell. The company created a tribute to the classic design concepts envisioned by the Memphis Group. From the furniture pieces to the style of the walls and the flooring, everything seems to transport you back to the old era when the Memphis aesthetic originally took the world of design by storm.




8.

Coffee Table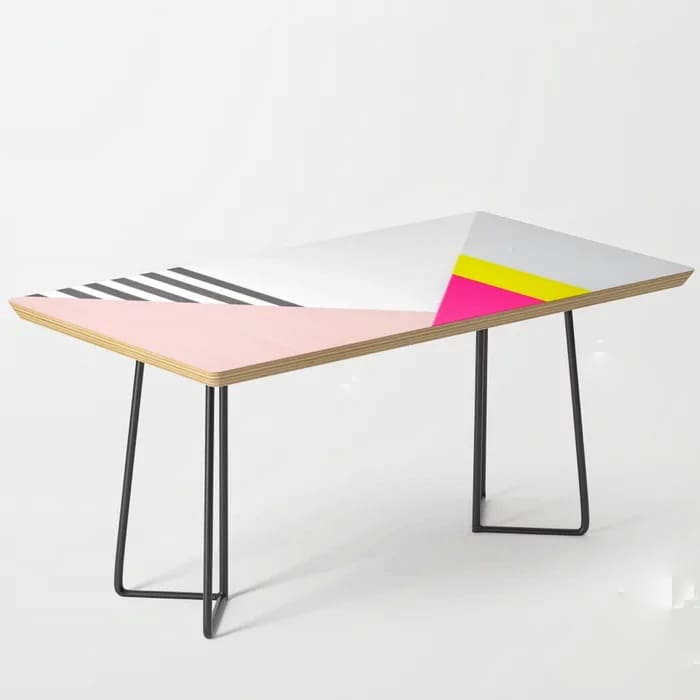 Homeowners who entertain the idea of bringing the 80s vibe of Memphis to the living room should consider this exquisite coffee table that bears all the characteristic marks of the style. Most notably, this piece of furniture stands out through its angular design that provides a subtle nod to minimalism while the top of the table features a fun mix of patterns and colors. This is a nice example of blending modern and retro design elements when taking inspiration from the Memphis aesthetic.




9.

Floor Lamp
There are many accessories in home design that can incorporate the innovative appeal of the Memphis style. A floor lamp can create a show-stopping display through the odd mix of vibrant colors and geometric shapes. The design elements of the lamp seem to turn all your expectations on their head. It's a perfect piece if you wish to draw attention using a strong Memphis design vibe.




10.

Curvy Mirror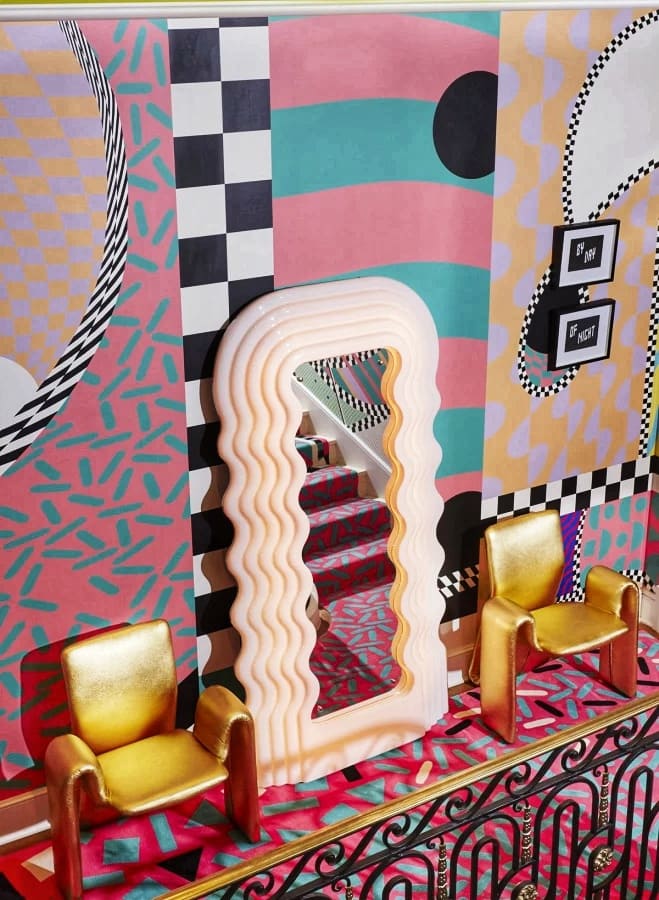 An iconic Memphis design trend, the curvy mirror manages to embody the spirit of the style quite effectively. The appeal of this design refers mainly to the use of a curved mirror frame whose bold texture feels right at home in a Memphis-inspired space full of clashing patterns and playful colors. A huge wall-standing mirror like this could be versatile enough to bring a solid visual punch to either contemporary or traditional rooms.