This post may contain references and links to products from our advertisers. We may receive commissions from certain links you click on our website. As an Amazon Associate Rhythm of the Home earns revenues from qualifying purchases.
Share this article:
Thanks to its natural beauty, mahogany wood is a popular material used for kitchen cabinets. It can bring a luxurious style to the kitchen area but mahogany is versatile enough to suit almost any kind of interior decor. You can take advantage of the classy visual effect of mahogany cabinetry to enhance the look of your home with a sense of effortless sophistication. If you've decided to use solid wood cabinets, it's safe to say that no other option can rival mahogany. Let's explore a selection of design ideas featuring mahogany cabinets that will inspire you.




1. Stylish Display





Whether you want to show off your China collection or a selection of your favorite photo frames, mahogany display cabinets can work like a charm. The timeless vibe of this type of solid wood material contributes to the beauty of whatever it is that you wish to display in the room. Pick a mahogany cabinet with glass shelves and a mirrored back to create the most stylish backdrop for your displayed items.




2. Elegant Kitchen





Although mahogany kitchen cabinets look stunning when used in traditional spaces, the material feels suitable for modern designs as well. Take a look at this elegant cooking space that stands out thanks to the classy contrast created between dark mahogany cabinets against stone-gray countertops and walls. If you plan to design a kitchen that's both stylish and long-lasting, mahogany cabinetry could be ideal. The wood provides impressive hardness and density to work with.




3. High-End Home Office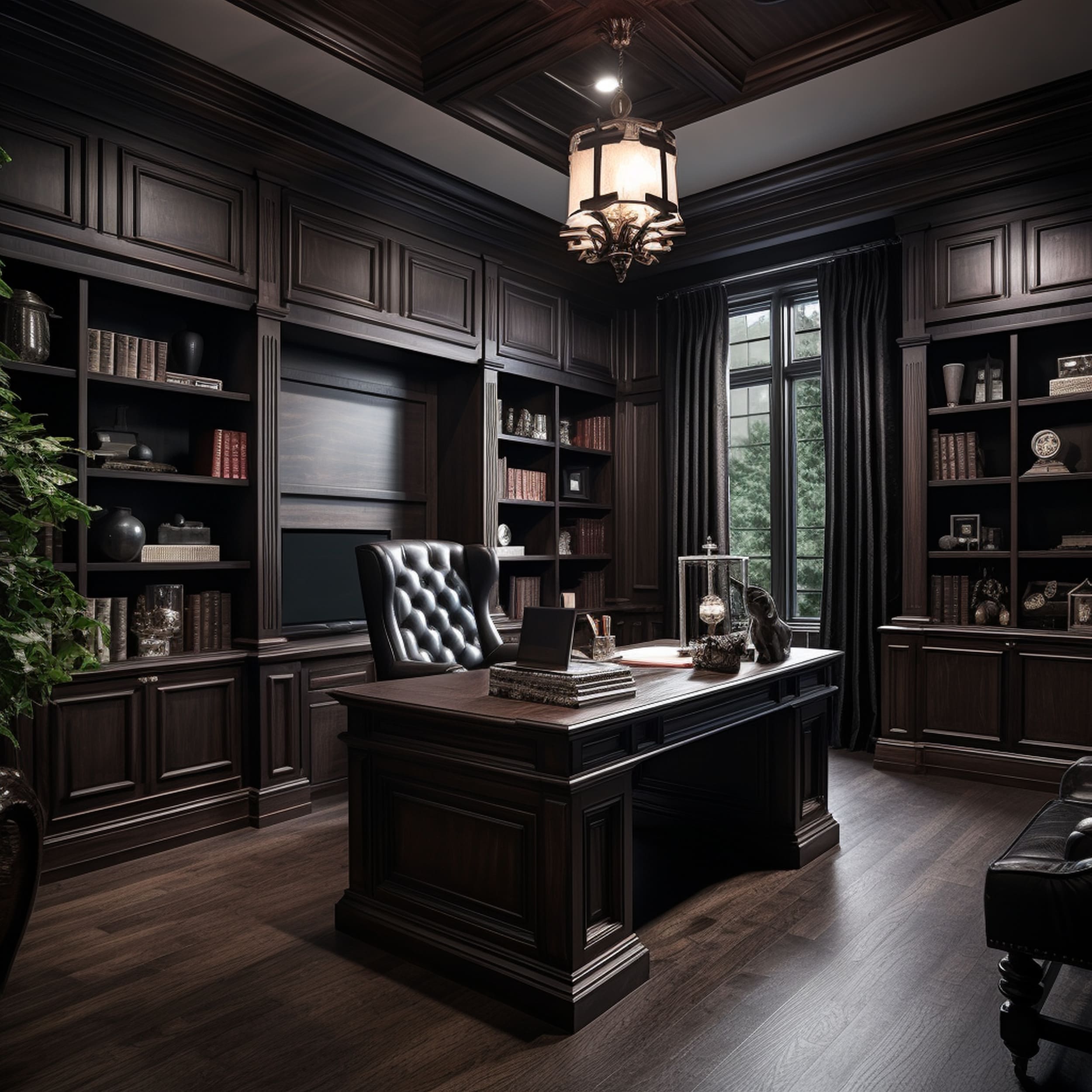 Looking to bring a dash of high-end luxury to your home office? Mahogany cabinetry could be the right answer. The material brings a sense of classy maturity thanks to its refined natural look as well as the overall impression of solidity. If you want to spare no expense when designing an elegant home office, it's recommended to use mahogany for other elements of the room such as raised panel wall treatments.




4. Vintage Touch





Solid mahogany is highly recommended if you enjoy the look of vintage furniture. The timeless qualities of this material make it suitable for curio cabinets. Check out this elegant windowed cabinet finished with mahogany wood. It has a formal air thanks to its traditional decor details such as the arched frame. The vintage appeal of this piece of furniture can be combined effectively with Victorian elements such as high-back chairs or an antique ornate mirror.




5. Cherry Mahogany Style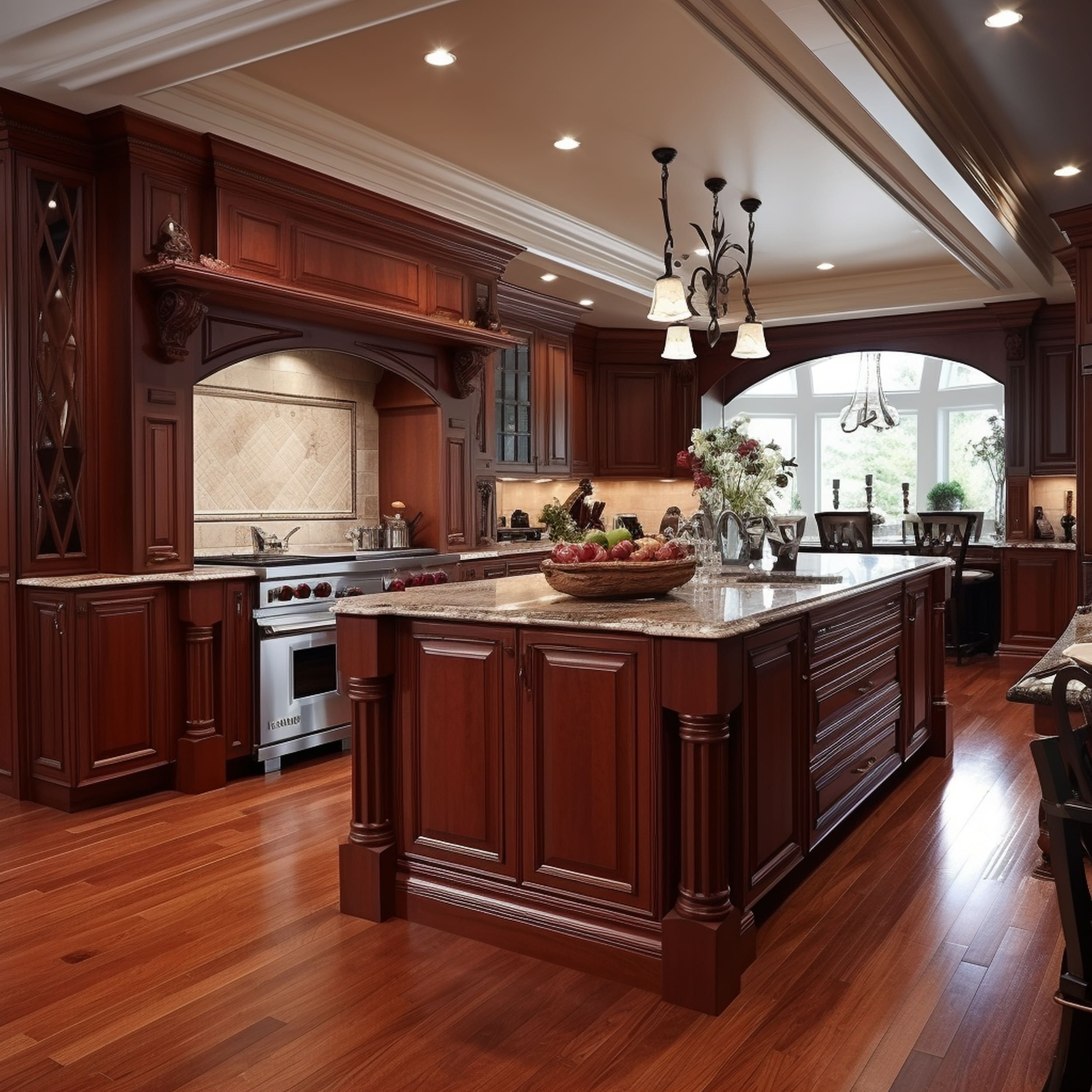 There are different mahogany wood styles worth trying for kitchen cabinets. Many homeowners prefer the reddish vibe of cherry mahogany cabinetry over classic rich brown. It all comes down to personal preference but it's safe to say that cherry mahogany cabinets can decorate any cooking space with timeless beauty. This is a popular material to use but it's also quite expensive when planning to fully remodel a large kitchen.




6. Marble Pairing





If you're not sure about the best materials to combine with your mahogany cabinets, it's worth considering similar qualities. Marble works flawlessly with solid mahogany wood due to how they're both luxurious and long-lasting materials. The natural touch of mahogany cabinetry is elegantly complemented by the addition of marble countertops. Both modern and traditional decor schemes benefit from this stylish combination of colors and textures.




7. Mahogany Walk-In Closet





Designing a walk-in closet needs to take into account many aspects. The cabinetry style can be one of them. If you're going for a sophisticated traditional look, you can't go wrong with a mahogany finish. Take a look at this walk-in closet that features custom built-in cabinets made using solid mahogany wood. The attractive grain texture blends beautifully with the rich brown shade of the wood. It's a great solution to make any walk-in closet stand out.




8. Traditional Elegance





Although many modern interiors incorporate mahogany successfully, this type of solid wood feels at home in more traditional spaces. Trends come and go but mahogany kitchen cabinets have some distinctive qualities that seem to never go out of style. One aspect that plays a major role in the longevity of mahogany is the natural density of the wood. However, it's important not to forget about the classic solid wood style that requires no extra paint finishes to look amazingly good.




9. Mix of Cabinets





Trying to modernize traditional mahogany kitchen cabinets without making them feel out of place? One smart solution is to create a mix of cabinet styles. If you have a large kitchen, consider the bold idea of combining crisp white cabinets with rich brown mahogany cabinets. The big size of the space helps to emphasize the stylish appeal of this beautiful contrast. Keeping the overall color scheme safely in a neutral zone ensures that you maintain visual balance and create an attractive transitional kitchen decor.




10. Incorporated Fridge





Some homeowners may not be pleased by the classic look of a separate pantry and wish to integrate in the kitchen more effectively. An ingenious way to solve this problem is to make use of a vintage-style mahogany armoire that can be turned into a pantry. It's a bold idea that's not easy to pull off unless you opt for custom cabinetry solutions. That being said, you can enjoy a much more cohesive kitchen design with a more authentic traditional flair.