This post may contain references and links to products from our advertisers. We may receive commissions from certain links you click on our website. As an Amazon Associate Rhythm of the Home earns revenues from qualifying purchases.
Share this article:
What is more fun than decorating a gingerbread house with your loved ones? Most designs are quite easy to make, regardless of your skill or artistic experience. There are endless opportunities to show your imagination when decorating this delicious Christmas staple. Let's check out these gingerbread house ideas that you can share with your family and friends!




1.

Chocolate Decorations





If you want an absolutely irresistible gingerbread house, consider this design covered in chocolate! You can combine white chocolate with milk chocolate to create an interesting pattern. The door is made of KitKat bars, while the dusted roof seems like it's just been covered by fresh, puffy snow. You won't need too much frosting for this design, while the wreath is a clear indication that the special season is just around the corner.




2.

Nutty Gingerbread House





If you love nuts, you can decorate your gingerbread house with a variety of them. In this case, you can notice pecans used for the roof shingles, a few cashews, and even sunflower seeds as decorations. This idea feels rustic and earthy thanks to the brown colors, and it will also tone down the sweetness of a usual candy-covered house.
3.

Gingerbread Cake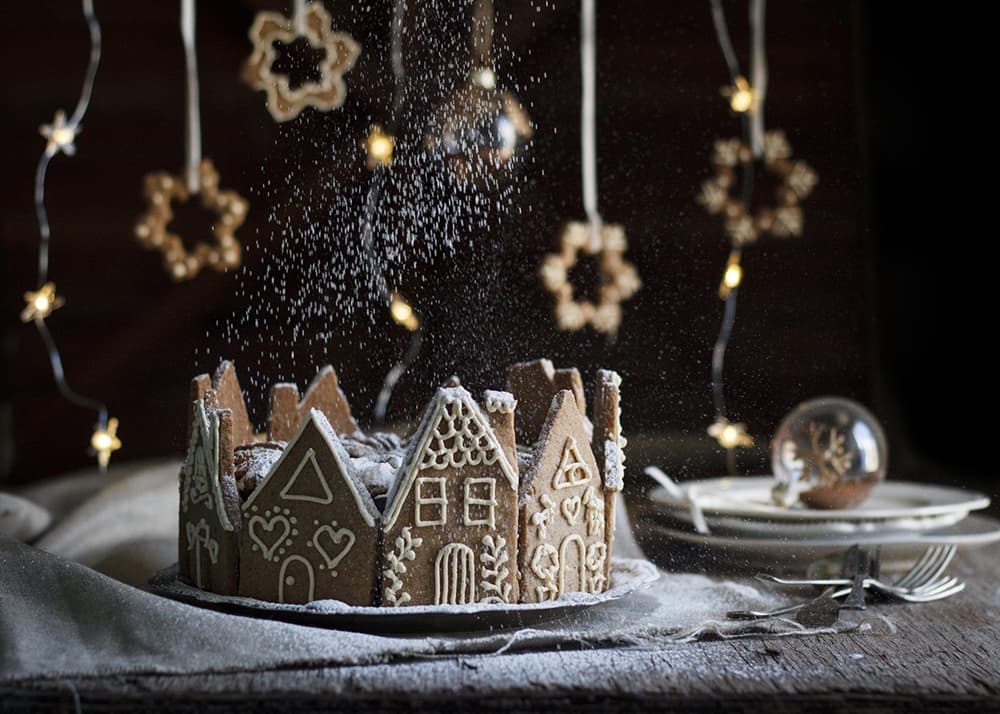 If you want to be different, opt for this creative border design. You will need to bake each house separately, then put them together. The middle part can be your favorite cake, so this option has a double advantage! Use your creativity to decorate each house, or let your children come up with their own ideas!




4.

Gingerbread Chalet





If you are down for a challenging project, this gingerbread chalet might be exactly what you need. In this case, the creator decided to cut fondant to use for the roof shingles. You may choose any colors you like, and you can even use the leftover white fondant to make snow and even snowmen.
5.

Traditional Gingerbread





One of the best things we love about gingerbread houses is that they can be covered in about any type of candies or sweets. You can use anything you prefer, or you have available, including hard candies, gumdrops, and more. It will not only be more delicious but also more colorful. In this case, there's even a small lawn decorated with the same candies!




6.

Funfetti Cookie





Do you love colorful gingerbread houses? If yes, you must try out this fun and colored design! In this case, you can use firm funfetti cookie dough to make your house. Then, add different butter mints to create the roof and the lawn. Other great options would be to use colored icing and different hard candies.
7.

Classic Gingerbread House With Smoke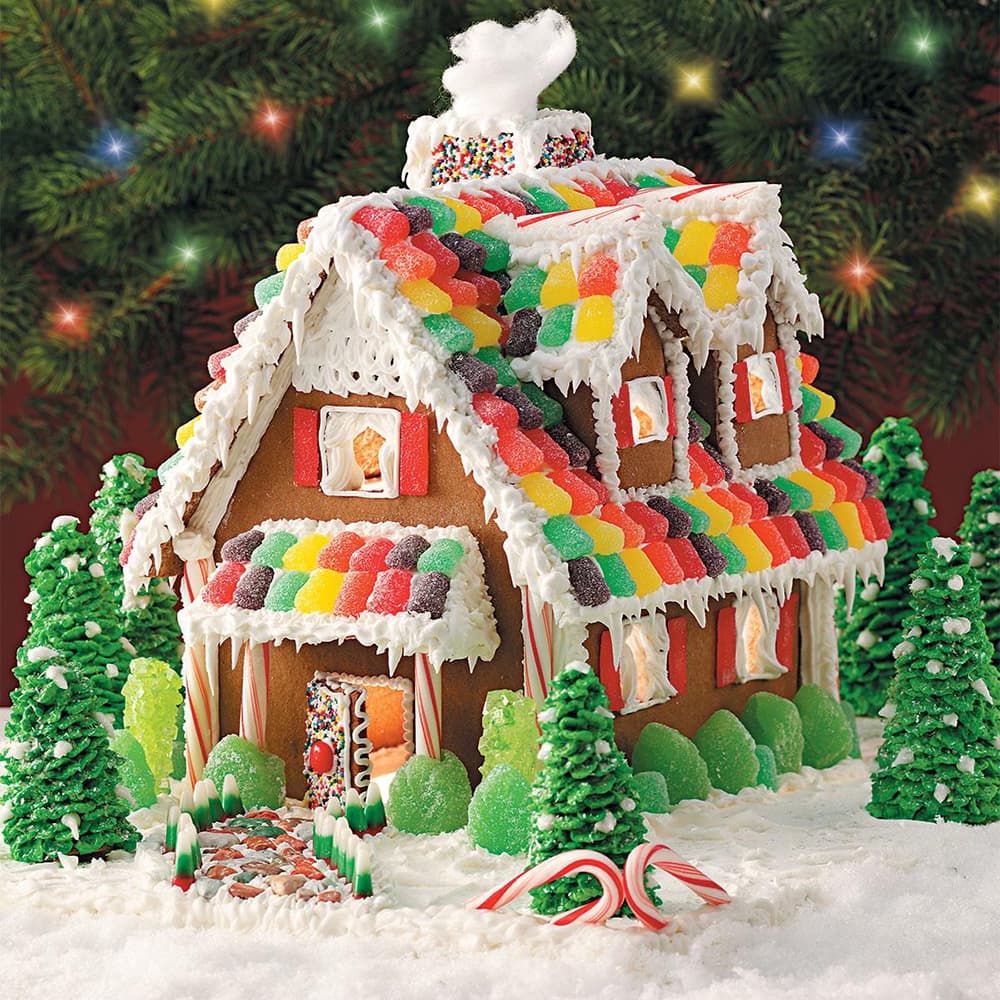 This is a classic and inspiring idea that uses lots of gumdrops to add numerous details. The creator even added a fluffy cotton ball to simulate smoke. With plenty of colors, this classic gingerbread house is extremely beautiful and delicious – don't forget the cane sticks to build a sturdy house that won't collapse after adding all the gumdrops.




8.

Gingerbread Farmhouse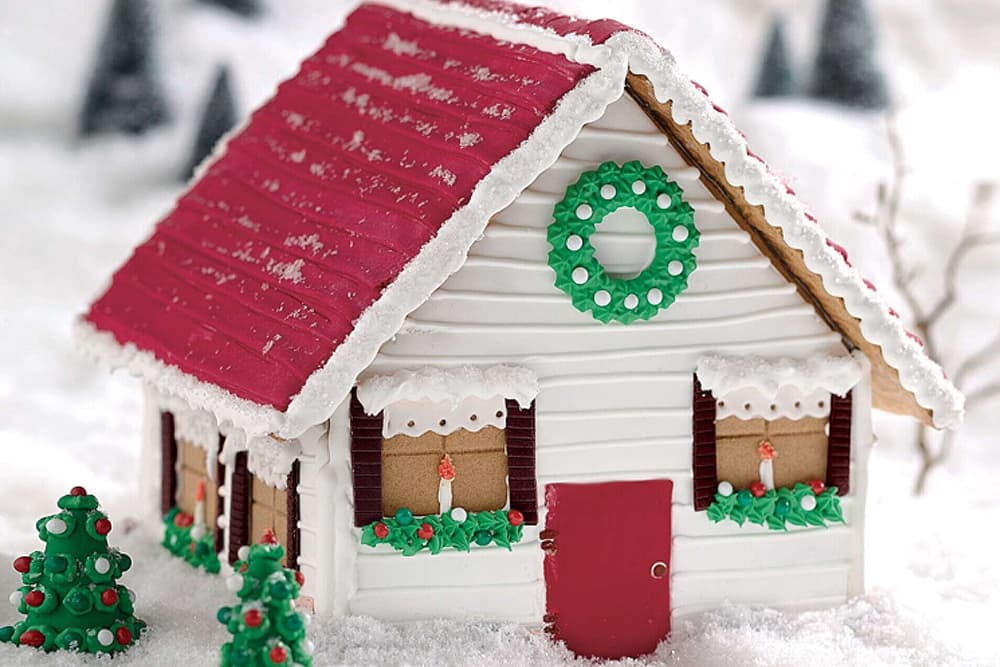 If gingerbread house making is one of your favorite activities each year, you will find this model inspiring as it shows a new tweak on the classic design. This farmhouse is absolutely adorable with a clean, sleek look. If you want to keep your candies to a minimum, use fondant icing to finish it.
9.

Modern Pecan Gingerbread House
This is another excellent idea if one of your loved ones is not a huge fan of sweets. You can mix up your gingerbread house decorations, adding seeds and nuts. It makes for an interesting visual, while the wreath was made of rosemary. Apart from giving it a Christmas vibe, the rosemary will smell amazing, too. If you do not like it, you can replace it with any other herb that you prefer.




10.

Pink Gingerbread House





Do you want to create something different this year? Try changing your gingerbread house color. In this case, the creator decided to go for a soft pink nuance. This model resembles a festive shop that offers plenty of seasonal cheer. The candy canes are a must as they are the centerpiece of the home décor.
11.

Sprinkle Gingerbread House





If you love your colorful gingerbread houses, but you don't have much time to decorate, you can simply use lots of sprinkles as décor. It is time-effective, and you don't need to worry about your skill or making any mistakes. This house has some white piped fondant on the roof, door and windows, but you can also simply ignore it if you want a quick and simple idea.




12.

Hershey Kiss Roof





This house looks just like artwork – or a chocolate lover's piece of heaven! The roof is covered in Hershey kisses and bars, while the rest of it is embellished with rainbow candies and several candied hearts. This design is truly impressive – not to even mention the highly detailed snowflakes! Add some frosting trees and a few other classic elements, and you end up with a professional-looking house.
13.

Rustic Log Cabin





If you love the taste of salt and chocolate, this idea is a must! The house was made with pretzel rods that turn the traditional gingerbread house into a real rustic cabin. The roof may also be decorated with chocolate-covered pretzels if you want – and even add some pretty pretzel trees, too!




14.

Stained Glass Windows





If you think that these paint-stained windows are hard to make, you couldn't be further from the truth! You can melt different colored candies to make the windows seem "color-stained" or simply pick only one color. The gingerbread house would be amazing if you could place a candle or a source of light inside, so it seems welcoming.
15.

House Design with M&Ms





Who doesn't love M&Ms? If your family members are fans of these delicious candies, you should consider this idea. The house also has adorable candy cane hearts and several hard candies as decorations. You can add the M&Ms on the roof in any pattern you prefer, but keep them close together to make sure it looks like an actual roof with multiple tiers.




16.

Graham Cracker Gingerbread Houses





Are you too busy, or do you not like baking? Try out these graham cracker houses. Due to the crispiness of the crackers, it's best to stick with small houses to avoid breaking apart. You can also let your kids build these tiny houses as they are perfect for their small fingers. Icing still works great to hold everything together.
17.

Simple Design





Not every single gingerbread house must crumble under the weight of tons of candies and chocolates. This clean design is traditional, beautiful, and simple to make. Keep everything simple by adding frosting all around the edges, a few candy cane ledges, with minimal roof decorations.




18.

Nutty Graham Crackers House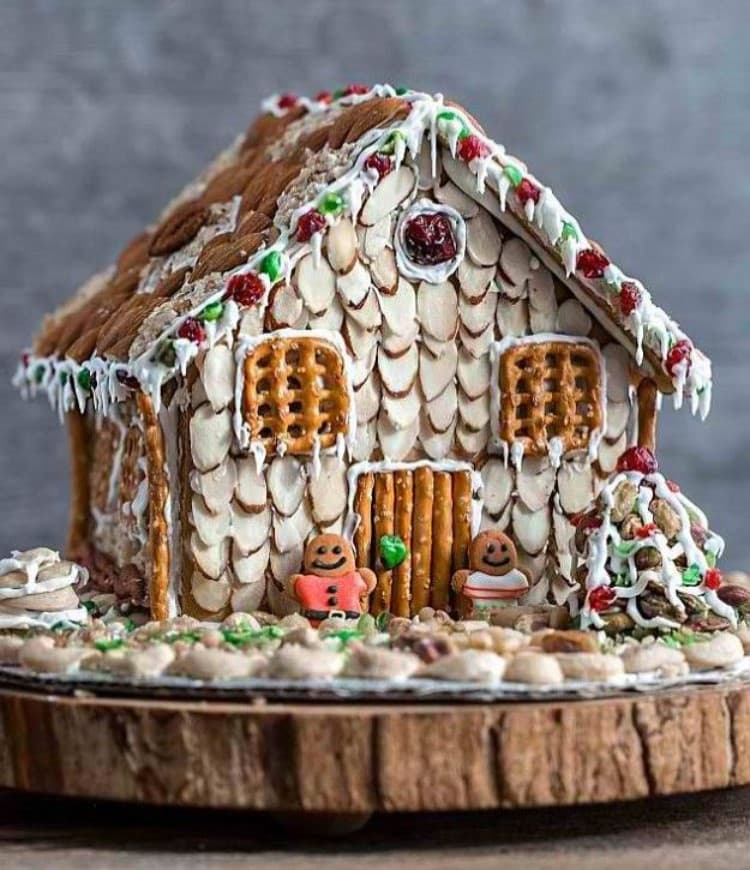 Another quick, no-bake option, this house is also made of graham crackers. You can spend your time decorating it instead of cooking! This house combines chocolate with pretzels and different nuts for a rustic vibe.
19.

Gingerbread House With Very Little Frosting Design





Sometimes, we tend to be too excited when adding the frosting. If you are not a fan of it or you want a more health-conscious option, you can use this design. There is minimal frosting used for the light accents. The main part of the house is decorated with different candies, canes, and even the blue lollipop that resembles a flower.




20.

Gingerbread House with Traditional Decorations





When you think about the Christmas season, this gingerbread house may come to your find. It comes with vivid colors thanks to the multiple gumdrops and hard candies. Squishy trees, plenty of icing, and the traditional wreath all look delicious and bring the holiday feel into our homes.
21.

Pastel Gingerbread House





Pastel colors are often a symbol of spring – which is why you may want to add them to your gingerbread house! You can add some springtime happiness to brighten up the cold winter days by adding colorful candies. The walkway is paved with delicious milk chocolates and a pretty cardboard cutout as a door.




22.

Green Decorations
Green is surely one of the most beautiful colors representing nature. In winter, the green Christmas tree is a staple that brightens up our homes. You may also use green and red candies to decorate your gingerbread house to fit in with the holiday cheer, while the small and squishy gummies resemble actual trees.