This post may contain references and links to products from our advertisers. We may receive commissions from certain links you click on our website. As an Amazon Associate Rhythm of the Home earns revenues from qualifying purchases.
Share this article:
Daffodils are some of the prettiest flowers we can choose for our gardens. Their small, cheerful blooms brighten up our mood during the spring, they multiply each year, and they are also easy to plant, great choices for novices. So if you want a carefree flower in your garden, you should consider planting some of these daffodils!
1.

Ziva Paperwhite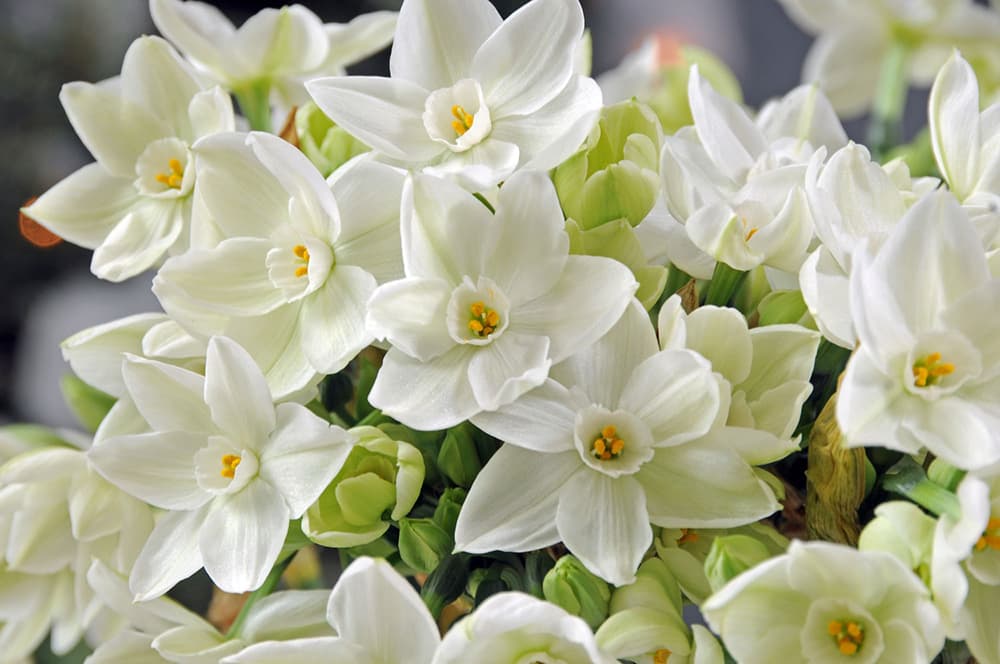 The paperwhite is not only pure and beautiful, but its scent will spread to your entire garden. Although it may be considered too sweet by some, all gardeners know that paperwhites are the top choice if you want a flower that's easy to plant. You can place the bulbs indoors in a container with water, then relocate them in your garden. Ziva is a type of paperwhite plant that blooms in early spring, making for an excellent choice for daffodil enthusiasts.




2.

Dutch Master
The Dutch Master is undoubtedly one of the best Dutch creations, even given the Dutch reputation for breeding flowers. This variety comes with a trumpet-like bloom that grows on a long stalk of at least 26 inches. These flowers are large, and they can add some color to your garden in early spring.
3.

'Ice Follies' Daffodil
These beautiful ice follies are extremely eye-catching, thanks to their color combination. Each stem has a snowy white, 4-inch flower with a yellow accent. This variety comes back each year after you plant it. It was also bred in the Netherlands – where you can find fields full of astonishing ice follies growing in mid-spring.




4.

British Gamble
Despite its name, the British Gamble is no gamble at all! It is a hybrid plant that can be easily grown. With blooms showing up in mid-spring, the variety has giant flowers that can reach up to 6 inches across. The colors are slightly different, ranging from coral pink to brighter yellow.
5.

Rapture Daffodil
Rapture is a daffodil that comes with a unique flower. It has a bright, lemon-yellow bloom on each stem. The flowers also bend at an angle to attract pollinators, so it's a great option if you want to provide food for your bee population and other insects. The rapture usually blooms in March.




6.

Jonquilla Daffodils
Jonquilla is a beautiful variety that has at least two flowers on each stem. It's also smaller, so it may fit better in your garden, depending on your design. The small blooms are yellow with orange accents and grass-like leaves. Jonquilla blooms in mid-spring and loves full sunlight, humidity, and warm soil.
7.

Split Corona Daffodils
Another late spring bloomer, split corona daffodils add diversity to your landscape. The name is derived from the split trumpet-like bloom. These daffodils often come in two colors, with large, sturdy flowers positioned on thick stems. Many gardeners opt for this variety because it is an excellent freshly cut flower.




8.

'Red Devon' Daffodil
The red Devon daffodil takes its name from the red cattle found in Devonshire. It was bred by an English hybridizer. Despite its name, the bi-colored plant comes with an orange cup, so daffodil breeders have yet to achieve their objective. Despite this, the mid-spring bloomer is a beautiful addition to any landscape.
9.

Tahiti' Daffodil
The Tahiti daffodil is one of J. Lionel Richardson's creations, an Irish daffodil breeder who created several flowers, and all of them have exotic names. This mesmerizing variety comes with deep orange accents that complement the golden petals. Tahiti daffodils have large flowers and bloom in mid-season.




10.

Poeticus Daffodils
If you want a daffodil that will brighten up your landscape in late spring, Poeticus is exactly what you need. It has large, pure white petals. Similar to other varieties, the scent is potent and attracts numerous pollinators. The plant has one bloom for each stem, while cups can be colored in orange, red, or even green. Poeticus loves humid soil.
11.

Pink Parasol
The pink parasol takes its name from the unique appearance. If you love uncommon flowers, this may be a fine addition to your garden. This cultivar has large white petals and soft pink trumpets. This variety blooms in mid-spring and was created in the Netherlands.