This post may contain references and links to products from our advertisers. We may receive commissions from certain links you click on our website. As an Amazon Associate Rhythm of the Home earns revenues from qualifying purchases.
Share this article:
Trees can be an exquisite addition to our gardens. Apart from decorating our personal space, they also provide so-much needed shade during hot summer days. If you want to choose some quick-growing varieties, you are in the right place. Let's check out these fast-growing trees that you can plant immediately, and you do not need to wait decades to enjoy the shade.
1.

Thuja Green Giants
Thujas are the most common option when it comes to quick-growing trees. They are beautiful and evergreen, and they grow up to 5 feet each year, reaching 40 feet when they are mature. This tree is also low maintenance and highly resilient, tolerant to drought, pests, and diseases. You don't need to prune it, so it's one of the best options for most homeowners.




2.

Weeping Willow
If you have a large backyard, the weeping willow might be exactly what you need. This tree loves wet, moisture grounds, so it's suitable for planting it near a lake or a pond or ensure plenty of water. It has a beautiful shape and reaches up to 60 feet in height.
3.

Leyland Cypress Trees
Similar to thuja, the Leyland cypress is a quick-grower, reaching about 5 feet growth each year and up to 50 feet in ten years, when it reaches maturity. It adds texture to any garden and has a compact shape that provides plenty of shade in the summer. At the same time, it is pest-free, drought-resistant, and does not mind growing in poor soil.




4.

Japanese Maple
If you want to make a true statement, the Japanese maple is one of the most beautiful additions to your garden. The delicate look does not withstand strong winds, but they are quite forgiving with any type of soil as long as it is well-drained and acidic.
5.

Kwanzan Cherry Tree
This cherry tree does not only become a centerpiece of your garden, but its quick growth rate and beautiful flowers are great qualities. Despite its name, it does not have any fruits, but it is often chosen as a beautiful decorative tree for gardens and patios.




6.

Tulip Poplar Tree
If you want a flamboyant fast-growing tree, the tulip poplar comes with the oomph you need. It is related to magnolia (not to the poplar or tulip, despite its name) and has bright, beautiful blooms during the early summer months. It grows about 6 feet each year until it reaches at least 70 feet.
7.

Red Maple
The red maple tree requires lots of space to grow due to its spreading roots, but, as you may notice, it makes for a breath-taking view. This fast-growing tree is commonly planted in North America, where the soil retains moisture. You may need to prune it and maintain it regularly to keep it healthy.




8.

Baby Giant Arborvitae Tree
If you want to keep your garden private and away from curious eyes, you should consider planting the baby giant arborvitae. It grows up to 14 feet in about three years only, so it's ideal if you want to make your garden private or add some shade using a fast-growing tree.
9.

Heritage River Birch
With a similar growth of about four feet per year, the heritage river birch can thrive in most soil varieties. However, it is best to be well-drained, and you need to place it in a sunny area. The beautiful heritage river birch tree reaches up to 50 feet in a few years.




10.

Sunburst Honey Locust Tree
Honey locust is a term that defines a thorny shrub. It is cultivated as a beautiful decoration or ornament. It reaches up to 130 feet high, and it is an invasive species in North America. Its blooms are small, white with a greenish nuance, and fruit that resembles a flat pod. It's best to choose a variety without thorns and plant it in a lightly shaded area.
11.

Royal Poinciana Tree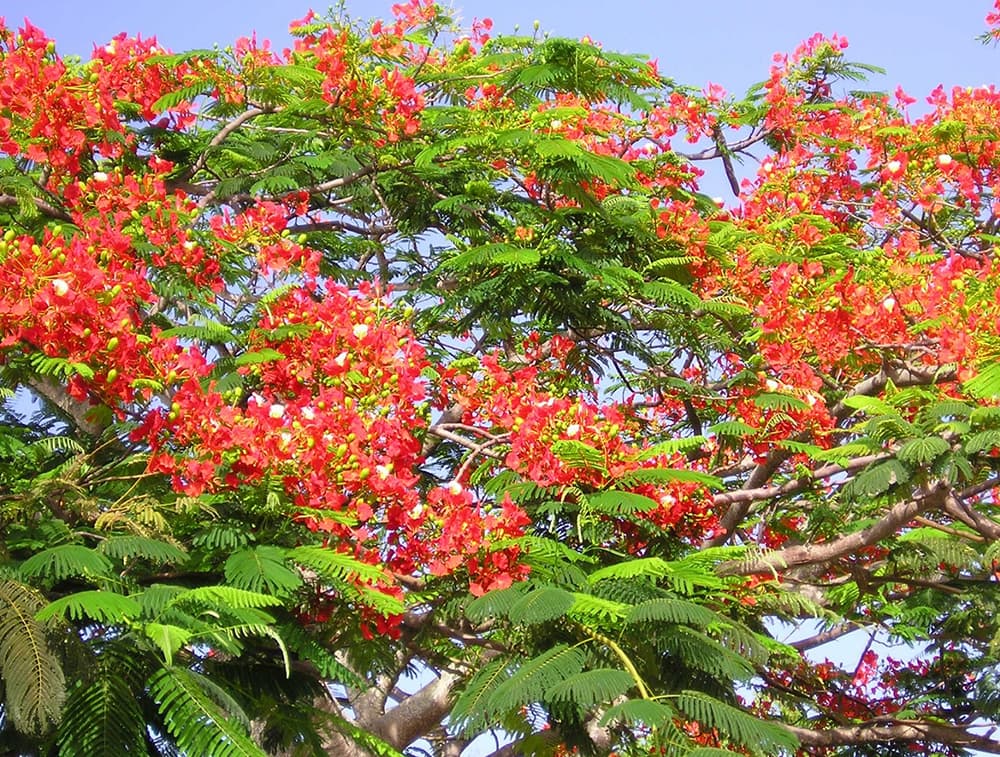 This flamboyant tree is known as royal poinciana and comes with unique, spoon-shaped petals. The flowers are similar to orchids and highly long-lasting, remaining fully bloomed for more than a month. It also has fruits and reaches up to 40 feet in height, ideal for your garden if you live in a frost-free climate since it originates from Madagascar.




12.

Hybrid Juniper
This weirdly elongated hybrid juniper was actually discovered in Nebraska. If you live in any zone from 3 to 9, this tree can add a surprising touch to your garden décor. It reaches about 30 feet within a decade, growing three feet per year. You can place them closer together to form a privacy fence.
13.

Quaking Aspen
The quaking aspen tree is extremely resilient, surviving in temperatures that reach -40F. It grows about 5 feet per year, reaching up to 30 feet in the first three years only. It is a beautiful addition to your garden if you want to enjoy a mesmerizing view during autumn.




14.

California White Oak Tree
The giant California oak tree lives for a few hundreds of years. It reaches up to 60 feet height and nearly as wide, so make sure you have plenty of space for this tree. It loves dry soil, so you do not need to worry about its maintenance.
15.

Italian Cypress
The Italian cypress boasts a sleek design and has a growth rate of 3 feet per year. This tall tree reaches up to 60 feet. It is suitable for smaller gardens as the base does not develop munch, reaching about 4 feet at maturity.