This post may contain references and links to products from our advertisers. We may receive commissions from certain links you click on our website. As an Amazon Associate Rhythm of the Home earns revenues from qualifying purchases.
Share this article:
Bungalows are small houses or cottages that originated in Bengal, India. Despite the existence of many distinctive types of bungalows, they all share some common characteristics that embody bungalow architecture. For example, they tend to have wide verandas, low roofs, and large interior fireplaces. Bungalows became quite popular in the US in the 20th century and are still highly appreciated today in their modernized forms.
There are many reasons why Americans love bungalows so much. This house style is very practical when it comes to creating comfortable living conditions, especially for homeowners who prefer open-concept interiors. Bungalows aren't usually considered large as they're either single-story or one and a half stories. Their layout is more convenient for people with limited mobility because there are no upstairs areas to reach. The exterior has many eye-catching elements for homeowners concerned about curb appeal.




History
Modern bungalows are quite different compared to their traditional counterparts. British colonists in India adapted the single-story huts spread throughout the country to match their needs. Initial modern versions were built in Bengal, hence the name which can roughly be translated as "belonging to Bengal". The structures were designed for great protection against the harsh Indian sun so that explains the extra low to the ground placement as well as the addition of sheltered porches.




From the early 1900s, bungalows started to become favorites of homeowners in the United States. It's not exactly clear what kickstarted the architectural trend but a strong influence is credited to the American Arts and Crafts movement. Bungalows managed to outshine other building architectural styles at the time that were focused too much on complex aesthetics such as the Victorian style. Americans wanted a more simplistic design that was more balanced in terms of functionality.




Essential Features
Bungalows are small and cozy with the bedroom found on the ground floor. This architectural style favored symmetry and balance when it comes to overall proportions. For this reason, you can expect a classic bungalow to have a symmetric front in many cases. Its porch won't be closed and will most likely show off sturdy squared support columns. The front veranda is a distinctive element of a bungalow. It's often designed in combination with a low-pitched roof.




In terms of floor layout, bungalows are ideal homes for open plans. Hallways are usually unnecessary when there's not a lot of square footage to work with. That's why rooms in a bungalow are connected more directly compared to other building styles. Both traditional and modern bungalows tend to feature lots of windows, whether we're talking about single-hung windows or a large bay window.




Bungalow Building Styles
1.

California Bungalow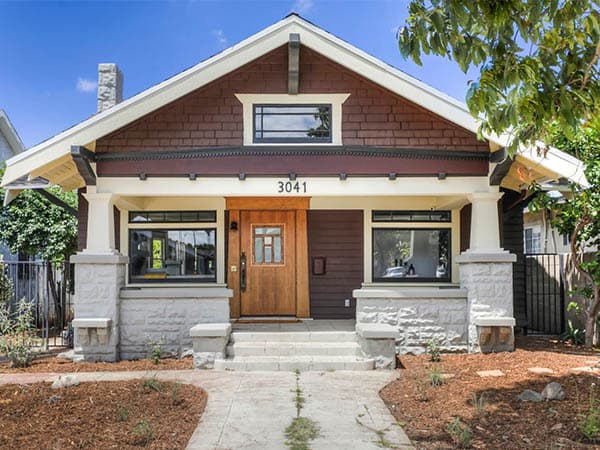 One of the most popular bungalow styles in the United States, the California bungalow is a one-and-a-half story version that has redefined the original concept. This type of bungalow had great appeal for Californians because it managed to cover the needs of the times more effectively. From 1910 to 1925, California bungalows experienced a massive surge in popularity thanks to being low-profile and inexpensive. There was a strong connection to nature involved in the popularization of this design style as the lower middle class wanted to switch from apartments to private houses.




2.

Prairie Bungalow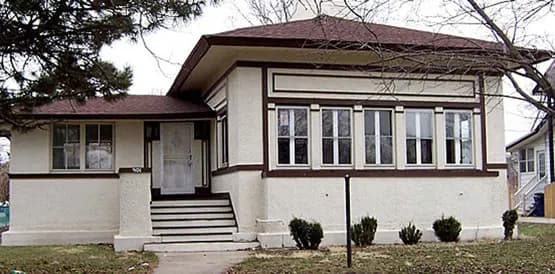 A group of innovative architects led by Frank Lloyd Wright took the design of the modern bungalow to a new level through the Prairie style. This architectural innovation took place in the Midwestern regions of the United States. Although this type of building may not be considered a true bungalow, there were many similarities that made the Prairie style popular. Organic simplicity triumphed when it came to this bungalow concept, as evidenced by the stylish woody interiors of the buildings.




3.

Chalet Bungalow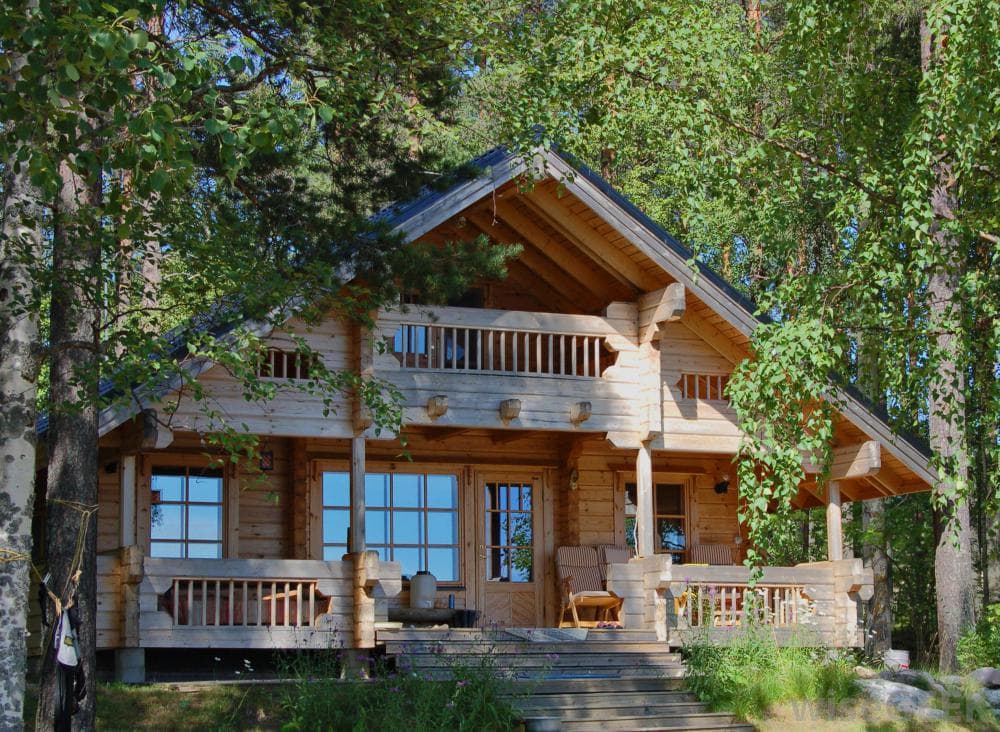 Another great bungalow building style, the chalet is characterized by having a spacious loft. All the main living areas are on the ground floor but the bungalow provides some additional storage space. The loft is not intended to be accessed on a regular basis. It's also possible for altered versions of chalet bungalows where the attic area can provide extra bedrooms. The problem is that such a layout may change the definition of the building so it's no longer considered a bungalow. A traditional bungalow doesn't have a use for the attic and shows a steeply-pitched roof.




4.

Mission Bungalow





Drawing heavy inspiration from the Mission style, this type of bungalow dominates areas of the United States with a strong Spanish influence in the past. Take a look at this beautiful example of a Mission bungalow that elegantly blends old and new elements. The colorful decorations provide it with a modern vibe while the red tile roofing seems like a perfect traditional complement to make the bungalow stand out. The interior of this type of bungalow is not particularly complex but more focused on minimalistic functionality.




5.

Chicago Bungalow





Chicago bungalows are usually made from brick that's plain but sometimes can incorporate decorative elements. The buildings designed in this style include a full basement and show off many typical features seen in other bungalow styles. A notable characteristic that makes this style more distinctive is the way the gables are set parallel to the street. Verandas can be partially enclosed for extending the available space for the interior area but they're typically open.




6.

Raised Bungalow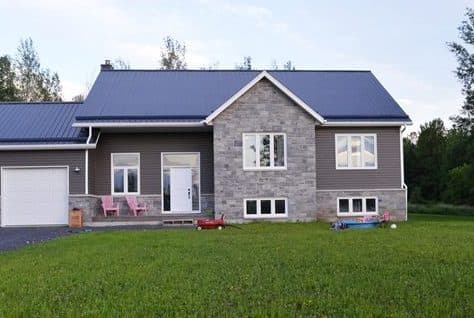 When it comes to more modern bungalow styles, the raised bungalow is one notable example. This bungalow version features a basement that's situated partially above ground. Why would that be desirable? The obvious answer is no longer having to deal with a completely dark basement as this construction style allows for some light to penetrate assuming windows are installed above. Many raised bungalows will incorporate the garage in the basement with the help of a shallow slope of the driveway.
7.

Airplane Bungalow





With strong influences from the Craftsman and Prairie styles, the Airplane bungalow is a special type of architecture for residential buildings in the US. It features a few similarities with other styles such as the California bungalow but the Airplane version can be most easily differentiated by the presence of a singular room on the second story. It's designed to have a comfy room for sleeping during hot weather. Originally developed in California at the beginning of the 20th century, the Airplane bungalow spread out in western areas of North America including the US and Canada.




8.

Ranch Bungalow





This bungalow style has a more organized interior layout to clearly separate the bedrooms from living areas intended for receiving visitors such as dining rooms. Ranch bungalows can sometimes feature attached garages designed to be accessed through "public zones" of the house such as the living room.
9.

Milwaukee Bungalow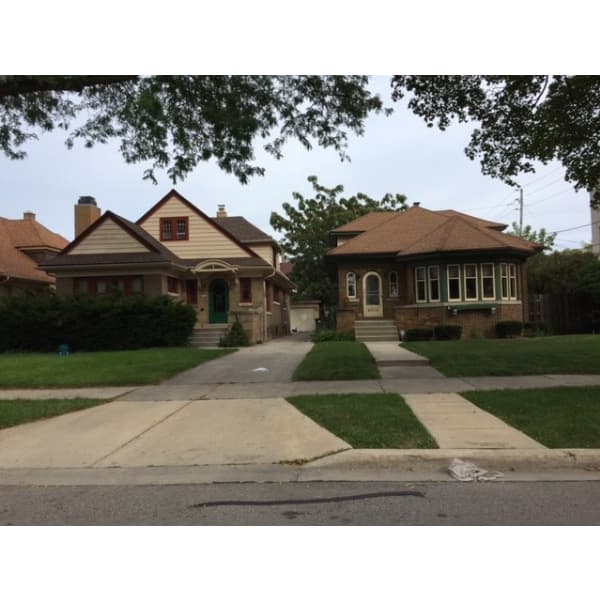 Similar to the California and Chicago varieties, Milwaukee also had a characteristic bungalow style. It showed off wide barge boards and other details typical of the Arts & Crafts period. Compared to the popular Chicago bungalow in the area, Milwaukee homebuilders adopted a more innovative style by positioning the sunroom bay to function as the home's entryway. This architectural style will also allow some materials such as brick to dominate the appearance.




10.

Ultimate Bungalow
Although bungalows tend to have minimalistic architecture and small footprints, some stylistic approaches expand the concept in a different direction. The Ultimate bungalow is a great example because it takes the typical appearance of the bungalow to a new level. It makes the building large and detailed creating something unique that can only be considered loosely based on the idea of a bungalow. Ultimate bungalows often incorporate tropical woods and inlays of metal while the architects prefer designing the furniture and other interior details to customize the house according to its surroundings.