This post may contain references and links to products from our advertisers. We may receive commissions from certain links you click on our website. As an Amazon Associate Rhythm of the Home earns revenues from qualifying purchases.
Share this article:
If you want a modern home, bamboo flooring is one of the main trends you should consider. Bamboo is not only durable, but it is also sustainable as the grass regenerates in only four years. It is also an excellent option for flooring because it can be stained as easily as wood. If you want beautiful flooring in your home, check out these gorgeous and functional bamboo flooring ideas!
1.

Horizontal Bamboo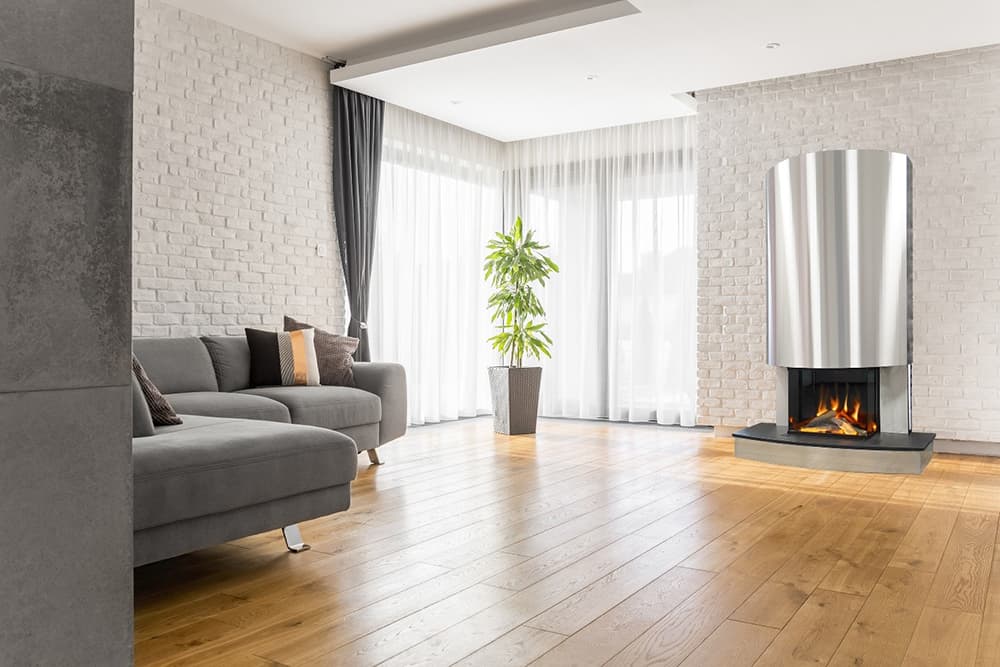 This beautiful bamboo flooring is light and creates the illusion of space. The horizontal strips provide a natural, neat look, while the long, straight lines create a distinct appearance in this room. If you want a natural-looking floor, this may be the idea you need to brighten up your home and create a tidy environment.




2.

Modern Style
Simple and beautiful, this bamboo floor boasts vertical planks with large grains. This adds texture to the rather clean-looking kitchen with flat, smooth surfaces. The neutral color brings together the bold nuances used for furniture, turning this kitchen into a modern fashion statement.
3.

Eco-Friendly Office
If you consider adding eco-friendly bamboo flooring to your office, this idea might be exactly what you need. In this example, the floor adds brightness – a must-have in a cheerful, highly productive office. Use fine fibers with a smooth appearance to add texture to your home office, complementing it with neutral colors.




4.

Charming Bathroom
This bath is an excellent example if you want unique flooring. The dark, textured bamboo underfoot is highlighted thanks to the white walls. A matching cabinet and plenty of natural light add style without overcrowding or darkening the room.
5.

Zebra Bamboo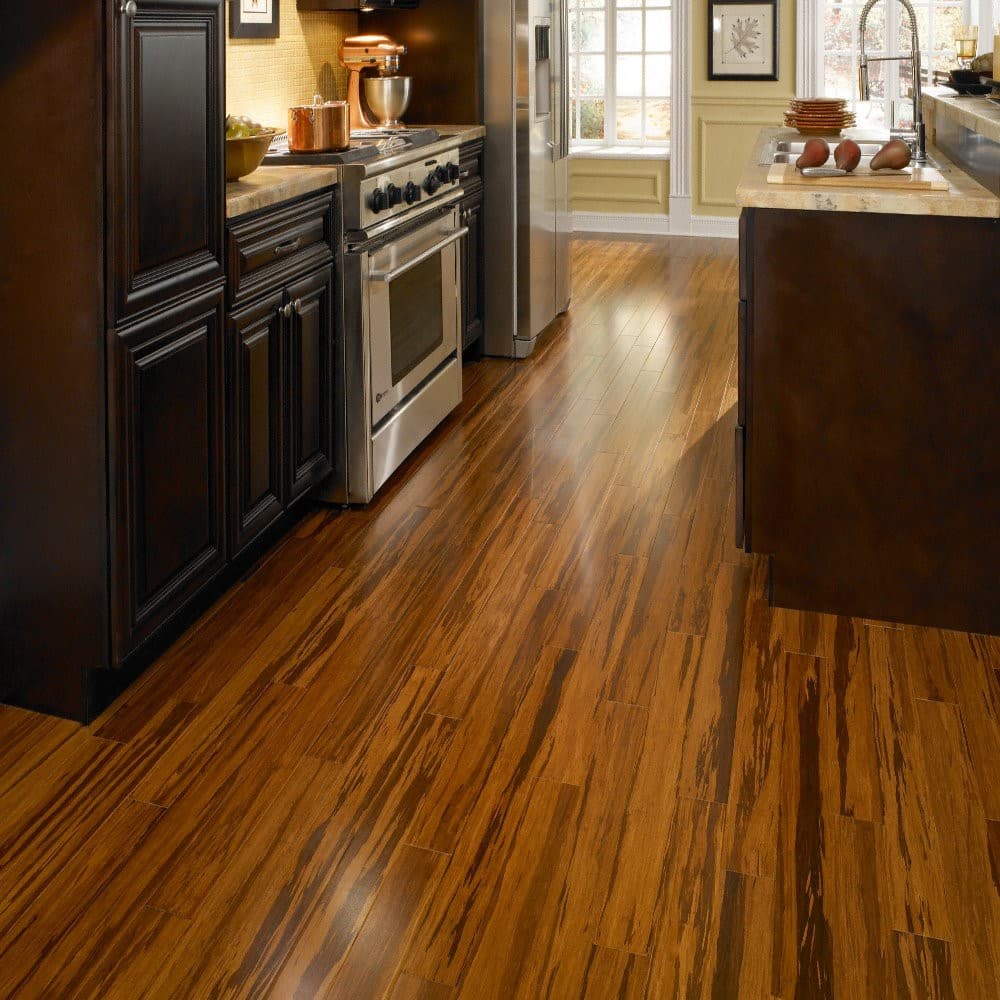 If you want to turn the flooring into the centerpiece of your room, consider this zebra bamboo floor. You can install it in your kitchen for a touch of style, but it may also be the right choice for your living room or hallway. Apart from being eco-friendly, bamboo flooring is a timeless, stylish option.




6.

Dark-Brown Finish
With a soft dark-brown finish, this bamboo flooring is smooth and matte. This type of flooring is made by using extreme pressure and heat to compress the bamboo fibers, resulting in a highly dense look. Apart from its beauty, this bamboo flooring is also extremely resilient and long-lasting.
7.

Rustic Living Space
For a wood-dominating room, this horizontal bamboo flooring beautifully complements the rest of the design. There are a few subtle knots that reverberate throughout the room. In this case, the owner decided to add a few green plants to add a splash of color and brighten up the numerous wooden elements.




8.

Matte Bamboo Flooring
With reddish hues, this flooring has a luxurious feeling. If you have a smaller room, make sure you add plenty of lighter elements, such as light walls and white furniture. This way, you turn the flooring into the main eye-catching feature of your room while keeping it light and airy.
9.

Bedroom Flooring
This idea has a contemporary, neat vibe and can add a touch of personality to your bedroom. If you want to turn your room into a fresh, rich environment, try a bamboo floor with a deeper tone. The darker the color, the more masculine the room feels. It also suits a modern style.




10.

Formal Hallway
This creamy vertical bamboo is an excellent choice for a welcoming hallway. It can make your entrance more formal, especially due to the pale blue paint, dark stair elements, and white trim and door. Additionally, bamboo is quite resilient, so it's a great choice for rooms with lots of traffic.
11.

Elegant Living Room
Bamboo can also be used to create a smooth, flawless transition between different rooms. In this case, the owner opted for the same nuance on the stairs and the living room. You can use this idea if you want to create a pleasant flow from one area to another.




12.

Streamlined Home
Similar to the previous example, this light bamboo flooring was used to create a perfect flow between the kitchen, hallway, and living room. This creates the illusion of space as it does not separate the three rooms visually. This uniform-looking bamboo style creates a tidy, streamlined look.