This post may contain references and links to products from our advertisers. We may receive commissions from certain links you click on our website. As an Amazon Associate Rhythm of the Home earns revenues from qualifying purchases.
Share this article:
Green roofs are more than a fashion statement. They come with a splash of color and helps you enjoy fresh air. Apart from this, owners of a green roof also benefit from lower cooling and heating costs, along with less pollution.
This idea is especially valuable if you do not have a spacious garden. You will need a waterproofing layer to prevent home damage, a barrier for your plants' roots, a drainage system, and nutritious soil. Check out these awe inspiring green roofs and create your own oasis!
1.

Rooftop Garden
This rooftop garden is a creative space if you do not have a large backyard. You can create your own outdoors right on top of your home, adding a sitting area so you can enjoy the fresh air. This idea is highly practical, and you can add some brightness and liveliness to your home with ease.




2.

Exotic Hideaway
This mesmerizing, modern home provides a true exotic hideaway with no traveling costs associated! The villa is also placed near the natural forests, adding to its vibe. You do not need to add high-maintenance plants and flowers to your green rooftop – consider this simple yet beautiful idea if you want to keep it simple.
3.

Layered Green Rooftop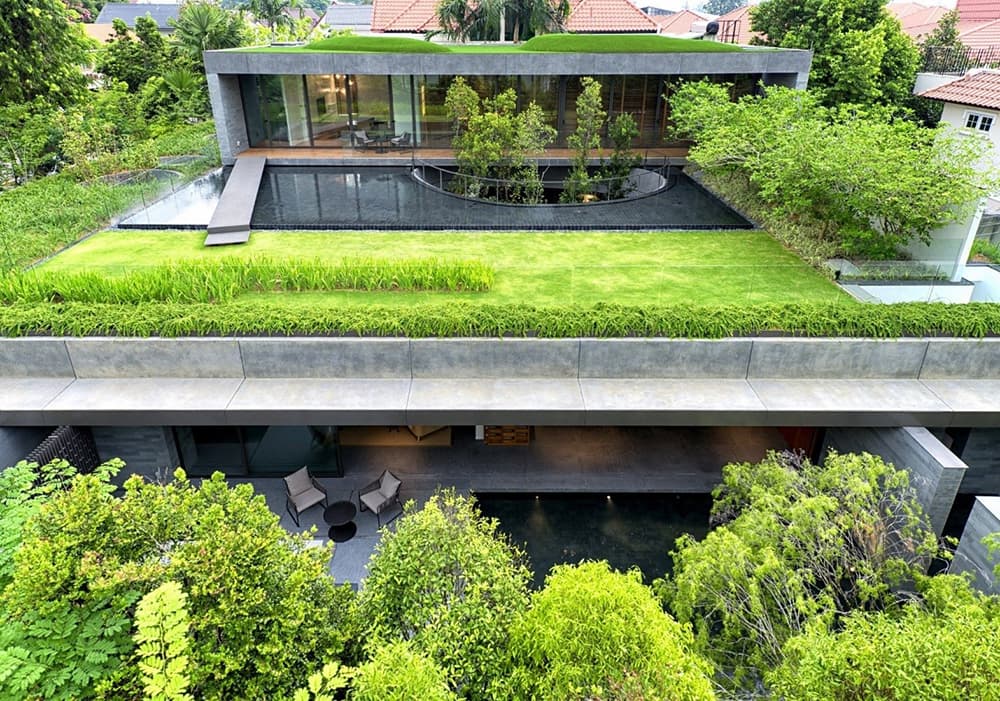 This home essentially seems to be placed underground thanks to the lush greenery on its top. It is one of the most beautiful green roofs, although the multi-layered design might only be achievable by professionals.




4.

Decorate Your Garden Building
This owner decided to improve the looks of their garden building. Whether it's a garage or your home office, a green roof has numerous benefits. Apart from style, this design will help you enjoy stable temperature all year around and, if it's your office, you will appreciate the reduced noise pollution, so you can be more focused and productive.
5.

Weekend Getaway
This beautiful cabin in the woods, right on top of the rocky cliffs, seems just like a dream come true for any nature lover. It has a low-lying profile, so you can enjoy plenty of peace and relaxation. The green rooftop keeps your costs down, while providing a lush appeal to your home. It's the best idea for any environmentally-conscious owner.




6.

Urban Getaway
Do you live in the city, so you'd like to enjoy more greenery? Thanks to this green roof idea, you do not need to worry about it anymore. All you need to do is renovate your roof terrace and turn it into a vivid paradise. You will manage to liven up the cold grey of the city buildings, providing your home with biodiversity. At the same time, this green rooftop will also help you stay cool in hot weather.
7.

Vivid Stone
Stone buildings have a certain appeal, but the grey colors might make them seem lifeless. Fortunately, this home owner decided to create green walls and a green roof to make this home truly unique. Despite the stone design, the home now looks like a part of the landscape and environment itself.




8.

Green Modular Home
Modular homes are now the newest trend on the market. This owner opted for a simple, but truly beautiful model. It is not only an affordable design, but also eco-friendly, especially when combined with wood from sustainable forests. The green roof stands out thanks to the beautiful location next to the beach.
9.

Pond and Green Roof
Another exquisite living design, this geometrical home maximizes the space available to create a beautiful connection with the environment. The green roof along with the beautiful lake and several trees contrast beautifully with the modern aspect of the building. A form of water source is excellent if you want to feel closer to nature.




10.

Japanese Style
This is a Japanese-style house that can easily rival any mansion. There's nothing more relaxing to the eye than the well-kept lawn with a relaxing sitting area nearby. There's a lot more to this lot than you could guess – including an indoor pool to refresh yourself on hot days. This is the perfect combination between nature and contemporaneity.
11.

Pibo Retreat
The Pibo house is well-known due to its upside-down design and a sloping green roof. It is also partially underground, with a garden that essentially expands from the ground level on its roof. The semi-buried home can be covered in lush vegetation, flowers, or anything green you might want to add. This is a unique home design that provides plenty of style.




12.

Green Patio Cover
If you are not up to such complex projects, you can start with this simpler patio cover. It will be more affordable while providing the same beauty as other models. If you want to add some brightness to your patio, this solution might be exactly what you need. The patio cover completes the monochrome home, creating a beautiful contrast.
13.

Green-Roofed House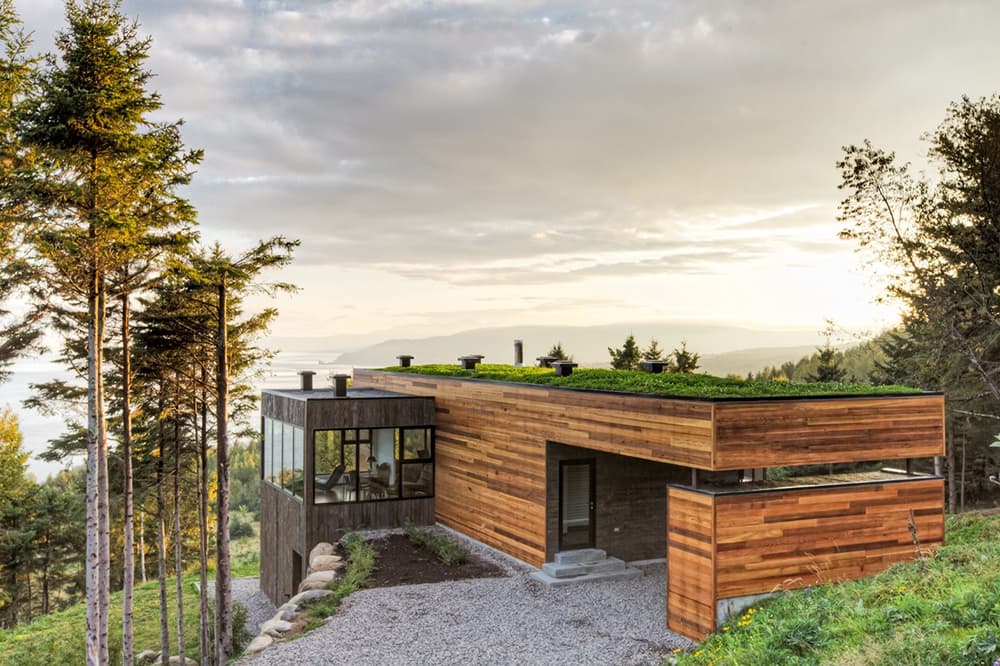 Green rooftops are excellent, especially when your home is located in a wooded area. If you have plenty of vegetation around your house, you can consider this idea to make your home embrace the nature and become synchronized with your environment. It's an oasis full of relaxation and calmness, ideal for a busy lifestyle.




14.

Hillside Home
This hillside home blends in so well with the native environment that it can be quite difficult to spot. The green roof is an extension of the native plants. If you want to make your home a part of the surroundings, consider adding native plants, just like in this example.
15.

Natural Hideaway
Do you want more privacy and intimacy? This beautiful home has two roofs covered in native plants. This creates a hidden, natural hideaway, so you can enjoy your privacy, away from curious eyes. The modern home boasts a large outdoor pool, along with a glass structure for a contemporary feel.




16.

Green Relaxation
Do you want to spend more time outdoors? Consider creating your own relaxing space on top of your home. This is a personalized design that can exceed all of your expectations. Personalize the roof with your favorite plants and flowers. In this case, the owner opted for low-maintenance ones.
17.

Covering Your Entire Home in Greenery
If you want to blend your home into the environment, this design idea might be exactly what you need. It is ideal if you live on the hill, so you can create your semi-buried home as a part of the hill itself. This structure has a beautiful, unique look, while the green rooftop will absorb rainwater, preventing floods.




18.

Wild Garden
Do you love wildlife gardens? If yes, you can easily turn your rooftop into one. It may be the perfect symmetric element on your property that will add texture and a splash of color. This owner decided to choose a matching color for their home, while the garden will be the home of numerous small birds and insects.
19.

Asymmetry
Combining a contemporary look with natural elements, this home is simply fascinating. Make sure you keep your home's decorations to a minimum, add a few glass walls, and embrace the surroundings. This inspiring green roof helps you connect with the nature and enjoy a luxurious lifestyle at the same time.
20.

Penthouse Green Rooftop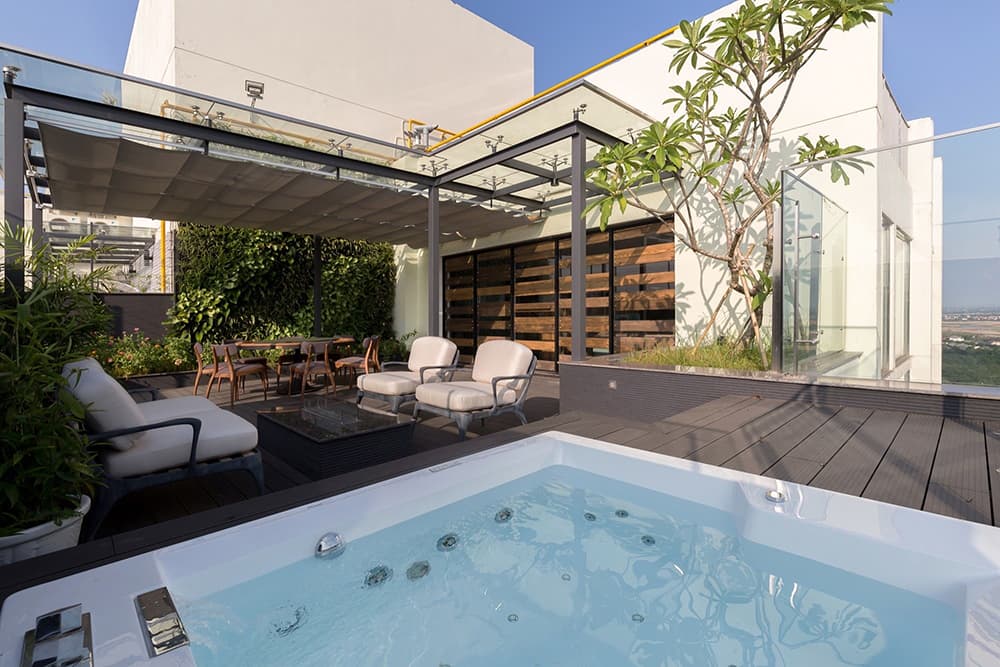 This speculator home decreases the discomfort of industrial-style living space thanks to the numerous modern, lush elements. For instance, the terrace garden is connected with the rest of the house and provides a relaxing, modern living area. You can also add a jacuzzi, a glass pergola, and other design elements that truly elevate the entire landscape.