This post may contain references and links to products from our advertisers. We may receive commissions from certain links you click on our website. As an Amazon Associate Rhythm of the Home earns revenues from qualifying purchases.
Share this article:

There are lots of sources of inspiration when it comes to designing a home. If you prefer a relaxing style with highly expressive architecture, you should consider an Asian influence for both the exterior design of the house and the interior decor. Whether you prefer Chinese, Japanese, Vietnamese, Indian, or other Asian cultures, it's safe to say that you will be amazed by the architectural uniqueness and beautiful stylistic choices. Check out the following exterior and interior home ideas if you're interested in serene Asian design styles.




1. Natural Materials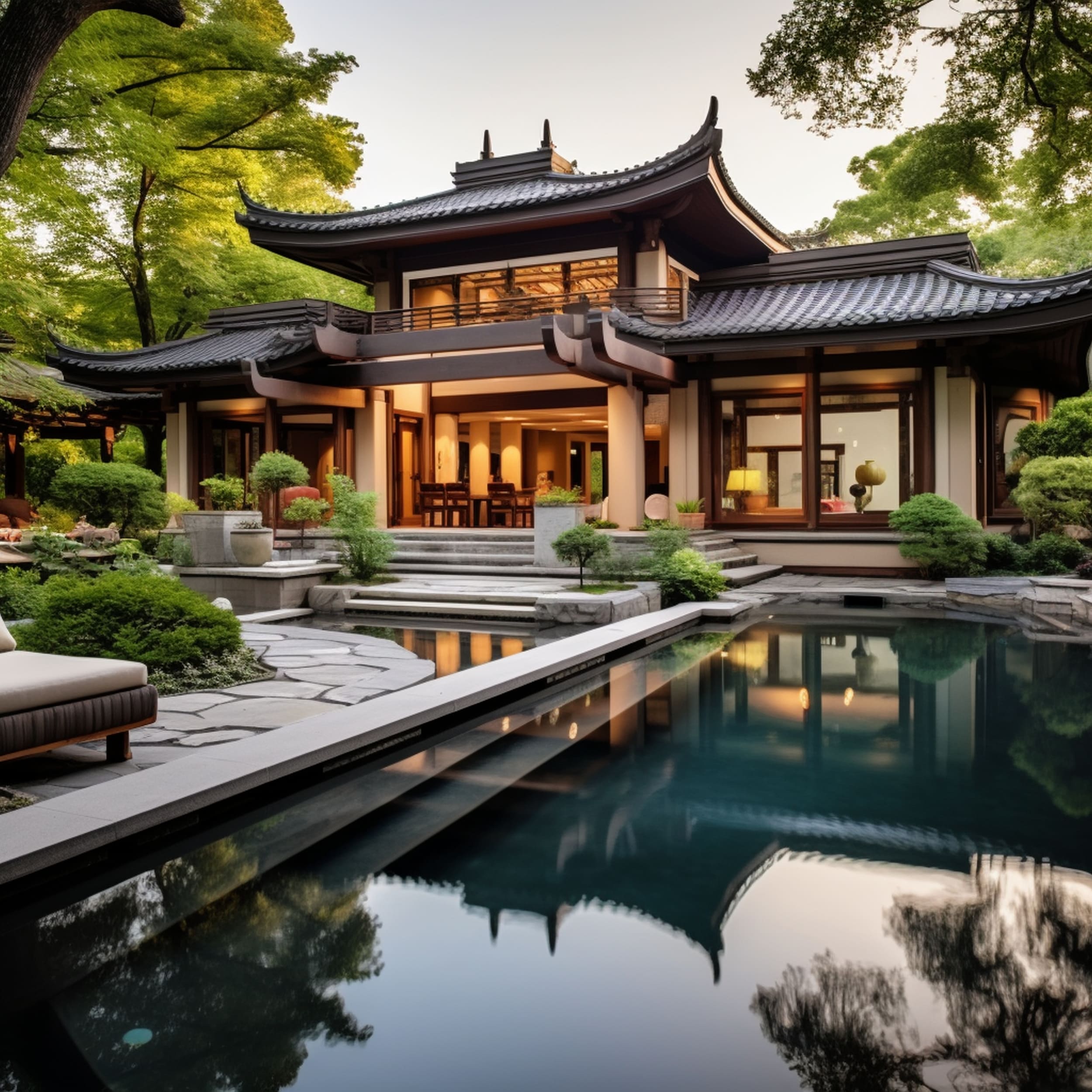 Asian-style homes are typically built using a variety of natural materials such as wood, stone, and bamboo. Take a look at this custom-designed home that shows off an Asian influence when it comes to exterior construction. It relies on different wood types to show off the elaborate architecture. A traditional-style pool completes the serene vibe of the home.




2. Japanese Ranch Style





If you don't like the appeal of traditional ranch designs, you should try adding a Japanese influence to create a unique look. This home takes great inspiration from Japanese architecture and landscaping to craft a distinguished style. Despite the angular lines and modern shapes used, this Asian-style home retains some traditional character.




3. Connection to Nature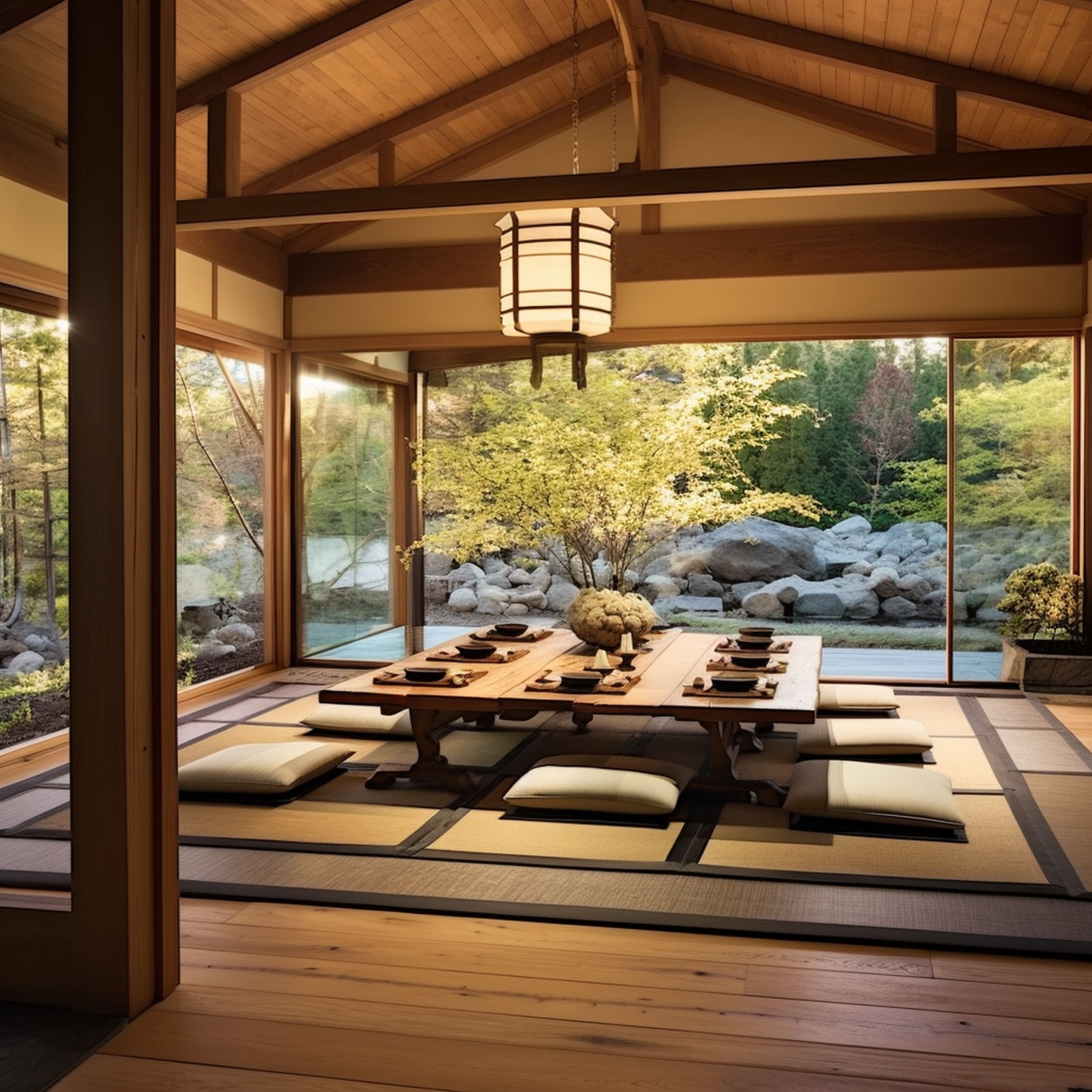 Maintaining a strong connection to the natural world is a common theme among Asian-style homes. It's more easily recognizable in homes that have a Japanese design influence considering the common addition of a Zen garden to accentuate the serenity of the space. This tatami dining room overlooks the gorgeous outdoor space through wide windows to establish a firm connection to nature.




4. Scenic Backdrop





The natural beauty of nature is often reflected in Asian-style home interiors through decorative elements such as neutral backdrops. They bring a sense of comfort and relaxation that works perfectly alongside furnishings crafted using an Asian influence. Even though this room has a standard American look, the backdrop and furniture introduce a pleasant Asian vibe into the design mix.




5. Serene Bathroom





If you're looking to design an Asian-style home, it's recommended to pick your materials carefully when decorating the bathroom. Consider blending modern wood elements in an elegant style to warm the space. Add greenery and sleek lighting fixtures to complete the serene atmosphere. Check out these stylish pendant lights that feature a sophisticated flow to match the Zen aesthetic of the bathroom.




6. Antique Elements





Classic Asian-inspired aesthetics can be used effectively to decorate your home. Consider incorporating some antique elements if you prefer a traditional style. A good example is this ornamental Chinese screen that can be used as a room divider or simply to bring some visual interest to an empty corner of the room. Having one impressive antique item can set the tone for the rest of the room's style.




7. Rustic Texture





The simplicity of bamboo makes it an excellent material to consider when you wish to create a more rustic Asian-style home. It offers subtle textural appeal and a solid dose of warmth reminiscent of tropical regions. Bamboo can be used in different creative ways to introduce an Asian vibe to the room. If you want to fully embrace a rustic aesthetic, it's worth using bamboo to build and decorate a sleeping loft.




8. Great Openness





As opposed to many Western-style homes, Asian aesthetics tend to focus more on the idea of openness when it comes to interior design. Rooms are often not individually compartmentalized to have a strict purpose. A single large room can instead be used for different activity areas where the members of the family can relax together more easily. This Asian-style condo shows off an elegant take on the open-concept design.




9. Decorative Details





Vases and pots are some of the best decor elements to include in your home if you wish to add Asian-style vibes to the space. It's a good idea to mix both small and large decorative jugs to create a stylish vignette together with a vintage console table and ornate mirror. Given their obvious association with water, decorative vases can look wonderful when placed in bathrooms or powder rooms.




10. Asian Minimalism





Clutter is frowned upon in Asian-style homes, especially in spaces that feature a Japanese influence. Keeping a minimalist look could be a smart choice to maintain a fresh Asian-inspired design in your home. Light furnishings and simple Oriental decor pieces work best to create a minimalist bedroom in an Asian style. The neutral color scheme and multiple windows ensure that the atmosphere remains bright and welcoming.