This post may contain references and links to products from our advertisers. We may receive commissions from certain links you click on our website. As an Amazon Associate Rhythm of the Home earns revenues from qualifying purchases.
Share this article:
If you plan to create a home bar or need a great casual seating solution for kitchen counters or islands, your best bet is to get a set of barstools. There are many variations when it comes to barstool designs and materials. Choosing the right one for your needs can be a daunting task unless you're familiar with all the common types of barstools out there. There are many notable differences in terms of height, back style, and other functional details which you need to be aware of before making a purchase decision.
Being aesthetically pleasing is just as important as the level of comfort for most homeowners. Check out the following types of barstools to figure out which one to pick for your home.




1. Bucket Barstool





A common type of barstool, this one is ideal for homeowners who enjoy a balanced approach in terms of style and comfort. The bucket barstool features a relaxing shape and is typically built with generous padding to make it more enjoyable to sit on. Maintaining this type of barstool in top shape is a breeze because most models feature durable vinyl covers that can be cleaned effortlessly. The cup-shaped style of a bucket barstool helps a lot with the comfort by offering added support to the occupant's behind.




2. Swivel Barstool





As the name suggests, this type of barstool features a special swiveling mechanism that allows you to rotate the seat when needed. It may not seem like an absolute necessity, but the ability to turn around the barstool can be helpful in some situations. For example, if you set up a home bar in your game room, you can grab a drink while sitting on the barstool and entertain guests more conveniently with a simple swivel movement. The best part is that you don't have to get off the seat for this purpose.




3. Backless Barstool





Not having a backrest on your barstool might seem like a drawback but it's actually an advantage in many situations. It provides a more relaxing seating solution for casual home bar designs. The more minimalist design can work like a charm in various interior decor styles. A backless barstool can be ideal for traditional aesthetics where it feels comfortable to sit at the counter in a more old-fashioned way. Another advantage is that this type of barstool works as a decent alternative to more advanced stools equipped with swiveling features.




4. Extra Tall Barstool





Tall counters require an appropriate seating style. Consider using an extra tall type of barstool to sit comfortably while providing a chic look to the home bar or kitchen island. Taller barstool designs will often incorporate more traditional materials such as wood and leather together with sleek design lines. This type of barstool is sometimes called a spectator-height barstool. Some models can reach heights of up to 36 inches but you need to take proper measurements because standard counters at home aren't usually compatible with extra tall barstools.




5. High-Back Barstool





If using a backless barstool sounds uncomfortable, you will be pleased to choose one that features a high-back design. This type of barstool is specially created to maximize back support and prevent excessive strain when sitting on it for extended periods of time. It's somewhat similar to a standard dining chair look except that it has a taller seat style. Additional comfort is usually provided through soft upholstery materials and comfy padding. This also opens up more opportunities in terms of customization.




6. Adjustable Barstool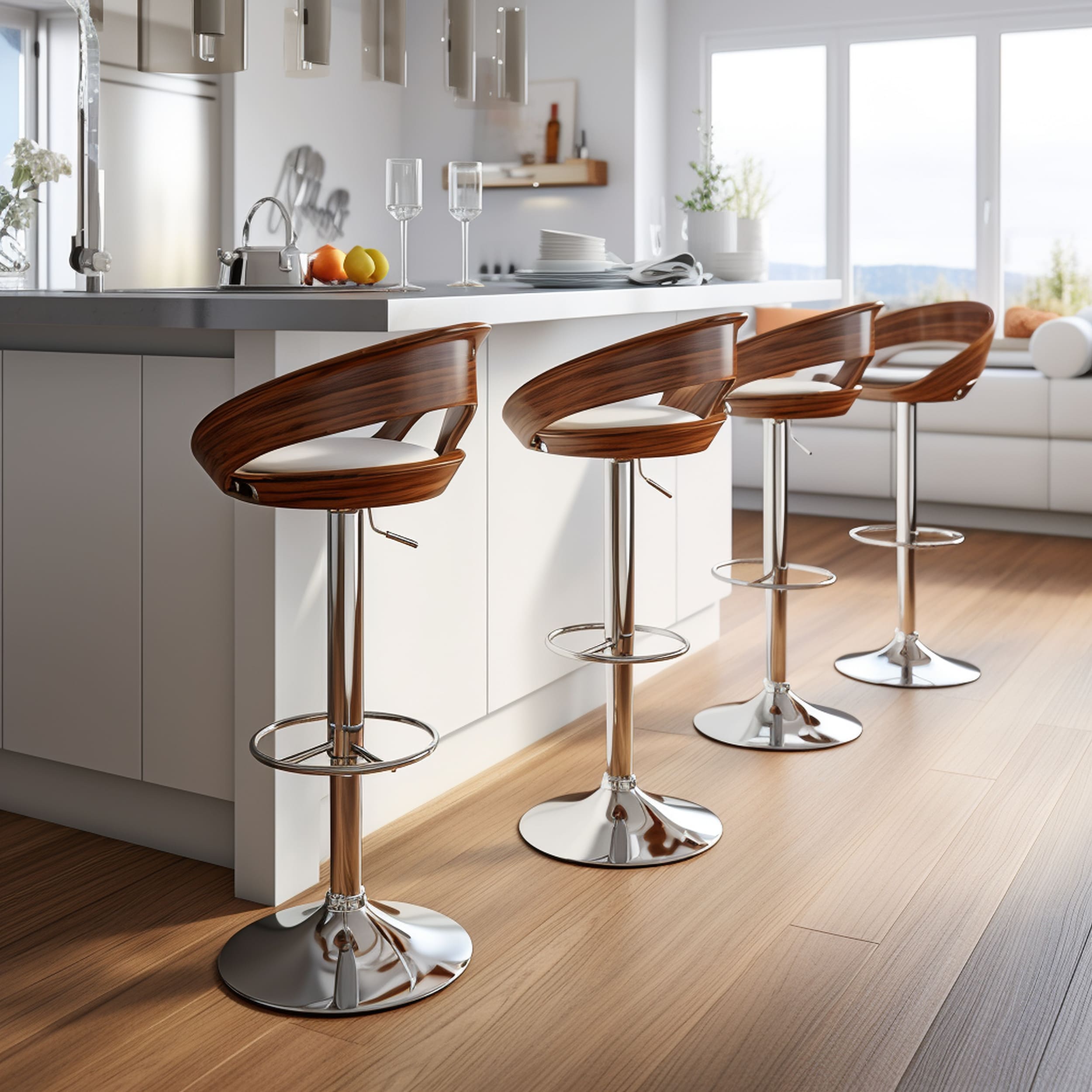 Can't decide on a fixed height for your barstool? The solution is to simply get your hands on an adjustable barstool type. It can be a more versatile seating option when it's important to be able to shift heights. For example, adjustable barstools can sometimes be used as regular seats at the dining table when you have lots of additional guests. You don't need to worry about compatibility with specific bar heights because the adjustable barstool can be quickly adapted with the help of a lever underneath the seat.




7. Round Barstool





Anyone who loves retro or rustic decor styles should bring a set of suitable round barstools to their home bar. The classic round shape is both comfortable and attractive. Depending on the chosen materials and design details, you can select round barstools to match vintage or farmhouse aesthetics very well. Cafes and bars can often make use of round wooden barstools that feel more welcoming compared to other types. You can bring a similar vibe into your home without too much effort.




8. Low-Back Barstool





Choosing between backless and high-back barstool designs can be tough for some homeowners. Thankfully, there's a middle-ground option, a type of stool that retains the chic qualities of a backless barstool while providing at least some support for your back. It's commonly called a low-back barstool and comes with the notable benefit of not obstructing the view of the kitchen counter or home bar. Many homeowners dislike the bulky appearance created by high-back barstools that block the view of the tabletop surface. Therefore, the low-back style is a good compromise worth taking into account.




9. Armless Barstool





Simplicity often works better for the design of a barstool. For that reason, an armless barstool can be considered more aesthetically pleasing compared to models equipped with armrests. The minimalist look makes this type of barstool very attractive in modern decor styles but it also helps in terms of functionality. Armless barstools are more compact due to their design making them more adaptable for tight spaces. It's easy to sit on this kind of barstool but the lack of armrests can reduce the level of comfort somewhat.




10. Tripod Barstool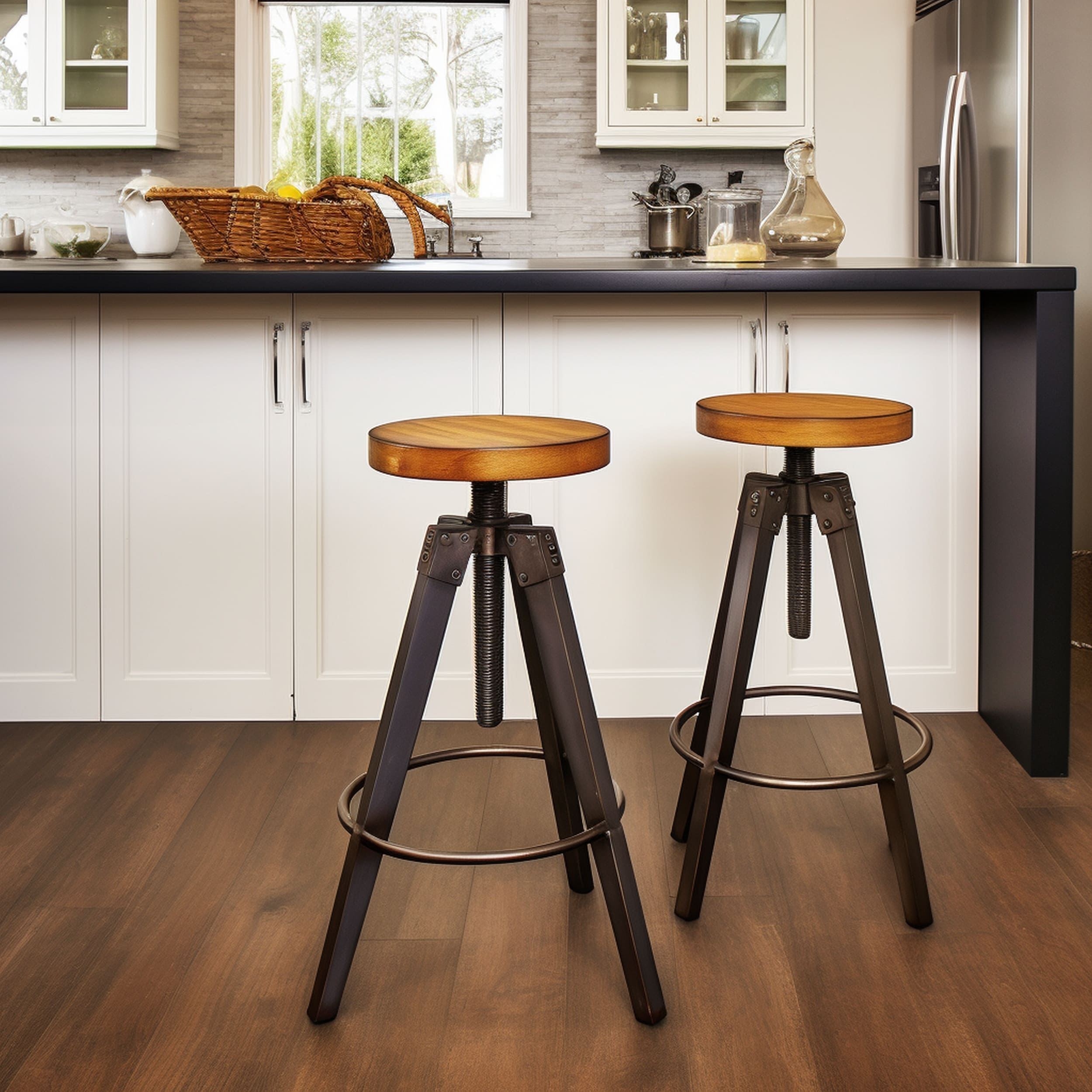 If you want to bring a classic tavern look to your home bar, consider using tripod barstools. They feature a balanced design based on three legs which provide decent stability and some fresh style. Most tripod barstools out there tend to lack any backrest and make use of circular seat shapes. Horizontal frames are used to reinforce the construction of a tripod barstool. They're usually placed at an appropriate height to create a dedicated area for resting the user's feet.




11. Pedestal Barstool





The pedestal shape of a barstool is incredibly popular due to its sleek construction that adds a sense of sophistication to any modern space. A supporting pole is attached to a base that usually features similar dimensions as the seat to ensure a stable design. The pedestal barstool is a functional type considering how most models incorporate the ability to adjust the height of the seat. This barstool doesn't typically have a backrest but it allows for convenient swiveling. The lack of legs is an advantage because the footprint of the barstool is greatly reduced.




12. Armchair Barstool





Some homeowners are mainly interested in the experience of lounging when selecting the right type of barstool. If comfort is your top priority, it's recommended to choose a barstool with armrests. You will have to give up on some level of accessibility compared to armless types, but an armchair barstool is superior in terms of comfort. Lots of high-end pubs and diners incorporate this barstool style because it's also practical when it comes to customizability. Armchair barstools tend to feature comfy cushions, stylish upholstery, and bolder details that make them very charming.




13. Ladder Back Barstool





A common sight in modern settings, the ladder back barstool boasts subtle elegant vibes thanks to its ladder-like slats and characteristic shape. This type of barstool will typically incorporate metal and wood materials that give it a strong industrial appeal. However, there are plenty of variations with different styles, including some that feature upholstered seating. In terms of lumbar support, the ladder back barstool doesn't have a lot to offer but the wooden slats tend to be slightly curved to ensure proper ergonomics.




14. Bistro-Style Barstool





Inspired by French cafe designs, the bistro-style barstool looks great in both business and residential settings. It's an ideal style if you're mainly focused on good aesthetics. Bistro-style barstools are traditionally built using an iron frame connected to a wooden seat. It features a multitude of chair shapes and colors to match the design of the bar counter. Thanks to its sleek appearance, the bistro-style barstool works like a charm with different decor styles while offering effortless maintenance.




15. Wishbone Barstool





Fans of Scandinavian design or mid-century modern decor should try the wishbone barstool type. It shows off striking visuals emphasizing sophistication despite relying mostly on traditional materials like wood and wicker. The wishbone barstool provides a minimalist look without sacrificing comfort too much. This type tends to feature generous seating and an expanded backrest that compensates for the lack of cushioning. Wishbone barstools aren't very compact so they should be mainly considered for large bar areas.