This post may contain references and links to products from our advertisers. We may receive commissions from certain links you click on our website. As an Amazon Associate Rhythm of the Home earns revenues from qualifying purchases.
Share this article:
With a refined mix of new and old elements, Tuscan architecture is highly prized for its ingenious methods to build homes that establish a deep connection to the natural surroundings. As you've probably guessed, this design style has emerged in Tuscany, an Italian region famous for its stunning landscapes. It's a very old type of architecture that appeared before the area was named Tuscany. Nowadays, the Tuscan style has been modernized but its Old World Europe core remains intact, mainly through the use of some specific materials.
Natural stone is the main element that seems to play a central role in Tuscan architecture. It's no wonder that this architecture style withstood the test of time so effectively. It relies on custom-crafted limestone, marble, and travertine to deliver that authentic rural Italy feel. The idea of a Tuscan farmhouse is further emphasized through other classic elements such as roof tiles and terracotta. Antique fountains and wrought iron gates are other characteristic features of Tuscan architecture.




As we'll see in the following examples of Tuscan house design style, this architecture is focused on an abundance of masonry, warm interiors that give off a sense of mystique, and various distinctive details that take your mind to the romantic and rustic vibes of rural life.
1.

Modern Tuscan Home
With an inviting stone exterior and many elegant design elements, this is a superb example of a modern Tuscan-style home. It features two stories and a stylish surrounding landscape with natural vegetation to complement the look of the house.




The stone facade gives off an old-World vibe together with notable design accents such as the arched window and large entryway. There's a powerful timeless feel provided by this home without sacrificing modern amenities.
2.

Fountain Area
If you're looking to incorporate some solid Tuscan vibes for a home, it's essential to consider the outdoor courtyard. This is an important element to show off some traditional rustic charm while creating a relaxing spot close to nature.




Decorating the courtyard is highly recommended. Tuscan home builders favor fountains because they can act as beautiful centerpieces. The use of a water fountain creates a sense of a pleasant oasis in a warm climate.
3.

Wrought Iron
A classic interior when it comes to Tuscan architecture should typically involve wrought iron with some elegant embellishments. The railing on this stairway represents a good example. Other materials can contribute to the antique vibes.




Wood is traditionally incorporated for the flooring but you can also find it used on the ceiling through old beams. A Tuscan home offers plenty of rustic charm as evidenced by this simple interior area.
4.

Entry Tower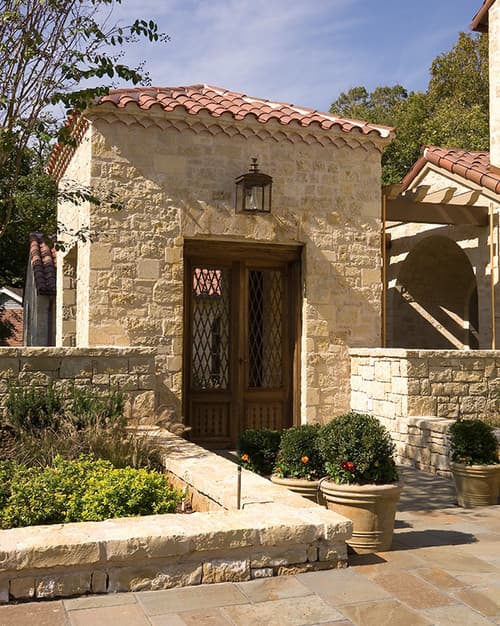 For an enhanced sense of grandeur, some Tuscan homes feature a traditional entry tower that sets the tone for the rest of the building. With the help of natural materials such as limestone and well-placed accents such as an antique lantern, guests will be more easily immersed in the aesthetic.




This kind of Tuscan home has the ability to give you a solid idea about an old forgotten time period. That visual appeal is highly sought by people who prefer a rustic Mediterranean look.
5.

Soaring Ceilings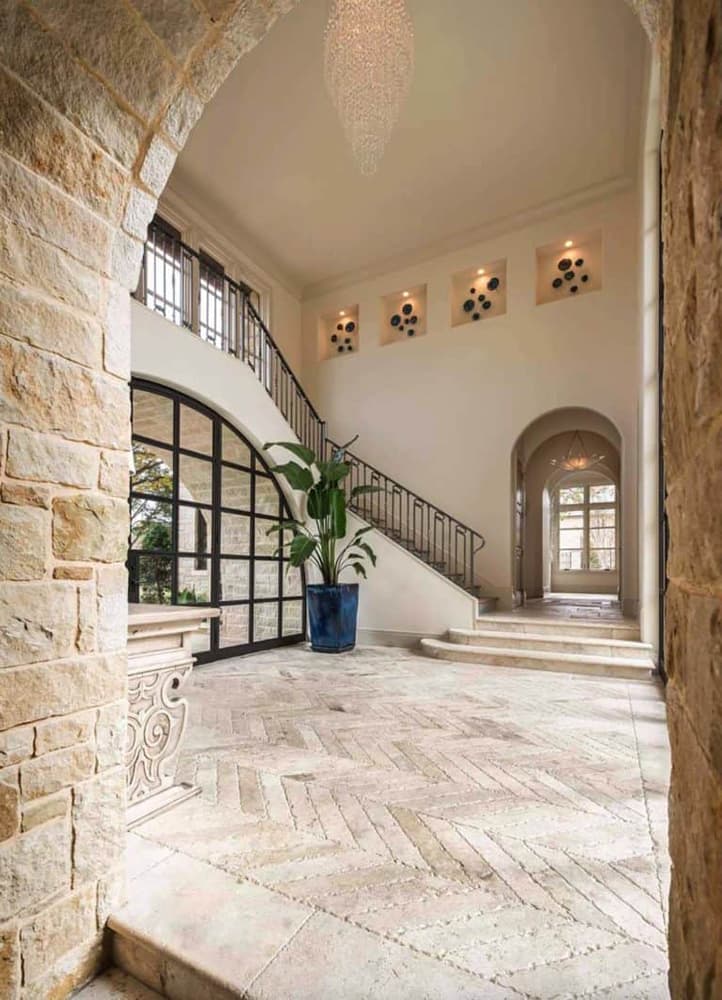 An authentic Tuscan home will typically feature extra-tall ceilings to enhance the sense of durability given by the dominance of natural stone. The result is a cathedral-like appearance that's properly illuminated with the help of multiple windows as well as artificial light sources such as a stylish chandelier.
Soaring ceilings are most likely to be positioned in the entryway to create an imposing first impression. The entrance to the home will also feel more open thanks to a connection to the backyard resulting in a nice blend of indoor and outdoor environments.