This post may contain references and links to products from our advertisers. We may receive commissions from certain links you click on our website. As an Amazon Associate Rhythm of the Home earns revenues from qualifying purchases.
Share this article:
A mobile home is not only budget-friendly and space-conscious but also an amazing living space if you know how to decorate it! Sometimes, just like anything else, some trends fade, and new ones appear. It is absolutely normal to upgrade our (mobile) homes from time to time and make sure they still represent our personalities. Whether you want to remodel only one part of your mobile home or you need inspiration (and courage!) to do a complete makeover, make sure you check out these incredible ideas!
1.

Wide and Breathable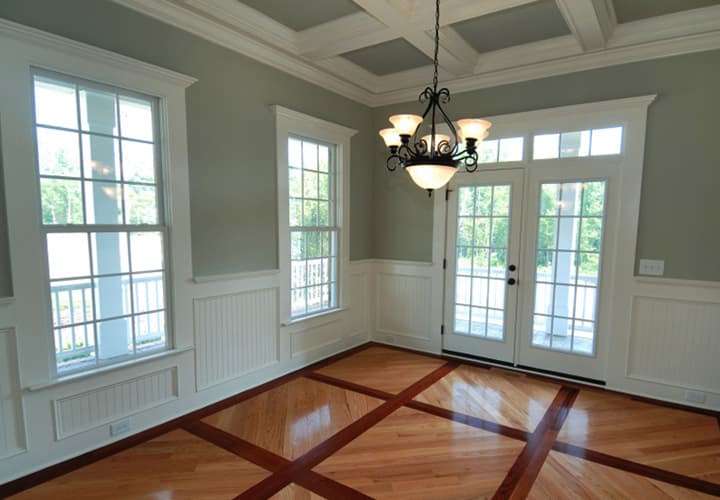 Do you love space and airy homes? There's nothing better than a complete makeover of your entrance. This photo shows the beauty of the combination between contrasting colors and wide, large windows. This owner decided to have as much free space as possible while the squared floor pattern matches the ceiling. The bold lighting perfectly complements the beautiful, glossy floors.




2.

The Beauty of Grey and Beige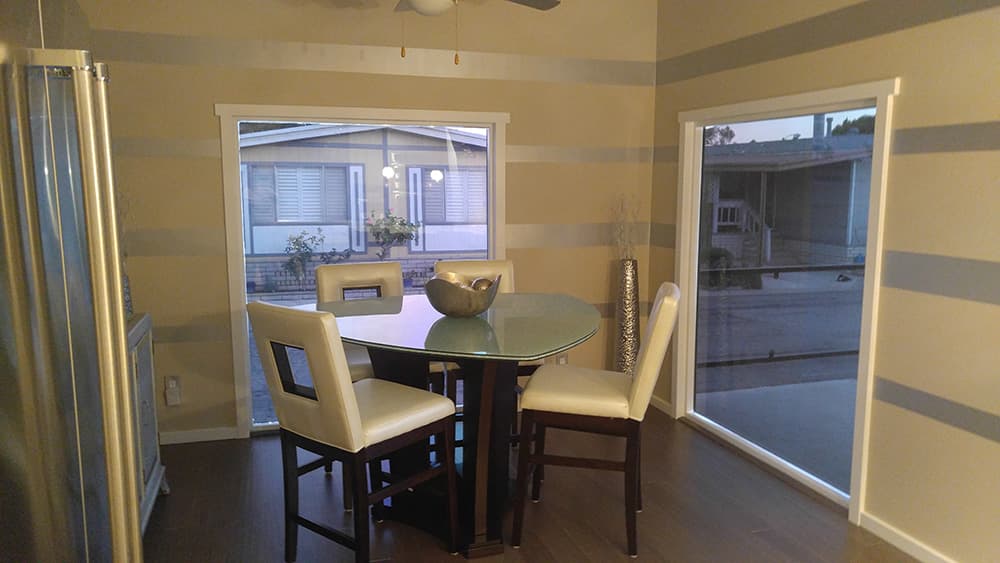 Another beautiful example of a great eye for designs, this room combines soft grey with beige and darker floor and furniture legs. The brighter nuance opens up the room, making it seem more spacious. Also, the table's modern shape makes it fresher, while the darker nuances are extremely stylish. This displays great artistry!
3.

Redesigning Your Kitchen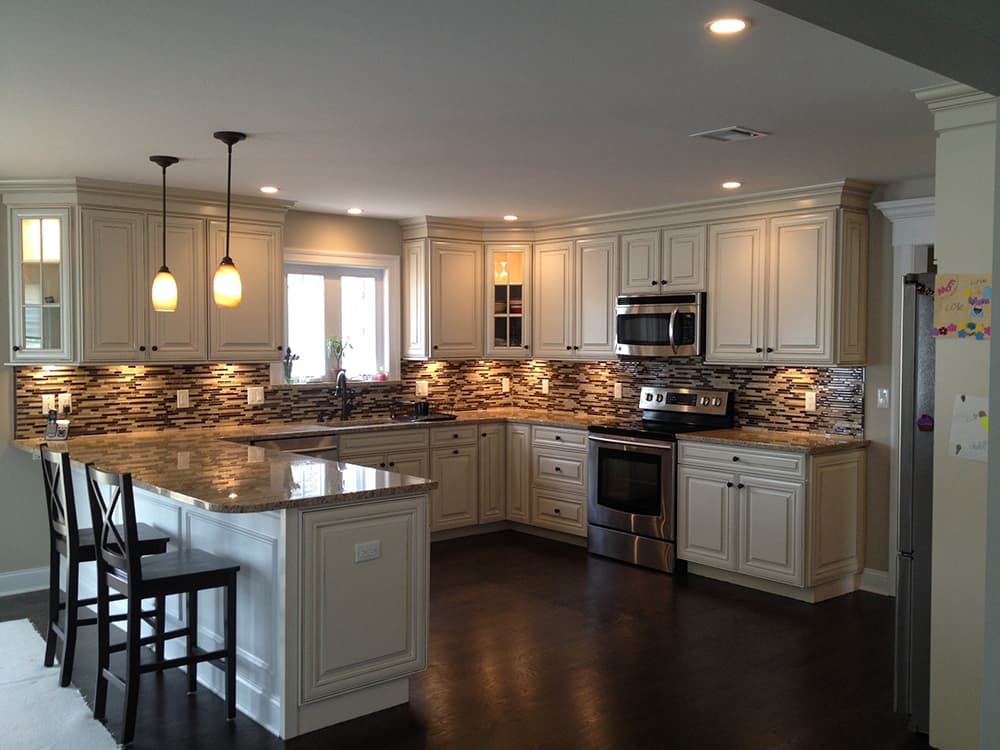 Although you cannot modify walls in your mobile home, creativity knows no boundaries. This owner decided to enclose the tiny kitchen with counters. Once again, the lighter color nuances are suitable for such a small home, while the darker floor and chairs add the much-needed balance. The wall pattern adds just the right amount of detail to make this kitchen stand out from the crowd.




4.

Clean and Simple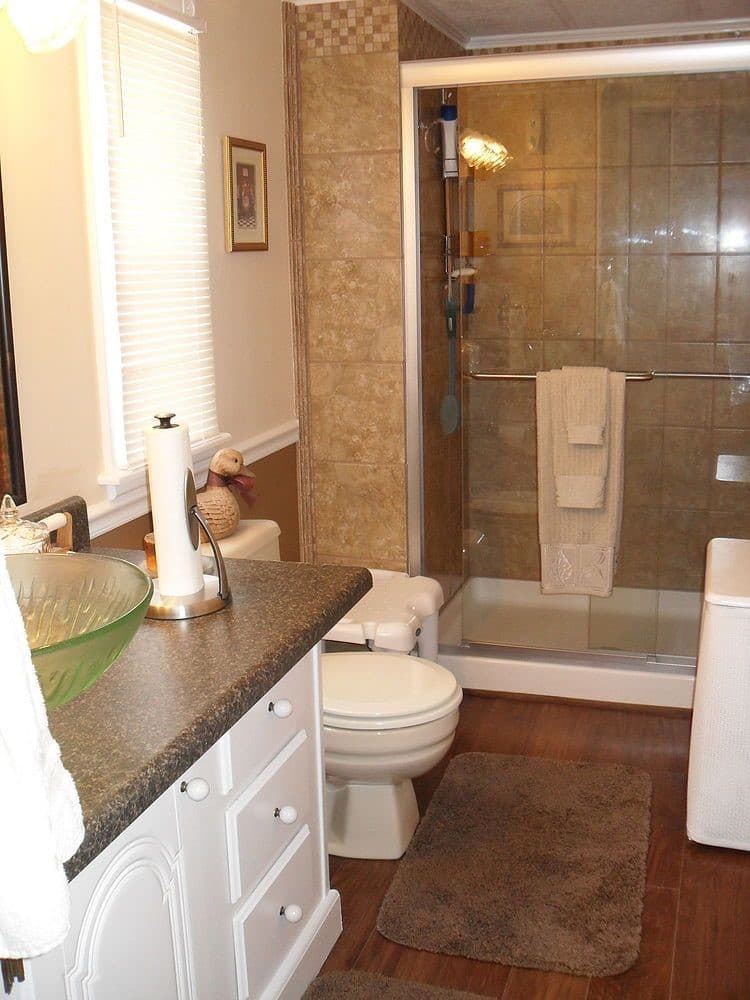 Many mobile home bathrooms are quite small, but this doesn't mean you cannot make them stylish and comfortable. Fortunately, there is plenty of small-sized off-the-shelf furniture nowadays, so keeping it simple might be exactly what you need if you are on a tight budget. The fashionable green bowl adds simplicity with a modern touch that you simply cannot miss!
5.

Glamorous
If you want to simply upgrade your mobile home a bit, follow this lead! The owner simply installed this beautiful crystal chandelier, and the entire vibe changed! If you want a new centerpiece, such a bold choice is quite a good idea. Make sure you keep everything else simple in order to allow the lighting to shine! The cream sink and dark floor perfectly match the light blue walls without stealing the attention away from the chandelier.




6.

Turn the Bedroom Into Paradise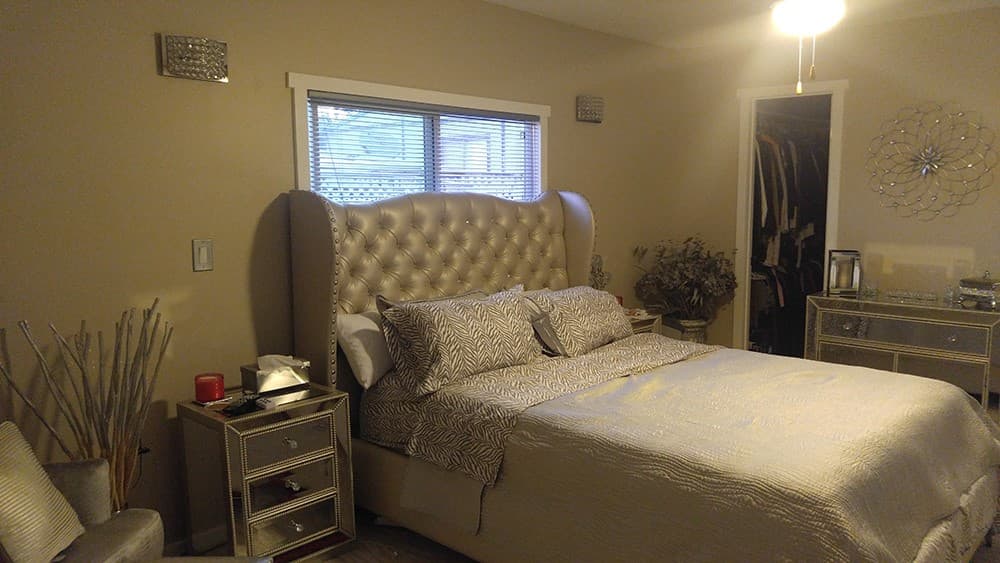 As we've seen above, silver and beige make quite an interesting pair. The bedroom is the focal point in our homes and, more importantly, the bed itself. The bed design adds a glamorous feel to this room, while the rosette in the wall adds just the right amount of sparkle. The modern bedding cannot be neglected either – it looks posh but welcoming!
7.

Vintage is Timeless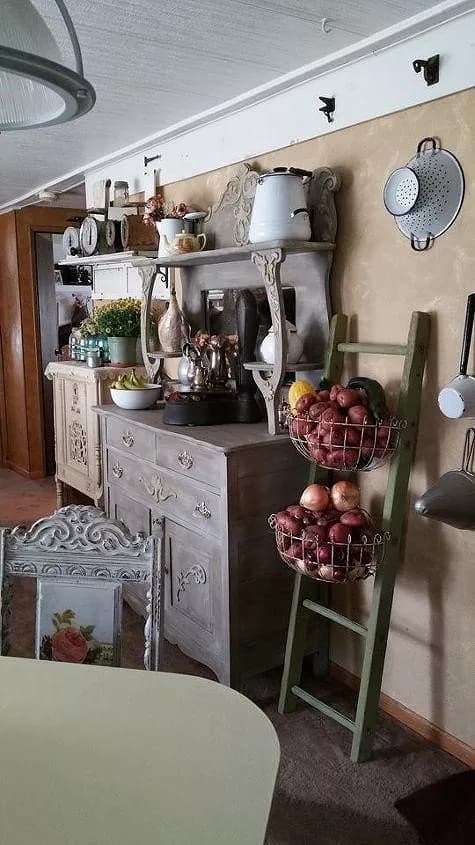 If you love vintage or retro, this image might be exactly the inspiration needed to push you to achieve your dreams. Be bold! Use old kitchen items to decorate the walls, be creative with your produce storage baskets, and perhaps even add an antique radio or telephone. You can notice from afar that this place is like no other – simply oozing personality! These old items can also be quite budget-friendly, especially if you check your parents' or grandparents' attics or storage rooms.




8.

How to Turn a Galvanized Can Into Pure Style
Many mobile homes may have this type of space – long and narrow. Although, initially, it seems quite difficult to work with it, there are plenty of options. Of course, all small places look better in light, linen-like colors. This owner added a bit of variety when they chose a black door. The galvanized can as a laundry basket is pure creativity – this is how to turn a dull, long, and narrow room into a stylish laundry area!
9.

White and Grey Combo
Who said that grey is cold and unwelcoming? This owner proves quite the opposite. The large stainless steel sink and the modern oven, along with the microwave and the stovetop add a modern vibe to this kitchen. The owner decided to go for white furniture in order to balance everything out. The two beautiful lights and the placemats are the final touches that complement the design and make this kitchen a very well-balanced one.




10.

Exotic Design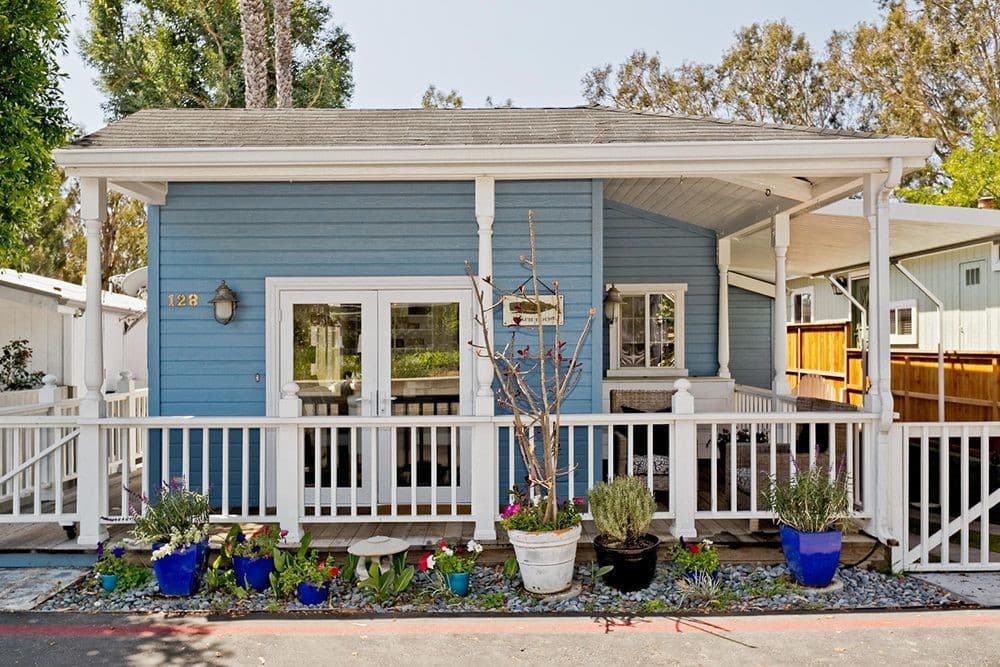 The best asset you gain when you get a mobile home is that you can turn it into whatever you like! If you want to modernize the outside of your mobile home, this design has all the oomph you need. The baby blue walls, double door, and multiple colorful plants with dark blue pots go so well together that you automatically create an exotic, relaxing vibe that you only get on holiday!
11.

Café Vibe
Do you love the relaxing, sleepy vibe in a café from old movies? This style makes use of everything you have – small storage area and some light. This creative owner turned the kitchen into a highly creative space with plenty of space for all the kitchen supplies. Even better, the cheerful flowers and white colors add the brightness every mobile home needs!




12.

Gorgeous Porch
If you think that a small mobile home must automatically come with a tight porch, this proves you wrong! This single wide home has an absolutely gorgeous, shiny porch made of light wood. This is exactly what you need if you love entertainment and relaxation. Also, it makes your home look very fresh and inviting!
13.

Double Wide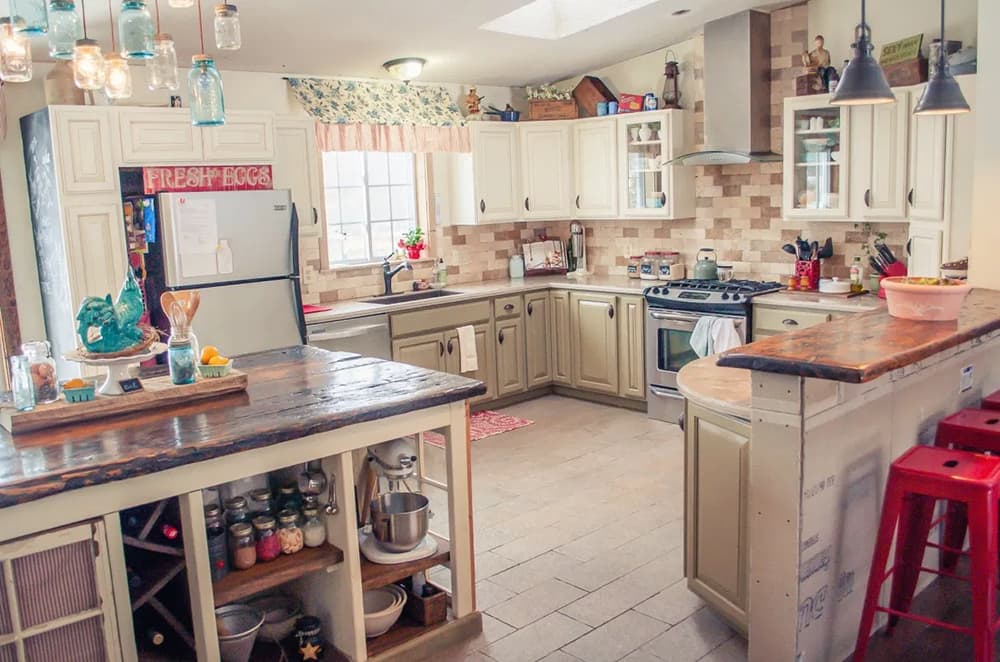 For country charm, this incredible remaking hits the spot. You can clearly see the owner's personality and own retouches wherever you look. You can customize your kitchen to your liking, but don't forget to add some rustic elements if you want to achieve this excellent result.




14.

Vintage Sleepy Vibe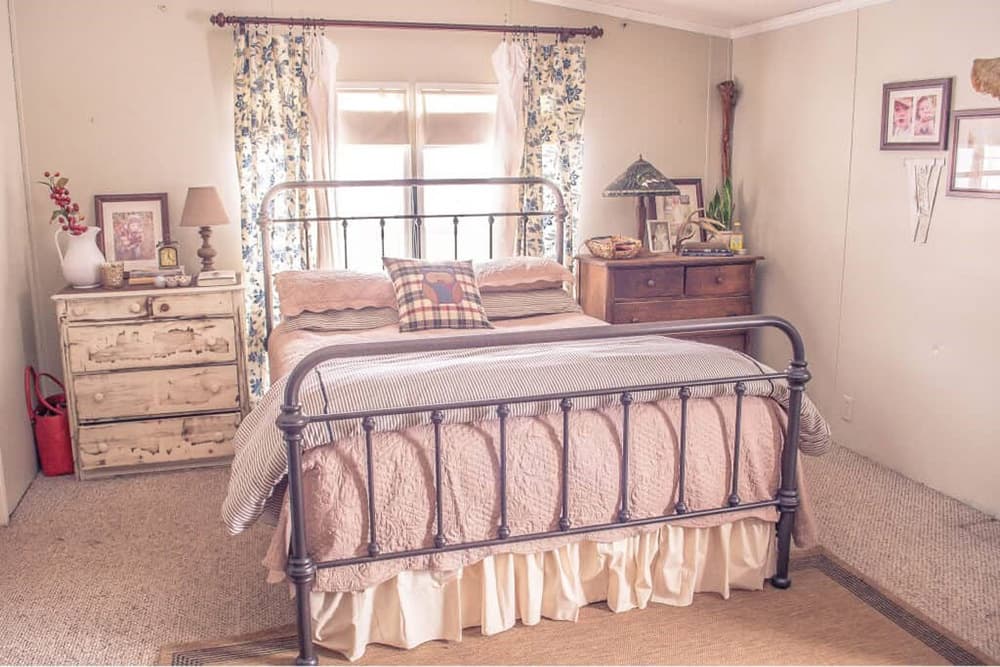 Peaceful and relaxing, this small bedroom has plenty of vintage elements. The bed is once again the centerpiece, and it simply invites you in for some beautiful, sunny dreams. The light colors and subtle decorations add elegance, turning a simple, small room into the perfect crib for relaxing and recharging your batteries.
15.

Modern Kitchen
This remodeling boasts freshness and plenty of functionality. The centerpiece is the clearly renovated island with a dark countertop for plenty of space. You can enjoy all of your meals with your family in comfort while absorbing plenty of sunshine from the large windows. All cabinets have numerous storage compartments, so the small kitchen does not stop you from having all the cooking items you need. The contrast between white and black adds a modern, welcoming touch. The lighting is the ultimate décor element that upgrades this kitchen to a whole new level!