This post may contain references and links to products from our advertisers. We may receive commissions from certain links you click on our website. As an Amazon Associate Rhythm of the Home earns revenues from qualifying purchases.
Share this article:
Saunas are special wellness rooms designed to induce relaxation through high heat. Many people find saunas appealing because it offers multiple health benefits inducing similar physiological responses as moderate exercise. Sitting in this kind of warm vented environment can feel quite intense at first. However, you will quickly become relaxed and enjoy sweating it out. If you've ever visited a commercial sauna and want to bring that experience into your home, this article can help.
We'll take a look at some of the most impressive indoor sauna ideas to inspire you to add this feature to your house. Whether you're primarily interested in the health benefits or simply want to create a cozy sanctuary of relaxation, building a sauna is the answer. You can take your time in this hot room and relax your mind as well, not just your body. Sitting in a sauna can be considered a reliable method for improving your mood. Let's explore the best designs worth trying for your personal indoor sauna.
1.

Modern Minimalism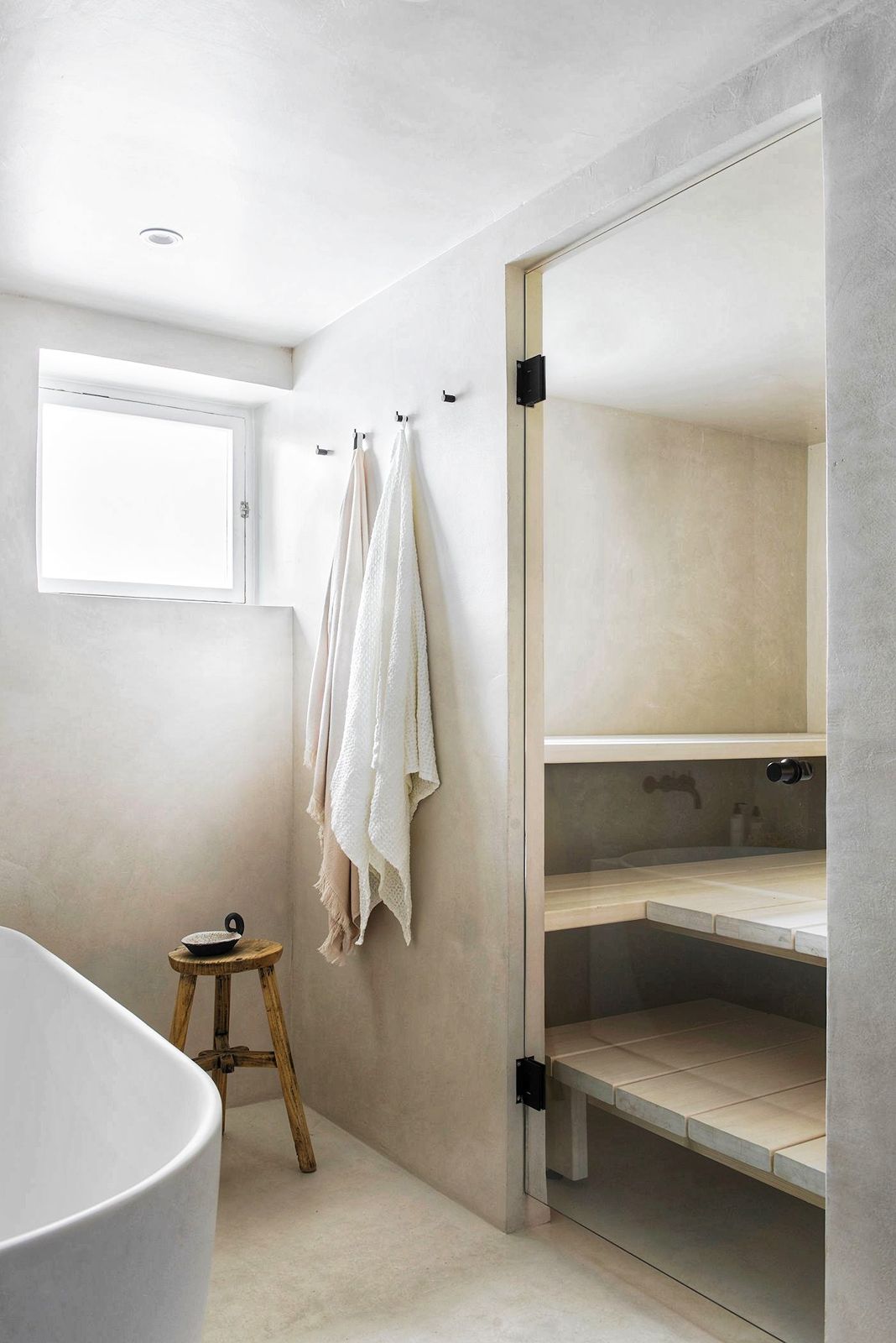 Saunas are traditionally built from wood that's left in its natural state. If you prefer a modern approach, you should try a minimalist design based on a light-toned color scheme. This sleek indoor sauna gives off serene vibes thanks to the use of painted blonde wood.




2.

Sauna With a View
When you're designing your sauna, it's important to decide on the best location. It's not easy to get a good view outside for an indoor sauna, but it's highly recommended. You will be able to enhance the feeling of relaxation and enjoy better mindfulness by admiring the surroundings. It's a great solution if your home is close to gorgeous natural elements such as forests or lakes.




3.

Sauna in the Bathroom
Integrating the sauna into a modern bathroom can be a little difficult. The wooden design of the sauna appears out of place next to the contemporary style of the shower. To ensure a more consistent design, use the same floor tiles for all the separated areas of the bathroom. It's very practical to have the sauna so close to the shower because you can conveniently rinse off.




4.

Pre-Built Sauna
Instead of building a custom sauna in your home, it's much easier to purchase a pre-built model. An infrared sauna kit such as this model from Amazon can be considered an excellent option for the cost. It provides enough space for two people while offering multiple extra features to enhance your relaxing experience. The sauna is equipped with a feet reflexology system, built-in audio speakers, and a reading lamp.




5.

Dark Indoor Sauna
If you prefer a bold aesthetic for your indoor sauna, we recommend painting the wooden paneling in a dark shade. The black look feels more dramatic thanks to the ambient illumination features that create a striking contrast. Although some people might not find this kind of sauna design very relaxing, it's worth considering for maximizing elegance.




6.

Bright Sauna Room
Adequate lighting is essential to improve your enjoyment of sauna bathing. This kind of environment can be transformed with the right lighting fixtures that make the space feel inviting. This trendy bathroom is equipped with a sauna featuring horizontal wood paneling in neutral tones. The abundance of light contributes to the overall cozy atmosphere.




7.

Small Indoor Sauna Design
Not everyone has the available space in their bathroom to incorporate this kind of relaxing feature. That's why compact sauna designs have been developed to let you enjoy the experience of a sauna without sacrificing too much square footage in the room. This traditional bathroom is equipped with a tiny sauna area that simulates a spa environment in your own home.




8.

Mix of Materials
Wood is the prime candidate when it comes to material choices for an indoor sauna. That being said, you can modernize a sauna design by combining traditional wooden panels with different materials. A good example is the addition of a sturdy slab of concrete that becomes pleasantly warm to the touch in the sauna environment. This design approach gives the hot room an industrial edge.




9.

Cozy Sauna
Featuring a mix of modern and rustic decor elements, this attic seems like the perfect spot to install a cozy sauna. The tiny enclosure boasts traditional sauna appeal in a compact construction to match the architectural constraints of the room. There's a stylish contrast between the sleek modern lines of the sauna and the rustic ceiling beams. Thanks to the addition of a window, sauna users can get a glimpse of the outdoors while the area feels less cramped.




10.

Geometric Design
Most sauna designs feature a square or rectangular shape. If you want your indoor sauna to stand out from the crowd, you should consider building it in a more distinctive geometric shape. This custom sauna design makes the best of space limitations in this modern minimalist bathroom. It's elegantly integrated while offering a stylish look to give it a charmingly unique look.




11.

Custom Furniture
Traditional indoor saunas are designed with benches that make it practical for more people to share the experience. However, you can opt for custom furniture to adjust the style of the sauna according to your needs and preferences. Instead of typical benches, consider installing laid-back lounge chairs or additional supports. Sauna bathing should always prioritize comfort to maximize the relaxation of your body and mind.




12.

Large Sauna Room
If you have the available space and want to enjoy a spa-like experience together with family and friends, try opting for a large sauna design. This room is ingeniously designed with a hot room and relaxing zone seamlessly combined together. You can take a breather in the sauna and then admire the stunning view outside through a large skylight.




13.

Curved Design
Few sauna styles can match the distinctive vibe of this curved design. All the elements of this sauna have been crafted based on smooth rounded shapes that give the entire area sculptural appeal. It's definitely a one-of-a-kind sauna design suitable for those who prefer a big departure from traditional looks. Thanks to the rounded window and skylight, the sauna provides a spectacular view outside.




14.

Rustic Appeal
Saunas have a long history and can be considered excellent features for any traditional or rustic bathroom designs. Check out this gorgeous sauna construction that boasts charming rustic details that match the rest of the bathroom's look. While the inside of the sauna appears pretty modern, the frame makes use of natural wood that adds warmth to the atmosphere.




15.

Stunning View
Many indoor saunas can be designed to let the users get a peek outside through windows or glass panels. If you have a stunning view that's worth admiring, consider installing some sleek windows that won't sacrifice your privacy. The horizontal design of this window achieves precisely that effect. Seeing the world outside can enhance the feeling of coziness provided by a hot sauna, especially during the winter.




16.

Distinctive Furniture
Here's another interesting indoor sauna idea that focuses on a different approach when it comes to furniture. Instead of traditional benches, this one includes wood slabs featuring a strong rustic vibe contrasting against the modern design of the walls. Lots of contemporary sauna designs attempt to reinvent the typical seating solutions to create a distinctive aesthetic.




17.

Magical Ambiance
With a luxurious design focused on enchanting ambient lighting, this sauna design manages to stand out from the rest. The glittering drops of light on the ceiling contribute to a magical atmosphere. It's truly the perfect place to relax after a long day of work. One beautiful construction detail worth mentioning is the smooth blend of dark and light wood tones for a layered look that matches the lighting.




18.

Mountain Theme
If you're designing a sauna for a chalet or any mountain-style home, it's a good idea to maintain a cohesive theme. Instead of a modern style, the sauna can incorporate some rustic details to match the style of the rest of the home. In this example, the sauna shows off layers of small logs mixed with long wood slabs to create an authentic mountain forest theme.




19.

Conversation Spot
Some homeowners like to design their sauna for their own personal use. That usually means limited seating and overall small dimensions. Other designs can emphasize the desire of the homeowners to create a good place for gatherings. This sauna provides a sense of openness thanks to the style of the seating. It has been designed to accommodate more people that want to share the relaxing experience of a hot sauna.




20.

Pure Elegance
Through a superb combination of stylish materials and lighting, this sauna design exudes pure elegance. It's built using large glass panels that can let you see outside the sauna area. Elevated benches offer the necessary seating to enjoy the relaxation provided by the radiant heat of the sauna. Rustic accents complete the modern design of this room to enhance the overall coziness.