This post may contain references and links to products from our advertisers. We may receive commissions from certain links you click on our website. As an Amazon Associate Rhythm of the Home earns revenues from qualifying purchases.
Share this article:
Instead of getting rid of that dated wood paneling, you can give it a new life through painting. This is an inexpensive, DIY-friendly solution that can be attempted by anyone who doesn't want to bother with the hassle of a complete renovation. That being said, it's important to note that painting paneling does take some planning and effort. If you're interested in obtaining a flawless finish and transforming the look of the entire room by painting wood paneling, check out our guide. It will show you the easiest methods to upgrade the style of the paneling in your home.
1.

Clean the Surface
Before you start painting the paneling, the most important step is to clean its surface very thoroughly to ensure the paint can adhere to it. Most dust and dirt can be removed easily by a simple damp cloth with a mild cleaning solution. It's essential to wipe clean the entire surface of the paneling. Reach deep into all the crevices where large amounts of dirt tend to accumulate. If you're dealing with particularly stubborn grime, it's recommended to use a more heavy-duty cleaner such as a TSP solution such as this one on Amazon.




2.

Fill Nail Holes
If your wood paneling shows imperfections such as nail holes or cracks, you will need to fill them properly to ensure a smooth painting finish. Use a spackling compound together with a putty knife to cover any holes. Caulk can be used for cracks or scratches. The color of the putty might stand out against the paneling but it doesn't matter because you're covering the entire surface with paint anyway.




It can feel like a chore to deal with all the scratches and holes in the paneling but any small blemish can have a negative visual impact on the final painting results. The paint will most likely make any imperfection stand out even more than before. Don't forget to sand down the filled areas to maintain a consistent appearance for the whole surface. Focus on achieving the smoothest paneling surface possible.
3.

Sand the Paneling
Sanding is a required step to make sure that paint will adhere to the paneling as expected. Use your preferred type of sander together with 100 grit sandpaper. Use a sander tool like this one. You only need to remove the top layer. A light sanding is all that's required to get rid of the original glossy finish of the wood paneling. Make sure you're careful not to reach the bare wood by sanding the surface excessively.




4.

Prepare the Area for Painting
This kind of painting project can get quite messy. It's recommended to prepare the area surrounding the paneling to avoid dirtying the floor or windows nearby. Use newspapers or drop cloths to protect the floor and mask any other surrounding areas with the help of painter's tape. In this way, you can save yourself the hassle of having to remove errant paint splatters. You can also protect the ceiling by preventing color differences.




5.

Use a Primer
Most wood panelings require a high-quality primer designed for them. Consider getting a latex- or oil-based primer that can increase the durability of the paint in the long run. This step is particularly important for wood panelings because their surface is prone to staining and oils. Get a primer whose tint is similar to the paint to obtain a smooth finish and even coverage. Use this primer for great results.




6.

Apply the Paint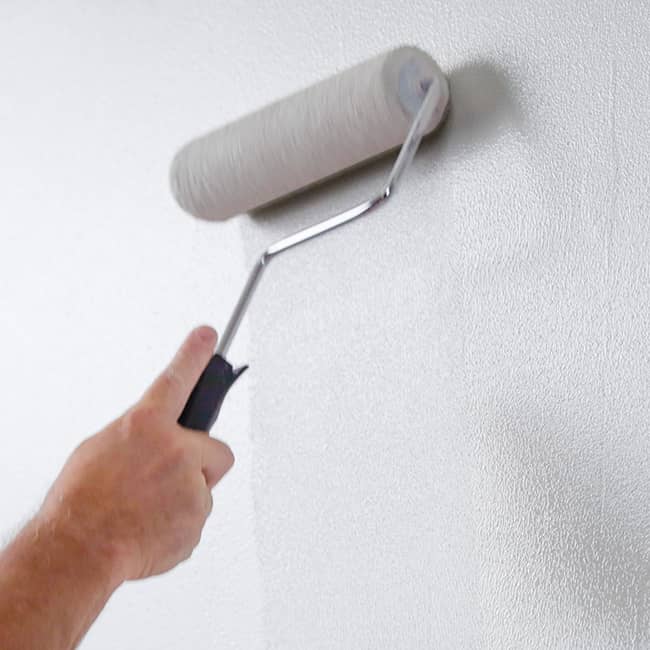 After the primer has dried, it's time to apply the paint to the wood paneling. It's recommended to use a roller for this purpose, preferably one featuring a medium nap. This is to cover the vertical grooves while still creating a smooth finish. Make sure you remove any excess paint from the panel grooves. Two coats of latex paint should be enough to finish the job.
In some cases, it could be necessary to apply one or more extra paint coatings. If you're not satisfied with the level of smoothness between coats, consider sanding the surface lightly. Once the wood paneling is fully painted with the color of your choice, it's safe to say that you can now see the entire room in a new light. The difference compared to the old look will immediately stand out.