This post may contain references and links to products from our advertisers. We may receive commissions from certain links you click on our website. As an Amazon Associate Rhythm of the Home earns revenues from qualifying purchases.
Share this article:
Stucco is based on a mixture of cement and sand that makes it pretty difficult to hang things on. If you have stucco walls and plan to decorate them, it can be quite challenging to do so using conventional methods such as power drilling. The material is vulnerable to cracking and crumbling so it's usually too risky to ruin the beauty of a stucco wall. Thankfully, there are some solutions you can try. Whether you wish to add your favorite artwork or mount a clock, here are the best methods to deal with the job of hanging things on stucco.
1.

Use Adhesive Hooks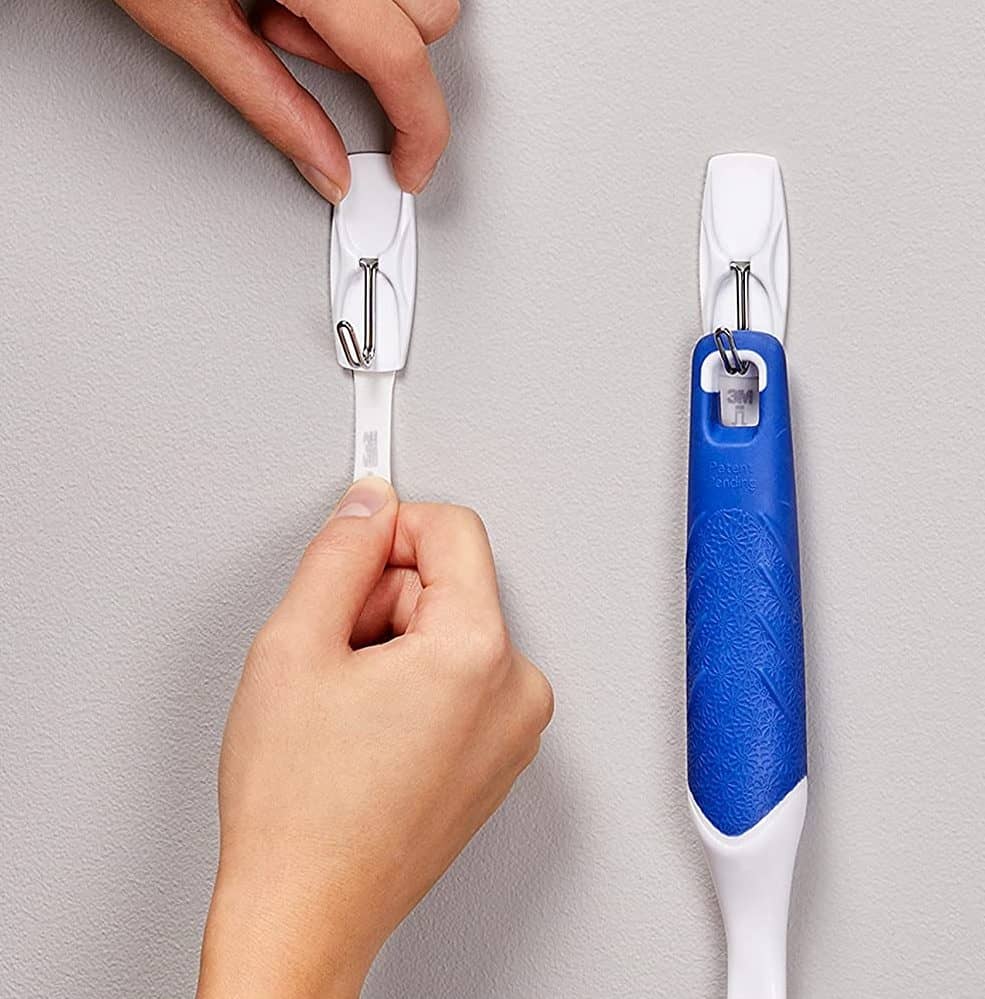 With the help of adhesive hooks, you will be able to hang most things on stucco walls with minimal effort. It's recommended to get your hands on some high-quality adhesive hooks from a trusted brand. Try this set made by Command. Depending on the item you're hanging, you might have to get different hooks or even multiple units. Just make sure they're compatible with stucco surfaces and feature a sufficient weight capacity.




Installing the adhesive hooks is quite straightforward. The surface needs to be prepared in advance to ensure proper adherence. It's recommended to clean the stucco wall thoroughly with a cleaning solution and a brush. Use rubbing alcohol to get rid of any grease that may affect the bonding of the adhesive. Once the clean surface is fully dry, follow the instructions of the adhesive hooks to apply them correctly to the stucco wall.
2.

Try Double-Sided Tape
If you're hanging small decorations or other lightweight items, try using some heavy-duty double-sided tape. Check out this reliable weatherproof model on Amazon. Make sure you select a tape that works for outdoor applications to maximize long-term durability. Even if you spend a little extra on a more expensive adhesive, that extra strength is worth it to avoid unpleasant situations of hung items falling out.




Similar to mounting adhesive hooks, proper cleaning of the surface is required to get the tape to stick as expected. Remove all traces of dirt and dust with a sponge or damp cloth while finishing off the cleaning job with some rubbing alcohol. Cut the double-sided tape into manageable strips that will be attached to the décor piece or object you plan to hang. Then it's simply a matter of peeling the other side of the tape and placing the sticky item on the stucco surface. Don't forget to check the instructions for the double-sided tape product you chose to ensure a correct installation. Most products will typically require firm pressing for a few seconds to let the adhesive do its job.
3.

Consider Wire Hangers
Another method for hanging things on stucco without drilling involves the use of wire hangers. They're recommended for heavier objects considering the typical weight capacity of up to 30 pounds or more. Take a look at this practical set of sturdy wire hangers. When you select a wire hanger, you should check to make sure it's compatible with plaster walls for mounting on stucco. Wire hangers are installed by piercing the stucco carefully using the sharp end. Mark the right location properly on the surface before you go ahead and make the hole in the wall.




It's possible to require more wire hangers installed for particularly heavy frames. When you've finally decided on the best spot for the décor piece to hang, puncture the wall slowly to avoid cracks in the stucco surface. The wire can be inserted quite smoothly into the wall. It needs to be rotated to make the inside end press against the wall. Finally, the hook should become firmly mounted and offer great holding power to hang your object. Try to hang things gently on wire hangers because accidental moves can mess up the alignment and reduce its effectiveness.