This post may contain references and links to products from our advertisers. We may receive commissions from certain links you click on our website. As an Amazon Associate Rhythm of the Home earns revenues from qualifying purchases.
Share this article:
With the help of a glass door, you can enjoy a solid dose of natural light entering your space as well as a sense of openness to the exterior world. Although this type of door brings some great benefits, it also has a notable drawback. Glass doors are elegant and practical to have but they don't do much in terms of protecting your privacy. If you're concerned about prying eyes getting a good view of your interior space through a glass door, you should consider a reliable method to cover it. Take a look at the best ways to cover a glass door and enjoy greater privacy.




1. Frosted Glass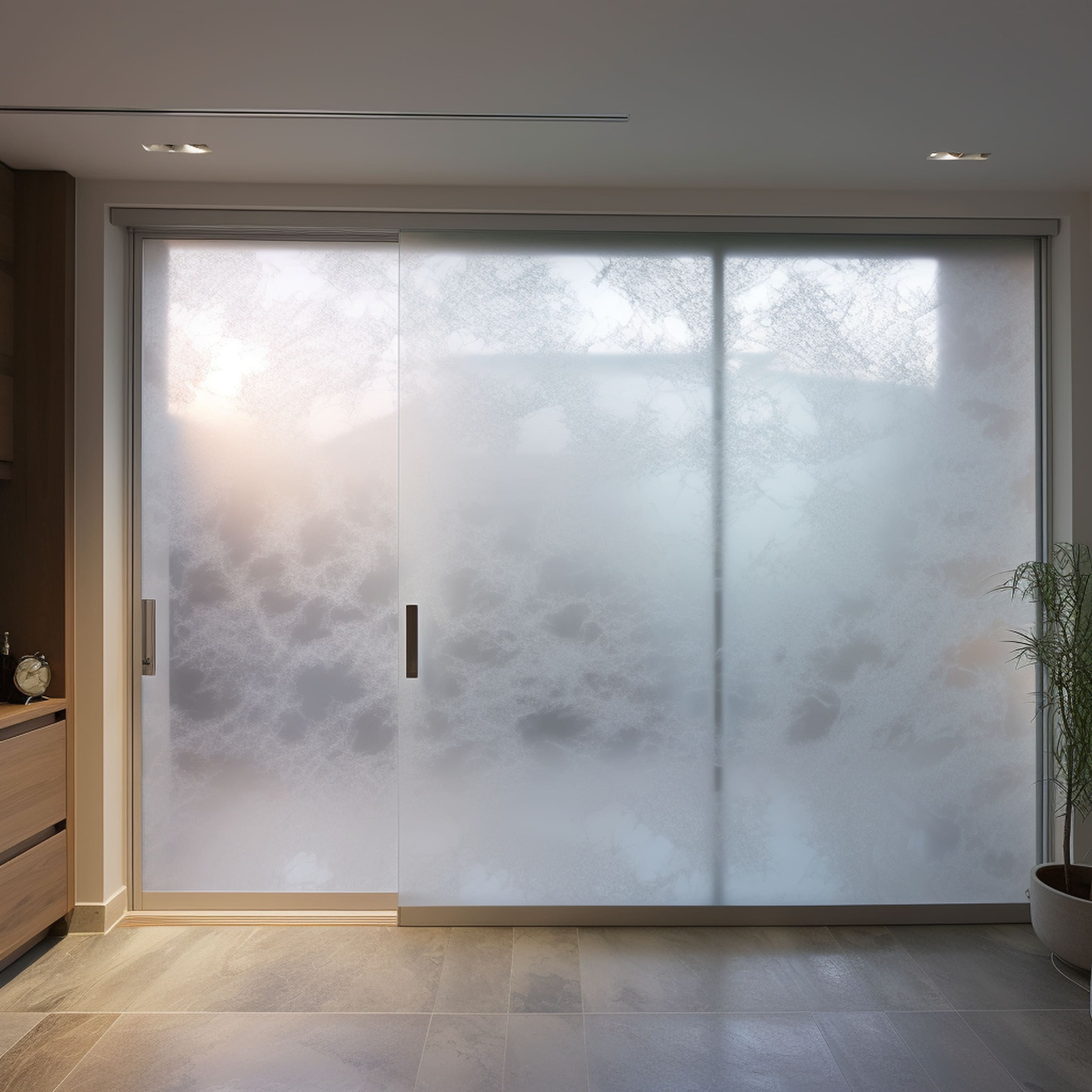 Frosted glass works like a charm to cover a glass door in style. The visual effect of frosted glass won't allow prying eyes to reach inside your home without sacrificing the level of natural sunlight that much. This is a great solution for glass doors because it pairs beautifully with their transparent design. Keep in mind that frosted glass is only recommended if you don't need to see outside.




Depending on the frosted glass option you choose, it's possible to make the glass door more visually appealing through eye-catching patterns and designs. There's no need to change the glass of the door to a frosted one. You can take advantage of convenient, low-cost alternatives such as glass door stickers that create a stylish frosted effect. Take a look at this model on Amazon to cover your glass door in style.




2. Curtains





Glass doors can be covered efficiently with the help of a beautiful set of curtains. This is a fairly straightforward solution that's considered a little more complicated as you will need to deal with the hassle of mounting draperies above the door frame. Although it takes some extra effort, it's worth adding curtains to a glass door when taking into account the convenience of a thick fabric border that can be adjusted as you please. You can also take this opportunity to freshen up the decor style of the room through a distinctive curtain design.




3. Shutters





Looking to add a sense of authenticity to your glass door? Consider covering it with a classic shutter that offers a solid combination of style and privacy. Shutters are typically used as window coverings but can also come in handy for glass doors. The problem with this solution is that you will likely have to opt for custom-made shutters to fit the glass door correctly. In terms of design options, it's best to select a clean-looking shutter style that accentuates the sleek aesthetic of a glass door.




4. Window Film





A simple window film can do wonders for a glass door if you feel too exposed to the outside world. This covering solution is mainly designed to enhance the level of privacy and provide a solid barrier against UV light. This type of film may not be ideal if you're looking for an elegant way to cover the glass door but it's perfect to use for practical reasons. It's fairly easy to apply because the film is designed to stick to the glass surface and can also be cut down to match the size of the door. Try this privacy film to cover your glass door.




5. Roman Shades





A Roman shade treatment can sometimes be more practical than installing classic curtains. As long as you have enough space above the door frame, it's safe to say that Roman shades can bring some fresh style to any glass door. The shades allow convenient folding when they're not needed while they can be quickly expanded to provide some much-needed privacy or sunlight protection. Roman shades are available in multiple stylish designs to match the design of the room.




6. Blinds





Whether you prefer the look or you're simply more used to them, blinds can cover a glass door without problems. They're typically simpler to install than curtains while offering a wide range of materials and designs to match the appearance of your glass door. Blinds can be purchased in different sizes as well to ensure that you obtain enough coverage for larger doors.




7. Sliding Screens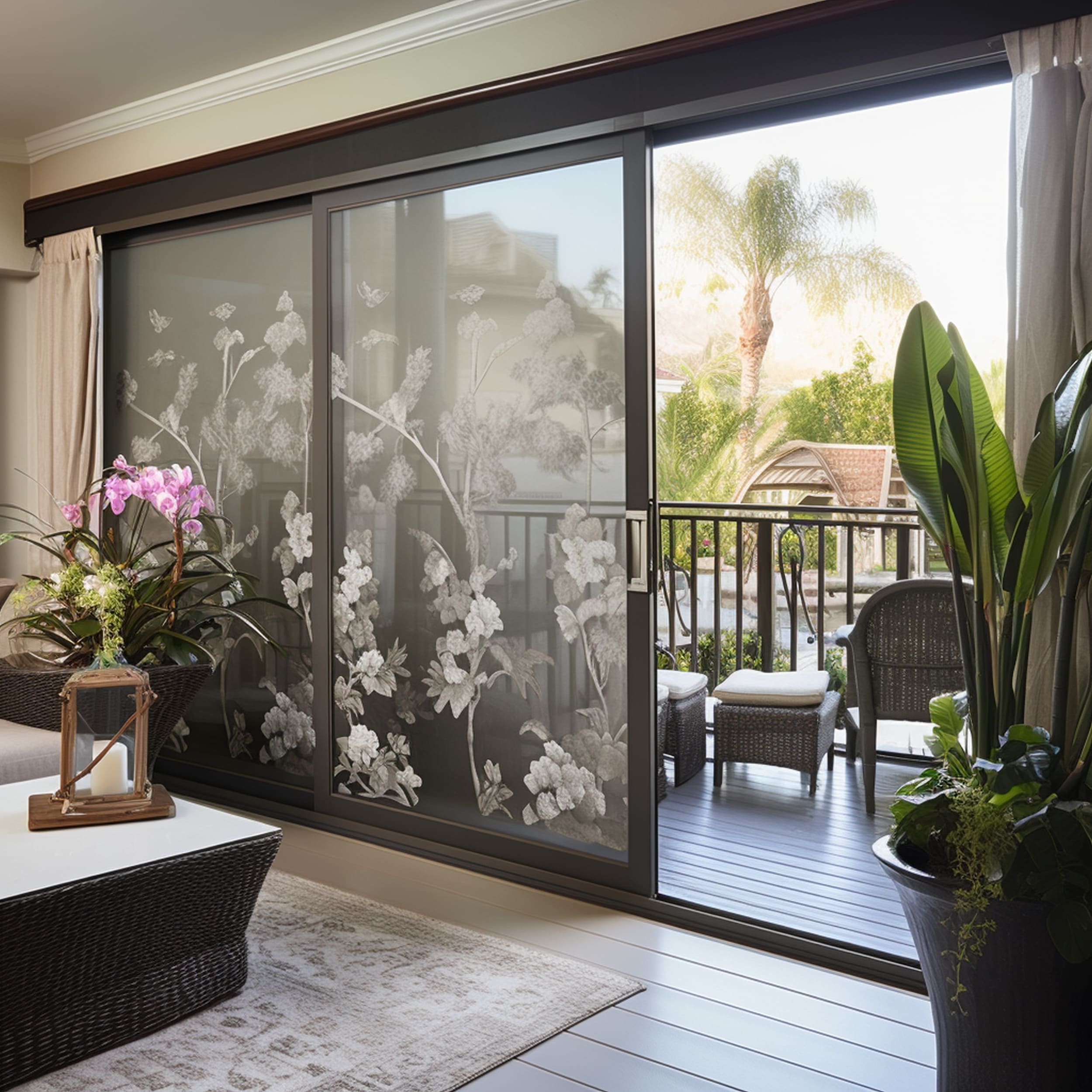 Mainly designed to protect your home from the strong glare of the sun, sliding screens provide a sleek design option in terms of covering glass doors. These panels feature a suitable look if you prefer a modern decor style. The screens prevent harmful UV rays from affecting your furniture or other items in the house that are sensitive to direct sunlight exposure. They also offer decent privacy, depending on the chosen level of opacity. Sliding screens work very well together with window films to maximize UV protection and improve privacy.




8. Vertical Cellular Shades
If you like the idea of using shades to cover a glass door, consider the vertical cellular type. It works similarly to solar screen panels but you can choose to incorporate extra layers if you require a more potent sun-blocking effect or superior privacy. Vertical cellular shades are installed using a sliding track and can be considered extremely user-friendly. When it comes to aesthetics, this type of shade boasts a chic appearance that fits both formal and casual decor styles.