This post may contain references and links to products from our advertisers. We may receive commissions from certain links you click on our website. As an Amazon Associate Rhythm of the Home earns revenues from qualifying purchases.
Share this article:
Typically associated with mountainside ski resorts, chalet-style houses are instantly recognizable thanks to their characteristic roof design with overhanging eaves. Although they're originally European, chalet-style homes have experienced a great surge in popularity in the northern US as well. This is likely due to the distinctive architecture that appears to complement snowy climates very well. Chalet-style homes were specifically designed to handle the more difficult terrain found in a rural environment. Nowadays, these houses are frequently built as resort-style residential homes.
Key Characteristics of Chalet-Style Homes
When it comes to their construction, traditional chalet-style homes use unadulterated natural materials such as wood and stone. The idea is to preserve an authentic Alpine look and allow the construction to blend in properly with its natural surroundings. Planks of woods are often arranged in a log house layout for a rustic effect.




Thanks to its highly pitched roof and overhanging eaves, a chalet-style house creates a stunning profile that grabs all the attention. Constructions will typically feature a triangular shape for the roof. The dramatic slope of the roof isn't just for aesthetic effect though. It's a practical design in a cold climate to prevent excessive snow buildup.
Chalet-style houses are commonly designed with big windows. Considering their lakeside or mountainside locations, it's an intended feature to let the homeowner admire the stunning panoramic view of the natural world. Having plenty of sunlight enter the home is another solid benefit.




Most chalet-style home plans include an open-concept interior layout. This is a deliberate choice that allows a family on vacation to spend time together more conveniently. It goes hand-in-hand with the addition of a fireplace that heats up the main living area where everyone can relax together in a cozy atmosphere.
This is probably one of the most memorable features of a chalet-style home. The high vaulted ceilings enhance the sense of space in the house, even for those constructions that are on the smaller side. Chalet-style houses feature loft spaces that can serve a wide range of purposes such as bedrooms or work areas.




Now that you've seen the most common characteristics shared between chalet-style houses, it's time to explore some impressive examples of this type of home:
1.

Bavarian Beauty
Located in the mountainous region of upper Bavaria, Germany, this stunning chalet-style house offers some great vacation opportunities. It's designed to incorporate two semi-detached homes that are ideal for accommodating two separate families. Some key architectural characteristics of chalets can be found here, namely the overhanging eaves of the roof and large windows.




2.

Modern Wooden Design
This spectacular chalet-style home can be found in the Kyiv reservoir in Ukraine. It takes a lot of inspiration from traditional Alpine chalets while infusing some modern elements to keep its appearance trendy. The villa is situated on a hill that allowed for the construction of a spacious garage in the basement. Residents can admire the surrounding forest with the help of panoramic windows.




3.

Mountainside Chalet-Style Home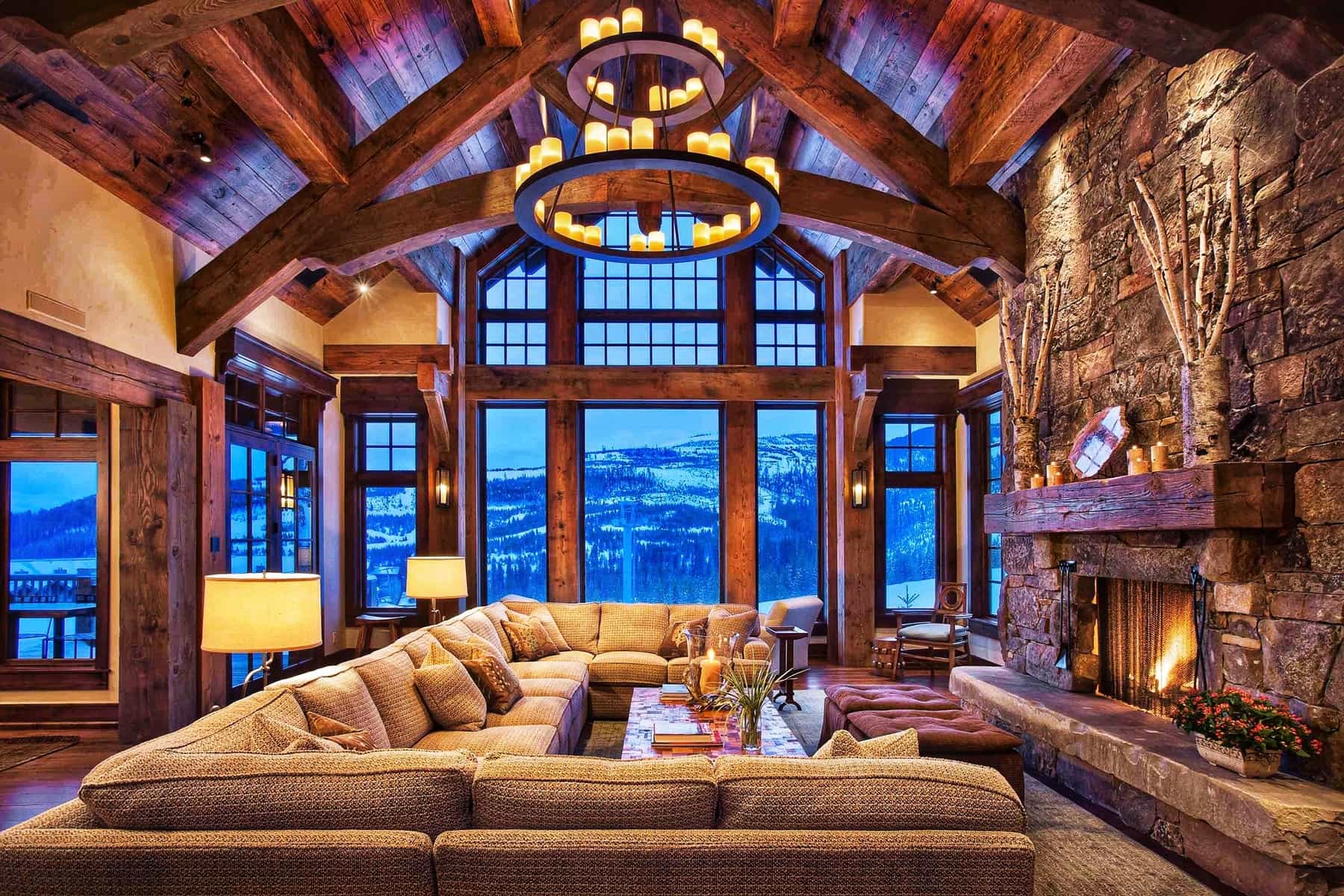 Showing off a gorgeous rustic interior, this mountainside chalet-style home provides a very relaxing ambiance for anyone looking to enjoy a ski vacation. The living room is the main highlight of the house considering the beautiful stone fireplace, elegant chandelier, and huge sectional sofa. It's a perfect spot to hang out together with family and friends after a long day of skiing.




4.

Avant-Garde Resort Residence
Modern chalet-style homes depart quite a lot from the traditional look and function of authentic Alpine constructions. Here's a great example of an upscale resort that takes advantage of avant-garde construction features to give the chalet a sophisticated air of modernity. Although it used to be a conventional chalet-style home, the resort residence is now almost unrecognizable thanks to a modern architectural upgrade.




5.

Villa Genolier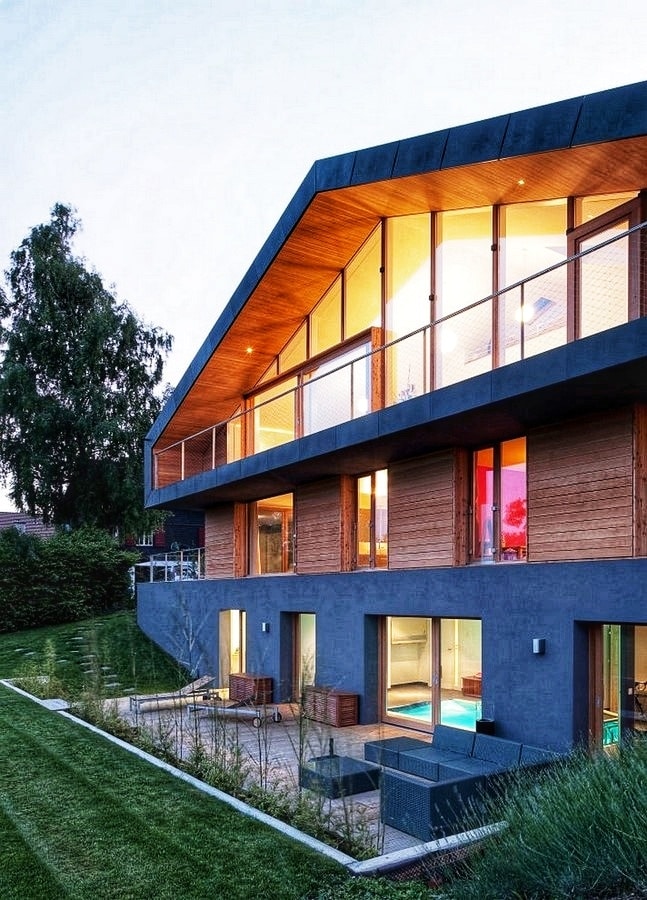 Check out this minimalist Swiss chalet-style home that keeps a traditional atmosphere despite the use of contemporary architectural shapes. It relies on natural materials and provides a stunning view of Lake Geneva and its surrounding landscape. The chalet house offers a luxurious interior built with comfort in mind.




6.

Stylish Ski Chalet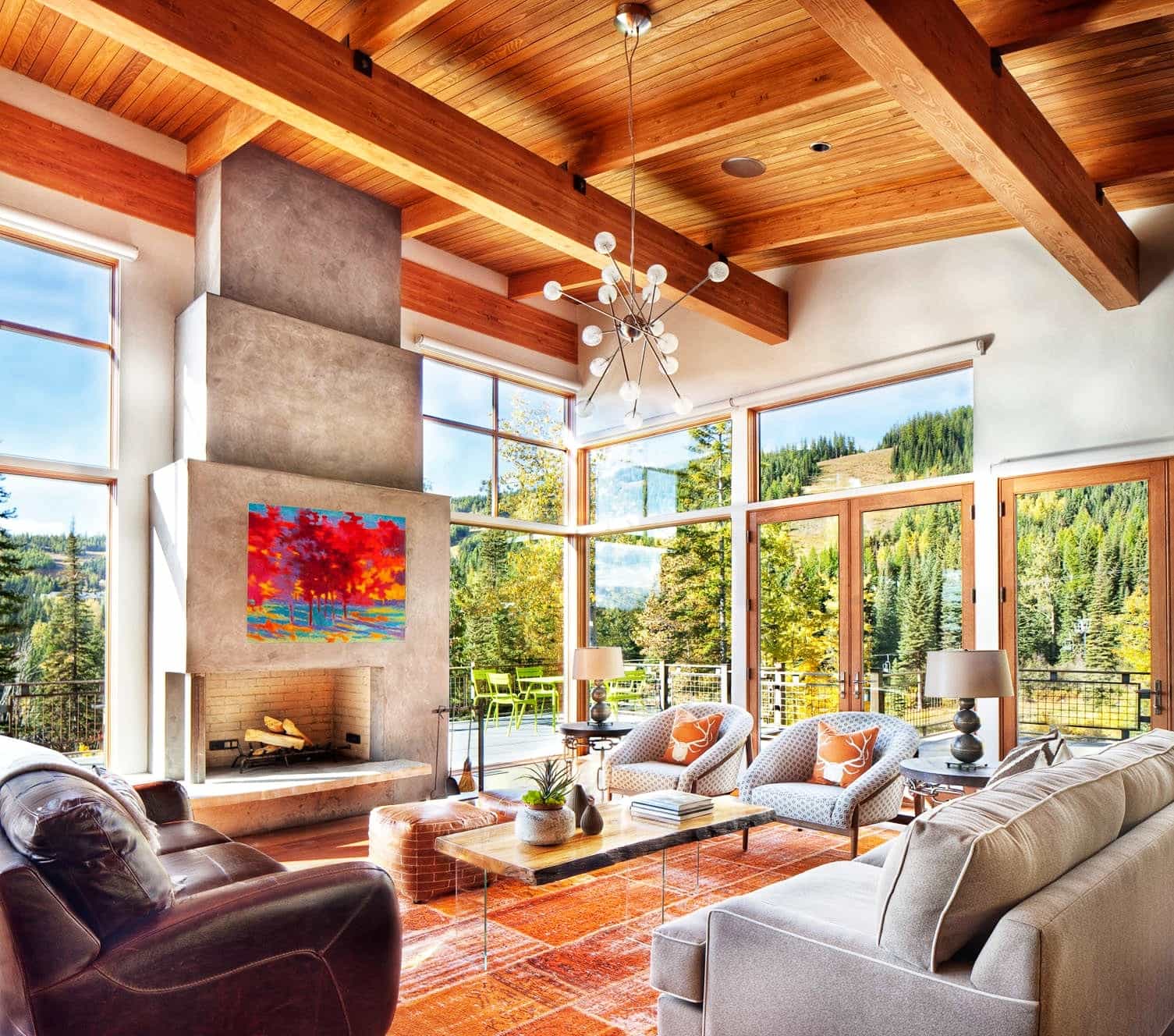 Designed with separate areas for more flexible entertainment possibilities, this ski chalet residence can be considered a spectacular modern take on the classic Swiss building. It's equipped with walls of windows that let you admire the mountainous view outside while the clean-lined concrete fireplace maintains a comfortable level of warmth. Despite the formality of its furnishings, the living room of the chalet incorporates some notable rustic elements such as the ceiling wooden beams.




7.

Chalet Petrus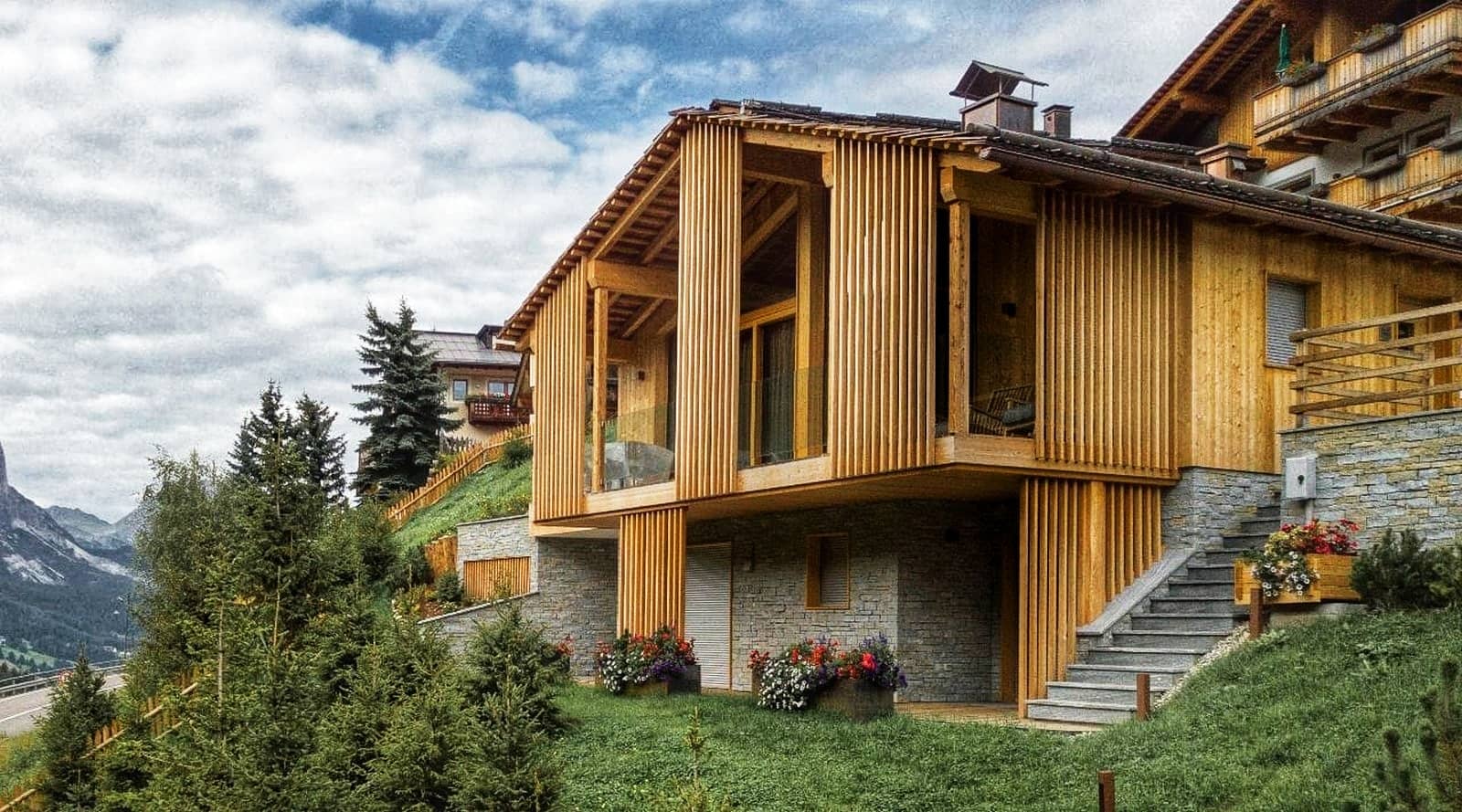 Chalet Petrus combines sophisticated architecture with natural materials to result in a simple yet elegantly-designed vacation home. It stands out compared to a classic chalet-style house considering the modern captivating design of its three distinctive levels. The building captures the Alpine heritage of authentic Swiss chalets while the modern approach gives it a fresh look.




8.

Minimalist Chalet
Although it looks very modern, this chalet-style residence appears to resemble traditional Alpine designs more closely than others. It's built with a highly minimalist approach to make you feel like you're staying in a traditional wooden house. The difference is that you can enjoy all the comforts you can expect from a modern home while admiring the stunning mountainous view.




9.

Country-Style Chalet
Modern chalet-style homes can be very popular, but country-style designs can often look even more attractive. This is a recommended architectural approach for anyone who prefers the cozy atmosphere of a cottage. The chalet offers a reliable roof construction with an abrupt slope to keep snow away. There's a little balcony on the upper level to enjoy the view of the mountain peaks while the charming terrace works perfectly as a barbecue area.




10.

Cozy Mountain House
If your dream is to have your own mountainside retreat, it's safe to say that chalet-style homes provide the best look. This cozy chalet is located in the Swiss mountains and adheres strictly to the heritage protection code. However, some modern enhancements have been made to enjoy your skiing trip to the fullest. The lower floors are more compacted and designed ideally for storage while the upper levels are gradually more open and suitable for living areas.