This post may contain references and links to products from our advertisers. We may receive commissions from certain links you click on our website. As an Amazon Associate Rhythm of the Home earns revenues from qualifying purchases.
Share this article:
The Cape Cod house can be considered the quintessential American cottage. It's close to the ideal vision of a home for lots of Americans so it's not surprising to see that Cape Cod's timeless architectural elements are still very popular today. This style is focused on designing a simple yet very charming home that's easy to maintain and can be properly expanded as desired. It has a classic clean-lined silhouette that's effortlessly appealing without seemingly becoming obsolete.
History
Similar to other residential architecture styles in the United States, Cape Cod has fairly humble origins. It found its way in the country through English colonists who made modifications to English half-timber houses to match the New England climate. The initial wave of popularity for Cape Cod houses started from late 17th century to around the half of 19th century. There was also a revival period for the style in the 20th century that helped to spread Cape Cod design principles to more areas of the United States.
Key Elements
The architectural style developed due to the need for practical structures that can face challenging local climates. The primary focus was to design a small cottage with a functional shape without any special decorative touches. Cape Cod architecture prioritizes practicality above all else. That's why you'll often features such as a large chimney for covering the heating needs of the entire home or details such as a steep pitched roof to avoid snow accumulation.
Cape Cod houses are modest structures with clapboard or shingle exteriors. They typically have flat-front facades and make use of classic white exteriors paired with black shutters. However, revival versions of the style will also include color variations. One key element of Cape Cod architecture is the use of hardy local materials. Keep in mind that these homes were originally designed to withstand the tough New England winters.
Cape Cod Houses
If you're looking for inspiration to design a Cape Cod house, check out these notable examples. With such a long history, this classic American architectural style is still worth checking out if you favor this distinguished modest aesthetic.
1.

Streamlined Facade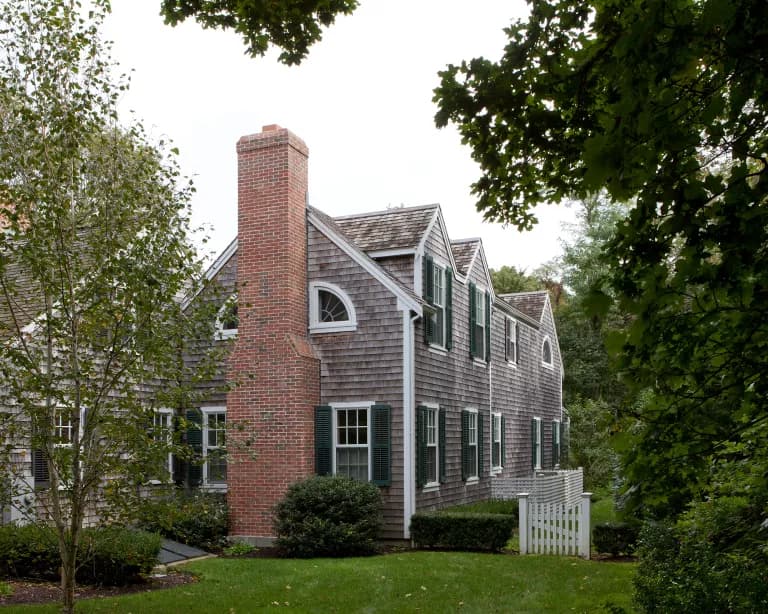 The facade of the Cape Cod house will typically stand out more than other characteristic architectural elements. Despite the plain look of the unpainted shingles, the roof grabs attention through its elegant symmetry. Keeping the right proportions represents an essential aspect when it comes to Cape Cod style. Check out this house that features a carefully designed roof slope with low eaves and limited shingle exposure. A huge chimney acts like the structure's anchor.




2.

Expanded Square Frame
While most homeowners love the basic stylistic approach of Cape Cod houses, others enjoy an expansion to the usual square frame. You can make the structure larger in case you wish to accommodate some extra amenities such as dining areas. This is definitely more of a modern take on the classic Cape Cod aesthetic but the added wings can be easily blended with the rest of the house to create a harmonious look. Adding a porch or dormer could be a smart idea to improve the functionality of modern Cape Cod houses without affecting their original charm.
3.

Symmetrical Living Room
A great solution for designing the interior of a Cape Cod house is to mirror its exterior symmetrical appearance. You can modernize the traditional history of the style using chic furnishings arranged strategically to keep the proportions balanced. Notice the use of armchairs and lamps in this example. They form a beautiful symmetrical scene while the stools and geometrical decorations contribute to the same stylish visual effect.




4.

Minimalist and Cozy Appearance
An authentic Cape Cod home should be simple and practical. One essential idea of this architectural style is to embrace a small and modest house. Most Cape Cod residences give off cottage vibes because that's what they are at their core. They feature only one to one-and-a-half stories because they're designed for winter climates where it's a challenge to heat a large house. The use of low ceilings also helps in that regard.
5.

Pop-Out Windows
Emerging from the desire of homeowners to benefit from a larger living area, dormers are now very popular among modern Cape Cod house designs. There's no need to sacrifice the cottage-like aesthetic of the traditional Cape Cod home when you incorporate sleek pop-out windows. Take a look at this great example that shows off these small windows positioned symmetrically on the roof. They offer breathing room for the second level where the homeowner can better use all that space under the roof.




6.

Coastal Vibes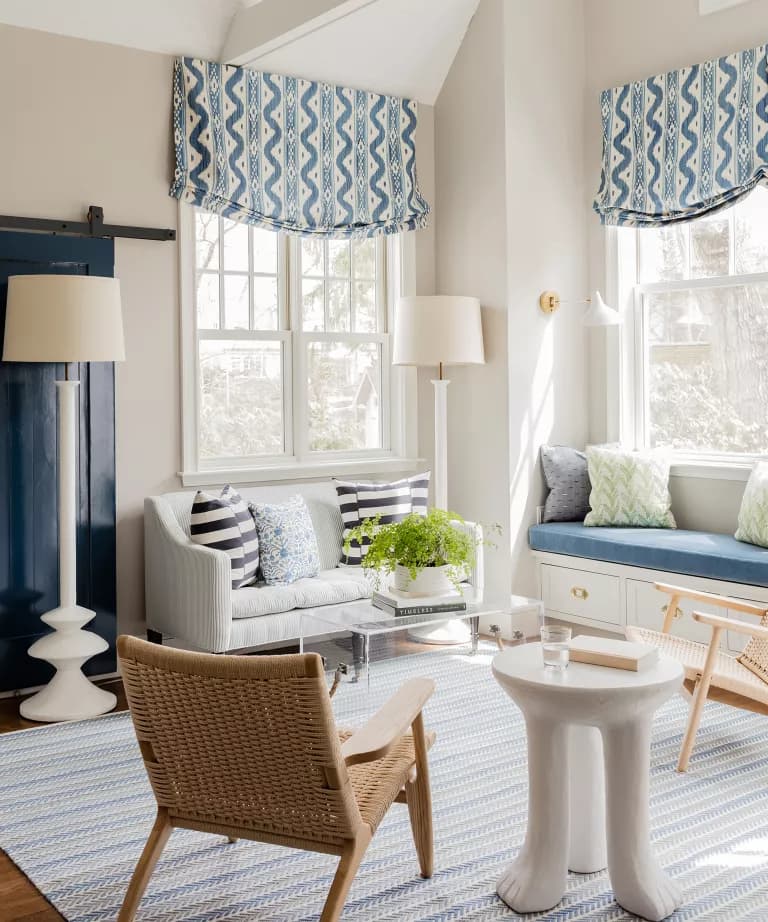 Due to Cape Cod's New England origins, the interior space is often designed using beach-inspired decorations. Adding subtle coastal vibes in this type of home is done most easily with the help of a color scheme that combines blue and white. There's no need to go overboard with sailboat motifs or seashells decor pieces. From a charming barn door to striped throw pillows and patterned shades, this is a beautiful solution to emphasize the beachy roots of Cape Cod.
7.

Traditional Aesthetic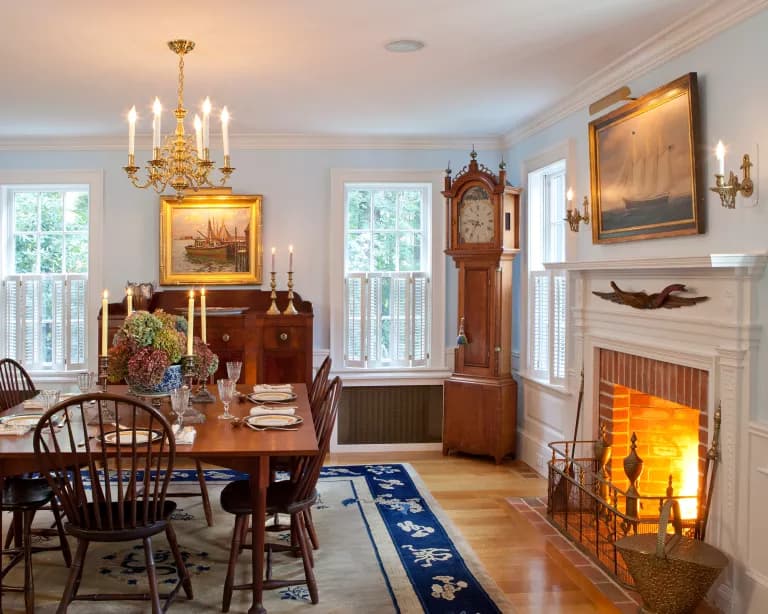 The Cape Cod style has a rich history and many modern homes still pay homage to this aspect in various ways. The use of several traditional old-world accents can be considered a solid example. You don't necessarily have to make the interior of the Cape Cod home feel as if it transported you to a different world in the past. Just a few well-placed accents that take your mind to colonial America should be more than sufficient. Check out this beautiful dining room that relies on various antiques, wooden accents, and a cozy fireplace.




8.

Decorative Shutters
Shutters used to be essential for the original Cape Cod homes because they provided some much-needed protection against strong winds. This is no longer a functional asset today because shutters are more popular now to enhance the look of the home. Even the most modern styles of Cape Cod still favor the addition of shutters just for decorative reasons. Aside from classic dark colors, some homes opt for brighter tones to create a pleasant contrast and make this detail significantly more distinctive.
9.

White Picket Fence
What could be a better match for the quintessential American-style home than the classic white picket fence? It seems like it was built to match the simple and elegant aesthetic of Cape Cod architecture. This small type of fence isn't particularly practical but it offers a lot of character to the surrounding area of the home. You can count on the white picket fence to make any landscaping elements feel more clearly defined while adding its own contrasting charm against the greenery.




10.

Neutral Color Schemes
Traditionally, Cape Cod homes tend to feature neutral color schemes in terms of exterior looks. The shingles aren't typically painted and are left abandoned to become weathered gray. This is an intentional choice because the sense of austerity gives the structure a more authentic Cape Cod feel. The traditional use of neutral tones may be strongly influenced by other Colonial-era home designs.