This post may contain references and links to products from our advertisers. We may receive commissions from certain links you click on our website. As an Amazon Associate Rhythm of the Home earns revenues from qualifying purchases.
Share this article:
With the help of a canopy tent, you can benefit from protection outside when the weather gets tough. They're easy to use and durable enough to withstand harsh rain, powerful winds or the sunny days of a hot summer. Canopies have become very popular as their price enjoyed a steady descent into a more affordable area. The build quality of these tents registered a sharp increase as well thanks to advances in technology. In just a few quick steps you can have a reliable canopy that delivers protection on the beach or at any event.
For a more customizable experience, canopy tents come with numerous accessories. For example, some models offer roller bags to enhance the portability or weight bags to increase stability. As products come with different features to cover different needs, it's strongly recommended to choose the right canopy tent for your needs. The best models need to be simple to use and to find the right balance between durability and a low weight.
To make your task simpler, this article will present you with the most cost-effective canopies that should fit any specific use you had in mind for this type of tent. Many hours of research went into this roundup of the best canopy tents. No product is perfect, but these come close when you consider what they offer for the cost. You might also be interested in our articles about the best zero gravity chairs and the best futons.
Buy On AmazonBuy On WalmartBuy On Home Depot
For a complete protection during camping, you could try the Quick Set Escape Shelter. This canopy tent is built to withstand any kind of rough weather thanks to its water-resistant roof and quality assemblies. One of the strongest construction element is the 11mm fiberglass used for the connecting poles. Getting this tent up and fully assembled shouldn't take longer than a couple of minutes.
The screen shelter stays firmly attached to the ground with the help of seven reliable tent stakes and tie down ropes. The poles not only enable a quick setup, but they're also dependable when it comes to making a stable support structure. To further enhance the robustness of the shelter, durable center hubs have been added. The fabric used in the construction process is a 210 denier type and the center of the roof benefits from the extra strength of the 600 denier fabric.
Considering the reasonable price, it's safe to say that the Quick Set Escape Shelter is worth the investment. Any camper can take advantage of the ingenious design of this canopy as it provides complete protection from the elements. The ample space allows you to relax in comfort with the whole family.
Buy On AmazonBuy On WalmartBuy On Home Depot
High-quality pop-up canopy tents shouldn't cost a fortune. It seems that this is what ABCCANOPY had in mind when designing their product. This 10 by 10 instant shelter tent delivers excellent shade thanks to its heavy duty fabric. It can be set up in just a matter of seconds once you get the hang of the procedure. There's an outstanding selection of colors to fit any type of event.
With any canopy like this stability is key. To prevent the tent from collapsing when assaulted by the weather, the manufacturer focused on providing increased stability in the center spot of the roof. Windy days can pose problems for canopies, but this model offers highly attached Velcro that enables the frame to resist the wind. Whether heavy rain or intense sun affect the canopy, the waterproof silver-coated fabric with anti-UV properties should handle it.
Ideal to be used in all kinds of applications, this pop-up canopy from ABCCANOPY model delivers on its promises. It's fast to set up and can be quickly stored away in its roller bag designed to make the entire structure easy to transport. When you take into account all it can do for the money, this canopy becomes a game-changer for any event.
Buy On AmazonBuy On WalmartBuy On Home Depot
Eurmax is known for creating very high-quality commercial canopy tents. Their 10×10 model comes with an abundance of accessories. You will get a convenient wheeled bag to store the frame while two sets of stakes and ropes can help you with the install process. The carry bag has larger wheels than other models, perfect to handle the more difficult terrain.
The first you might notice regarding the construction quality of this canopy is the enhanced robustness of its square-shaped legs. They've been treated with special powder-coating to prevent rusting and provide a quick lock release. For a stable structure, the top comes with a reliable peak tensioner. The top cover material used is a sturdy polyester which protects you from UV rays almost completely.
Heavy rainfall doesn't have any impact on this canopy. The material is tough, but the seams matter more in this regard. That's why the manufacturer opted for sealing the stitching lines to ensure an absolute waterproof effect. The 10×10 Eurmax canopy tent has great potential to provide that much-needed shade during sunny days. Versatile, durable, and user-friendly, this canopy tent is a serious candidate to consider.
Buy On AmazonBuy On Walmart
With a specially formulated fabric and durable canopy body, the CORE 10×10 instant shelter looks like a solid choice for the cost. The frame has been reinforced with fully-taped seams to prevent any kind of water leaks. UV rays won't be able to pass through the tough 150D polyester as this tent comes with 50+ sun protection.
Assembling a canopy tent can take more than a few minutes with most models on the market. This one has been designed for instant setup in just two minutes. To make a user-friendly canopy it's also important to make it simple to adjust. Thanks to the large pinch-free buttons integrated on this unit you can toggle between different leg heights in the most effortless manner possible.
When it's time to get moving you can quickly store the compact frame in its wheeled bag. Portability is a nice feature to have in any canopy tent. One thing we like regarding this model is the attention to details. For example, the addition of roof vents can improve the air circulation inside the canopy. Ground stakes and tie downs are supplied in the package to make this CORE canopy tent ideal for a multitude of events such as festivals, fairs, and more.
Buy On AmazonBuy On WalmartBuy On Home Depot
Available in multiple eye-catching colors, the Eurmax BAS10PWT is a great all-around canopy which comes with a few extras. If regular canopy tents can have issues during windy days, this model could be a lifesaver thanks to its removable side walls. It can also be set up in a more stable manner with the help of its weight bags. A commercial heavy-duty wheeled bag will solve all your transportation hassles.
This canopy has a durable frame supported by powder-coated legs and the waterproof fabric arrives with sealed seams to ensure excellent rainfall protection. The UPF50+ rating makes this unit suitable for sunny outdoor events and by attaching a sidewall you can provide even more shade. There are three sidewalls in total and you can use all of them simultaneously or individually.
The thumb latch lock system is a very reliable mechanism for making the set-up process free of any hassles. It's quick to install and the canopy can be released in the same easy manner and stored in the roller bag. Another great accessory included is the set of strong stakes to ensure you can count on your canopy tent even when the weather gets unpredictable.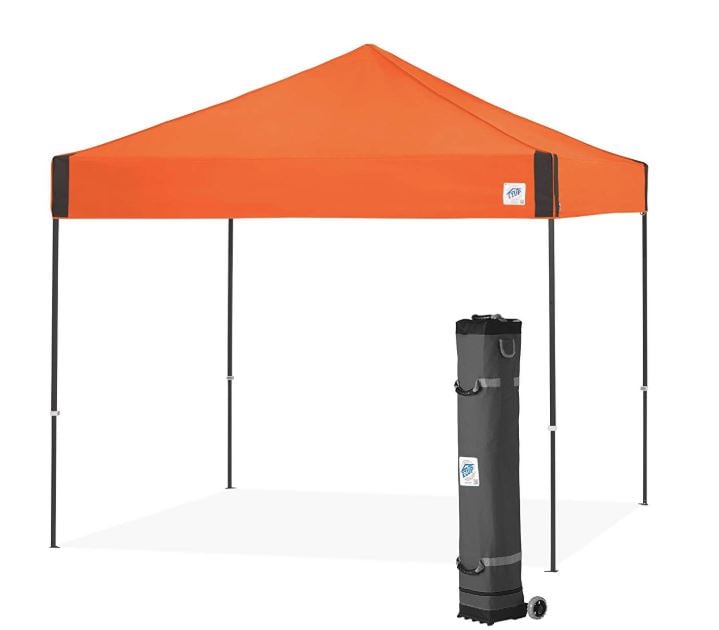 Buy On AmazonBuy On Walmart
One canopy that offers excellent coverage to take advantage of shade and rain protection anywhere is the E-Z UP Pyramid. This 10 by 10 model can be purchased in a decent color variation from neutral black, white or gray, to more vibrant royal blue or steel orange. Apart from the canopy frame, you will find some useful accessories in the package such as the high-performance roller bag and the spike kit.
Setting up this canopy is done in mere seconds as the assembled frame just needs its legs extended. It will probably take longer to get it out from the bag. An advanced lock mechanism allows the user to make simple leg adjustments. There are three height options available. When you need the frame released to pack it up, activate the pull-pin which will make the frame slide quickly. The craftsmanship of the canopy is quite impressive as you can prevent up to 99% UV rays from penetrating inside.
Durability is also increased by the high-strength end caps and reinforcements in the corners where wear usually affects the canopy the most. One aspect that sets this model apart from the competition is the superior Wide-Trax roller bag which comes with a reliable zipper, rubberized handles, and high-density wheels. Solidly built and affordable, the E-Z UP Pyramid deserves more attention on the market for canopy tents.
Buy On Amazon
If you're participating in a more demanding event and need a larger canopy tent, take a look at the American Phoenix 10×20 model. Easy to assemble and use, this canopy could be ideal for fairs, sporting events or craft shows. It's sturdily built and the frame gives you a feeling of reliability that's difficult to match for the price.
The stakes provided aren't ideal for extremely windy conditions so you might need to get some heavy leg weights to add stability. It all depends on your intended usage. The large coverage could be a game-changer for most situations, but extreme wind conditions might pose some problems. The tent doesn't come with a roller bag which could explain the reduced cost.
There are no complaints in terms of durability as this canopy's steel framework should resist all the common problems such as rust thanks to its powder-coat finish. The large size enables the American Phoenix canopy to be considered a more versatile model as you can also take it on your camping trips or at the beach. Although it doesn't come with any fancy accessories, the tent is durable and simple to install.
Buy On Amazon
Another interesting model from E-Z Up is their Dome 10×10 instant shelter. Available in a wide range of colorful tones, the Dome is specifically designed to face tougher wind conditions. To remain stable, it makes use of vented peaks that keep the air flowing and the overall structure feels more dependable. There are two height settings to change and adjustments can be done without worrying about pinched fingers.
In terms of install time, this model seems to have great potential. It's up and working in a matter of seconds. Breaking the canopy down is simple to do as well. To enjoy more headroom, the ceiling has been designed without crossbars, which represents an advantage for taller people. The low weight of the steel framework can facilitate the transporting process, but you won't have to worry about it anyway because the manufacturer includes a capable roller bag for this purpose.
The E-Z UP Dome has a different shape compared to other canopy tents and this might seem strange initially, but you can rest assured that it doesn't disappoint in terms of sturdiness. The top corners are built to resist the wear and the fabric offers 99% UV protection and respects all the fire resistance standards. This canopy is recommended for those who need reliable shelter in windy conditions.