This post may contain references and links to products from our advertisers. We may receive commissions from certain links you click on our website. As an Amazon Associate Rhythm of the Home earns revenues from qualifying purchases.
Share this article:
With great benefits to your health, zero gravity chairs represent an ideal way to relax on vacation or at home. Putting too much stress on certain areas of your body happens when using conventional chairs. You can avoid many problems by going for a zero gravity chair which focuses on the best ergonomics possible. For example, it promotes superior legs circulation and relieves the strain on the spine. Those with back or joint problems can definitely benefit from the comfort of a zero gravity chair.
Now that you're probably certain of making the investment into one of these chairs, the only thing left is to choose the best option in terms of features and budget. Some zero gravity chairs are geared towards indoor use while others come with enhancements for an optimal outdoor experience. Perhaps comfort plays the biggest role in making the right selection. You're buying this chair for improved relaxation after all.
It's not easy to figure out the comfort potential of a particular zero gravity chair. There are some indicators to help you out though. For example, look at the build quality and the overall design elements. The size of the chair can be another relevant factor to ensure a comfortable fit. Some models come with extras such as removable pillows or canopies. If you wish to select the best model take a look at the following list of zero gravity chairs. Only the best models that went through our rigorous analysis have been accepted whether we're talking about qualities such as comfort, durability, versatility, and overall quality for the cost. You might also be interested in our articles about the best futons and the best canopies.
Buy On Amazon
As it's capable of providing excellent support in a portable package, the Caravan Sports Infinity Oversized could be the right solution for anyone searching for a high-quality zero gravity chair. Perfect for relaxing in various positions, this chair features an adjustable headrest, a reliable locking system, and long lasting outdoor-grade fabric.
All the zero gravity chairs on the market offer the ability to switch positions and this model is no exception. To lock your favorite position with ease, the manufacturer implemented a dual fingertip locking system which enables you to relax in different ways. Whether for lumbar or neck support, the sliding pillow with comfortable padding can be adjusted for the ideal position.
The fabric used for the chair is fairly durable as it was made for rough outdoor conditions. A nice powder-coat finish has been applied to the steel frame for extra strength. Overall, the construction feels reliable thanks to the double bungee system. It's safe to say that the Caravan Sports Infinity Oversized provides excellent space to relax and reclines with ease. For its cost, this is an excellent zero gravity chair.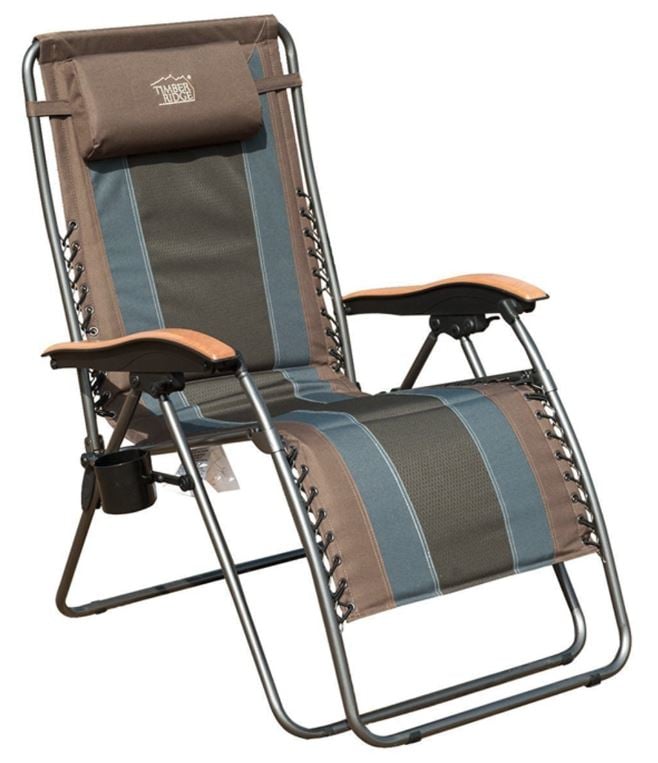 Buy On Amazon
If you want to make a great investment in a zero gravity chair, look no further than the Timber Ridge Oversize XL. As its name implies, this chair has been built to support a greater capacity to ensure maximum comfort. There are many interesting design choices that make this model worth considering. For example, there's fully padded seating, ergonomic wood armrest, and close at hand there's a side cup holder.
Most people who search the market for a zero gravity chair are interested in one thing only – the comfort of the chair. This is an essential factor to consider and it looks like this model checks all the boxes in that regard. The curved ergonomic design can support even a 350lbs weight and deliver a flexible reclining experience. A padded pillow acts as an excellent headrest and to enhance your leisure time as much as possible, the seating has been fully padded as well.
Hardly any compromises have been made in terms of durability considering the sturdy steel frame and the polyester fabric designed to last in time. You can use it both indoors or outdoors, but make sure you respect the cleaning and maintenance instructions to enjoy the benefits of the chair for longer. No wobbling or discomfort to be found in the Timber Ridge Oversize XL. This is very durable and comfortable zero gravity chair that can exceed all your expectations.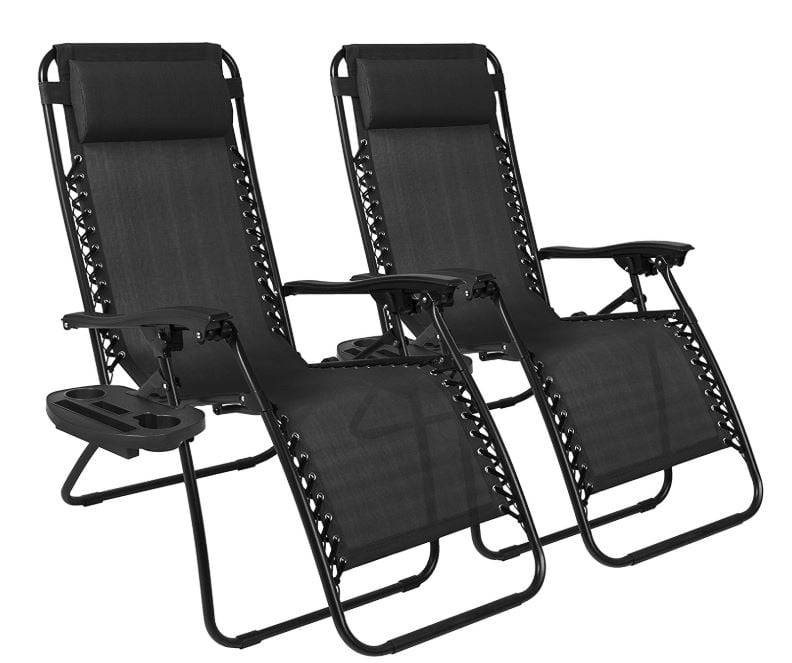 Buy On Amazon
What better way to relax with a partner or friend than by choosing a nice set of zero gravity chairs? The Best Choice Products SKY904 manages to encapsulate all the essential features of these wonderful chairs for an affordable cost. Conveniently made to be as lightweight as possible, these zero gravity chairs are built with durable materials and handy cup holder trays.
These chairs are designed with portability in mind to be taken with ease during camping trips or at the beach. You can fold the chair to make it more compact and the headrest is fully removable. In terms of durability, the textilene fabric used provides resistance to ultraviolet rays, but it's still a good idea to keep it out of the intense sun or heavy rain. An advanced double bungee system binds the fabric with the steel frame.
The Best Choice Products SKY904 provides the weightless experience to anyone who wants to feel like they're defying gravity. The chairs are easy to recline and come with convenient accessory trays to keep drinks and books close at hand. All in all, this set of zero gravity chairs is recommended if you want a good mix of comfort and affordability.
Buy On Amazon
Available in a wide range of colors and patterns, the Bliss Hammocks GFC-439WTC is one zero gravity chair that you shouldn't overlook. It brings that weightless feel to your body for the ultimate outdoor relaxation. To protect you from the sun, the chair features an adjustable shade. No need to worry about rust as this recliner chair's steel frame has been powder coated.
The seating is strong enough to keep you comfortably relaxed making a great combination with the sturdy frame. There's a lot of room for personalization with this chair as it provides multiple reclining positions with the help of its smart locking system. Extra padding has been added for the headrest and on the side you have a drink tray that can be removed if needed.
As opposed to other zero gravity chairs on the market that are cumbersome to open up and fold away, this unit has been designed for user-friendliness. You can have it ready for weightless relaxation in no time. The Bliss Hammocks GFC-439WTC is effective at maintaining various reclined positions and makes no compromises on looks and durability. Great value for the money.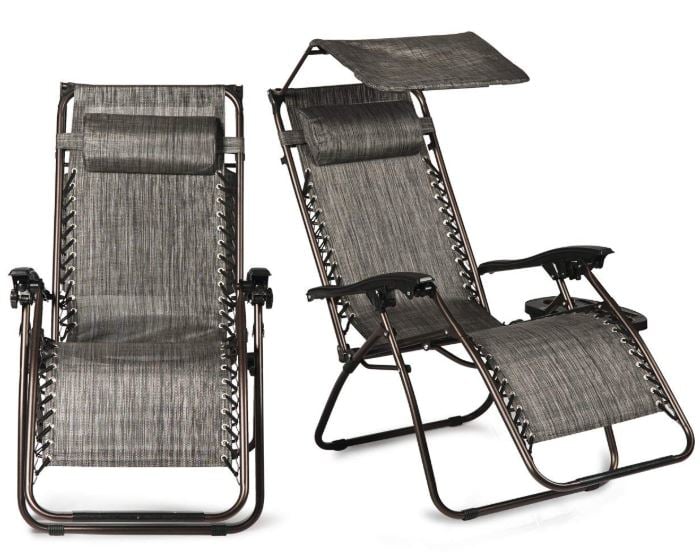 Buy On Amazon
Another great set of ergonomic zero gravity chairs comes from Belleze. There are some solid features integrated here, including an advanced locking mechanism, canopy shade, and an adjustable headrest. Striking a good balance between portability and comfort, this unit seems very promising on the zero gravity chair market. The cost is reasonable as well as it's usually a better idea to buy a set of chairs instead of just one piece.
In terms of design, the chair doesn't really give off a premium vibe, but it's well-made and available in multiple colors for easy customization. Comfort-wise, this zero gravity unit provides the same tough textilene fabric which is great for outdoors as it's simple to clean. Locking or unlocking the chair for experimenting with different reclining positions is really easy thanks to the included twist knobs.
Aside from the essential features that you'd expect in this kind of chair, there are a few extras. The sun won't bother you as the chair offers an adjustable canopy to keep you in the shade. Drinks and other items can be placed on either side of the chair with the help of the supplied tray. Comfortable for spending your day in sunny relaxation, the Belleze set of zero gravity chairs is a fairly-priced model to check out.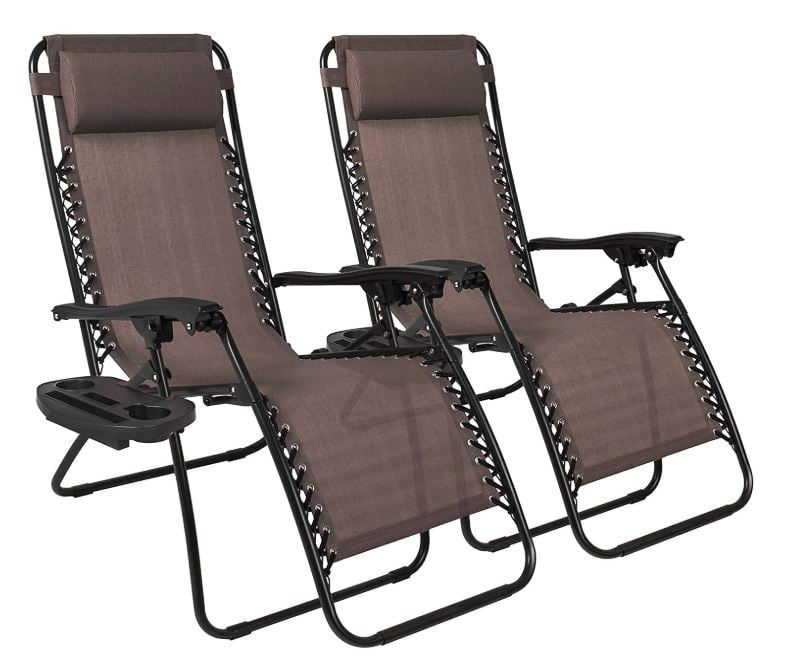 Buy On Amazon
One solid all-around set of zero gravity chairs is the Best Choice Products SKY4276. They're great for a wide range of applications though you shouldn't expect premium quality. You pretty much get what you pay for with this model, but that doesn't mean you can't take advantage of the relaxing experience of the zero gravity position.
The seats have a standard maximum capacity of 250 pounds and they provide padded headrests to enhance your leisure time. Conveniently found at your side, the cup holder trays provide a great space to store various accessories that contribute to your overall enjoyment such as drinks or tablets. To get these chairs from one spot to another, simply fold them up and then carry their compact bodies without too much effort.
While these chairs can manage a decent level of comfort and can last for a reasonable amount of time, their one flaw to consider is the locking mechanism. It seems the reclining features aren't as advanced on this unit and you might experience finger pinch issues if you're not careful. With these aspects in mind, the Best Choice Products SKY4276 set still comes at a very attractive price, so it's worth the investment.
Buy On Amazon
Despite costing so little, the BestMassage ZC-H062 is one valuable set of zero gravity chairs which can do wonders for your lounging sessions in the backyard. The chair is comfy and well built and the fact that they come fully assembled is a great plus. The instructions for using the locking mechanism are clear to understand and there are hardly any compromises on the features.
The frame of the chairs is built with steel that feels a little light. This is an ideal chair for taking in your road trip adventures as its compact folded up frame can be carried with ease. To keep your body comfortably seated, the chair comes equipped with durable elastic cords. With the help of the twist knobs, you can adjust the chair to reach your desired zero gravity position.
There's no point in hiding it – these chairs aren't exactly made with high-quality materials, but that doesn't mean they can't offer you a great relaxing time. For this cost, the BestMassage ZC-H062 is a very serious competitor on the market for zero gravity chairs. If well maintained, this set has great potential for comfort and usability.