This post may contain references and links to products from our advertisers. We may receive commissions from certain links you click on our website. As an Amazon Associate Rhythm of the Home earns revenues from qualifying purchases.
Share this article:
With the help of an inviting bedding set, you can look forward to getting a good night's sleep after an exhausting day at work. Duvet covers give you lots of decorative opportunities as you can play with vibrant designs and splashes of color or some more daring textures. Instead of investing in a large bedroom makeover, changing the duvet covers represents a less expensive and time-consuming alternative. Your warm and cozy duvet requires a proper cover to be used correctly as it needs protection. Because finding the ideal duvet cover for your needs can pose some difficulties, we'll explore the best solutions in this article.
From materials used to their design qualities, there are many aspects of a duvet cover that you have to take into account. Some people prefer natural fibers like cotton which promise an enhanced level of breathability. Unfortunately, cotton duvet covers can also be more expensive, especially more exotic types such as Egyptian cotton. It's important to analyze your budget carefully to figure out which duvet covers matches your needs. A high thread count might seem impressive, but that's not necessarily a great thing for duvet covers as the quality of the fabric usually matters more in terms of overall comfort. Check out the following list of the best duvet covers in all regards.
Best Microfiber Duvet Cover
Buy On AmazonBuy On Home Depot
If you're looking for an ideal balance between cost and quality, this duvet cover set from HC Collection could be a perfect solution. It's crafted from premium double brushed microfiber fabric which boasts a more lightweight construction compared to Egyptian cotton or more expensive choices. At the same time, you can enjoy a smooth texture without sacrificing durability.
In terms of color choices, the manufacturer provides a good selection to spice up the look of the bedroom. From burgundy and lavender to sage and navy as well as more neutral color shades, you should be able to find the best looking duvet cover for your needs. All the set's components are machine washable and are designed for long-lasting performance given the superior resistance to fading and wrinkles of the polyester fabric.
Best Budget Duvet Cover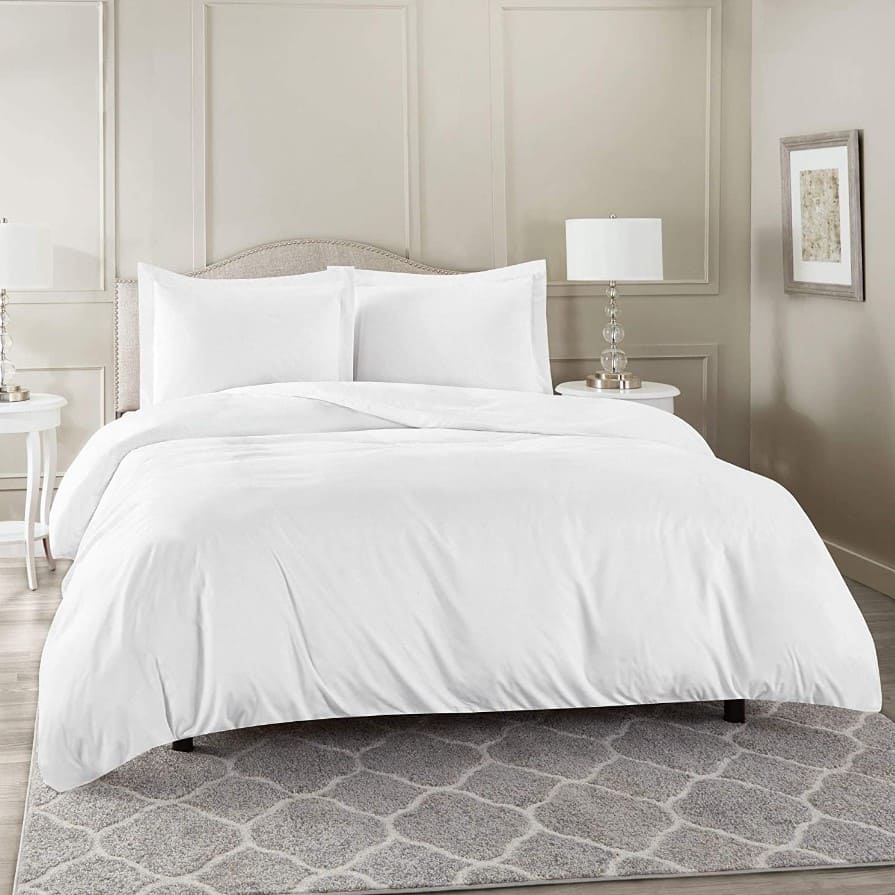 Buy On AmazonBuy On Walmart
Reasonably-priced and surprisingly comfortable, the Nestl Bedding duvet cover has all it takes to gain an important spot on our list. The duvet cover is made from hotel-quality double-brushed microfiber engineered for maximum protection for your duvet or comforter. There's an impressive range of available colors so you can add a vibrant touch to your sleeping experience. The fabric is lightweight and very breathable.
The duvet cover is available in multiple size options such as Twin, Full, King, and Queen. As opposed to more sensitive materials that can be more expensive, the polyester fabric used for this duvet cover set boasts excellent shrink and wrinkle resistance. There's barely any ironing required and the duvet cover is designed to be as practical as possible. It's a breeze to remove and can be effectively secured with the help of buttons.
Best Duvet Cover For Hot Sleepers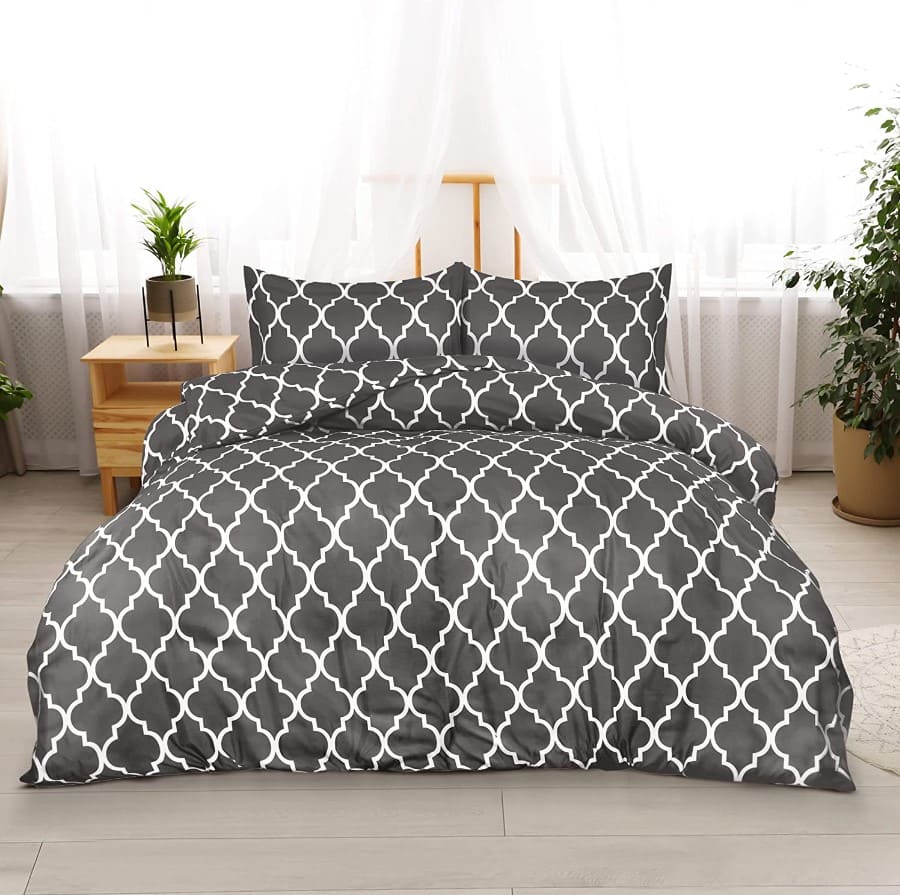 Buy On AmazonBuy On Home Depot
If you're searching for an inexpensive duvet cover set, this microfiber model from Utopia Bedding should be among your first options. It doesn't come with a vast range of color options, but it promises a soft feel thanks to the use of premium polyester fibers. The duvet cover is closed by buttons and is very easy to care for.
This model features an attractive printed pattern in both navy and grey colors. It can take your mind to Moroccan design style. Aside from the duvet cover, the set comes with two pillowcases to keep a consistent style. Given the enhanced level of breathability, this duvet cover is ideal for the summertime. It gives off a lightweight feeling and promises no overheating issues and that matters a lot for the hot season.
Best Hypoallergenic Duvet Cover
If you prefer the luxurious softness of cotton over synthetic fabrics, you will be pleased by this duvet cover from Jellymoni. This is a premium bedding option based on pure washed cotton that scores high in terms of comfort and breathability. The natural fabric allows for a restful sleep considering its skin-friendly qualities. Thanks to its characteristic wrinkled design, the duvet cover offers a more vintage look and requires no ironing.
When it comes to color options, this cotton cover can easily make your duvet stand out. It's available in lots of solid color styles to match your bedroom decor. Each duvet cover set contains pillow covers as well to create a uniform appearance for your bed. All the common sizes are available to ensure great compatibility with your comforter. Thanks to integrated corner ties, setting up this duvet cover should take minimal effort.
Best Cotton Duvet Cover
Buy On Amazon
Those who don't like microfiber duvet covers should check out this set from Feather & Stitch New York which delivers a pure 100% cotton experience. The fabric has been enhanced with a luxurious touch thanks to the smooth sateen finish. Similar to hotel duvets, the cover has a 500-thread count to ensure optimal comfort. There are two matching pillow shams in this set.
While this duvet cover set is more expensive than polyester options, the superior quality can certainly make it worth your time. All the pieces come with zipper closures and the duvet cover's internal ties make using the comforter more convenient at night. In terms of appearance, the duvet cover features a striking design with Damask stripes to add some visual interest. There is a decent color selection as well.
Designed with a linen-like texture, the MooMee cotton duvet cover can be considered a versatile pick. It's suitable for all-season comfort because its natural fabric ensures adequate warmth in the winter and balanced breathability during the summer. Whether your bedroom features a neutral color scheme or you wish to add a splash of vibrant color, this duvet cover provides a variety of color tones to suit any taste.
Similar to other duvet cover sets on the market, the comforter isn't included but you can enjoy two pillow shams to complete your bedding setup. Adding your duvet to this cover is a breeze thanks to the corner ties. The accessory is designed to be closed elegantly with a hidden zip. The soft cotton fabric of this duvet cover can be cared for without any difficulties. Just make sure you select a more delicate detergent. All in all, this cotton duvet cover can provide a classy, textured style to the bedroom.
Best Duvet Cover Design
Buy On AmazonBuy On WalmartBuy On Home Depot
The Bohemian design style seems very popular nowadays. Instead of sticking to boring duvet cover sets with a plain design why not choose a boho style with Mandala patterns such as this model from Sleepwish? A symbol of the universe, this design has great Bohemian appeal allowing your bedroom to become a serene retreat. There are two blue color styles and two red ones to choose from.
Aside from its soothing aesthetic, this duvet cover has other solid features to keep in mind. The workmanship enables the cover to retain its original look intact in spite of multiple uses. Inside ties have been provided to handle the problem of a moving comforter. We also like the addition of the hidden zipper closure which makes it a breeze to put on the duvet cover. The microfiber fabric is very soft making a superb combination with the vibrant patterned design.
Buy On Amazon
The Face Two Face duvet cover set is an elegant model which decorates your bedroom while giving you multiple comfort benefits. This duvet cover is made from washed cotton which has been specially processed to prevent fading and pilling. It's superior to microfiber in terms of softness and breathability and the manufacturer provides multiple color and pattern options.
Similar to other duvet cover sets, this one includes two pillow shams. It's often more practical to buy a set instead of just the duvet cover by itself as you can save some money. The zipper closure is convenient and durable while the corner belt design ensures a proper fit without any annoying shifting. Cozy and well built, this duvet cover set from Face Two Face seems like a solid alternative to more expensive cotton options with barely any drop in quality.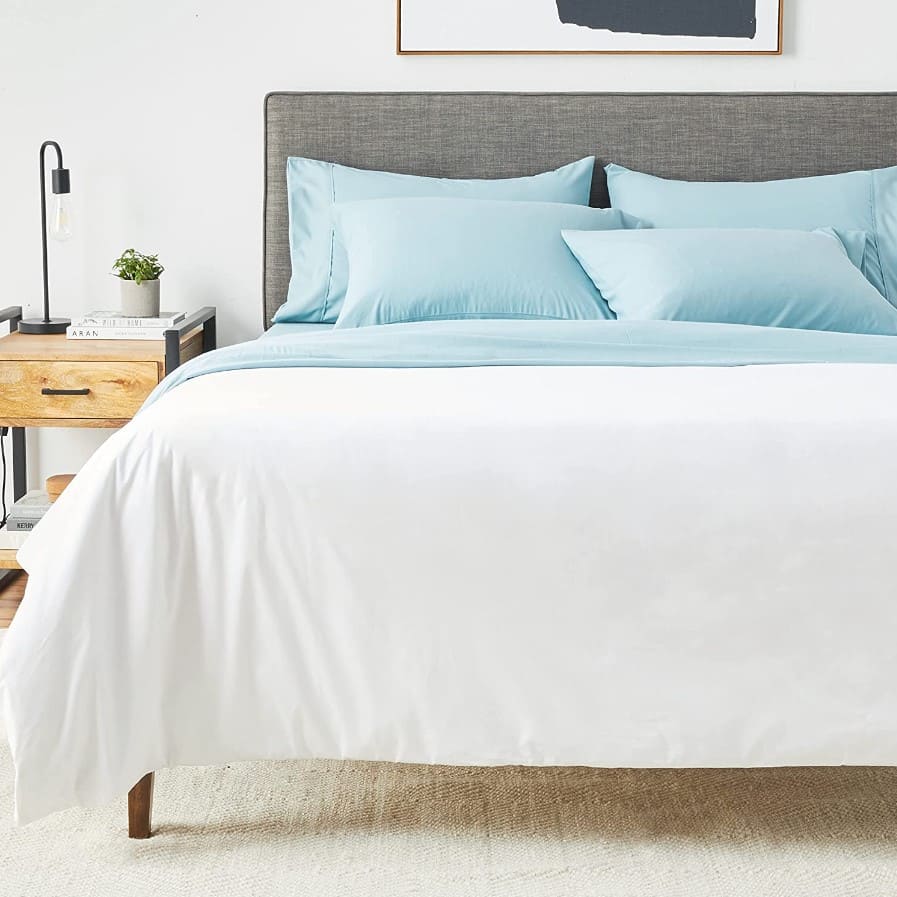 Buy On Amazon
Made in the USA with 100% pure cotton fibers, the AllerSoft duvet cover deserves a mention on our list. Immediately after receiving this product you can notice the significant bump in quality compared to other duvet covers made overseas. The premium material allows you to sleep more comfortably as the fabric keeps allergens at bay and doesn't store or radiate heat.
The patented weave of this duvet cover will stop bed bugs and dust mites in their tracks considering the flow pore size of 3.44 microns. There's also an auto-locking zipper system which offers an extra layer of security against bed bugs. The AllerSoft duvet cover is a bit costlier compared to other models, especially when you take into account that this is just the cover itself without pillow shams. Even so, the superior quality and comfort are worth the investment.
Best Flannel Duvet Cover
Buy On AmazonBuy On WalmartBuy On Home Depot
Sporting a classic plaid flannel design, this duvet cover from Pinzon is an affordable solution for those searching to make the switch from polyester to cotton. The duvet cover is made in Portugal and promises a velvety feel thanks to its double-napped finish. There's a nice range of plaid colors and designs to add some extra character to the bedroom.
With the help of its 160-gram flannel cotton, this duvet cover delivers in terms of breathability and overall comfort. There's a hidden button closure that prevents the comforter inside from moving around too much. A zipper closure would have been more convenient, but the cost is lower so that's a good tradeoff. Offering a solid mix of supple softness and reliable durability, the Pinzon duvet cover made from flannel deserves some more attention at this cost.