This post may contain references and links to products from our advertisers. We may receive commissions from certain links you click on our website. As an Amazon Associate Rhythm of the Home earns revenues from qualifying purchases.
Share this article:
If flat-screen TVs don't feel immersive enough, you will probably be amazed by curved models. With the help of their curved screens, these TVs can provide a more in-depth visual perception allowing you to enjoy the content in a superior way. Another aspect that can be considered a benefit is the futuristic look. Many people consider curved TVs more attractive compared to classic flat-screen units.
While curved TVs are definitely not as popular compared to regular models, there's still a decent offer out there. Samsung is one manufacturer that stands out as their curved TVs are some of the most balanced in terms of performance and reliability. We'll review some of the best curved TVs on the market to help you decide if this technology is worth considering.
Curved TVs can come in different sizes and with a good variety of features. This selection has been made with budget considerations in mind without compromising on the most important features. In other words, everyone should find their ideal curved TV without too much effort. Take a look at the following products down below. You might also be interested in our articles about the best futons and the best standing desk.
Buy On AmazonBuy On WalmartBuy On Best Buy
With lots of advanced features to enhance the image quality and powerful Smart abilities, the Samsung 7 Series represents one of the best choices for a curved TV. This model comes equipped with a large 65-inch screen that shows off a vibrant spectrum of colors to maximize viewing enjoyment. For a superior level of immersion, the television has a gentle curvature that benefits from auto-depth technology.




Similar to other high-end TVs from Samsung, this curved model boasts a 4K processor to deliver UHD performance in terms of picture quality. Coupled with HDR and PurColor technologies, the result is a lifelike image that reveals hidden details in a greater depth of color. When it comes to user-friendliness, this is a very simple TV to use thanks to its intuitive Smart Universal Guide as well as the seamless connectivity options to bring in all the necessary devices for the best entertainment experience possible.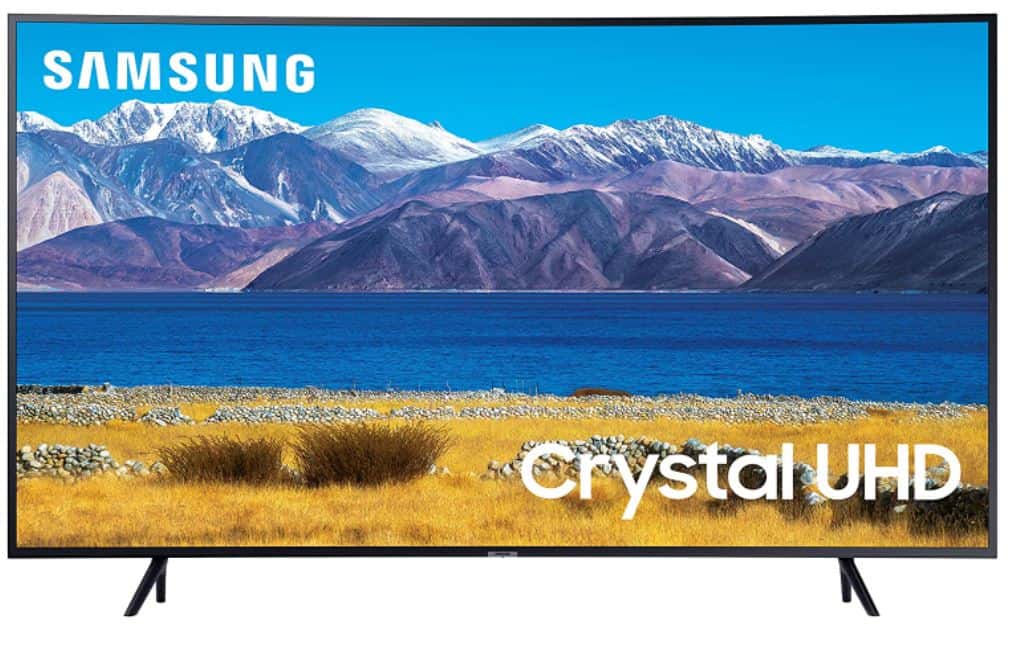 Buy On AmazonBuy On WalmartBuy On Best Buy
One of the most impressive curved televisions is the Samsung TU8300. Even though this 55-inch model is a bit older, it still features an amazingly wide spectrum of realistic colors and the pleasant curved design creates a superb viewing experience. The fact that it's from 2020 can be an advantage for budget-conscious users thanks to a more affordable price tag.
The curve of this TV is definitely the main highlight. The screen's curvature adds a very stylish effect to the whole device regardless of placement. The curved design can easily captivate any viewer throwing it directly into the heart of the action on the screen. Auto Depth Enhancer is the name of the main technology responsible for this improved visual perception effect. When it comes to picture quality, Samsung makes no compromises.
This model comes with 4K Color Drive Pro which dazzles the eyes with a realistic palette of colors. The high resolution of the screen is nicely enhanced by the sharp contrast and crisp action scenes. The Samsung TU8300 contains everything you could possibly need in an authentic entertainment powerhouse including advanced Smart features and a fabulous picture quality. For a curved TV, this represents a top-notch solution.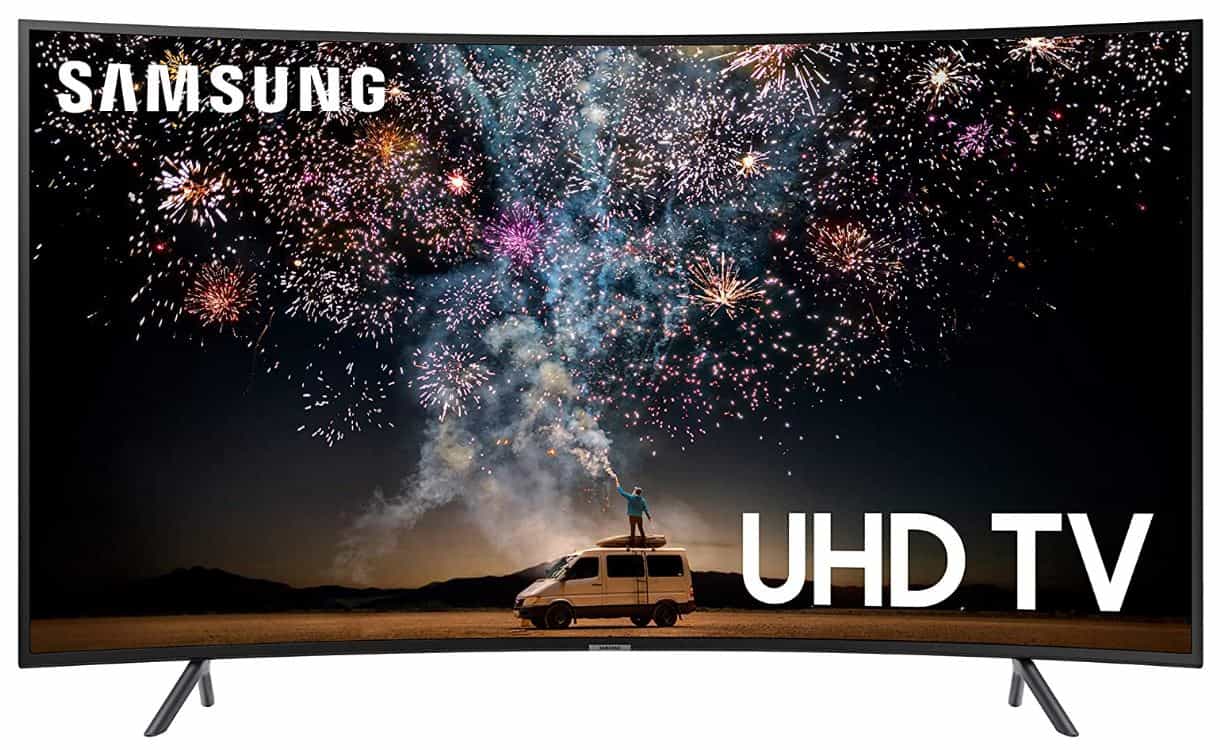 Buy On AmazonBuy On WalmartBuy On Best Buy
Curved TVs may not be as popular as in the past but many people still prefer the enhanced depth effect provided by the curvature of the screen. Check out this 55-inch model from Samsung that's designed to let you enter the immersive world of 4K television. It's packed with lots of great features such as Motion Rate 120 for smoother action scenes or the PurColor technology to go beyond the conventional limitations of typical color spectrums displayed by a television screen.




The curved look of this television makes it an attractive addition to any living room. You can place it standing but it's also a recommended unit for wall mounting using compatible 3rd party accessories. This 4K TV isn't just brilliant for watching TV shows or movies but it provides a crisp look simply as a decor piece considering the neatly organized cords. Overall, this Samsung curved TV is worth the money when you take into account the image clarity, elegant design, and rich connectivity options.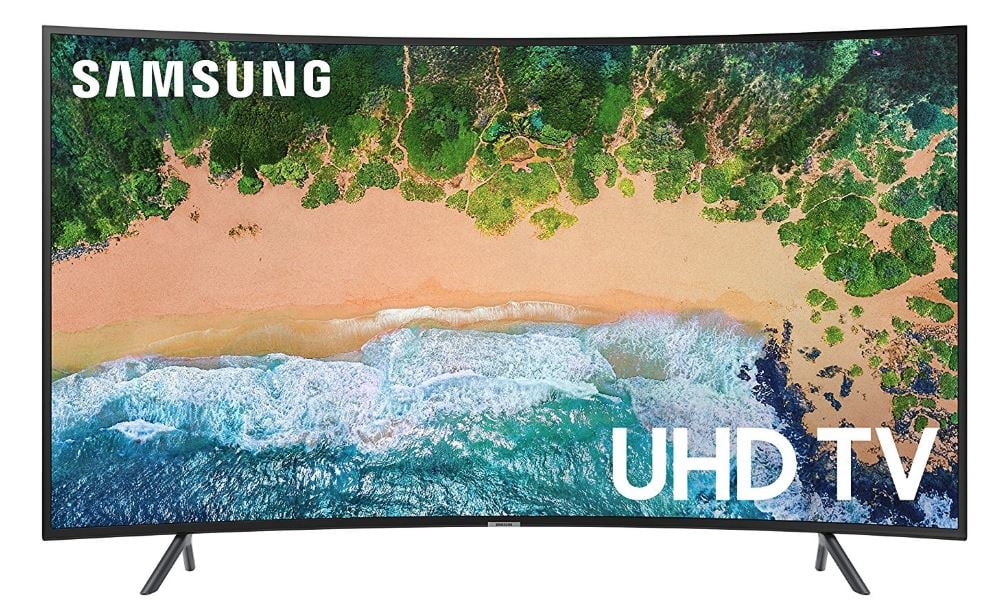 Buy On Amazon
A more recent Samsung model that attracted the attention of fans of curved TVs is the 7 Series model. This 65-inch 4K UHD unit features PurColor for vibrant clarity and Motion Rate 120 to capture every move on the screen in exquisite detail. The curved slim design is obviously one of the most interesting features of this TV.
With its particularly slim bezel, this model can fit nicely in any modern-looking living room. Despite its large screen diagonal, it won't feel overpowering or bulky in any way. To keep things even neater, the TV offers the Clean Cable Solution technology for efficient cord management. Thanks to the curved screen you can immerse yourself in the fluid motion of 4K picture quality which has been taken to the extreme with HDR10+ technology.
While the curvature of the screen has a contribution, the ability to notice even subtler details is mostly due to the lifelike qualities of the created picture. Precision is key when it comes to this model as it finds a nice balance of contrast and fine-tuned lighting to deliver superior visual entertainment. The Samsung 7 Series is recommended if you want an excellent curved TV at a fair cost.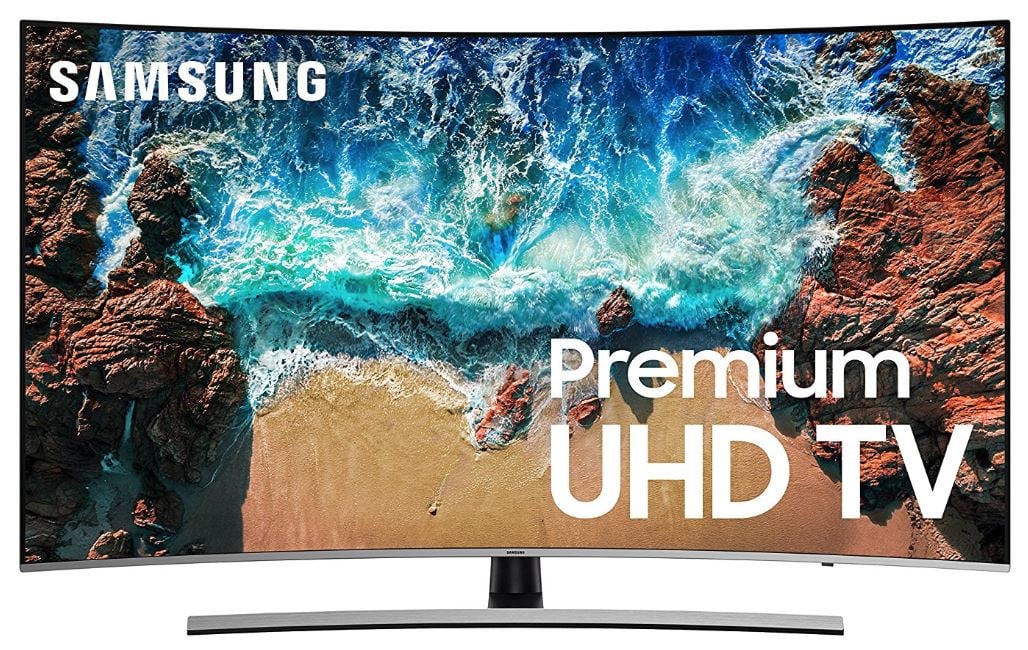 Buy On Amazon
Another large model that boasts the same premium screen curvature is the Samsung UN65NU8500. This is a LED TV whose screen diagonal measures 65 inches, plenty for creating a realistic home cinema experience. It comes equipped with HDR Plus and it makes use of an expanded palette of colors to see your movies exactly the way the director intended.
Thanks to Auto Depth Enhancer, this curved model has the potential to get you truly absorbed in any visual content. Movies and TV shows are sure to benefit from the combination of a curved screen and solid UHD clarity, but it's important to mention that games aren't overlooked either. With the help of Auto Game Mode, you should be able to get optimized settings when connecting your gaming console for a fluid experience.
Aside from the spectacular picture engine used for this curved TV, there are some other features that add to the overall enjoyment. OneRemote integration allows for quick and effortless control of the TV and if you want to simplify things even further, there's an intelligent voice assistant integrated which makes finding the best content a breeze. While not as visually impressive as the QLED model previously reviewed, the Samsung UN65NU8500 has a lot to offer including a more reasonable price tag.