This post may contain references and links to products from our advertisers. We may receive commissions from certain links you click on our website. As an Amazon Associate Rhythm of the Home earns revenues from qualifying purchases.
Share this article:
There are now approximately 52 different types of wood that can be used for home makeover, construction and decorating purposes. This means wood lovers are no longer constrained to only work wood into their homes in the form of doors or trim. Trending today is the use of specific wood tones, shades and textures in a combination that makes space more visually appealing and easy on the eye. The most unique aspect of working with wood is wood itself. In essence, no two pieces of wood are the same. Therefore, it's all about the grain, color and shades when it comes to mixing and matching styles of wood.




While this article is not going to dive into the construction of wooden furniture or the different techniques used to produce specific patterns, you'll learn the significant methods for how to set certain looks, moods and ambience throughout your home. A couple essential things to know are that the lighting in your home should be considered as you decorate with wood. Laminated woods are reflective surfaces and proper lighting positioning is required to prevent glare. Natural wood colors are neutral, making them nearly impossible to look out of place in any color scheme. What 'wood' you do if you knew how to mix and match the timber like a pro? Let's get started!
1.

Warm Up Neutral Color Schemes with Soft Wood Tones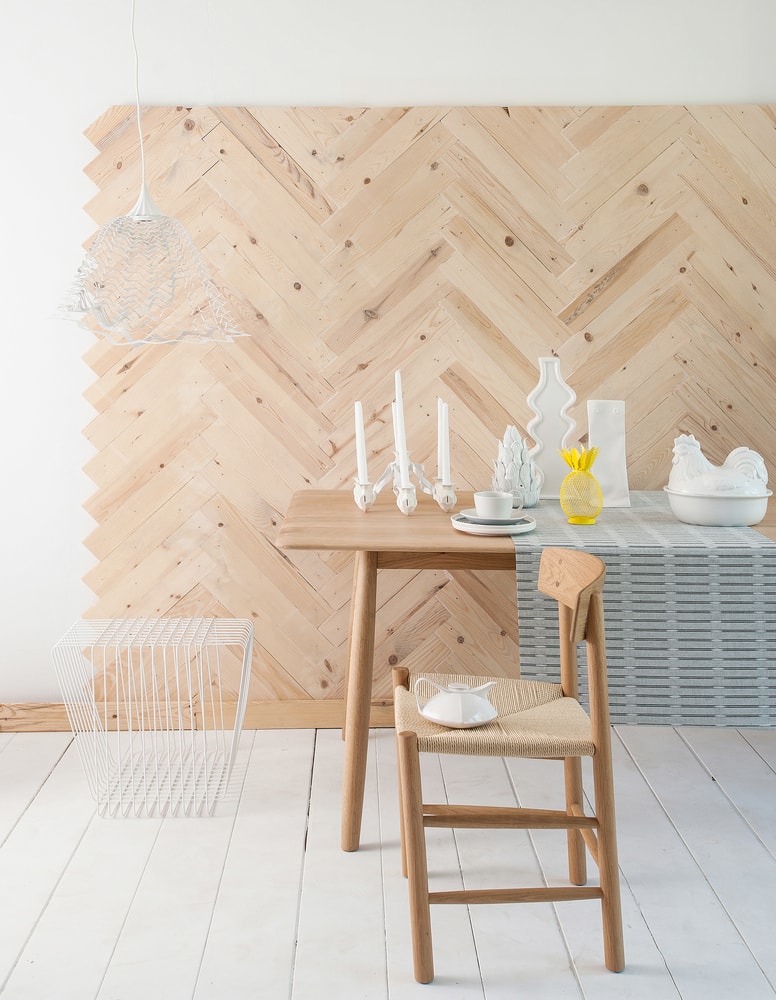 Our guide on how to decorate your home in the scandinavian style is full of tips and tricks for achieving one of the most popular neutral interior design styles. Even though lighting is the foundation for the scandinavian style, botanicals and wood are key elements which bring it full circle. The main reason scandinavian inspired design incorporates wood is because the absence of would result in environments feeling too cold.




Wood tones are perfect for adding warmth to neutral color schemes. Try pairing white walls with pale hickory flooring or incorporating a yellow gold colored oak wood arm chair. Oak has a beautiful grain, is known as one of the strongest woods for furniture and comes in red and white variations. The light color of unfinished pine makes it a perfect wood tone to warm up neutral colors.
2.

Contrast Furniture and Flooring
Ever notice how traditional foyers, meeting rooms and offices built for VIP seemed so dark and monotone? That is the result of a lack of contrast. The best way to break the monotony is to pair light furniture with darker wood tones, and vice versa. Choose the deep reddish brown color of mahogany for furniture to pair with lighter wood flooring.




Furniture can go unnoticed when it's paired with a similar toned wood floor, but spaces become more vibrant with more contrast that allows the darker toned furniture to pop.
3.

Use Contrasting Colors and Textures
From the wooden utensils, cutting boards and salad bowls to the countertops and bar stools, the kitchen is a playground to work wonders with wood, but remember to not incorporate the same shade for every object.
Try pairing a multi-colored shaded wood cutting board with smooth serving bowls made of a chocolate brown walnut. The purplish streaks of walnut make it a perfect wood to pair with lighter wood tones such as pine and maple. Smooth wooden serving bowls pair nicely against natural wood edges, which brings us to our next idea.
4.

Combine Rustic Live Edge Wood with Modern Wood
The most common use for live edge wood is for desks, dining room and conference tables, shelving, coffee bars and tables. The live edge not only provides a beautiful contrast, but it draws the eye, especially when paired with wooden chairs and bar stools.




Go for carved wooden bar stools in walnut with oak cabinets and a cherry wood live edge for a kitchen counter space. The most common types of wood species that are cut into slabs are spruce, cherry, ash, red oak, white oak and walnut.
5.

Pair Natural Wood Tones with White Furnishings
White kitchens. Whether you incorporate shiny white marble or Corian countertops with white cabinets for a modern and fresh look, rustic wood accents are guaranteed to add a dramatic effect. The combination of rustic wood tones with white furnishings is stunning.




Go for wooden bar stools with wood slabs as the seats and fill in ceiling spaces with wooden beams. To fit wood into the most unexpected places comprised of white furniture, use wooden handles and knobs on cabinets as well as lightwood trim around stove top ventilation units.
6.

Use Strong Wooden Accents in Dark Colored Rooms
Black walls and dark colored sofas against different wood tones boasts a masculine and calming aesthetic. Given the dark and mysterious properties of the color black, wood tones are a fantastic way to add spirit to a room painted with black walls or dressed in black fabrics.




Use a pine or ash wood for trimming around the windows and even as a mantle above a fireplace. Dividing sections of black walls with wood tones creates an intense popping edge effect that is enhanced by shadows. Too much black is too lunar and empty, and mix and matching wood tones is the easiest way to break the monotony. Remember to always use lighter wood tones such as maple, pine and teak for the perfect contrast on black.
7.

Combine Raw Wood with Modern Design
Think Chipotle, Starbucks and just about every coffee shop out there that embraces an interior design which balances raw woods with modern and minimalistic accents. Take a look around the next time you visit and draw inspiration from the different tones produced by the raw wood.
Try creating a lumber divider between rooms in your home with pine or maple raw wood. These raw and unfinished woods lend texture to spaces thanks to the growth rings and natural markings on the wood. Timber dividers are the perfect way to separate spaces in your home and to allow light to freely flow from one room to the other. While this is not ideal for maximum privacy, it creates a stunning effect, especially when paired with wooden floors of red oak.
8.

Match Colorful Furniture to Make Wood Tones Stand Out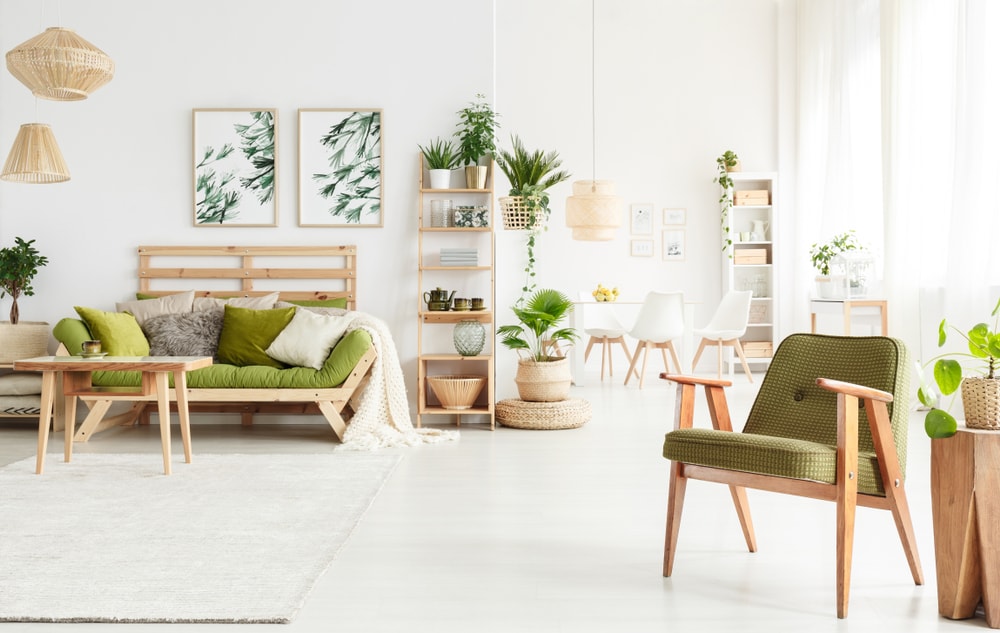 There are too many color and wood combinations out there to count. No matter which furnishings you choose, the objective is not a question of how to match colors with wood. You should always choose colors that will enhance your wood's finish. Mahogany, cherry and walnut are popular dark finishes that pop against light colors such as blue, green and sunny shades. Vice versa, contrast can be achieved by pairing light wood with furnishing of dark color like a bison leather sofa.




Try not to clutter your space with too much dark furniture in a light colored wood toned room because it will feel cramped and busy. To offset the impression of crowding, always keep arrangements orderly. One of our favorite color combinations is the pairing of metallic blue against any style of solid oak and teak furnishings – be it metal bar stools, a carpet, a clock on the wall or a colorful blender.
9.

Create an Industrial Vibe by Mixing Rustic Wood with Contemporary Wood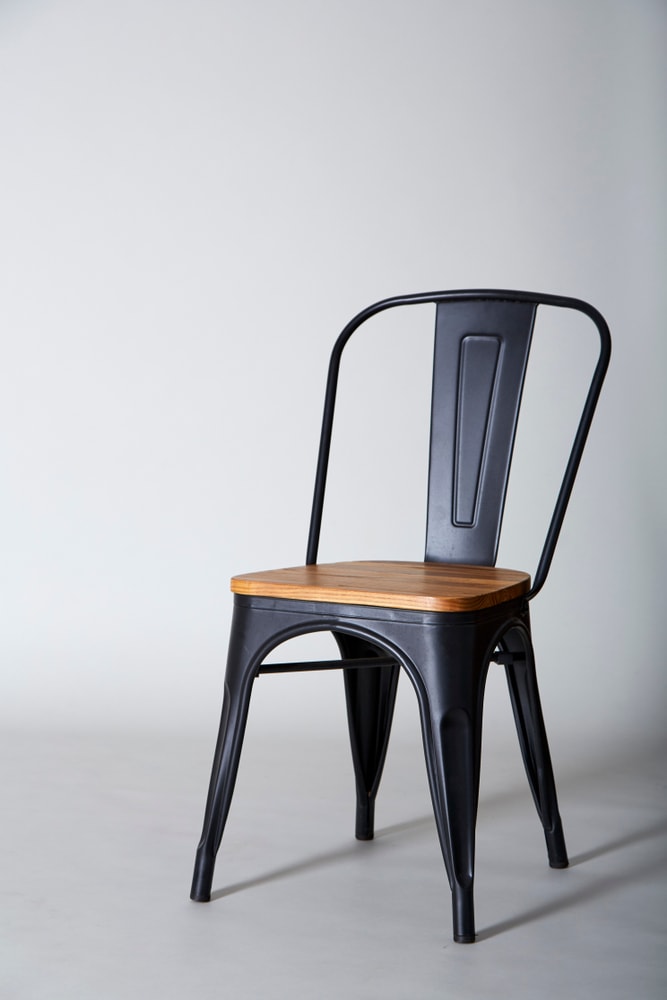 A sure fire way to create a bold, powerful and distinct industrial vibe is by using wooden bar stools made of metal pipe and walnut wood seat and back rests. Hang vintage wooden light fixtures made of a lighter wood to contrast with the bar stools and go with a raw, lighter oak wood for the front facing cabinet panels.




Even though a live edge table or countertop is popular to use for rustic and natural themes, live edge wood also promotes a 'work in progress' industrial scene when paired with contemporary wood tones of stained oak.
10.

Try Variations of Wood Stains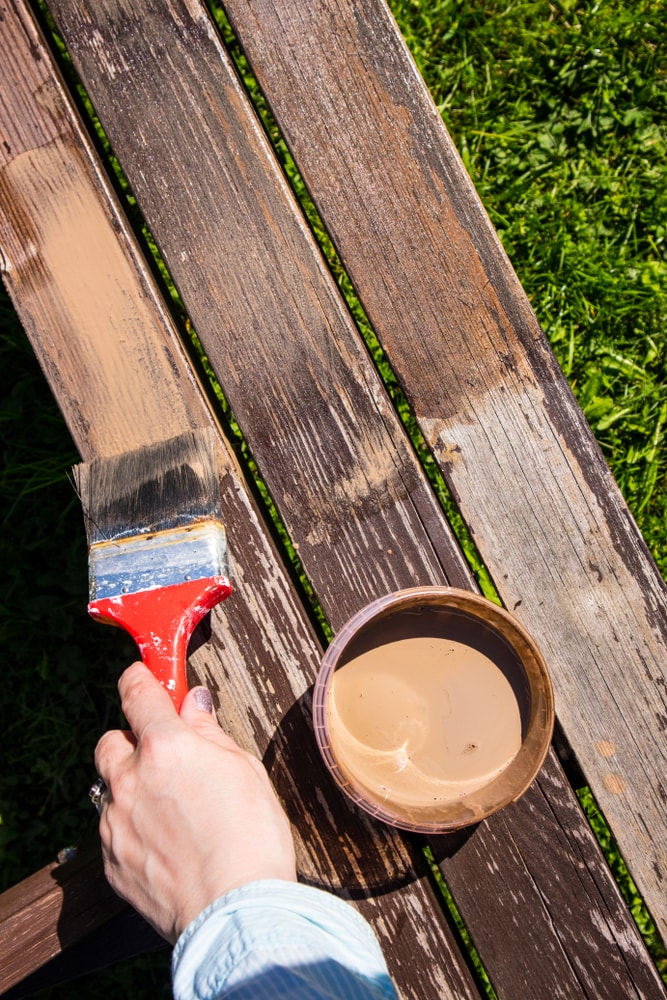 A special trick to mention for mixing and matching wood shades is to simply stain the wood. Wood colors can be altered to enhance the grain and to change the color of the wood. High quality wood stains can simulate beautiful types of wood without having to fork out the money for the true wood.
Try staining a light shade wooden bookshelf and desk to create contrast on a white wood floor. The most popular wood stains simulate cherry, walnut, mahogany, ebony, oak and maple.