This post may contain references and links to products from our advertisers. We may receive commissions from certain links you click on our website. As an Amazon Associate Rhythm of the Home earns revenues from qualifying purchases.
Share this article:
A shop vac is an essential tool for professional contractors or homeowners who need to deal with dust and debris cleanup in their projects. Thanks to their user-friendly operation and reliable durability, shop vacuums are amazingly dependable and versatile to tackle all kinds of tasks. Having this kind of heavy-duty tool can pose a challenge for many people because it can get quite difficult to figure out where and how to store the shop vac. This is a fairly bulky piece of equipment and many homeowners discover that it's often getting in the way.




Take a look at the following ways to store the shop vac and how to do it most efficiently when dealing with limited space.
1. In the Garage





The garage seems like a safe bet to store a shop vac and it's usually the most convenient. This is a recommended storage area if you're not a frequent user of the shop vac. Many homeowners still struggle with this solution because they lack enough space in the garage to accommodate the tool. In that case, it's worth trying some ingenious storage methods like wall mounting. Consider using a dedicated rack designed to hold your shop vac anywhere in the garage while providing quick access to it when needed.




2. In a Closet





Do you happen to have a free closet somewhere in the house? It can be a good solution to store your shop vac. The location is quite important, however. Closets can keep the shop vac out of the way but the idea becomes less practical when we're talking about those placed in the bedroom or the hallway. As long as the closet is positioned somewhere conveniently within reach, it could be a good solution to store the shop vac. Consider installing a pull-out rack to store all the vacuum accessories more efficiently in one clearly defined area.




3. Under the Stairs





If you have some unused space under the staircase, you might be able to accommodate the shop vac. This is a creative storage idea but may not be suitable for everyone considering how you need to make use of an existing staircase. Assuming there's enough space under the stairs to keep the shop vac, all you need to do is build a custom closet for it. The job can be easily achieved with the help of a carpenter or you could use your own DIY skills.




4. In the Laundry Room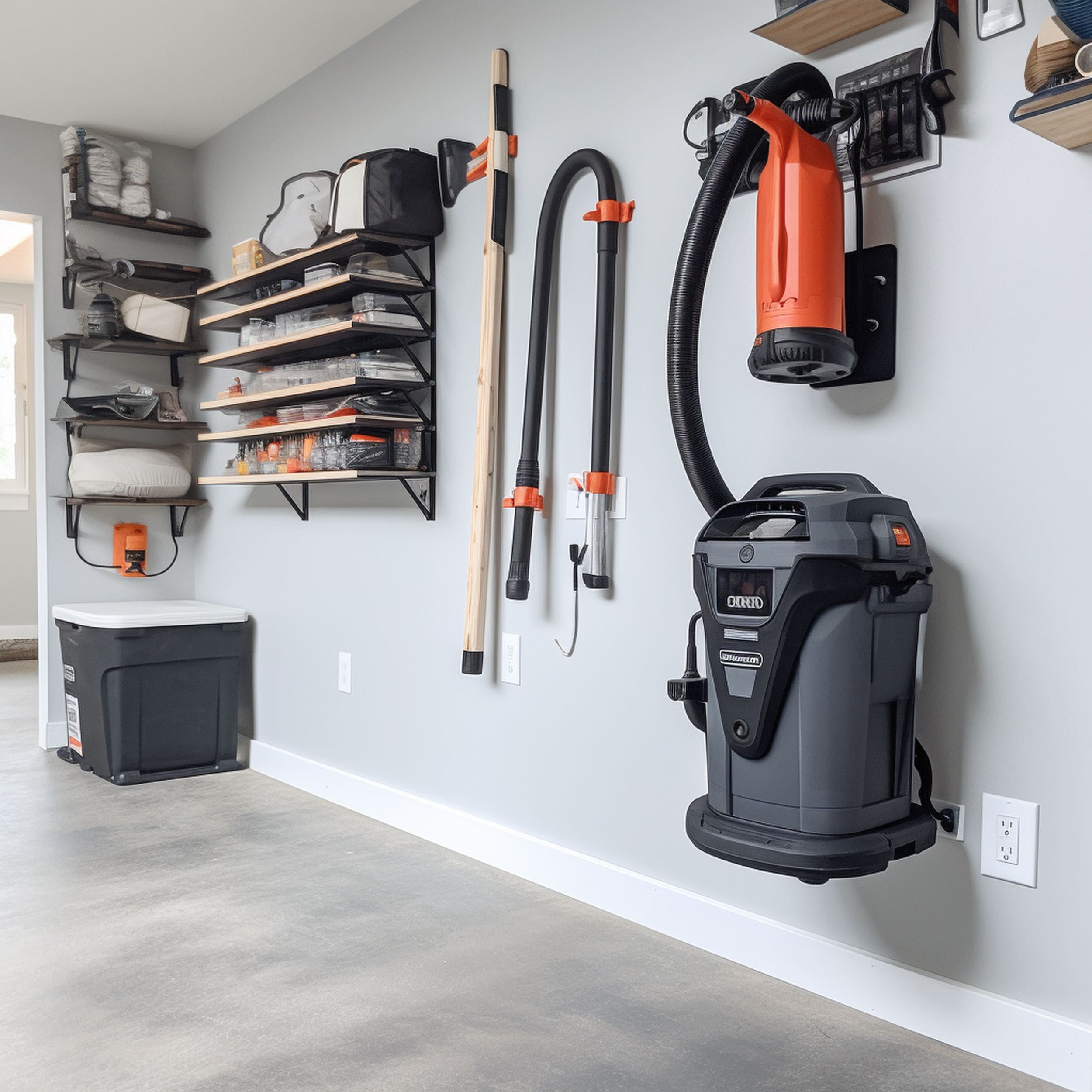 The laundry room isn't typically known for having extra storage space available. However, you might be able to find an empty corner in this place where you can put the shop vac. Consider rearranging all the items in the laundry room as many existing pieces of equipment can be stored more efficiently to make enough space for the shop vac unit. The laundry room is a good candidate for storing this kind of tool because you can avoid the hassle of moving the shop vac around too much.




5. In the Pantry





Perhaps not the best location for storing a shop vac, the pantry is only recommended if you've exhausted all other options. The only disadvantage to using the pantry is that it might get in the way depending on how often you use certain food items. As long as your pantry is sufficiently spacious, however, it's perfectly fine to store the shop vac here. You might be able to dedicate an empty corner to it where the unit can sit safely without interfering with normal pantry use.