This post may contain references and links to products from our advertisers. We may receive commissions from certain links you click on our website. As an Amazon Associate Rhythm of the Home earns revenues from qualifying purchases.
Share this article:
Spanish Colonial architecture incorporates some characteristic features that make lots of houses in the American southeast and southwest stand out. This style is still incredibly popular today although it relies heavily on traditional elements such as stucco walls and clay roof tiles. This kind of rustic aesthetic has great appeal in many parts of North America, including Mexico. In this article, we'll take a closer look at the essential features of the Spanish Colonial architectural style and some characteristic homes designed in this style. However, before that, let's first explore the varied history of Spanish Colonial homes.




History of Spanish Colonial
As the name of this style suggests, the aesthetic appeared when Spanish settlers built homes in the United States from the 17th to the 19th century. Homebuilders focused on basic designs to cover their needs but also incorporated some traditional aspects found in their native areas. Spanish Colonial home designs have been typically focused on subtle features and maintaining a deep connection to the environment.




Spanish Colonial homes have been popularized in southwestern parts of the United States even though they appeared in Mexico long before that. The settlers liked very warm climates similar to Spain so it's not surprising why they chose locations such as Florida, New Mexico, and California for their buildings. They relied on available resources such as clay and adobe which meets the design vision of incorporating the surrounding elements.




Once the Spanish Colonial period came to an end, the architectural style didn't disappear but persisted and became an important part of the Colonial Revival movement later in the 20th century. People looked for traditional materials and Spanish Colonial designs not to meet strict demands but simply as an aesthetic preference. Thanks to regional differences and availability of materials, Spanish Colonial homes now enjoy diverse designs even if the traditional core of features stays the same.




Characteristic Features of Spanish Colonial
Some elements of Spanish Colonial architecture managed to stand the test of time despite the style evolving over time. Red clay roof tiles make Spanish Colonial homes instantly recognizable. The roof is typically low-pitched. Some homes take a more distinctive design approach by incorporating fully flat roofs with parapets. The walls of the Spanish Colonial home will usually make use of white stucco. The thick construction helps to maintain pleasant air in the home in hot climates.




The Spanish Colonial style is also known for wooden support beams. You can sometimes spot them used for the home's exterior but these structures are commonly incorporated for the interior walls and ceiling. Wooden beams aren't just reliable to provide support for the structure but they enhance the sense of warmth and contribute to an overall rustic look. Spanish Colonial homes are defined by the lack of windows. This isn't really for aesthetic reasons but a more functional purpose. Not allowing direct sunlight throughout the home ensures a cooler living environment.




Another characteristic feature of the Spanish Colonial is the presence of a courtyard, whether exterior or interior. This aspect is related to the traditional concept of keeping the courtyard in the center of the house as a place for gathering and cooking. Nowadays, the courtyards serve a similar purpose but they're placed in the back of the home or to the side. Traditional Spanish Colonial buildings are also known for the notable lack of decoration. The exterior is typically kept simple and white but modern stylistic approaches favor some stone or tile work in various areas.




Spanish Colonial Homes
If you're looking for inspiration for a Spanish Colonial home project, there are lots of great houses that successfully incorporate this iconic design style. Featuring trademark characteristics, the following homes will help you figure out the ideal design for your own Spanish Colonial residence.
1.

Lush Garden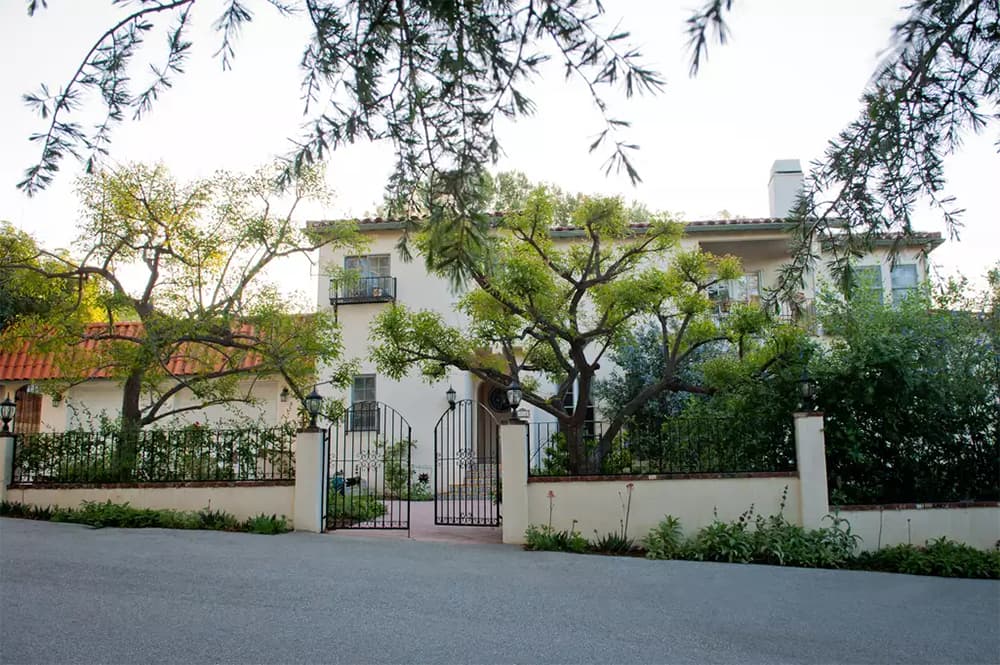 Although Spanish Colonial home exteriors show off a minimalist look, that doesn't mean you can't rely on the surrounding elements to improve its style. A lush garden with elegant trees can certainly have a notable impact on the curb appeal of any Spanish Colonial home. Dense greenery can complement the white walls of the home and other distinctive features. A vibrant green canopy of a tree is a solid match for the red tile used on the roof to create a striking contrast. There's also the benefit of increased privacy offered by a private courtyard full of lush vegetation.




2.

Paving Stones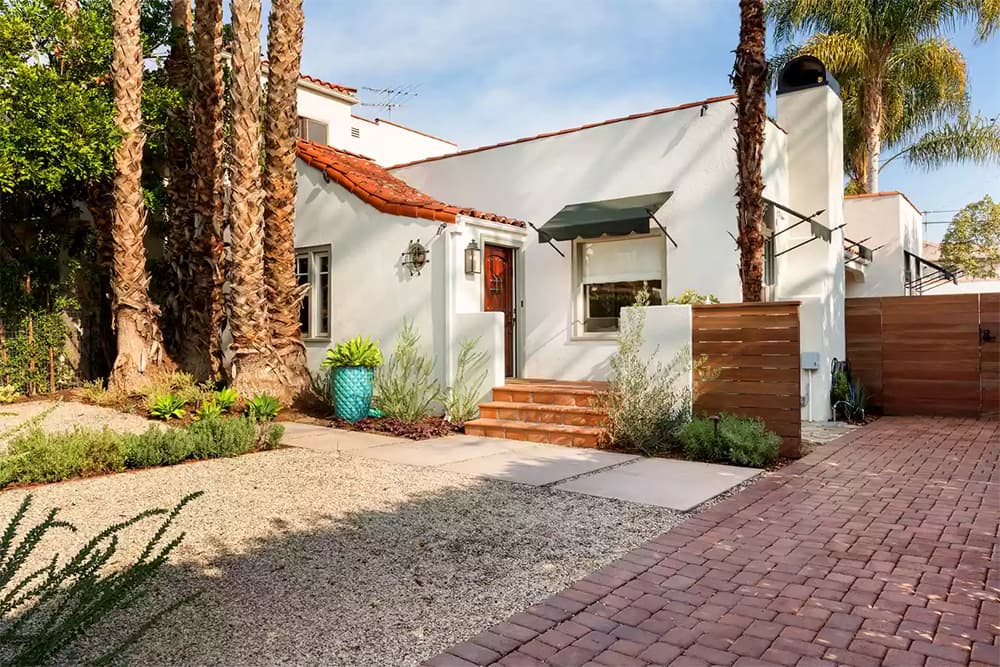 Even smaller Spanish Colonial homes can look very attractive if you choose the right elements and decorations. Check out this simple yet stylish building that takes advantage of reddish paving stones for the driveway. It's a brilliant contrast for the white exterior walls while providing Mediterranean character to the area.
3.

Barrel Tile Roof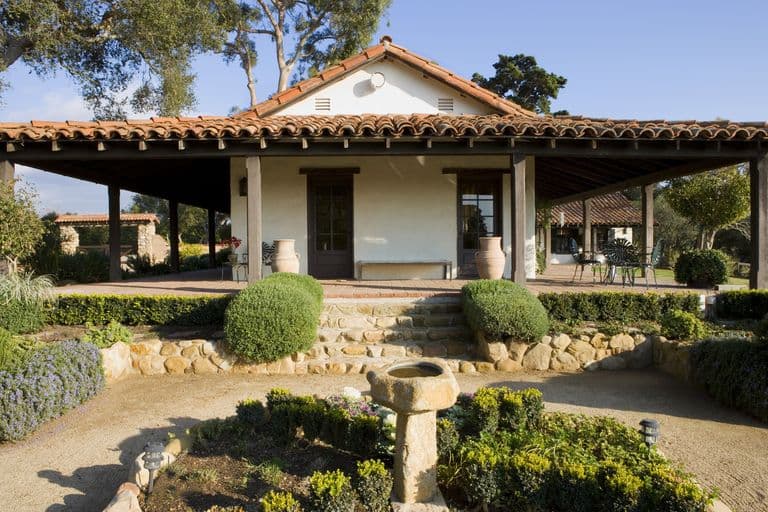 Lots of Spanish Colonial homes are designed with a traditional barrel tile roof. It's usually built in red color and is often paired with oversized flat roof designs. This style makes the structure feel larger and adds some visual interest to the sparsely decorated home exterior. The use of parapets contributes to the castle-like aesthetic that's typical of traditional Spanish Colonial designs.




4.

Colorful Touches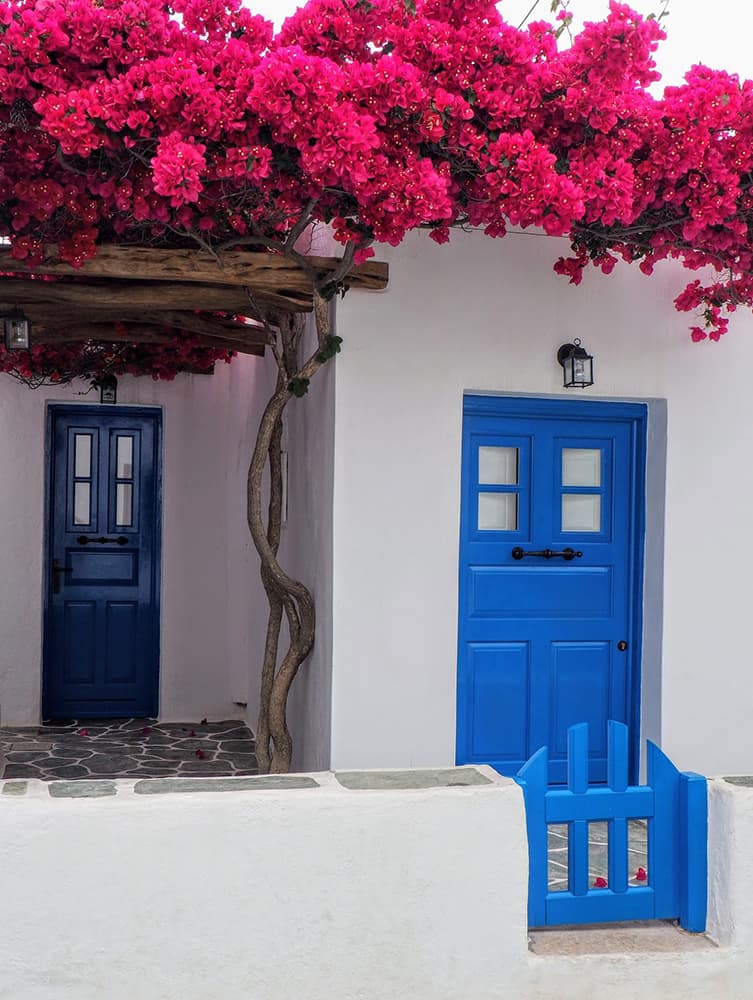 Although the Spanish Colonial design style is known for its white, minimalist exterior walls, this doesn't mean that homes can't benefit from a touch of color. The white background of the home seems like the ideal canvas to incorporate colorful elements. This is a great example of a typical Spanish Colonial home where the plain white walls contrast beautifully with vibrant blue doors as well as the brilliant pink shrub flowers.
5.

Large Arches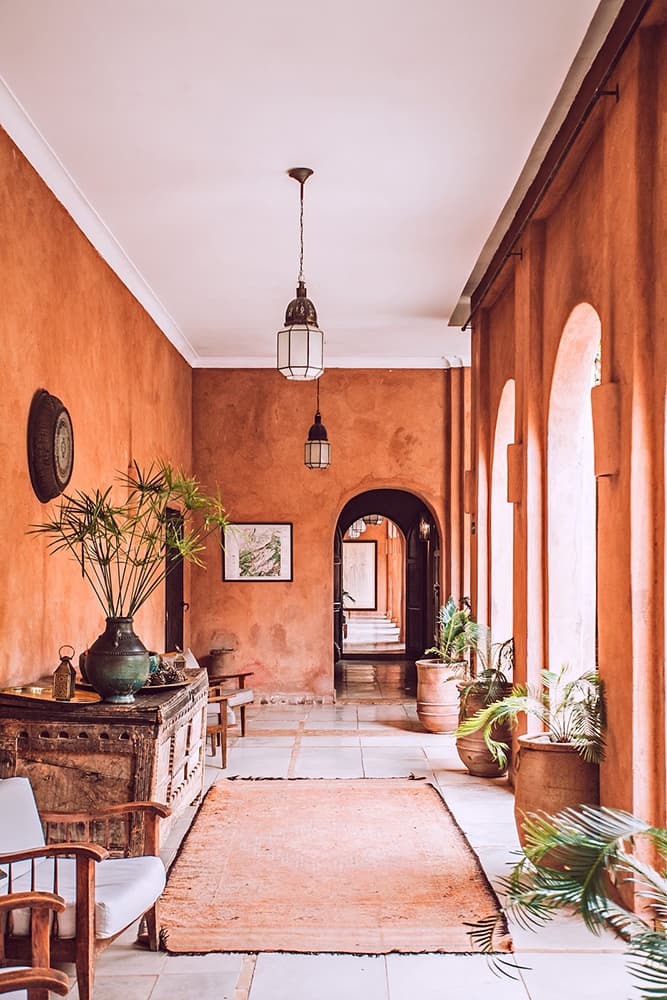 When it comes to the interior space of the Spanish Colonial home, you can find many eye-catching features that are characteristic of the style. A notable example is the integration of large arches into the architecture of the house. They can be spread throughout the home but are most frequently encountered in the hallways or the rooms that are connected to the outdoor courtyard.




6.

Juliet Balconies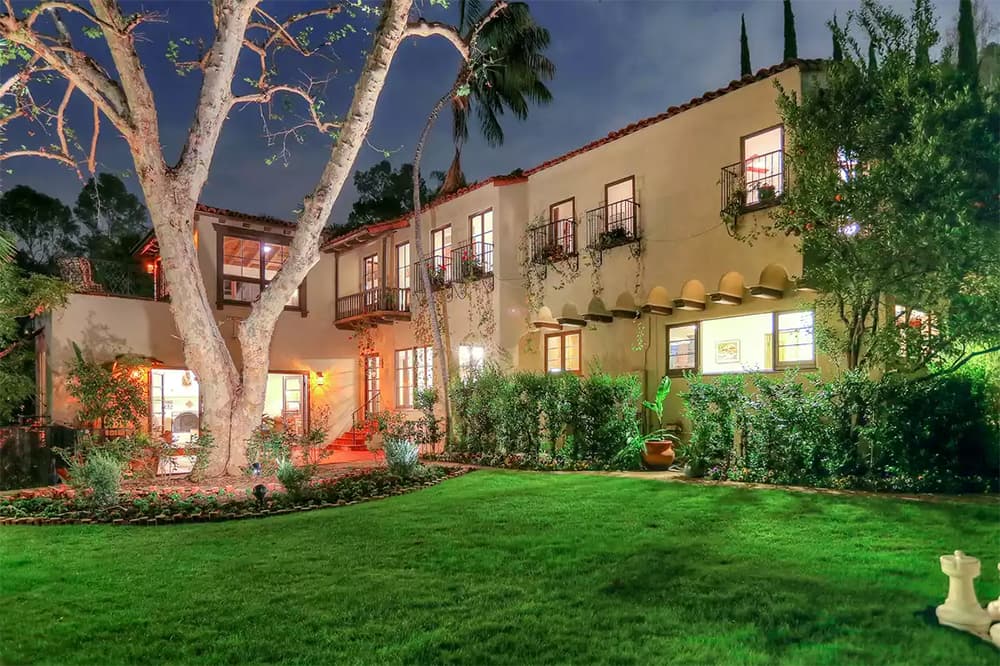 Some traditional features of Spanish Colonial homes are no longer common in modern times. This includes iron bars instead of glass panes when it comes to the construction of the windows. Other classic details such as Juliet balconies can bring back some vintage vibes that are welcomed in modern Spanish Colonial home designs. Check out the stylish appearance of these balconies used in the renovation process for this mansion.
7.

Gorgeous Courtyard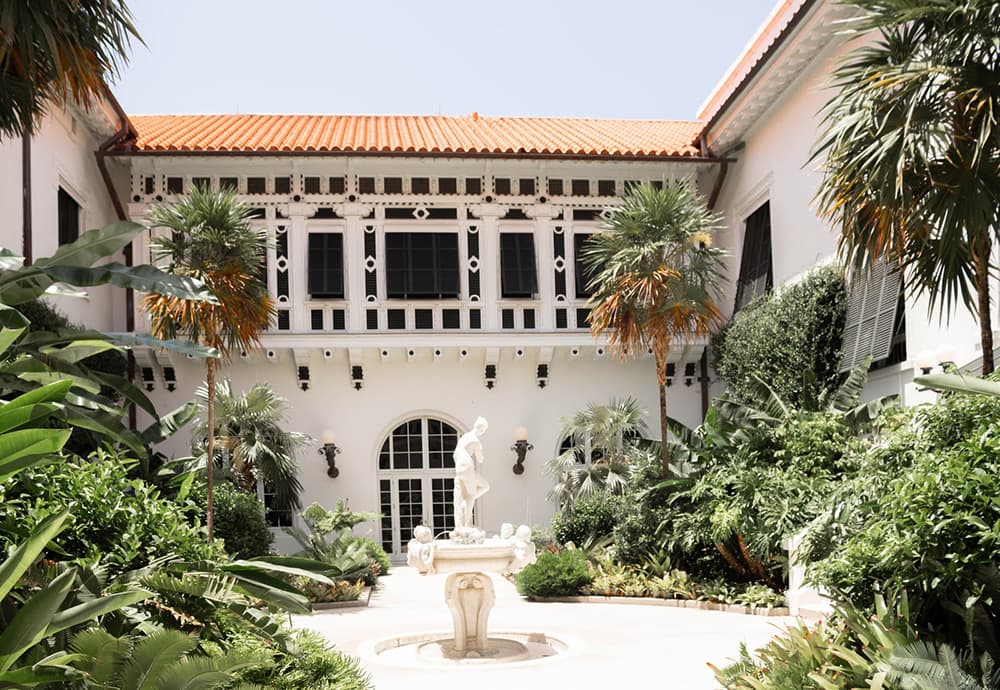 It's difficult to make an authentic Spanish Colonial home without including a traditional courtyard. Making this area a focal point is a breeze if you keep the place filled with plenty of lush greenery. There's also the solution of adding a fancy statue in the middle of the courtyard to provide an old-world feel. If you favor functionality more than classy aesthetics, consider setting up a cozy outdoor seating area. Assuming the available space allows it, why not add a swimming pool to bring extra Mediterranean flair?




8.

Wooden Beams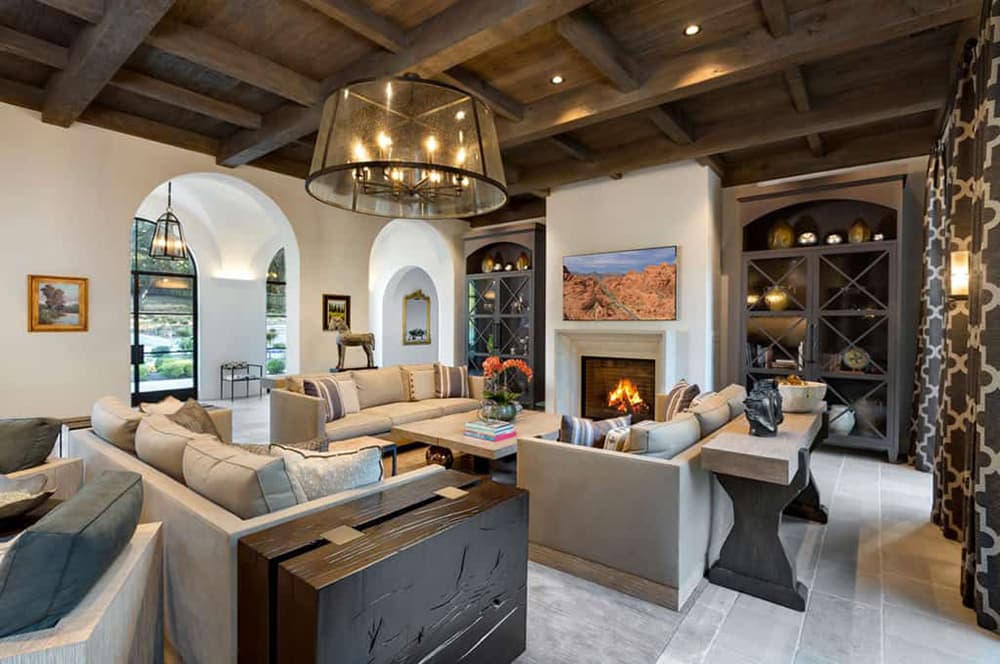 The typical design of the Spanish Colonial living room makes use of wooden beams on the ceiling. Even when the furnishings and amenities of the interior area show off very modern qualities, you can still see traditional details that act as a symbolic callback to the original Spanish Colonial designs. Wooden beams can be incorporated in different ways depending on whether you prefer an understated or a bolder look. For extra visual impact, it's recommended to contrast the beams against the white stucco ceiling.
9.

Decorative Tile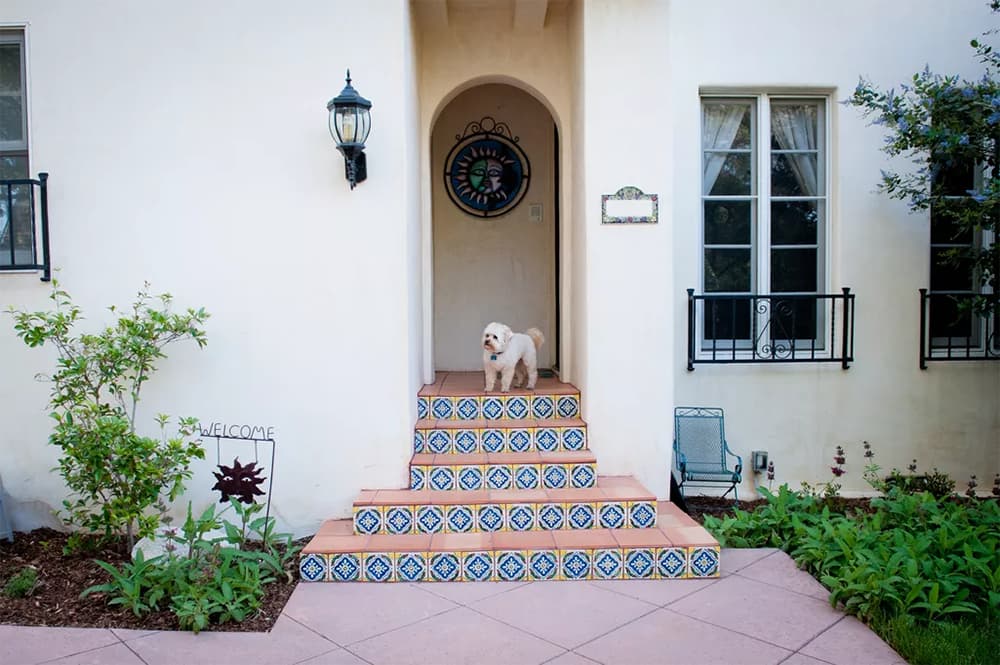 The design of the outdoor tile holds a special place for lots of Spanish Colonial homes. The flooring provides an ideal opportunity for decorations against the overall minimalistic look of the home. Take a look at these red tile stairs decorated with mesmerizing blue patterns. The use of vibrant green plants to flank them creates a particularly visually pleasing scene.




10.

Modern Spanish Colonial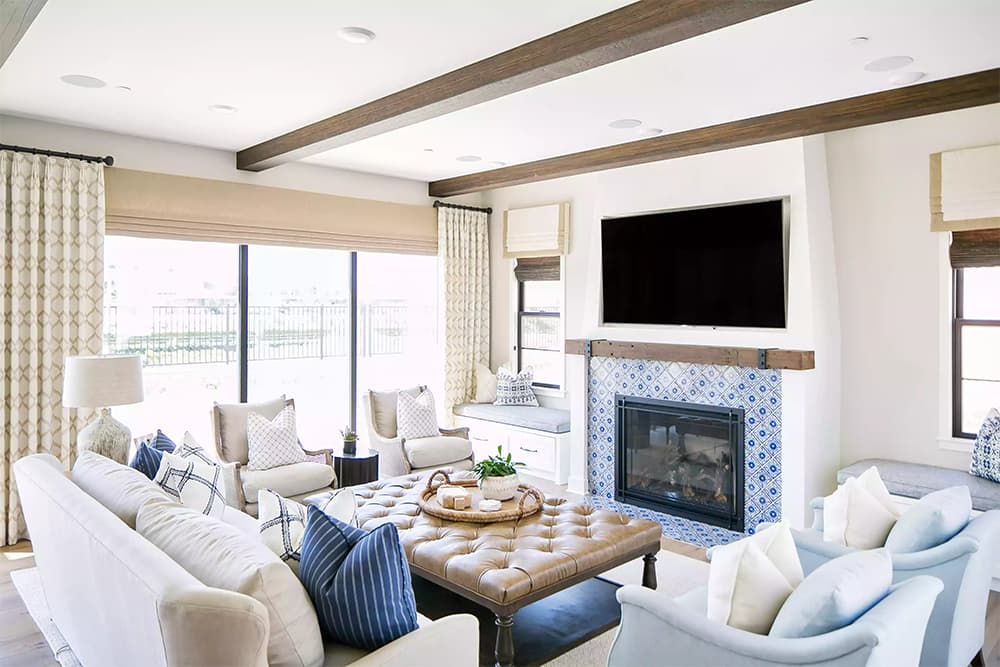 If you like the idea of creating a modern Spanish Colonial interior, this could be an inspirational example. This living room benefits from a generously-sized seating area and predominantly modern décor flair. There's only a small dose of Spanish Colonial vibe through little yet impactful touches such as the decorative tile of the fireplace or the wooden beams.