This post may contain references and links to products from our advertisers. We may receive commissions from certain links you click on our website. As an Amazon Associate Rhythm of the Home earns revenues from qualifying purchases.
Share this article:
There are many reasons why homeowners in the United States opt for vinyl siding as a building material. Cost-effectiveness plays a large role considering how this material is usually more affordable per square foot but that's not the only reason. Vinyl siding is also prized for its excellent durability and versatility. The material is highly resilient when it comes to withstanding extreme weather conditions such as strong winds and high heat.
Vinyl is also quite easy to clean and maintain compared to other materials so it's no surprise that many homeowners choose it as a siding solution. Vinyl siding is a breeze to clean as long as you know the correct methods to do it. There are lots of sources of dirt and grime that can affect exterior vinyl siding. It can also be vulnerable to insect damage, rust, mold, and mildew.
Aside from a typical dirty appearance, vinyl siding can become discolored over time. It starts to lose its original color after considerable exposure to insecticides, fertilizers, and other chemicals routinely used around the house. In this article, we'll explore the most effective methods for keeping vinyl siding as new. You can choose the best cleaning solution according to your budget and the specific needs of the home's vinyl siding.
1.

How to Clean Vinyl Siding With Pressure Washing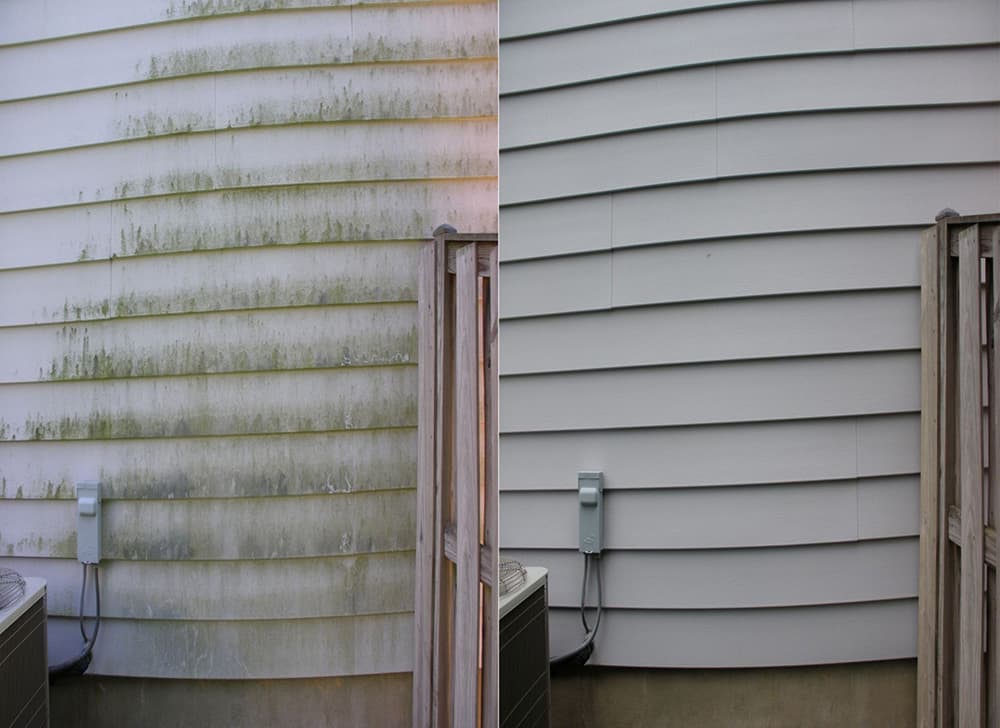 A simple and convenient method to clean vinyl siding involves the use of a pressure washer like this model found on Amazon. Assuming your vinyl siding isn't very old and fragile, you can save a lot of time and effort with the help of this kind of power washing tool. Just to be certain of avoiding unintended side effects, it's worth checking out the recommendations of your vinyl siding manufacturer. Certain types of vinyl siding can't be properly cleaned using this method.

When it comes to using a pressure washer to remove dirt and grime from your vinyl siding, it's important to remember that you need to do it correctly. Keep the windows shut and consider wetting the garden beds nearby so that plants will be exposed to the diluted version of the cleaning chemicals used during the power washing.
For a successful pressure washing experience, we recommend sticking to a soap tip to create a concentrated blast at a sufficiently wide angle. The cleaning solution used should be optimized for siding stains and discoloration. Here's a great option on Amazon that will also eliminate mold and mildew.
If you have some experience with a pressure washer, cleaning the vinyl siding won't be too difficult. If that's not the case, remember to keep a steady position and aim the nozzle of the washer at a slight angle to simply lift and knock out any traces of dirt. It's important to avoid rushing to prevent accidental water seepage behind the siding. A side-to-side motion can be highly effective to enable complete coverage of all the sections of the dirty surface.




Depending on the size of your vinyl siding, the cleansing solution can start running low after some time. Keep an eye on the current level to refill it. After you washed the area with the soap, it's time to rinse the vinyl siding quickly. Once again, make sure you won't rush because there's a risk of penetrating the insulation or damaging the siding, especially if you target the corners. In case of excessive moisture in some areas of the siding, it's recommended to use a dry rag to remove it.
Cleaning mold and mildew might require some extra scrubbing effort besides just power washing. That depends on the severity of the growth on your vinyl siding. If your cleaning solution doesn't seem powerful enough for this job, you can remove mold more effectively by using a mixture of one part vinegar and three parts water.
2.

How to Clean Vinyl Siding Without Pressure Washing
If you don't have a pressure washer or find it too damaging for your vinyl siding, there are other methods you can try. Although cleaning by hand can be more time-consuming, it's the more recommended solution if you don't have a large surface to clean. There are lots of homemade cleaning solutions with reliable grime-removal power or you can purchase a commercial product.
2.1 How to Clean Vinyl Siding With Bleach
Bleach is a strong chemical that can work wonders against mold on the siding. By combining it with some detergent and water, you can create a powerful bleach mixture that can clean the vinyl siding even better than a power washer. Just make sure you're careful about taking all the right safety precautions.




Pets and children shouldn't be in the area and you will need some equipment such as a reliable respirator. You don't have to worry about working with bleach solutions but the resulting fumes can be toxic when breathed in. It's recommended to get a reusable respirator for gases and vapors such as this facepiece from 3M.
Mix the bleach solution by combining ⅓ cup laundry detergent or general-purpose cleaner with 1 qt. bleach and 1 gallon of water. You will need a garden sprayer to apply the DIY cleaning solution to the vinyl siding. This model found on Amazon offers great performance for the cost. Once the cleaning mixture is ready, you can apply a thorough coating on the siding and wait for a few minutes to work.

With the help of a garden hose or by filling a sprayer with water, you need to rinse off the bleach solution. Extra coats of the cleaning mixture could be required if there are still mold residues present on the siding. While this method can take a bit more time compared to the power washing technique, it's safe to say that you can obtain great cleaning results for your vinyl siding.
2.2 How to Clean Vinyl Siding With a Commercial Product
Gentle cleaning is recommended for many cases where pressure washing or strong chemicals could be too destructive. A soft-bristled brush paired with the right commercial solution can clean the vinyl siding very effectively. You can use this type of outdoor cleaner that works well with minimal scrubbing work. It comes with a hose end attachment so you can easily rinse off the solution from the siding using a gentler garden hose.
When it comes to traditional scrubbing and wiping, we recommend starting from the bottom of each siding section to avoid streaking. Just follow the directions of the cleaning product used and make sure it's properly rinsed after the process. This is important because some cleaners can also leave behind residues.
Mold issues can be tackled more easily with a specialized product such as this one from Wet & Forget, available on Amazon. It's optimized for cleaning the vinyl siding without harsh chemicals such as bleach. You don't have to rinse it off or put in a lot of effort scrubbing so this is a very convenient product to try. It can clean vinyl siding from high areas of the house thanks to the bottle's ability to blast the cleaner from the ground.