This post may contain references and links to products from our advertisers. We may receive commissions from certain links you click on our website. As an Amazon Associate Rhythm of the Home earns revenues from qualifying purchases.
Share this article:
Hallways are the thoroughfares of the home. If you took a time lapse photograph of your house and the people in it, the most criss-crossing lines would be in the hallway, the artery of your dwelling.




In the Chinese discipline of Feng Shui, the spaces of a house are seen as conduits of qi (pronounced chi) or energy. They believe that qi tends to speed up in a hallway and must be slowed down and allowed to linger.
Hallway lighting is one of the ways that you can reenergize your home, especially if the hallway is not windowless or not well ventilated.




There are hundreds of ways to creatively light up your hallway — here are just a handpicked dozen of them. In case any of the ideas appeal to you, you can click the link to browse the vendor who could make it a reality for you.
1.

Glass and Brass in a Duet
Glass and brass gleam together in this intricate sconce that would turn any hallway into an art gallery. Each prism rod is two-faced, with crystal glass rods with brass details and a backplate. Each light requires two 40W bulbs to shine its light.




2.

Three Magical Orbs





There's almost something mystical about this minimalist chandelier pendant with its exquisite of three perfect luminous spheres that bring tortoiseshell glass together with brass. The three-light cluster creates a deliberate asymmetry of light and shadows that would brighten up any living space.
3.

Pearlescence at the Ceiling





A guest could be forgiven for mistaking them to be pearls. This 12-globe chandelier , arranged in two multi-branched tiers mimics the organic structure of a plant, creating a full cast of light in your hallway without looking either too formal or too avant grade.




4.

Clustering Colors and Shapes





Clusters are where the action is if you want to break the mold in hallway lighting ideas. A creatively constructed cluster in a hallway can bring together dissimilar elements artfully, created unity within diversity. This multicolored cluster light combines shapes, levels, colors and moods all together into one lighting space.
5.

Beaming Up the Hallway





Four beams of light project in opposite directions in this Italian-design LED wall sconce built around two industry-standard iron pipes. Planted at regular intervals along a corridor, they break the monotony and create a uniform but still intriguing lighting space.




6.

The Magic of Crystals





This might remind you of The Game of Thrones. The satin-finish metal band holds together these 'iron throne'-like spikes of brilliant crystal rods. The light they cast is uniform and despite the diverse origin.
7.

Lighting Up the Ground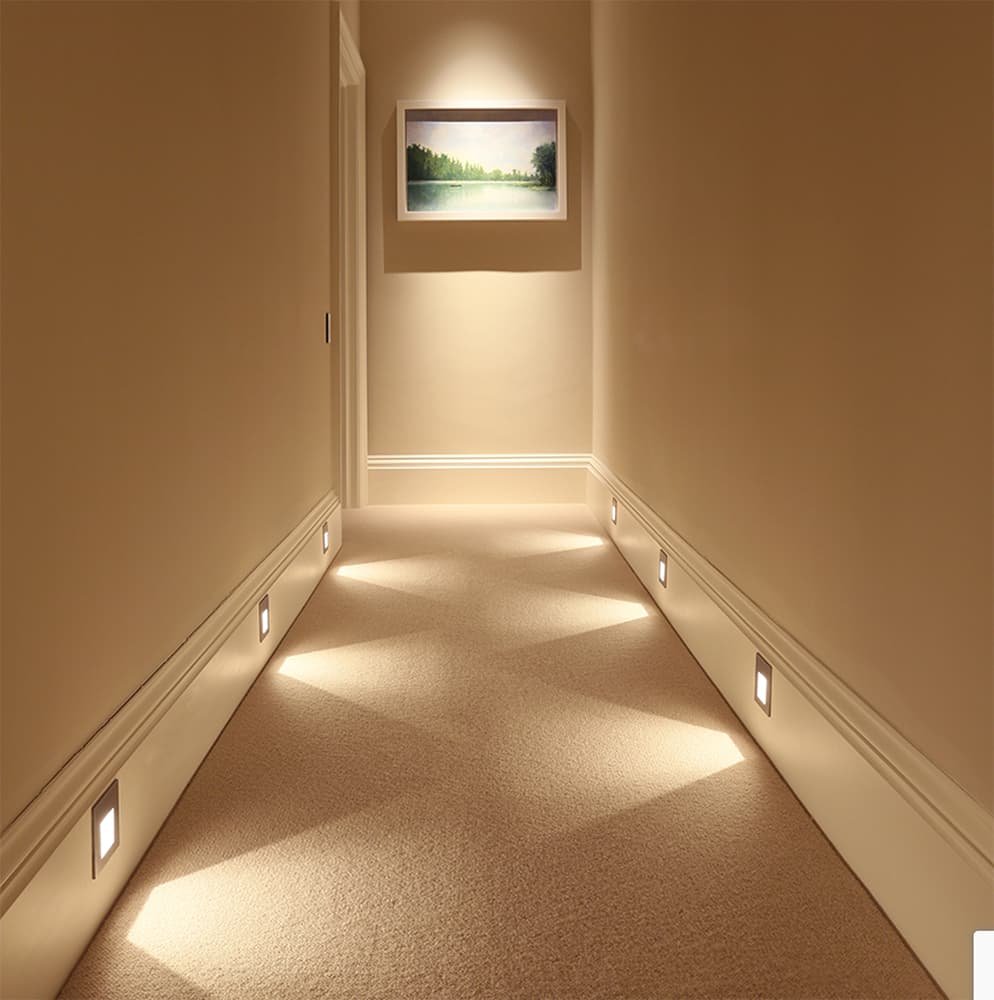 Spaced Sirolo floor-washer lights not only skew light patterns across the floor but they also create the illusion of depth and substance in the hallway, taking an unremarkable hallway and converting it into a walkway into a different universe.




8.

Ribbons of Gold





They're not really gold, of course. But woven ribbons of this extraordinary hallway light have woven ribbons brass giving off a gold shine. Everything is exaggerated and radiant thanks to bright low-consumption light from the  integrated LED module. The light, escaping between the woven strands, adds contemporary shadows to the hallway.
9.

One Source, Many Directions





The metal version of the Luz Oculta includes a vent around the middle of the round lampshade, giving light another pathway for spilling out. The net effect on parabolic arches of light above and below with shafts of lighthouse beans flying out of the sides gives this wall lamp its uniqueness. The wood version has small spaces between each wood panel, creating a unique multi-directional throw of lights and shadows.




10.

Light Meets Shadows





Called the Vera, this cutting edge hallway ring light features an adjustable open disc that can moves 360° parallel and 90° perpendicular to the wall. The flexibility permits unique tailor-made settings to match the mood and size of the hallway space you want to light up.
11.

Antique Gold OrbPendant





The Moorish-style pendant light might look like a chronometer with an identity problem but its six lights are designed and placed to invigorate your hallway. The antique gold finish and the orb-like encasing boundaries give this hallway light its unique character.
12.

Euro White Flower
This florally inspired pendant light chandelier is a standout addition to any hallway. Each individually designed petal is curved and shaped to catch the light from its single internal bulb just so and then bounce and reflect it out over the living space it oversees.