This post may contain references and links to products from our advertisers. We may receive commissions from certain links you click on our website. As an Amazon Associate Rhythm of the Home earns revenues from qualifying purchases.
Please consider making a donation if you like our article. Our website depends on donations from visitors like you! Share this article:
If you love galley kitchens, you are in the right place! Galley kitchens can be extremely versatile despite their straight design. There are so many ideas and creative options that you can use nowadays. Although galley kitchens are usually associated with simple, tight cooking space, these ideas will turn your kitchen into so much more!
1.

Open Up Into a Casual Living Space
The main benefit of a galley kitchen is that you have everything close to you, so you can easily prepare your food. You may consider opening up this space and turn it into a social area, too! This is extremely useful if you prefer open, large spaces. In this example, the simple galley kitchen is turned into an entertainment room where you can cook and catch up with your family members at the same time.




2.

Large Galley Kitchen
If your kitchen is sizeable but you are a fan of galley design, this idea might just be for you. Add two rows of units, and make sure you add an island in the middle to create the galley vibe. In this case, there's also a dining area worked in – it may be an excellent option as long as you keep it compact.
3.

Go for a Galley Layout in an Open-Plan Kitchen
If your room has an open plan, you can turn it into a real stylish statement. Make your kitchen sing out by making it seem spacious and airy. Wall units are great additions if you want to make most of your kitchen, especially if there's not enough space for cupboards.




4.

Modern Galley Kitchen with Wood Cabinets and Floor
This example debunks the idea that a galley kitchen lacks storage or that the fridge must be on the back wall! However, this might be the case if you do not want to cover up your access or pantry door. This layout comes with plenty of comfort and space, so you can store all of your items without worries. You may not be comfortable with the fridge sticking out, but you may find a way around it if you have an empty back wall.
5.

Bold Wallpaper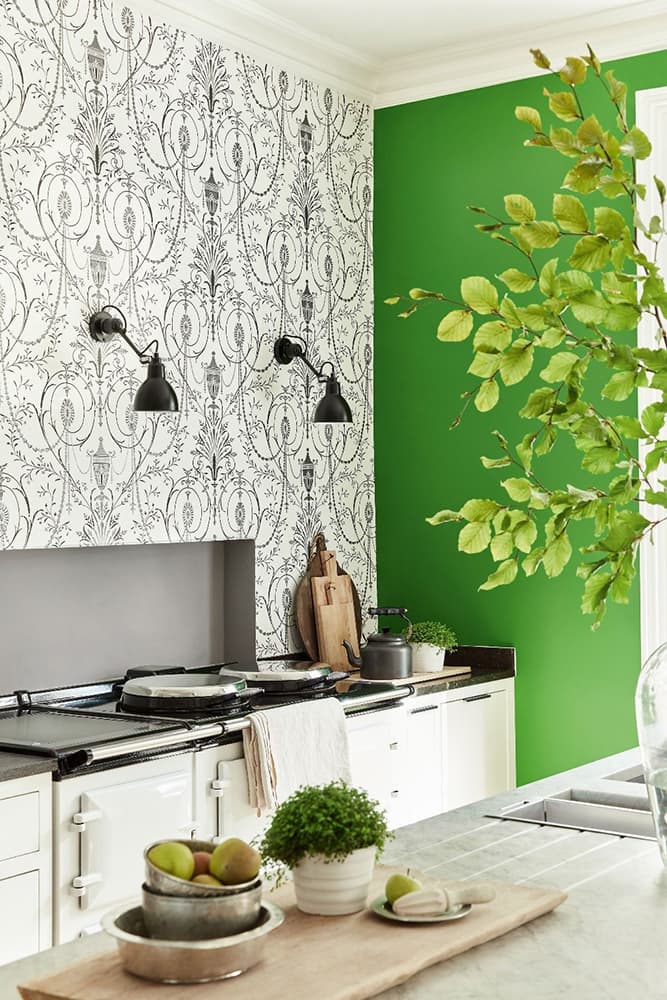 Do you want to have a stylish galley kitchen? Simply because it has a straight design is not enough of a reason to give up on its aesthetics. In this case, the owner decided to add lush, rich green wallpaper to their kitchen to contrast with the otherwise white, plain elements.




6.

Large Doors
This gorgeous galley kitchen is full of freshness and has a welcoming atmosphere. If you are lucky enough to have a garden, you can play with it to make your kitchen more spacious. In this case, the owner opted for large, bi-folded doors and a couple of comfortable seats. This model is free of clutter and accessories, keeping it simple and practical.
7.

Play with the Textures
Using different textures, such as stone, wood, and even glass can create a modern, unique kitchen. This makes the room seem extremely interesting, diverting you from the lack of space. Instead, this room feels dynamic, fashionable, and extremely practical. If you live alone, the small dining area might be exactly what you need.




8.

Modern Galley Kitchen
Although galley kitchens are associated with the cooking area inside trains, many creative individuals managed to transform the concept into a modern idea for our homes. The island parallel with the walls is a classic move that provides plenty of cooking space. At the same time, the addition of a wall made of glass brightens up the entire room.
9.

Matching Cabinets
Bold colors can be a great choice, even for galley kitchens. However, keep in mind that these will overwhelm the small space. This owner decided to match the wall cabinets with the wall color to avoid crowding up the room. This coordination is not only seamless, but the darker splash of color binds all elements together.




10.

Go Simple
This kitchen has a cozy, Scandinavian feel to it. The classic, simple design is timeless, while the white dominance and two windows ensure plenty of natural light, helping to create a feeling of space. One of the best highlights of this design is the eating area at the back of the room, right in front of the welcoming light coming from the window.
11.

Make the Most of Natural Light
If you have lots of natural light in your kitchen, this design maximizes it, creating a focal point thanks to the dining area. This small kitchen looks spacious, especially as the owner decided to use white as the main color for all the furniture. Another option is light-colored wood if you believe it's a better match with your home style.




12.

Single Galley Kitchen
A single galley kitchen means that you have only one row of cabinets. This provides limited space, but it may be exactly what you need if you live alone or with your partner. When opting for this design, make sure you choose only one or a maximum of two colors to combine, including the walls, ceiling, and cabinets.
13.

Color Is Key
Colorful accents are not only for standard, large kitchens. The coral cabinets are beautifully matched with the light, soft yellow of the island and chairs. In a tiny kitchen, it's best to opt for pastel colors to brighten up your space. Despite the classic galley design, there's nothing regular about this kitchen – it is genuine artwork!




14.

Integrated Appliances
The perfect galley kitchen must have an uninterrupted flow. This is why most owners opt for integrated kitchen appliances – these save space, and you can maximize the benefits of a galley kitchen. Even more important, if your stovetop or dishwasher sticks out, it disrupts the symmetry of your cooking space or even turns uncomfortable if you have to walk around them all the time.
15.

Small Galley Space
If you do not have a dedicated room for your kitchen, you can easily reorganize your space, as you can see in the picture above. A simple layout, clever lighting fixtures, and a few modern cabinets are all you need to end up with a modern, stylish cooking and dining area.




16.

Sleek Cabinets
If you love the contemporary style, this kitchen design would surely match the rest of your home. The owner opted for sleek, glossy furniture with a compact but stylish feeling. When choosing your kitchen cabinets, keep in mind that open shelves will make the space larger, but they will make it more difficult to keep your kitchen neat and orderly.
17.

Mix Styles
This kitchen is a great example of functional elegance. It is quite difficult to combine vintage flooring with elegant, modern furniture. Fortunately, this owner made it all work through beautiful color contrast. As mentioned above, it's best to choose only two or three colors for your galley kitchen to avoid overcrowding. Plenty of natural light is a must if you want a brighter space.




18.

Natural Light
This kitchen's centerpiece is the large window at the back that highlights every other element. Whether you already have a large window or you are up to a new home improvement project, make sure you maximize natural light. This kitchen also has white cabinets that beautifully reflect the natural light all over the room.