This post may contain references and links to products from our advertisers. We may receive commissions from certain links you click on our website. As an Amazon Associate Rhythm of the Home earns revenues from qualifying purchases.
Share this article:
If you wish to have the air in your kitchen free from smoke and smells, the best solution is to install a capable range hood. There are multiple styles to choose from and lots of features that differentiate models. One of the most popular types of range hood found on the market is the under cabinet and those who prefer increased flexibility should consider convertible models which can accommodate multiple applications. Finding the best range hood on the market needs to take certain aspects into consideration.
Airflow is probably one of the most important features as this directly affects the performance of the range hood when it comes to efficient ventilation. Besides looking for models with excellent airflow, try to go for units which feature more fan speeds to make the right adjustments more conveniently. After the cooking is finished you can leave the range hood on a lower setting which isn't as noisy, yet still reliable enough to absorb leftover smells.
With so many products on the market, it gets a little difficult to choose the best range hood for your needs. Check out this list where the best features-per-price ratio has been taken into consideration. Only the range hoods that are truly worth the cost have been selected to help you decide. You might also be interested in our articles about the best meat thermometers, the best electric can openers and the best airbrushes for cake decorating.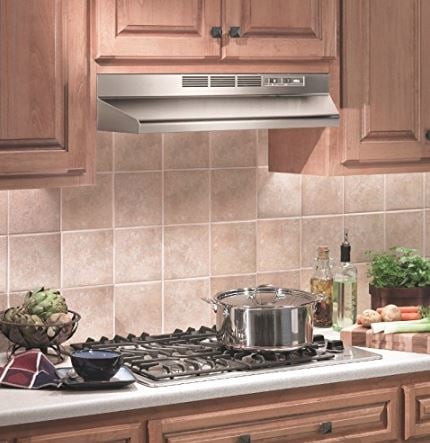 Buy On AmazonBuy On WalmartBuy On Home Depot
Broan is one of the most reputable manufacturers in the range hood industry. You can't go wrong by choosing one of their models. Here's one of their most appreciated units, the Broan 413004 which is made in the USA and has a stylish stainless steel finish. In terms of filtration, this range hood is a valuable addition for any kitchen thanks to its Microtek system.
It filters any contaminants in the air with ease and its fan has been constructed to withstand the test of time. When it comes to lighting, this range hood offers a protective lamp lens which makes the cooking area more visible. The installation process for this unit won't take very long as the wiring is fairly straightforward.
While the low price might seem suspicious, don't worry, the Broan 413004 delivers on its promises. It looks decent and performs just as expected. Even if you're not familiar with installing range hoods, the instructions should be easy to follow. The fan isn't very strong, but it's reasonably quiet at least. All things considered, this range hood is great for any kitchen remodeling project.
Buy On AmazonBuy On WalmartBuy On Home Depot
If you need a more flexible solution, take a look at the Broan F403623 convertible range hood. This is a large 36-inch unit that delivers 160 CFM and installs ducted. With the right filter (that's bought separately), it can also be mounted in a non-ducted style. Those worried about noise should rest assured that this range hood won't disturb the kitchen atmosphere that much with its 6.5 sone rating.
This range hood offers convertibility in four ways. You can use it for either vertical or horizontal ducted installations, round openings, or as non-ducted. The under-cabinet style means you can save some decent amount of space and the range hood looks like it fits together with your other appliances. Performance-wise, the unit can provide some solid ventilation and the fan can be set from Low to High.
The install process for a range hood might make some people nervous when trying to select a model. You can rest assured that the Broan F403623 offers a very straightforward install process. Those familiar with it can be done with this task in less than an hour. Just make sure the fan exhaust shape is in order and everything should turn out nicely. Recommended range hood for its cost-effectiveness.
Buy On AmazonBuy On WalmartBuy On Home Depot
One very slim unit to consider is the Cosmo 5MU30. It's available as an under-cabinet style of range hood and one of its main strengths is the elegant construction that won't take too much space in your kitchen. Thanks to a respectable airflow that reaches 200 CFM, this model won't disappoint you when the cooking sessions get particularly heated.
The fan provides three-speed settings which you can toggle through according to the situation at hand. Even on the lowest setting, cooking smells can be reduced. The motor of the range hood is fairly quiet without sacrificing the efficiency. While this machine is intended for a ducted installation, you can also go for the ductless route assuming you get the separate carbon filter kit.
A good quality range hood should also be able to provide adequate lighting. The LEDs on this model are bright enough to cover your entire cooking space. The stainless steel has received a brushed satin finish that can make it an excellent match for a modern kitchen. If you're a fan of the European look, the Cosmo 5MU30 is a strong candidate on the market for range hoods to take into account.
Buy On AmazonBuy On Home Depot
For those who demand performance and premium looks, the Chef PS18 might be the right choice. This stylish range hood stands out from the crowd due to its durable stainless steel body decorated with an intuitive digital display. While that sounds appealing, the performance is even more impressive. The range hood packs a total of 860 CFM of airflow that can be controlled in 6-speed settings.
High-efficiency LED lamps have been added to this unit to bring enough light down without affecting your energy bill that much. There are three ways for venting when it comes to this range hood as it allows for two vertical styles and rear venting. The stainless steel filter can be quickly cleaned in a dishwasher. One of the most appreciated features is the delay shut-off function which can help you customize the ventilation.
Overall, this is a very attractive range hood in terms of design, durability, and performance thanks to its dual fan motors and blades. The Chef PS18 is built for more demanding needs and any intensely used kitchen can benefit from having it. It's safe to say that this range hood can cover all your needs well so that's why it's recommended. The cost is more substantial, but the suction power is way better than the one on cheaper units.
Buy On AmazonBuy On Home Depot
A decent all-around Broan range hood to take into account is the 423604 model. It features 190 CFM of airflow and 6 Sone. It's designed to blend in with the rest of your kitchen décor without standing out too much. This range hood works best for vertical discharge installations. There aren't lots of impressive features in this unit, but it deals well with the task of removing smells and smoke in any regular kitchen.
There's a protective lamp lens that helps with the overall light distribution. You will need to get the 75-watt bulb separately. The grease filter needs maintaining and the easiest way is by taking it out and placing it in the dishwasher for a thorough clean. While the high fan setting is quite loud, the low one does the job nicely and in a much more quiet manner. It also depends on your cooking ventures as some foods can create more prominent smells.
While the Broan 423604 is a budget-friendly range hood, it does everything most people need in terms of ventilation. The design won't win any awards, but it looks decent. Installing this appliance is a breeze thanks to the detailed instructions. The loudness of the fan shouldn't detract you from considering such a cost-effective range hood.
Buy On AmazonBuy On WalmartBuy On Home Depot
A balanced option in terms of features per cost is the Cosmo 5U30 range hood. This model comes in a modern streamlined design with 3 adjustable fan speeds and 250 CFM. It has multi-layer mesh filters made from aluminum and can tackle many common cooking-related contaminants that are found in a busy kitchen. This is a highly efficient unit when it comes to trapping grease and removing odors.
Toggling a different speed for the fan is done by pressing the buttons on the front panel of the range hood. The design is definitely eye-catching and the unit was also constructed with durability in mind considering the 430-grade stainless steel. This range hood is not the quietest out there, but that's a small price to pay for a strong suction power. The LED lights provide sufficient illumination for all your cooking purposes.
One thing that some people might consider a drawback is the somewhat confusing installing process. That's mostly because the instructions aren't very clear so novices can have some issues. If you wish for a quality and great-looking range hood, the Cosmo 5U30 has all the features you'd expect for its price range. Highly recommended.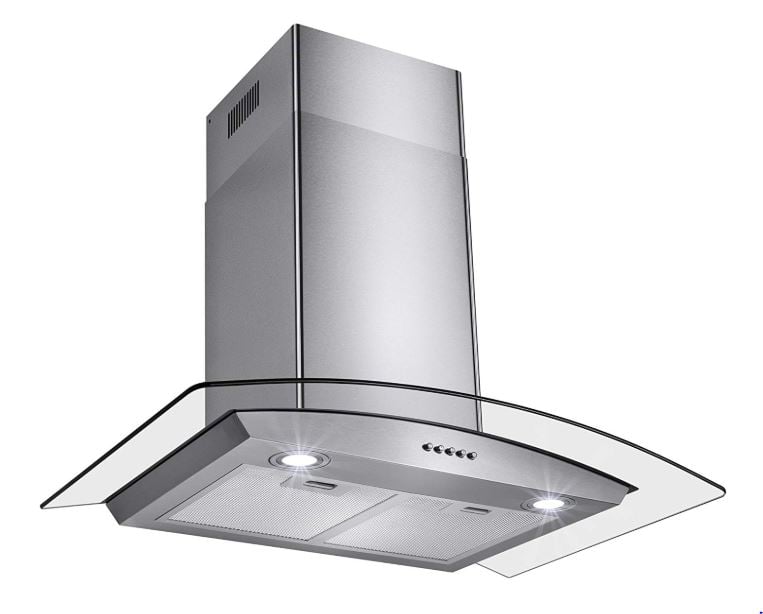 Buy On Amazon
The Perfetto Kitchen and Bath RH0230 delivers a more interesting design with a convertible system without compromising on performance. The Italian-inspired look of this range hood is very aesthetically pleasing compared to the standard models you can find on the market. In terms of airflow, the unit provides 400 CFM with a 65 decibels upper limit for noise.
At maximum capacity, this range hood can provide some serious ventilation power to clear out any unwelcome cooking odors whether we're talking about grease or smoke. Make sure you regularly clean the stainless steel mesh filters which are designed to trap the grease. There are three speed settings for the fan and you can activate them by using the elegant button controls.
As you've probably expected with this type of wall-mount exhaust hood, this model won't be suitable for any kitchen. If yours can accommodate this mounting style you will be pleased to find out that the instructions are very clear and straightforward. Any experienced DIY-er can tackle the job. All in all, the Perfetto Kitchen and Bath RH0230 is worth a shot if you like the beautiful design and its ventilation capabilities.