This post may contain references and links to products from our advertisers. We may receive commissions from certain links you click on our website. As an Amazon Associate Rhythm of the Home earns revenues from qualifying purchases.
Please consider making a donation if you like our article. Our website depends on donations from visitors like you! Share this article:
Anyone who's serious about baking cakes has probably heard about the airbrushing technique used for making beautiful decorations on them. With so many possibilities to create unique decorations, airbrushing allows a baker to give a whole new personality to any cake. Whether you're starting to get into cake decorating as a hobby or you wish to get better at your baking craft, airbrushing can help you shape up all your creative potential.
Why not just use a regular brush? The answer to this question is simple. You need to work with precision if you want to master the art of cake decorating like a professional. Another reason to consider is the extra time you can save as you'll benefit from a more efficient workflow with an airbrush. While it may appear difficult at first, it's actually easier to work with an airbrush because there's no need to deal with the careful mixing of the sugar paste and color.
With the right airbrush or airbrushing kit, anyone who's determined to get into cake decorating can start creating some wonderful projects right away. In this article, we'll take a look at the most cost-effective airbrushes designed to aid you in your quest for creating stunning cake decorations. The market for these products might overwhelm you, so hopefully, this article can shed some light on the best airbrushes for cake decorating by showing you the strengths and weaknesses of each selected model. You might also be interested in our articles about the best range hoods, the best electric can openers and the best electric knife sharpeners.
Buy On AmazonBuy On Walmart
PointZero Airbrush is a specialized manufacturer of decorating kits that satisfy even the most demanding needs of airbrushing fans. Baking professionals who want a reliable product should consider their airbrush decorating kit. Versatile and performant, the dual-action airbrush has a special nozzle designed for both sharp details and consistent coverage during the painting process. There are three airbrushes, one compressor, and twelve colors supplied in total.
User-friendliness seems to be one of the strongest points of this kit. While more advanced users can definitely benefit a lot from its abilities, beginners shouldn't be intimidated as the kit puts all the airbrushing tools at your disposal allowing virtually anyone to master the art of cake decorating. You can quickly change between the included airbrushes to suit a particular project and the compressor offers constant clean air.
To get the hang of techniques you can rely on the many included guides or you can watch tutorials and other helpful videos online. This is a solid value kit with well-built tools to turn you into a master when it comes to airbrush cake decorating. The combination of the reliable compressor, vibrant colors, and versatile airbrushes makes this kit stand out on this crowded market.
Buy On Amazon
The U.S. Cake Supply airbrushing kit contains lots of tools which can help you add a unique twist to any cake. The most impressive element is by far the powerful compressor with three adjustable levels, but you won't disappointed by the other accessories either. There's a single-action airbrush built for precise decorating work thanks to its 0.4 mm fluid tip, as well as a complete collection of food colors.
For those who aren't familiar with an airbrush for cake decorating, the manufacturer included a handy guide which takes you through a creative journey to learn the best tips and airbrushing techniques. Expand your artistic potential by blending colors, writing script, or use stencils to impress with a superior level of detail in any design.
This kit is fun to use and perfectly safe to be enjoyed by both children and adults alike regardless of their level of skill. Considering the quality of the airbrush and all the included elements provided, it's safe to say that this U.S. Cake Supply airbrushing kit is worth the investment. It works exactly as it's supposed to and without making a huge impact on your budget.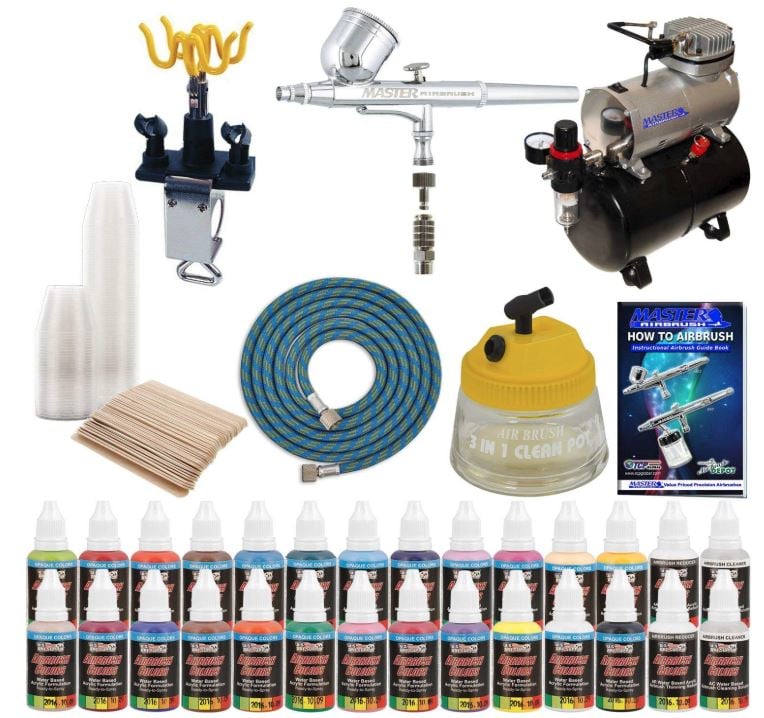 Buy On Amazon
One very appreciated multipurpose airbrushing kit is the Master Airbrush G22. While it's not geared towards cake decorators in particular, it can represent a more powerful solution if you favor quality above all else. The main reason why it's a bit more costly compared to similar products is the addition of a high-performance tank compressor.
The G22 airbrush used in this kit has been included thanks to its accuracy and reliable atomization. It enables the user to take advantage of superior spray control and handle projects of higher difficulty. The compressor boasts excellent air volume and pressure without sacrificing the portability of the system too much. A great advantage of getting a multipurpose airbrushing kit like this one is that you can also use to tackle other kinds of painting projects aside from cake decorating.
This kit can help you get into airbrush painting and can be used successfully for cake decorating, provided that you purchase the right food-grade colors. There's a large color set supplied in the package for the Master Airbrush G22, but it should be used for other purposes. Overall, this is a great product and the main attractions are definitely the precise airbrush and quality compressor.
Buy On Amazon
Making stunning cake decorations requires the right tool for the job. Why bother getting just one airbrush when you could get a quality kit that contains multiple airbrush types and all the necessary accessories? The Master G25 seems to have been created to allow amateur or professional bakers to bring their cake design ideas to life.
While the other components are important too, the airbrushes are the critical pieces of this kit. The most performant one is the G25 airbrush, a dual-action tool with a 0.2mm nozzle. Next we have the E91 single-action airbrush set and finally, there's the G70 precision dual-action airbrush. Power comes from a reliable TC-20 air compressor which is lightweight and compact delivering a total of 0.7 CFM.
Another essential accessory for any airbrushing kit like this is the food coloring set. All the most common colors are included in 12 bottles. Don't worry if your particular shade is lacking because there's always the possibility of blending colors to create a specific color on the spectrum. As opposed to simpler models on the market, this one can take a bit longer to get used to, but all in all, this Master Airbrush cake decorating kit is a must-have for any airbrushing enthusiast.
Buy On AmazonBuy On Walmart
Featuring all the essential accessories to get you started in the world of cake decorating, the Cake Boss airbrushing kit represents our top choice for this list. Ideal for beginners, this kit includes a compact compressor and a stylish chrome-plated airbrush. Working with this unit is as easy as turning on the compressor and adding the color. That's pretty much all you need to do to start airbrushing.
With the help of this little kit, you can create detailed designs on cakes or write messages for special events. Add a more personal touch by enveloping your baking project in a vibrant background. As opposed to other similar kits on the market, this model doesn't include the necessary color sets, but that just means you can easily purchase the one that works best for your needs.
One thing you need to be aware when using this tool is that you have to be careful with the placement of the machine. The motor can make it move around, so make sure it's secured in place. Taking into account the performance per cost, Cake Boss did a solid job with this airbrushing tool. Your cakes can look more interesting and unique without too much effort. Recommended for anyone who's into creating beautiful cake art.
Buy On Amazon
Paasche makes some of the best airbrushes on the market as their focus is on quality above all else. The H-CARD is a model built in the USA that has great potential for anyone to experience fluid and comfortable airbrushing. This is a little airbrushing kit crafted for a multitude of applications. It's not specifically designed for cake decorators, but if you get some additional accessories, it can create wonders in this area as well.
Despite the simple product appearance, this airbrush is carefully built for the utmost satisfaction of any artist. This tool is capable of superior atomization allowing the user to create incredible patterns and unique designs with ease. The construction quality is much better than what you'd find in cheaper airbrush kits. It's obvious that this airbrush can withstand the test of time so it's particularly recommended for heavy-duty artists.
Cleaning up the tool is relatively easy and the flexibility of the airbrush definitely makes the Paasche H-CARD an interesting option for cake decorating. As you will need to get a compressor and food coloring, this tool might be more useful for those who are already fairly experienced in the art of cake decorating. At this price, this is an excellent model to consider if you just need the airbrush.