This post may contain references and links to products from our advertisers. We may receive commissions from certain links you click on our website. As an Amazon Associate Rhythm of the Home earns revenues from qualifying purchases.
Share this article:
High-quality pruning shears can make a huge difference when it comes to maintaining the look of your garden. It doesn't matter if you're a hobbyist or have a lot of horticultural experience, choosing a reliable pruner tool can simplify your gardening tasks and allow you to enjoy spending more time trimming the lawn or sculpting hedges. Aside from the benefit of saving time, good pruners are also great to have when it comes to safety as the risk of injury can be minimized.
There are lots of different tools out there that can help you tackle pruning tasks. We'll explore the best of them to help you make the right decision. It doesn't matter if you value blade performance or a comfortable fit more, the following shears and pruning tools should offer an ideal set of features to cover even the most demanding needs. Budget considerations have also been taken into account so that anyone can get the best pruner for the money. Without further ado, take a look at these excellent pruning tools and start managing your garden more efficiently.
Best Bypass Pruner
Buy On AmazonBuy On WalmartBuy On Home Depot
If you're in the market for top quality pruning shears, check out this bypass model from Fiskars which features a heavy-duty steel blade. Thanks to a special low-friction coating, this pruner has been designed to handle wood cutting more reliably. The shears won't become stuck with sap and they benefit from enhanced anti-rust properties. Cutting stems and light branches are some of the best applications for these pruning shears.
The bypass design of this pruner has been engineered to handle a maximum thickness of 5/8 inch. In terms of comfort, you will be pleased by this tool's non-slip grip and overall ergonomic construction. A special lock will keep the blade from accidentally opening when you transport it. While the self-cleaning sap groove ensures a smooth operation, it's still recommended to clean the pruning shears regularly for best performance.
Best Pruner Knife
Buy On AmazonBuy On Home Depot
While most people go for shears to tackle various pruning jobs, there are those who prefer a good garden knife because of its superior versatility. Here's a great tool to consider made by Truly Garden. The Hori Hori pruner knife takes the traditional Japanese craftsmanship to an updated level of gardening prowess. You can use this hand pruner for weeding, digging, harvesting, and many more operations, including measuring.
Thanks to the use of 420 stainless steel, this pruner knife is sharp and reliable in any situation. The blade measures 7" and comes with a sturdy handle secured with 3 rivets. The high-quality impression extends to the sheath which has been designed with thick leather. The curved blade simplifies digging and the provided measurements will assist you for planting procedures. An extra bonus you get with this pruner knife is the sharpening rod to the keep the blade from getting dull.
Best Pruner For Weak Hands
Buy On AmazonBuy On WalmartBuy On Home Depot
Great for trimming and quick snips, the Fiskars Softouch micro-tip pruning tool stands out on the market thanks to its incredible user-friendliness. It has earned an award from the Arthritis Foundation for its excellent low strain design which lets even people with hand impairments tackle some gardening jobs. This is a fairly simple pruner without blade coating that comes at a very affordable cost.
This tool can handle a wide range of gardening tasks such as trimming, shaping, and deadheading. The Easy Action technology will allow you to use the pruning snip with minimal effort. Durability-wise, this model doesn't disappoint despite the low cost. It has a precision-ground stainless steel blade system designed for heavy-duty use. Thanks to Softgrip touchpoints, you will be able to maneuver this pruner in a more comfortable style. Great all-around pruner, the Fiskars Softouch Micro-Tip represents a cost-effective solution to consider.
Best Tree Pruner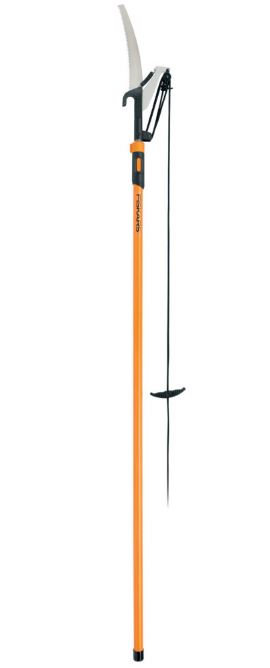 Buy On AmazonBuy On WalmartBuy On Home Depot
Are you looking for a capable tree pruner? Take a look at this extendable model from Fiskars. It can reach a reasonable height as it provides a maximum extension of 14 feet allowing you to cut high branches in a hassle-free manner. The performance of the blade is just how you'd expect from Fiskars as the blade is built out of precision-ground steel with a special coating to minimize friction.
With the help of Power-Lever technology, you will be able to take advantage of some extra strength in terms of cutting power. This can make a big difference when you're dealing with tougher branches. The pole is reasonably lightweight which could be considered a great feature to improve the overall handling. The 15-inch saw blade is durable and it feels like you can count on it for most tree pruning jobs.
Best Hand Pruning Shears
Buy On AmazonBuy On WalmartBuy On Home Depot
The Corona BP 3180D is a bypass pruner that offers a set of simple yet effective abilities. It features a blade system constructed using forged steel alloy to ensure adequate durability. There's no need to deal with constant sap cleaning as the pruner is designed to keep sap at bay with the help of a practical groove. In terms of safety, this model is quite dependable thanks to its wire cutting notch for avoiding accidents.
Most stems and branches can be dealt with if you use this bypass pruner. Keep in mind that it has its limits though, as it cuts up to a maximum thickness of 1 inch. Even if the blade gets dull and becomes weak after lots of uses, it's good to know that it is a breeze to resharpen and replace it. The non-slip grips offer a decent level of comfort and enable you to perform clean and precise cuts.
Best Professional Pruner
Buy On AmazonBuy On WalmartBuy On Home Depot
If you wish to get professional-grade pruning shears, this Fiskars model could be a cost-effective solution given the performance and construction quality. It has a specially designed angled head which makes it a breeze to prune even when you need to work from a more difficult angle. Blade tension is adjustable to fit your particular hand strength requirements as well as the cutting project.
Wrist fatigue is one of the most common issues you can experience with low-quality pruners. This model has a very ergonomic design so you can keep working for longer without any trace of discomfort. The blade is clearly built to last considering its fully hardened design and application of a premium coating which translates to smooth gliding through branches and stems. Sticky sap might slow you down when using other pruners, but this model features a handy self-cleaning sap groove for maximum performance.
Best Pruner For Small Hands

Buy On AmazonBuy On WalmartBuy On Home Depot
Having small hands means you might have some difficulties when it comes to finding a comfortable pruner to maneuver. The Felco F-6 is a classic tool designed with careful attention to ergonomics for small pruning work. Its lightweight construction and streamlined design simplify cutting even if you have small hands. The blades of this bypass pruner are crafted using hardened steel offering a solid cutting diameter of 0.79 inches.
When it comes to the construction of the handles, there is only good news. There's a decent level of sturdiness considering the forged aluminum used. You will also notice some particular attention to ergonomics given how the handles are elegantly shaped to absorb the shock and to provide wrist protection. All parts of this pruning shear can be easily replaced as needed, though it's safe to say that you don't need to worry about that pretty soon thanks to the durable construction and comfortable design.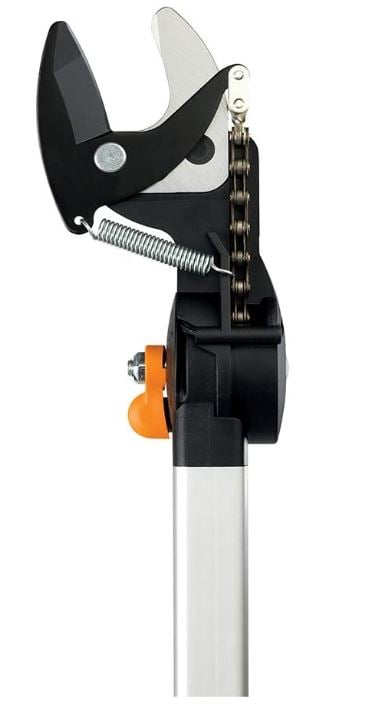 Buy On AmazonBuy On WalmartBuy On Home Depot
Instead of using ladders and trying to bend or kneel to reach difficult spots, you should consider investing in an extendable pruner like this 12-foot model from Fiskars. This tool is incredibly useful for pruning trees around your pool, but you can also use it for effortless low cuts. Thanks to a reliable sliding handle, you can enjoy smooth action in all circumstances. The saw blade is strong enough to handle even thicker branches.
This advanced telescoping tree pruner offers an impressive level of control which you can't find in traditional models. The rope-free design translates to an optimum accuracy and enhanced power for simplifying pruning action. One of the main highlights of this extendable pruner is the rotating cutting head which makes it a breeze when you're dealing with awkward angles. The 15-inch saw blade is strong and reliable thanks to the Power-Stroke chain-drive gearing technology.
Buy On Amazon
Caring for a garden requires the right tools. The Garden Elite bypass pruning shears deliver fast and easy cuts thanks to the use of reliable Japanese SK-5 steel. Blade coating ensures that you won't have to deal with sap gumming of the shears very often. In terms of ergonomics, this razor-sharp model features a forged aluminum handle that provides decent comfort.
There's a thumb lock for security and the handle also boasts a nice rubber texture to improve your grip. While there are lots of comfortable pruners on the market, few can match this level of durability. The strong blade has been optimized to cut branches, roots, and vines. Anti-rust properties are provided by the Teflon non-stick coating. This is also what helps to prevent sticky sap from slowing down your productivity. Long-lasting and dependable, this Garden Elite bypass pruning shear is worth the investment.
Best Lightweight Pruner
Buy On AmazonBuy On Home Depot
Gardening enthusiasts searching for a lightweight pruner should check out the Hydrofarm precision curved blade model. Great for both right or left-handed use, this capable pruner has an ergonomic design to boost the comfort while the reliable spring maintains a high level of cutting performance. It's best used for flower trimming, but the tool is suitable for other gardening jobs. The manufacturer includes a holster for convenient belt attachment.
The blade on this pruner is curved and made of surgical steel that won't rust very easily. It definitely meets the expectations if you're looking for a durable pruner. The lightweight design makes the tool more balanced and simpler to use. You can say goodbye to hand fatigue if you choose this kind of pruner. The tool's thin ends are more practical to use in many situations and considering the affordable price tag, it's safe to say that Hydrofarm designed an excellent product overall.