This post may contain references and links to products from our advertisers. We may receive commissions from certain links you click on our website. As an Amazon Associate Rhythm of the Home earns revenues from qualifying purchases.
Share this article:
Anyone living in a noisy area has probably tried all kinds of methods to reduce the level of unwanted decibels in their home. While there are many tips you can try, one interesting way to consider is using curtains that are specially designed to keep some of that distracting noise away. Soundproofing curtains can do this thanks to their insulating construction. The thick material can't do miracles for your home, but it will definitely represent an improvement in terms of overall quietness.
As a bonus effect, noise reducing curtains will also prevent another distraction such as light glaring from breaking your concentration. Those working from home can seriously benefit from getting a high-quality curtain panel with noise-proofing ability. The great news is that you don't even have to make a huge investment. All you're required to do is choose the best noise reducing curtains for your home.
To help you with this decision, we'll show you in this article only those products that have been proven to have a significant effect on limiting the sounds slipping through your windows. A good rule of thumb to consider if you're trying to compare different models is to select heavier curtains with extra layers. They're usually capable of better absorbing outside noises, but other details matter too. Here's a cost-effective selection of products suited for multiple budgets and home environments.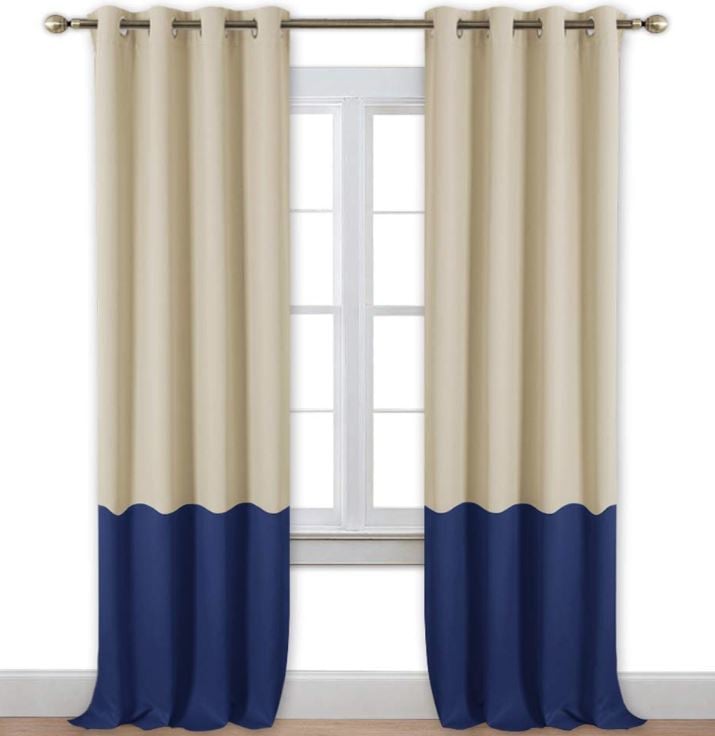 Buy On AmazonBuy On WalmartBuy On Home Depot
For a truly soundproof effect, the first curtain recommendation is this beautiful model from Nicetown. It's a heavyweight drape designed to isolate your home from unwanted sounds as much as possible. It has two thick layers of materials, each constructed using the acclaimed triple weave blackout technology. With this curtain installed, you should definitely see a difference in terms of quietness.
Besides the potential for reducing noise, this curtain has other benefits worth mentioning. You will be able to sleep better thanks to the solid light blocking effect. The summer heat won't feel as powerful and the same can be said regarding the winter chill. The two layers have a much greater impact compared to just a single one. It's nice to know that these curtains aren't manufactured with chemical coatings and are environmentally friendly.
While other noise reducing curtains are difficult to maintain, these drapes are fully machine washable. The design is simple yet effective in improving the overall aspect of a room. The Nicetown blackout curtains fit nicely anywhere you prefer to use them whether we're talking about the living room, bedroom, or children's room. A highly recommended double-panel noise reducing curtain for the cost.
Buy On AmazonBuy On WalmartBuy On Home Depot
Deconovo is one of the most popular manufacturers of high-quality drapes and their innovative blackout curtains are capable of reducing outside noises. Ideal for students, shift workers, seniors, and many more, these 100% polyester drapes are designed to create a more comfortable environment at home. The curtain achieves that through noise reducing and thermal insulation properties.
Bright sunlight slipping through the windows can have a nice effect in a room, but there are downsides as well. You can use these curtains to protect the furniture from fading and enjoy some comfortable privacy. This blackout curtain panel, as its name implies, can maintain a cooler home during hot summers or prevent heat from getting away in the winter.
There are 16 anti-rust grommets included with each curtain panel which should fit well the most common rods available. The curtain is machine washable and can be purchased in a large variety of colors. Considering all these advantages of these noise-reducing drapes and the special care to the stitching, it's safe to say that Deconovo did an excellent job with this model. The value per cost is one of the best in its class.
Buy On AmazonBuy On WalmartBuy On Home Depot
Another great model from Nicetown is this energy-smart curtain which allows your home to take advantage from heavy interwoven layers of dense fabric that reduce outside sounds. They're also capable of energy saving thanks to their insulating effect, so you can count on them during both the warm and cold seasons.
These curtains are really thick so once you receive them you'll immediately be able to see their soundproofing potential. The fact that light doesn't slip by it could be a huge advantage, especially for shift workers who need to sleep during the day. While they're not perfectly 100% blackout curtains, they do a solid job to impede approximately 90% of the light. If this is another aspect that matters to you, make sure you select darker shades for the curtain panels.
There's quite a nice selection of colors available, though not the same thing can be said about sizes as there are only two to choose from. The 1.6-inch inner diameter of the ring should be a suitable match for most rods. All in all, Nicetown's silky curtains manage to reduce the noise in your room while keeping the décor stylish. An excellent investment for your home.
Buy On AmazonBuy On WalmartBuy On Home Depot
Those who prefer long noise-blocking drapes will appreciate this model by H.VERSAILTEX crafted using faux linen fabric with reliable blackout properties. Available in a multitude of elegant colors, these energy efficient curtains can transform your home in more than one way. They're clearly built for privacy and you won't be disappointed by the solid noise-canceling effect.
The design choice of this curtain panel could be considered very attractive by fans of a more classic style. It feels very refreshing to have these drapes in your home, but they're not just for show. They will allow you to sleep at a comfortable temperature and can block excessive sunlight during the day. Choose a darker shade for the panel to get the best effect in that regard.
The secret behind the insulating and soundproofing abilities of this curtain lies in the specially textured layers weaved together in a dense package. No more glare from the sun and noises outside can be significantly minimized with the help of such an advanced panel. Overall, this is a highly versatile noise-reducing panel crafted by H.VERSAILTEX which can definitely exceed your expectations through its stunning looks and blackout performance.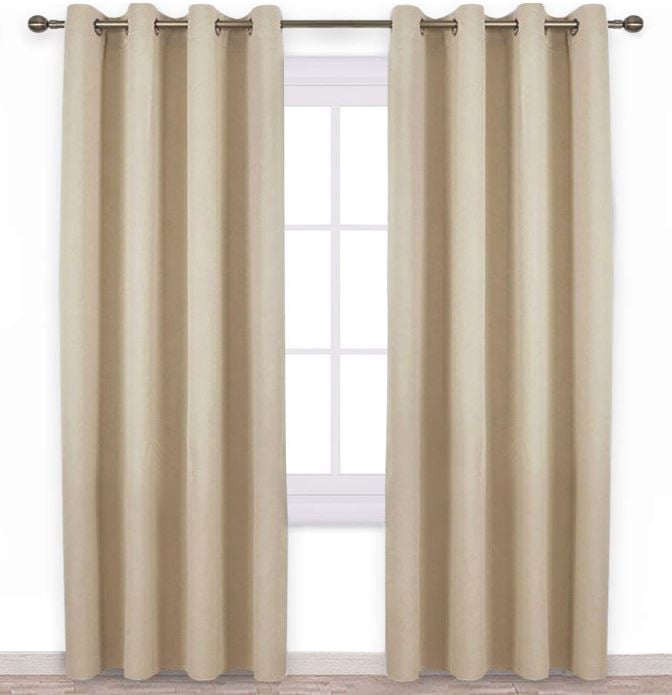 Buy On AmazonBuy On WalmartBuy On Home Depot
Nicetown manages to create some of the most cost-effective blackout drapes and this model is no exception. If you wish to protect your home from the sunny and loud outside world, these curtains seem like a fitting choice. They're affordable and come in lots of different sizes to accommodate any room without problems.
There are two panels with a stylish silver grommet in this curtain package. The diameter of the grommet fits any standard rod for your convenience when installing the drapes. Something we really like regarding this blackout curtain is the softness and quality of the material which has been carefully designed to be soundproof and thermally insulated. You'll not only be able to sleep in a more peaceful environment, but you can also maintain a superior level of privacy.
While there are many curtains on the market that claim some ability to keep noises under control, few are as performant as this model from Nicetown. If you're living near a heavy traffic area you will find these curtain panels a true blessing. The quality per price ratio is excellent considering how these drapes provide some many great benefits to your home.
Buy On AmazonBuy On WalmartBuy On Home Depot
With stylish silver grommets and silky, colorful layers, the Deconovo darkening curtains represent another worthy candidate if you need some decent noise reducing curtains. Available in different sizes and colors to match your windows, the curtains are insulated and limit the amount of sunlight and noise penetrating the room.
These curtains come in one panel per package and you get some elegant-looking grommets to complement the vibrant shades of the material. The sun can heat up a room very quickly but these drapes can prevent this issue which becomes apparent in the hot season. That's an extra benefit besides the ability to enjoy a more quiet environment.
Those trying to isolate themselves from the noisy and bright outside world should definitely check out this Deconovo curtain panel. It's obvious that the manufacturer focused on quality with this model and without sacrificing anything in the looks department. There's no light passing through and the blackout effect is particularly noticeable when using darker options. Lack of sleep due to outside noise will be a thing of the past if you choose this darkening curtain panel.
Buy On AmazonBuy On WalmartBuy On Home Depot
If your budget is more generous, take a look at the premium H.VERSAILTEX noise reducing curtains which manage to strike an ideal balance between softness and durability. This curtain is designed to accommodate patio and yard doors so it's wider featuring strong metal grommets. Not only they can keep some of that noise out, but they also ensure a comfortable temperature inside the home.
Complete privacy seems exactly what the manufacturer had in mind when designing this beautiful curtain panel. You can rest assured that 99% of the sunlight will be blocked and no ultraviolet rays penetrate the thick material. The fabric is crafted to be as environmentally friendly as possible, and therefore, it doesn't rely on vinyl or PVC. A great mix of softness and durability of this curtain panel ensures reduced noise and ideal room darkening.
One solid advantage of these noise reducing curtains is the simple maintenance. As opposed to similar models that require you to be extra careful, these can be machine washed and dried without any hassles or shrinkage issues. It's also impressive how the material manages to remain wrinkle-free. Their only disadvantage is the colors which can look different in real life compared to what's shown in the pictures.
Buy On Amazon
A perfect combination of softness and thickness, the drapes from Flamingo P deserve a spot on this list of noise reducing curtains. The curtain is capable of creating a peaceful sanctuary in your home as it guarantees effective privacy protection, prevents heat loss, and blocks a considerable amount of noise. You'll probably like the color choices which are selected to add a touch of elegance in your home.
Each drape panel features 6 grommets which fit almost any curtain rod out there. The length is enough to block out even the light coming from tall windows or doors. While the curtain is primarily designed for creating a blackout effect, they are quite adept when it comes to limiting outside sounds. According to independent testing, it can reduce a maximum of 70% of the noise which allows you to concentrate during the day and sleep better at night.
If you also take into account the overall energy efficiency of having insulating properties, this curtain panel could be easily considered worth the cost. The Flamingo P thermal drapes represent a solid investment as they do the trick when it comes to keeping outside noises under control.