This post may contain references and links to products from our advertisers. We may receive commissions from certain links you click on our website. As an Amazon Associate Rhythm of the Home earns revenues from qualifying purchases.
Share this article:
With the help of an aerator tool, you will be able to ensure that the soil under your lawn remains healthy. A lawn aerator fights against the damaging effect of hot weather that causes the soil to become compressed which means water and important nutrients can't go to the roots of the plants. For this reason, investing in a reliable lawn aerator will allow you to stimulate the growth of your lawn. Even if the soil isn't particularly compressed in your area, lawn aerating is a recommended maintenance process that you shouldn't forget about.
If you're looking to take better care of the soil by aerating the ground, there are many tools you can consider. You can try a simple lawn aerator or purchase some aerator shoes that come equipped with spikes for this purpose. This is a decent method for smaller gardens, but larger lawns will probably pose too many difficulties as manual lawn aerating is quite strenuous. If you want to avoid too much physical exertion, you should go for the traditional method of pulling or pushing the aerator and invest in a plug unit that can be attached to a tractor. Take a look at these cost-effective and high-quality products that can fit different needs and budgets.
Best Coring Lawn Aerator
Buy On AmazonBuy On WalmartBuy On Home Depot
One of the best manual lawn plug aerators out there comes from Yard Butler. Their ID-6C model is simple to use and has an ingenious design for stimulating root growth and revitalizing the soil of your lawn. This tool seems to be built to withstand the test of time considering the powder coating applied to the heavy-duty steel body of the aerator.
To make the lawn aeration process less strenuous, this tool features a handy foot bar to give better leverage. The aerator works particularly well for smaller yards and shouldn't cause any back strain. Aside from letting in air, water, and nutrients to rejuvenate the soil, this type of coring aerator is also capable of stimulating root growth. Considering how it does its job just as expected for the cost, the Yard Butler ID-6C represents our top choice.
Best Towed Lawn Aerator
Buy On AmazonBuy On Home Depot
If you're searching for a practical tow plug aerator which can be attached with ease to virtually any tractor, the Agri-Fab 48-inch unit represents your best bet. While it does have a few imported materials, it is built in the USA offering a quality design for loosening the compressed soil. A total of 32 plug aerator knives have been included for rejuvenating your lawn and they come with self-sharpening abilities.
Thanks to the addition of a weight tray, you can customize the soil penetration performance according to the current needs. The flat free tires will make it more convenient to move around over harsh terrain. This is definitely one of the easiest lawn aerators of this type you can try considering the user-friendly details like the design of the transport handle. If you want a professionally groomed look, this Agri-Fab tow-behind plug aerator is recommended.
Best Spike Lawn Aerator
Buy On AmazonBuy On WalmartBuy On Home Depot
With a height of 38", the Yard Butler ITNT-4 is a simple-to-operate lawn aerator that can be used to care for various aspects of your yard. Aside from aerating, the tool loosens, turns, and tills the soil while providing an ideal size to work with raised beds and more difficult areas to reach. There are six claw spikes which penetrate the soil deeply simplifying weeding and planting.
Similar to other Yard Butler garden tools, this unit features an extremely user-friendly design. The centered step plate is a breeze to use and the comfortable handle allows you to rely on a minimal amount of twisting effort. Breaking up hard packed soil can be difficult with most manual methods but if you use a hand aeration tool such as this one, you will surely enjoy great results.
Buy On AmazonBuy On Home Depot
The Brinly 40″ is a capable tow-behind plug aerator that comes with a durable, all-steel design, universal hitch, and 10″ rubber tread tires. It's equipped with 24 heat-treated plugging spoons which get rid of all your compacted soil issues. The aerator is flexible enough to handle more compressed soil thanks to the addition of a fully enclosed weight tray that accepts a maximum of 150 lbs.
With the help of its handy single transport lever, you can get in action mode without getting off the tractor seat. The plug aerator is designed for minimal turf damage and maximum soil penetration even if you need to work with uneven ground. If any of the steel plugging spoons becomes damaged, you don't have to worry about the functionality of the entire unit as they're serviceable on an individual basis for your convenience.
Best Budget Lawn Aerator
Buy On AmazonBuy On Walmart
When the soil under your lawn becomes too compressed, you need a reliable aerator to help the roots replenish their water and nutrients. A practical and sturdy lawn spike aerator to consider is the affordable Yard Butler M-7C. With the help of its 3-inch spikes, this tool represents a great solution for loosening the soil and make it once again responsive to watering and fertilizer.
A total of four spikes are put to work for loosening compacted soil. It's a fairly effective tool to use though it's still recommended to wait for a bit of rain before tackling extremely dry soil. Even if you have a particularly large lawn, you can still work very efficiently with this tool and aerate it completely in a few hours. The heavy-duty steel design of the spikes combined with robust welds will allow you to depend on this lawn aerator for many years to come.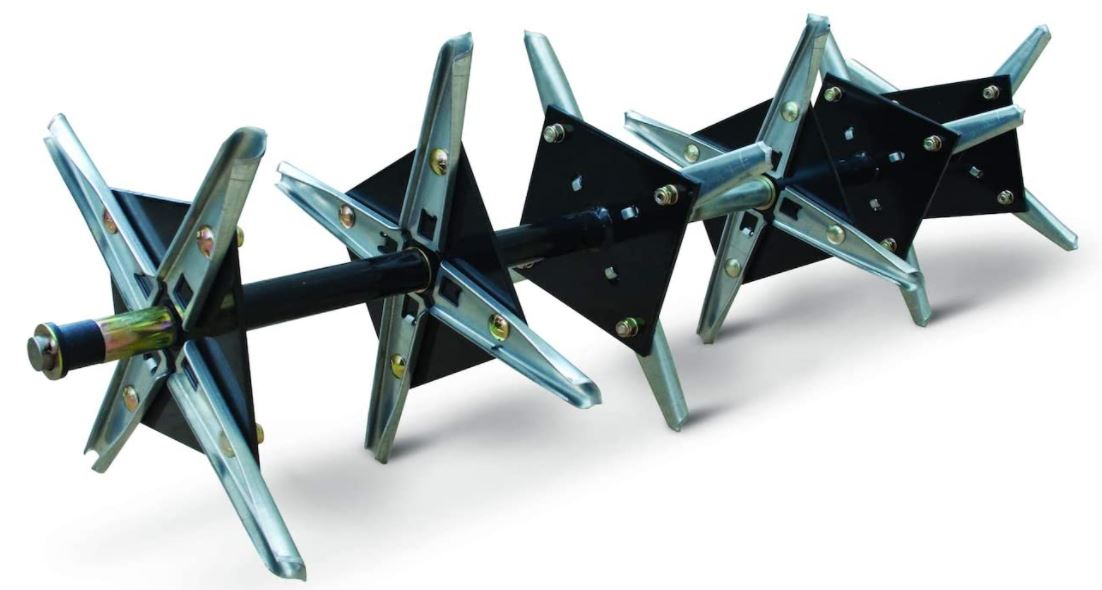 Buy On AmazonBuy On WalmartBuy On Home Depot
Equipped with 24 galvanized knives and a durable powder coating, the Agri-Fab SmartLink plug aerator earns a spot on our list for the excellent value for the cost. This is an attachment that requires a compatible master platform. It's performant and reliable when it comes to letting compacted soil become productive. Aside from allowing important nutrients to penetrate deep into the soil, this kind of aerator is also helpful to increase water retention.
One of the most convenient features of this plug aerator is that you can mount it very quickly without requiring extra tools. Even the most difficult plugs of soil can be removed to enable proper penetration of important water and nutrients. Considering the strong durability of this model, it's safe to say that it can last you for an extended period of time as long as you follow the correct care instructions. Excellent value for the cost.
Best Lawn Aerator Shoes
Buy On AmazonBuy On Home Depot
Some people feel that using a regular manual lawn aerator tool is too exhausting. In that case, you could try lawn aerator shoes that enable you to use your own weight more efficiently to aerate the soil. Take a close look at this heavy-duty unit from GoPPa. The shoes have a strong design with nice adjustability features so you can use them well regardless of shoe size.
While in some cases shoes aren't as effective as stronger tools, you can really count on this model to do a good job with less effort. Once you've done the proper adjustment, the shoes become quite fun to use and make it a breeze to aerate a large area. A few spare parts have been supplied to ensure that you have a quick replacement in case straps or nails get broken.
Best Lawn Aerator and Dethatcher
Buy On AmazonBuy On Home Depot
If you already own a Mantis tiller or cultivator, you can get a nice aerator/dethatcher attachment to maximize gardening productivity. Thanks to powerful steel blades, the 7321 Power Tiller aerator is effective and easy to operate. It's compatible with all tiller or cultivator models from Mantis except XP and represents an ideal choice to tackle the issue of compact, clay soil.
This is a highly advanced aerator that's great to use before overseeding or for spot seeding. A total of 60 spring-steel picks allow you to work on a 15″ area in one go. Aside from the excellent potential to revitalize the soil, it will also eliminate weeds and dethatch the yard for a clean and healthy look. When you take into account the solid handling, performance, and overall quality for the money, the Mantis 7321 Power Tiller aerator is worth the investment.
Buy On AmazonBuy On Home Depot
Another great pair of lawn aerator shoes to try comes from SEAST. The heavy-duty spikes have been carefully tested to create an optimal design for loosening soil particles. You can work with these shoes in all types of soil. The four buckles make installation and adjustment a simple process. Given how mud will often become stuck between the spikes, the manufacturer added some handy shovel tools for convenient cleaning.
Each spike used measures 2.4 inches in length which should ensure a good level of soil penetration. You will have 26 spikes in total to work with and effectively turn the concrete-like ground into loosened soil that can regain its needed nutrients. The aerator attachments stay secured during use if you use the included little wrench for proper fixing. A simple and affordable solution to aerate any lawn, these shoes are quite underrated given their performance and ease-of-use.