This post may contain references and links to products from our advertisers. We may receive commissions from certain links you click on our website. As an Amazon Associate Rhythm of the Home earns revenues from qualifying purchases.
Please consider making a donation if you like our article. Our website depends on donations from visitors like you! Share this article:
One of the best ways to keep your valuables secure is by investing in a home safe. With the help of a solid deposit box, you can get some peace of mind that your prized possessions are safe from unauthorized access. From basic units to more advanced ones, the market is populated with all kinds of home safes that are more or less secure.
While security should obviously be the primary factor to consider when choosing a home safe, there are other relevant aspects as well. For example, it's important to be able to quickly access the contents and many people like to have plenty of space to organize different items such as jewelry and documents. To find the best home safe for your particular needs, take a look at the following selection of products.
We've analyzed the market and steered clear from unreliable safes to create a roundup of the best models in terms of security, cost, and overall features. There are some models that offer protection not just against thieves, but also in case of fire or flooding. Other home safes can be integrated into walls for better hiding. You'll find enough variety in this list to find a dependable home safe for your valuables and to suit your budget. You might also be interested in our articles about the best garage storage systems and the best multi-tools.
Buy On AmazonBuy On Walmart
With fireproof and waterproof certifications, the SentrySafe SFW123GDC represents an excellent investment to protect your valuables. This home safe isn't just built to prevent theft but to also ensure that natural disasters won't cause the loss of irreplaceable documents and other precious items you own. The UL fireproof rating of the safe enables it to withstand around 1,700 degrees Fahrenheit for approximately one hour.




Thanks to the ETL certification, the safe is waterproof as well. It can last a full day in 8-inch deep water, which is quite impressive. The unit can keep your valuables dry in the event of a flood. Maintaining this home safe locked is a breeze considering the use of a digital keypad that works together with a secondary locking key. This model features a fairly generous capacity of 1.23 cu. ft. and an illuminated interior to easily organize all valuable objects. When you also take into account the live-locking bolts and ultra-tough steel construction, this safe is worth the cost.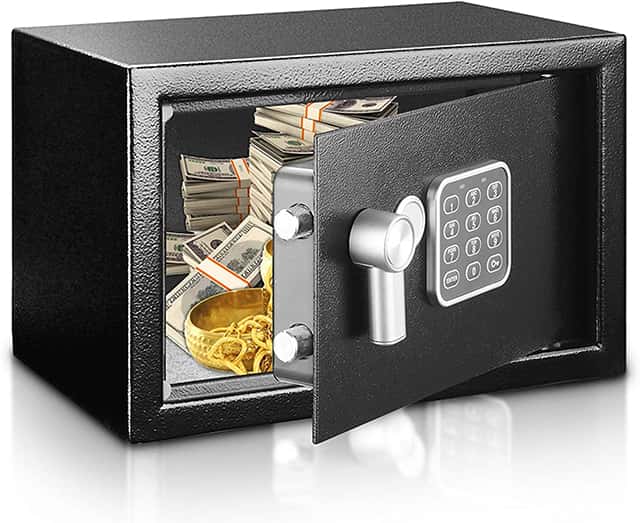 Buy On AmazonBuy On Walmart
If you're only looking for a basic yet reliable home safe, check out this steel alloy model made by SereneLife. It's a sturdy little box that lets you keep money, jewelry, and other valuable things more securely in your home. The steel walls of the safe box have been properly reinforced while the locking bolts provide a satisfying level of safety. Details such as the powder coat finish also contribute to the overall quality feel.
Installing this home safe isn't particularly hard thanks to its reasonably small footprint. There are pre-drilled holes that allow for different mounting options to accommodate it in your ideal discreet location. The digital panel is powered by AA batteries that are supplied in the package. The safe is equipped with reliable finger sensor technology and includes mechanical override through a set of two keys.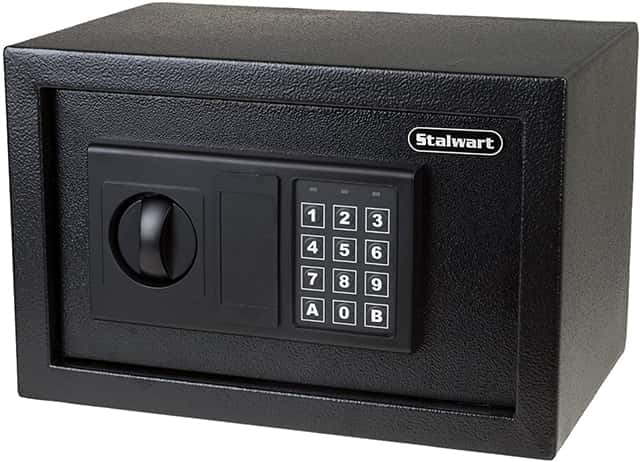 Buy On AmazonBuy On Walmart
Stalwart is one of the leading manufacturers in the world of home safes. Take a look at this user-friendly model that's built using heavy-duty stainless steel and a programmable LED keypad. It's a reasonably-priced home safe intended for decent security without sacrificing portability. The compact footprint allows users to carry it more conveniently during travels or to relocate it to another place.




There are various types of valuables that can be stored securely with the help of this safe. Personal belongings such as documents or heirlooms will be secured to ensure that your items are not accessed without authorization. The digital keypad is responsible for locking the safe but you can also make use of manual overriding through the supplied keys. An alarm will sound in case of a potential theft attempt after three wrong entries of the numerical password. Other solid advantages of this safe include the strong constructions and generous storage space.
Buy On AmazonBuy On Walmart
Anyone who prefers a compact and wide home safe should consider the SentrySafe X075. This is a basic security option that features a classic digital keypad combined with manual keys to prevent accidental lock-out. Although this model lacks fire or water protection, it's a great solution to deter thieves considering many heavy-duty security features. Some highlights include the concealed hinges and tough live-locking bolts.
The safe's metal construction seems quite reliable so you can count on the thick steel walls to store valuables with confidence. That being said, it's very important to use the bolt-down hardware provided to make a permanent installation and maximize security. The digital keypad is operated by four AA batteries. While there are more secure safes out there, the SentrySafe X075 is an ideal low-budget option. For a basic security lockbox, you can't go wrong with it.
Buy On Amazon
Built using reinforced steel and offering resistance to prying, the Amazon Basics digital home safe represents a very attractive option. It's not a sophisticated model but does its job well as long as you have the right expectations for an affordable safe. Compared to other low-cost home safes on the market, this unit is more user-friendly. It features a very simple-to-use digital lock assisted by a small display that provides relevant information about the status of the safe.




There are various additional layers of protection provided aside from the thick metal construction. The 0.5 cu. ft. unit is equipped with four mounting bolts for permanent installation in different configurations. Another great feature is the special design that doesn't expose the hinges. The safe's only major weakness is fire or water damage because it's only engineered to deter thieves not to protect against natural disasters.
Buy On AmazonBuy On Walmart
Available in sleek black or sky blue colors, the Tigerking digital security home safe is another interesting model to consider. It boasts fairly generous storage space for the cost considering its 1-cubic-feet capacity. There's a removable shelf inside to let you organize valuables or maximize space use according to your needs. Similar to other home safes on the market, this unit relies on thick steel as construction material to ensure satisfying durability.
There are two locking bars designed to handle persistent forced entry attempts. Another notable security feature is the dual alarm system. Three incorrect passwords on the digital keypad will result in loud sound and intense vibrations. Getting locked out of the safe won't be a problem thanks to the provided override keys. Holes are pre-drilled to enable both floor or wall installation. This safe is recommended for home use but it can also deter thieves at the hotel or in the office.
Buy On AmazonBuy On Walmart
There are lots of high-quality fireproof/waterproof safes on the market but few can match the level of reliability provided by this SentrySafe model. It relies on a classic dial combination while providing 1.23 cu. ft. in terms of storage space. This home safe takes the security of your valuables to a new level considering its dependable steel construction and durability reinforcement to withstand intense fire and flooding damage.
As opposed to cheaper models that only make use of small bolts, this safe integrates four large live locking bolts to put any burglars in difficulty. The sense of strong security is further accentuated by the presence of a pry-resistant hinge bar. Aside from UL classification to resist fire, the safe is also designed to protect items inside in case of a 15-foot fall. Overall, this is a great safe for home use. The higher cost is fully justified when considering all its durability enhancements.
Buy On AmazonBuy On Walmart
Whether you prefer mounting your safe on the wall or the floor, the Stalwart 6-EA-50 could be a solid option for the price. This is a fairly simple model that's focused on durable construction and solid user-friendliness above all else. It makes use of a LED keypad that's easy to program while two manual keys can be used to recover access in case of forgetting the numerical code.




There are no other extra high-tech features included here aside from an automatic lock feature that sounds the alarm if a burglary attempt is detected. The construction of the home safe represents the main highlight here. It's designed using cold-roll steel sheets while the spacious area inside can accommodate anything from irreplaceable documents to bulky family heirlooms or other valuables. As long as you bolt down the safe, you can rest assured that all your precious items are securely protected.
Buy On AmazonBuy On Walmart
Built with robust construction and offering all the essential security features, the Paragon Lock & Safe 7775 home safe stands out on this crowded market. It's equipped with two large compartments divided by a shelf. There's soft padding on the bottom to keep your jewelry safe with no scratches. Protection against thieves is guaranteed by the thick 11 gauge solid steel design of the home safe. It's powder-coated for extra durability while anchor bolts are included.
Operating this safe requires the creation of a secure password entered through a programmable electronic keypad. The hinges are specially designed to prevent tampering and deter any burglary attempts. One slight drawback to keep in mind is the fairly thin design of the safe's door. The sheet could've been thicker but at least the walls of the box make a more durable impression. Taking into account the money spent, this is a decent option to get some peace of mind when storing valuables in your home.
Buy On Amazon
If you're looking for a superior level of protection for your handgun, check out this biometric home safe made by Verifi Smart. It packs a cutting-edge fingerprint sensor that's much more responsive and reliable compared to cheap options on the market. It features advanced TouchChip technology designed for quick access in an emergency. The biometric locking system is powered by batteries and uses self-diagnostic tests to ensure adequate functionality at all times.
There's an LCD that shows the battery status while alerts let you know about the need for a replacement. You can also count on reliable tamper alerts that are saved in the safe's memory to stay informed about any unauthorized access attempts. Aside from a handgun, the safe isn't very large so it's not very practical for storing lots of valuables. However, you can add a few small items such as jewelry or documents. The adjustable LED light is another welcomed feature.
Buy On Amazon
If you need some serious security, take a look at what the Paragon Lock & Safe 7750 wall safe has to offer. Aside from the advantage of having a wall safe which can be kept hidden more easily, this model also provides great protection against burglars. It's built with heavy-duty steel and sports hidden hinges that won't allow intruders to get in.
Inside the safe, you will find a padding designed to protect delicate items like jewelry which are prone to scratches. To maintain the best level of security, it's recommended to think carefully about the placement before installing the safe. Try to find a spot in your home that's as inconspicuous as possible. After you add all your important valuables, just create your secret PIN code and keep the keys close at hand.
Investing in a wall safe like the Paragon Lock & Safe 7750 might seem daunting at first when you consider the extra work required to install it. Still, if you value security above all else, you can't go wrong with the way this home safe is built. It offers great protection against unauthorized access and can fit in multiple environments including your office or home.
Buy On Amazon
One very powerful option if you're looking to get your hands on a high-quality home safe comes from Viking Security. Their VS-50BLX model can pose a great challenge even to highly prepared burglars thanks to its advanced deadbolt locking system. This safe relies on a biometric reader for access and the body is constructed out of the toughest steel with military powder coating.
As this model uses a biometric reader, you will be expected to place your finger on a sensor to read your fingerprint whenever you wish to access the contents of the safe. You can add more fingerprints in the system's memory if you wish to extend access to other persons, and that could be very convenient. When it comes to durability, this unit doesn't disappoint considering the two anti-prying insertion slots and the seamless welding of all the components.
Some bonuses of this home safe to be aware of are the fully carpeted interior and a built-in LED light. The ample space inside is nicely complemented by the addition of adjustable shelves to organize different valuables. An excellent home safe in all regards, the Viking Security Safe VS-50BLX is worth the expense if you prefer biometric security and a premium construction.