This post may contain references and links to products from our advertisers. We may receive commissions from certain links you click on our website. As an Amazon Associate Rhythm of the Home earns revenues from qualifying purchases.
Please consider making a donation if you like our article. Our website depends on donations from visitors like you! Share this article:
If your garage seems to get cluttered too easily, that's a sign that you need a way to organize it more efficiently. An excellent solution is to choose a capable garage storage system designed to help you save time when looking for a particular item. It's also great when it comes to making a clean-looking workspace. If you feel like it's time to get rid of the mess in the garage, this article can help you.
We've assembled a list of the most cost-effective storage systems that can turn your garage back to a functional and organized space. To get the most out of your garage, it's important for objects to occupy as little space as possible. That's especially true for smaller garages which can get cluttered more quickly.
While there are many solutions for getting rid of the mess in the garage, it's safe to say that investing in a storage system can do wonders in most cases. Because not everyone's garage has the same items and the same level of clutter, this list of products has been created with flexibility in mind. All these storage systems have great potential to help with a messy garage. It's all left to you now to see if one of them catches your attention – if it matches your budget and particular case better. You might also be interested in our articles about the best multi-tools and the best nail guns.
Buy On Amazon
An excellent way to become more organized in your garage is by choosing the Seville Classics 5-Tier Shelving Rack. This standing shelf unit features UltraZinc plating, extremely sturdy construction, and casters for flexible positioning. While this model can work great as a food service storage rack, it's versatile enough to use it for various applications, like organizing items in your garage.
Assuming items are evenly distributed, this shelving system is capable of handling 300 pounds of weight per shelf. There's also plenty of room for making changes in the configuration of the shelves as they support adjustments at 1" increments. The commercial-level durability of the construction means this is an ideal way for long-term storage of garage tools. The addition of casters can help with the portability, but there's also the option to use leveling feet for permanent positioning.
When you take into account its organizing potential, the Seville Classics 5-Tier Shelving can be an essential system for decluttering your garage. The UltraZinc plating guarantees resistance to common problems like corrosion meaning that these shelves represent a powerful solution for all kinds of garage storage needs.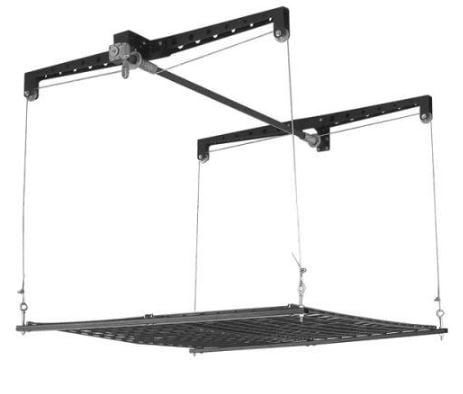 Buy On Amazon
The Racor PHL-1R Pro HeavyLift represents a great solution if you need a roof-mounted rack for your garage. This model features a simple-to-use pulley system and can hold a maximum of 250 pounds of weight. You can store lots of items in this ingenious way without needing a ladder to access them. There's a lot of space to be gained if you choose such a convenient storage platform.
The whole system relies on heavy-duty beams to support the weight and you can count on this platform to securely store your garage items. If you have a particularly tall ceiling, it's worth noting that this model is designed to be lowered 8 feet to fit in various environments. Thanks to a powerful safety lock, the load is stabilized when it's getting raised to prevent any accidents. Using the winding crank has a pretty quick learning curve.
There are many ways to store items in your garage, but using the Racor PHL-1R Pro HeavyLift is among the smarter methods out there. Factoring in all the features, the conclusion becomes clear. This is a very convenient garage storage system that's relatively easy to assemble. Just make sure you follow the safety instructions carefully to take full advantage of the extra space you gain in your garage.
Buy On Amazon
Storing lots of various items in your garage can be a daunting task if you don't have the right storage system. Seville Classics offers many high-quality wheeled racks to consider for this purpose and a very appreciated model is this 7-Tier system with 22 polypropylene bins. There's plenty of variation available for the bins as you can also select them in blue and yellow colors (24-bin racks) with M, L, and XL sizes.
Garages can be really dry environments so it's worth mentioning that these shelves received NSF certification. They're great for commercial needs, but they can do wonders for individuals who need a powerful organization tool in their garage. Durability is key with this kind of storage system, so the manufacturer added platinum epoxy protection to face difficult conditions without the risk of corrosion.
To boost the organization potential even further, this system includes labels for identifying items and bin dividers to create specific compartments. Of the 22 included bins you've got 12 medium, 6 large, and 4 extra large ones to accommodate those bulkier objects. All in all, Seville Classics did a great job with this 7-Tier garage storage system as it provides powerful storage, easy mobility, and overall flexibility.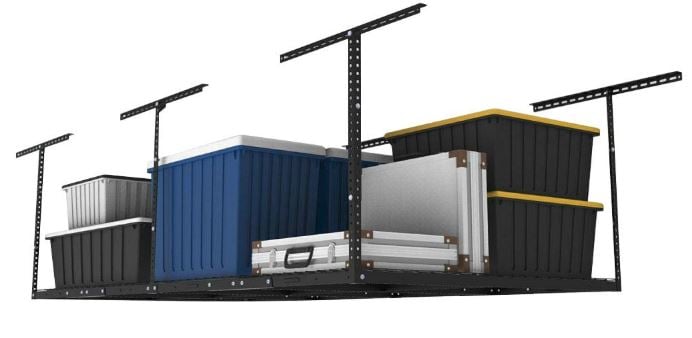 Buy On Amazon
Storing items overhead has lots of advantages. Aside from creating more room on the floor, you can also keep delicate items safe from water damage. A great system to consider comes from Fleximounts. Their 4×8 storage rack for the garage has been specifically designed to store seasonal or items that you use less frequently. The hardware is solid enough to handle up to 600 pounds.
Your number one concern when considering this type of garage storage system should be safety. This is a structure that's placed overhead after all. To dispel your worries, it's important to note that this model uses a more reliable wire grid design which means the overall structure is more stable. The manufacturer selected top quality screws and bolts to ensure a secure fit to any garage ceiling.
The cold-rolled steel construction has been tested to hold a lot more than its capacity so you can rest assured that your items are safe. Adjusting the height is easy as you have a relatively wide range of 22 to 40 inches to get the desired storage results. Considering how it simplifies the whole organization process tremendously, the Fleximounts 4×8 storage rack is recommended for anyone whose goal is to have a decluttered and clean garage.
Buy On Amazon
If you plan on creating a dedicated panel in the garage to store various tools and sports gear, check out the Gladiator GAWA24SKRH Accessory Kit. This is an important component that will work nicely together with a panel for providing support to all your favorite items. While you can always get the necessary hooks and basket supports separately, getting a complete kit like this is more cost-effective.
Separating and organizing garage tools and other hardware is a breeze with the help of this kit. Its versatility shouldn't be underestimated as it can revolutionize the look of your garage wall. All the elements in this kit such as bins and wall hooks work best with the Gladiator GearWall panels. You can start enhancing the storage space right away thanks to a straightforward installation process.
The Gladiator GAWA24SKRH Accessory Kit can easily cover all your storage needs. Aside from smaller hooks, you get two Utility hooks that boast 50 pounds weight limit each. The mesh basket has a good holding power of up to 35 pounds and can be helpful to place items that aren't easy to hang. All in all, there's a solid variety of hooks in this kit to fully justify the cost.
Buy On Amazon
Anyone who's looking to add a reliable pegboard in their garage shouldn't miss the Wall Control 30-WGL-200GVB. This is a tool organizer that's much stronger than standard pegboards to be able to hold more items. It can accommodate various hooks and shelves and some slotted accessories are included. There's great flexibility potential in this USA-made pegboard.
One aspect that will be appreciated by many is the powerful personalization potential. You can choose this pegboard in different styles and colors such as black/black, galvanized/black, and galvanized/red. The panel is magnetic and immediately after handling it, you can realize that it's made with durability in mind. The hook system is secure allowing anyone to create various mounting options.
There are few more powerful ways to organize your garage than investing in a high-quality pegboard. If you're ready to take the next step in decluttering your garage, the Wall Control 30-WGL-200GVB should fit you like a glove. The cost is fairly reasonable as well, though you should probably get a separate kit of hooks and brackets as the one included can feel too limiting.
Buy On Amazon
Building the garage storage system of your dreams doesn't take too much effort if you choose a model such as the Rubbermaid FastTrack. This is an All-in-One Rail and Hook kit that can be assembled in a matter of minutes thanks to the supplied hardware. It's a very powerful tool for those garages where space comes at a premium.
This garage storage system can be installed without too much hassle. The only somewhat difficult part is the initial step of mounting the rail on the wall. Once that's finished, you can start adding various accessory hooks. This kit contains a total of 5 hooks with different purposes, but you don't have to limit yourself to that. The great news regarding this system is that it's fully configurable to reach your organizational goals with a more personalized approach.
Using your tools and garage equipment can now become way more enjoyable when you have such a reliable system to secure your items. Taking into account the cost, the Rubbermaid FastTrack is a powerful combination of rail and hooks to keep the essential tools close at hand. This is the kind of professional upgrade you can make for your garage without costing a fortune.
Buy On Amazon
Another overhead garage storage rack that can make some valuable room in your garage is the NewAge Products 40151. After you go through the installation process, you can take advantage of 104 cubic feet of space to add all kinds of items destined for long-term storage. Thanks to a powder-coat finish and a durable construction, this storage rack can handle more extreme temperature variations and boasts a 600 pounds weight capacity.
The garage storage system is available in two color options – white and hammertone gray. No matter what shade you choose, this rack can be a huge help to reclaim precious garage space. You can get all kinds of items such as bins and boxes away from the ground to create a more functional area. It's possible to install this storage system even as low as 18 inches from the ceiling to better suit your needs.
What's great about this model is that you can expand the functionality even further by adding separate accessory kits. Place some multi-purpose hooks, J-hooks or hanging bars for creating the ultimate organization experience in your garage. The only drawback of the NewAge Products 40151 storage rack is that it relies on grade 5 lag bolts as opposed to other models that use the stronger grade 8.