As an Amazon Associate I earn from qualifying purchases.
If you're looking to attract wild birds into your garden, the easiest way is to install a great bird bath. These products come in different styles and designs to blend nicely with the décor of your yard. You can even find a bird bath to fit a smaller area if space comes at a premium in your garden. Bird baths provide birds an excellent opportunity to drink, clean themselves, as well as socialize with other birds. Regardless of the one you choose, it's important to keep in mind that you have to do regular maintenance so it doesn't become just a garden ornament filled with dirty water.
An ideal bird bath should be well-designed to allow more types of birds to enjoy the water while also maintaining a good balance with your personal aesthetic and cleaning convenience. Rougher materials like stone or concrete are often the preferred choices as they're more comfortable for birds, but they come with their disadvantages such as increased algae growth. You can also find some heated bird baths to accommodate colder regions. Let's take a look at the following bird baths that have been chosen for their high-quality designs and materials as well as overall cost-effectiveness.
Best Solar Bird Bath
Buy On Amazon
One of the most convenient solutions if you want a bird bath is to get a solar unit. This eco-friendly model from Solatec relies exclusively on the energy of the sun to create a pleasant water fountain effect. It's versatile enough to be used for different kinds of applications including as a bath for the local bird population. The solar pump is also quite attractive and won't disappoint in terms of user-friendliness.
Functionality-wise, this is a fairly simple water pump yet it comes with four nozzle heads for different sprayer styles. You can change the height of the rising water in multiple patterns while the maximum is around 12 to 20 inches. To ensure the best operation for this unit, it's important to find a sunny spot where it can get an adequate charge. You can also put the pump directly in the water to float.
Best Pedestal Bird Bath
Buy On AmazonBuy On Walmart
Pedestal bird baths are preferred by many people who want to create a little bird sanctuary in their garden. Check out this elegant model from Best Choice Products that boasts an antique copper finish which gives off a strong vintage vibe. There are lots of little details such as the Fleur-de-Lys accents and perforations that together create a very attractive product. Aside from its functional purpose, it can also serve as a great garden décor piece.
The bird bath might have some problems with really bad weather conditions. If you live in a windy area, it's recommended to increase the stability of the structure by adding sand or water to the base of the pedestal. Although it gives off a metal vibe, this unit is built using a durable type of resin. The depth of the water bowl is 2 1/2 inches which should be ideal for most birds that you wish to attract in the garden.
Best Budget Bird Bath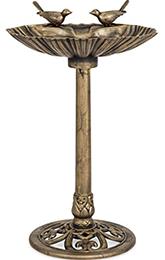 Buy On AmazonBuy On Walmart
This affordable bird bath from Best Choice Products adds a new decorative layer compared to similar pedestal units. The antique gold basin has sparrow statues for a charming visual effect in the garden. It might also be helpful to create an inviting area for real birds to show up and enjoy the water. The brushed gold finish is beautifully complemented by the baroque detailing.
Having birds in your yard can provide some general benefits to the area like aerating the soil and removing bugs. This bird bath can be an ideal product for this purpose and you can also take advantage of its stylish design to decorate your garden. Despite the use of lightweight polypropylene plastic, this model doesn't give off a cheap or fake feel. The durability level is decent if you use the included ground stakes and add some extra weight to the base. All in all, this one is worth the minimal investment.
Buy On Amazon
Antique copper pedestal bird baths are highly popular options if you wish to attract birds into your garden. Take a look at this affordable model from Gardman. The design is so realistic that people can easily mistake it for real metal. Thanks to an ideal 2.5″ depth, you can let even smaller birds bathe without difficulties. Smartly placed "cut-outs" will enable the birds to perch more conveniently.
There's no assembly work that you need to do when it comes to this model. Although optional, it's recommended to add some sand to the base for a bit of extra stability of the bird bath. The resin used as the main construction material has frost resistance and can face most outdoor conditions. Due to the addition of decorative accents, this pedestal bird bath can easily bring some visual interest to the backyard. A solid all-around model, this antique copper piece from Gardman is strongly recommended for the money.
Buy On Walmart
Another well-designed eco-friendly piece is the Smart Solar Somerset bird bath. Water circulates with the help of a pump powered completely by the sun's rays. This is an ideal piece for outdoor use due to its sturdy wrought iron stand. The Verdigris bowl offers a maximum depth of 2 inches so this means it's a good bath for smaller birds.
As opposed to other models that rely on low-cost materials, this bird bath uses glass fiber reinforced concrete to create an attractive bowl for any birds. The solar power ability is practical and works just as intended. The only downside is that it makes this model more expensive. It's a larger investment initially but it's certainly worth it if you consider the lack of operating costs. Just find the right spot to install it and let the birds enjoy their new source of water to drink and bathe.
Best Heated Bird Bath
Buy On Amazon
Most bird baths can only be used in the warmer season, but if you purchase a heated unit, you can prevent the water from freezing. Here's a cost-effective model from Allied Precision Industries that features thermostatically controlled electrical heating. This is a great solution for the colder times of the year but keep in mind that this bird bath doesn't include a stand or pedestal base.
You don't have to worry about any assembly process for this model which is always a welcomed feature. Although it lacks the stand or pedestal base, the bird bath bowl provides an adapter clamp which offers flexible mounting options. The rim has been specifically designed to stimulate birds to use the bowl for perching. The depth of 2″ lets all kinds of birds enjoy a pleasant bath in your garden.
Best Ceramic Bird Bath
Buy On AmazonBuy On Walmart
With the help of a high-quality bird bath, you will be able to enjoy the presence of birds in your backyard. This inviting model from World Source East has a durable ceramic design available in different colors such as light blue, light green, and ivory. As opposed to other models on the market, this model is designed to handle colder temperatures better given how it's frost proof to -4° F.
The classic design works very well to create a beautiful focal point in your backyard. The colorful glaze isn't just for show though as the bird bath can be kept clean more easily compared to other models. This bird bath scores pretty high on durability considering the how it's been fired in a gas kiln. Ceramic products are still a bit susceptible to freezing temperatures, so it's recommended to keep it indoors during the harsh winter weather.
Buy On Walmart
Ceramic bird baths offer both superior durability and more interesting designs. This Alpine Corporation unit features two bird figurines to add more character to your bird bath and enhance the look of your garden. The strong construction of the pedestal makes it highly unlikely for the entire structure to topple over. Another durable detail is the use of ceramic that's resistant to the elements.
Feathered friends will definitely make an appearance once you install this beautiful bird bath. The turquoise design adds a charismatic ambiance to any area while the shallow bowl permits even smaller birds to enjoy a bath. Assembling this bird bath involves just connecting the two main pieces. The vibrant color looks just as you'd expect from the pictures. Alpine Corporation designed a stylish ceramic bird bath at a fair cost.
Buy On AmazonBuy On Walmart
A great decorative bird bath, this Best Choice Products model comes with an interesting lily leaf design for its bowl which forms a stylish combination together with the ornate detailing of the pedestal. Despite the metal appearance, this bird bath is crafted out of weather-resistant resin which can handle exterior conditions all year long. This unit is fairly sturdy but it's recommended to place some sand to the base to keep it firmly in place.
With a total water capacity of 0.78-gallon, this bird bath won't require maintenance very often. Whether you choose to place it on the patio or in the garden, this model can contribute to an elegant atmosphere with its Fleur-de-Lys decorative accents. The Verdigris finish is both beautiful and functional as the resin should handle frost without problems. There are two color choices for this lily leaf pedestal bird bath – copper and green.
Buy On AmazonBuy On Walmart
Vibrantly designed with a blue finish, this bird bath from Smart Solar combines the eye-catching aesthetic of ceramic with solar capabilities to keep the water pumping in an eco-friendly manner. While this model stands out from others due to its premium features, it's important to mention that you can expect to pay a higher cost for such a stunning bird bath.
Birds will start visiting your backyard more often with the help of this stylish bird bath. The shallow bowl gives them a great opportunity to drink water and bathe. There are no upkeep costs to maintain the fountain thanks to the solar power. The quality of the unit's ceramic construction can exceed your expectations. Despite representing a considerable investment, this Smart Solar bird bath is worth the money for its high-end design and capable features overall.