This post may contain references and links to products from our advertisers. We may receive commissions from certain links you click on our website. As an Amazon Associate Rhythm of the Home earns revenues from qualifying purchases.
Share this article:
If you have health problems caused by airborne allergens or microbes, getting a capable humidifier which covers the whole house could be a lifesaver. Humid air has many benefits and not just for you, but for your furniture as well. Certain finishes can be affected by extremely dry air. There's also the issue of intensely cool air during the winter season. When you add moisture in the air it will feel more comfortable, so you might be able to save some money on winter heating.
There's no doubt about the benefits of having a more humid air inside your home, but how can this be achieved? Not all humidifiers you find on the market can get the job done effectively and some might even make matters worse by creating too much humidity. This is why you need to steer clear from unreliable options and invest only in those high-quality humidifiers which encapsulate the best features per price ratio.
A good rule of thumb to remember regarding whole house humidifier is that they aren't miracle machines. Many manufacturers make health-related claims which are more or less accurate. The impact of a humidifier in your home can be significant enough but look for other aspects as well to make sure you're getting a dependable product. In this article, we'll analyze the best whole house humidifier when it comes to everything from user-friendliness, performance, durability, and overall value for the money.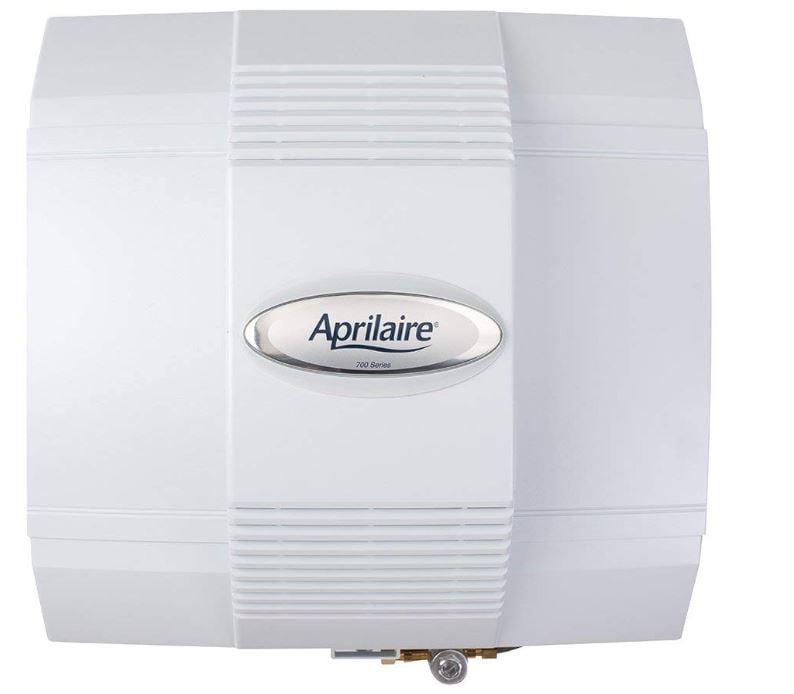 Buy On Amazon
The problem of excessive dryness in a large home can only be tackled by getting a sufficiently performant humidifier. The Aprilaire 700M is an excellent example as it's capable of making the air more humid in a maximum area of 4200 square feet. Easy to use and maintain, this whole house humidifier allows you to create a more comfortable environment which can be particularly helpful during the winter.
This is the manual version of the automatic Aprilaire 700 so that means you'll have to manage with a manual humidistat. It's not really that difficult, but you need to make manual adjustments to your settings according to changing weather patterns. The unit is capable of delivering a large output of water with a superior evaporation feed. Installing this model can be complicated as it's fan powered, but with some professional help, you shouldn't run into issues.
There are lots of benefits to implementing such a reliable humidifier in your home. Allergic persons will definitely notice a difference in their levels of comfort and other side effects include relieved dry skin and smaller heating bills. Overall, the Aprilaire 700M is an ideal machine to keep a comfortable level of humidity in your whole house. This is an outstanding humidifier for its price.
Buy On Amazon
For those who don't want to make a huge investment, there's a very cost-effective humidifying solution coming from AirCare. Their MA1201 model delivers evaporative humidification through a console-style machine able to reach a surface area up to 3600 square feet. It packs an accurate digital humidistat, 4 fan speeds, casters, and a 3.6-gallon tank capacity.
Using this humidifier is a breeze thanks to the intuitive digital controls. By adjusting a few settings you can quickly reach the desired level of moisture for your whole house. Some neat settings are the automatic shut-off and the water refill indicator. While initially, you might have to do some calibrating work until you get to the best settings for your home, it will definitely pay off in the end.
Like similarly-priced machines, this portable humidifier can be quite loud so that might be an issue for some people. Thankfully, there's a silent mode which seems to alleviate some of the noise. The build quality is nothing exceptional, what really matters is that this machine gets the job done and keeps a comfortable moisture level. In conclusion, the AirCare MA1201 delivers solid quality for its price enabling anyone with respiratory problems to breathe more easily in their own home.
Buy On Amazon
Aprilaire has lots of high-quality humidifiers to meet the needs of a large house. If your home is not that big and you feel like it would be a waste to purchase a model that's too powerful you could try the 500 Series which is basically the economy version of the more powerful 600 unit. You can take advantage of the same advanced technologies at a more reasonable price.
This humidifier has a maximum coverage area of 3000 sq. ft. which is still pretty decent. Setting up the machine won't be difficult thanks to the addition of a built-in bypass damper which translates to less installing work. As the damper has clear separate settings according to the warm or cold seasons, it will be easier to install without relying on guesses.
With the help of its Automatic Digital Control system, you can create moisture in the air based on the weather outside. At a glance, you can check to see if the humidifier is operating correctly, the current level of moisture and whether the machine requires maintenance. All in all, the Aprilaire 500 represents a promising investment for the air in your home.
Buy On Amazon
A model that manages to strike a good balance between humidifying capacity and cost is the AirCare MA0800. This budget-oriented unit can handle a maximum of 2600 square feet and promises an easy operation for your convenience. At 2.5 gallons, the tank has a decent capacity, but keep in mind that you will probably have to refill it more often if you live in a dry climate.
Some great automation features are the humidistat which makes the right adjustments by itself to ensure a consistent level of humidity in your entire home. The unit is a bit loud, but you can activate the quiet mode while also toggle between three fan speeds. Another convenient ability is the automatic shut-off. This allows you to let the machine work until there's no longer any water in its tank.
As this is a console-style humidifier, it will occupy some space in the room, but the enhanced portability enables users to move it around to find the best placement. Whether you have sinus problems or wish to reduce flu incidence, the AirCare MA0800 deserves a spot on this list of the best whole house humidifiers. It makes for a much more comfortable breathing environment without breaking your budget.
Buy On Amazon
While technically speaking the Vornado Evap40 is more of a room humidifier it can still be considered an excellent machine to cover a smaller house. It works in a very effective manner thanks to its evaporative humidification technology and can cover a reasonably large area of up to 1000 sq. ft. One thing we like a lot regarding this humidifier is the way it keeps the moisture levels truly consistent without putting you at risk of too much humidity in the air.
There are two humidifying filters used by this machine's system which add the much-needed moisture in the air. The way your space receives the humid air is also important. It needs to circulate throughout the room and cover a large surface so, for this reason, the machine comes with a powerful fan with large blades. This is where the Vortex action technology shines as it can humidify approximately four gallons in a full day.
If you value humidifying efficiency above all else, this unit will be a very satisfying choice. It comes with a built-in humidistat which requires manual adjustments for moisture levels. The included control panel allows you to change some options such as the speed of the fans. Anyone who suffers from asthma, allergies, or other respiratory problems should take a closer look at this model.
Buy On Amazon
Another unit worth taking into account from Aprilaire is the 600M model, a durable and lightweight humidifier with lots of attractive features for its cost. This whole-home solution brings you the ability to control the level of relative moisture in the air which can have a beneficial effect in many ways. For example, asthma symptoms can be alleviated but you can also notice an improvement if you suffer from dry skin.
The 'M' in the name of this model refers to the humidistat which operates in manual mode which means you have to adjust the humidity settings yourself. While that could be considered less than ideal compared to an automatic model, there are some advantages too. A manual humidistat is usually cheaper and you won't have to make more than a few settings changes in a year.
Performance-wise, the 600M works just like you'd expect from Aprilaire. It's efficient and quiet with a hassle-free maintenance process. The evaporation capacity is solid and the 4000 square feet coverage is more than adequate for most homes. One problem with this unit is the installation which usually needs to be done by a professional. That can be costly, but overall this product represents a valuable investment for your health.