This post may contain references and links to products from our advertisers. We may receive commissions from certain links you click on our website. As an Amazon Associate Rhythm of the Home earns revenues from qualifying purchases.
Share this article:
While regular vacuums are practical for dry applications, you will need additional tools to handle messy jobs involving liquids. Thankfully, you can purchase a versatile vacuum nowadays that's able to deal with both dry and wet materials. It lets you clean spills and various messes more efficiently increasing your productivity in either home or commercial settings. Many modern wet vacuums are also equipped with advanced technologies that make them superior to traditional vacuums.
With the help of a reliable wet/dry vacuum model, you will be able to breeze through many household cleaning tasks. The extra flexibility means the tool is also practical for cleaning the garage or some outdoor areas. Portability could be an important factor to consider for a wet vacuum if you plan on carrying around the unit very often. Another relevant aspect is the noise. Due to the increased performance required for handling liquids, this type of vacuum can make a considerable amount of noise. Try finding a quieter model if that matters for your needs. Check out the following selection of premium wet/dry vacuum cleaners that provide excellent value for the money.
Best Wet Home Vacuum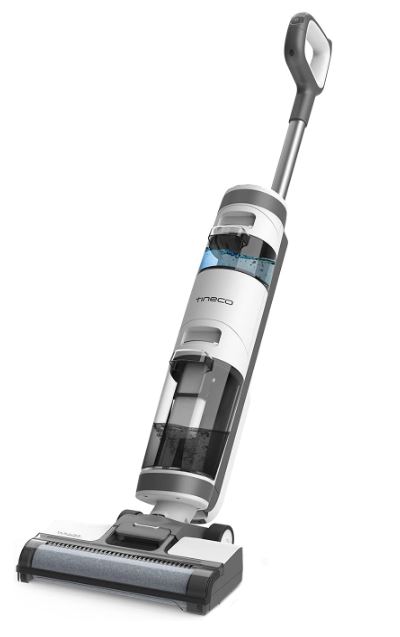 Buy On AmazonBuy On WalmartBuy On Best Buy
If you're looking for a high-performance wet vacuum cleaner, Tineco iFLOOR3 represents a solid choice. This machine simplifies your cleaning chores by taking care of both vacuuming and floor mopping. It's powerful enough to pick up all kinds of difficult dirt and debris. The vacuum cleaner can deal with pet hair and messy liquid spills. It's suitable for a wide range of floor types including vinyl and tile.
Although it packs quite a lot of suction power, this vacuum doesn't make excessive noise. It's designed for quiet cleaning and maximum convenience. The machine operates cordlessly so can take advantage of superior freedom of movement. It can last for almost half an hour on battery power. The upright style together with the comfortable handle of the vacuum ensures proper ergonomics during the operation. Another useful ability is the self-cleaning feature that removes the hassle of cleaning dirty rollers by hand.
Best Wet Car Vacuum
Buy On AmazonBuy On WalmartBuy On Home Depot
Built as a versatile utility shop vacuum, this wet/dry Armor All model has many attractive features for the cost. It's equipped with a 2.5-gallon tank for collecting an assorted range of dry or wet debris. Thanks to its strong 2HP motor, this vacuum cleaner has lots of great applications around the household or in the workshop. It's highly recommended for cleaning cars or trucks because it's lightweight and packed with different nozzles for added flexibility.
Although it's primarily designed as a wet/dry vacuum cleaner, the unit can also be quickly converted to a blower when needed. With the help of an auto shut-off function, there's no risk of overflowing the vacuum. For added portability, the car vacuum includes integrated accessory storage. The cord measures 10 feet to ensure a reasonable level of mobility. Considering the affordable cost, this is a solid all-around vacuum cleaner for both wet and dry applications.
Buy On AmazonBuy On WalmartBuy On Best Buy
The Bissell Crosswave is a reliable tool if you want to vacuum and wash simultaneously when cleaning the floor. This is a wet/dry vacuum designed with separate tanks for clean water and dirty water. That means you can always ensure that your floors will be freshly washed. One of the main highlights is the multi-surface brush roll. It rotates at a very fast speed making the machine much more reliable at washing the floor compared to traditional mopping.
The vacuum cleaner is engineered in an upright style with swivel steering for superior maneuverability. It can reach more difficult areas to clean up spills or messy debris. In terms of floor type compatibility, it's worth mentioning that Bissell designed this model for a vast range of floors such as laminate, sealed wood, and tile. It's also a practical machine to clean area rugs. For ideal cleaning results, make sure you follow the correct operating instructions to avoid leaving behind dirty streaks.
Best Wet Shop Vacuum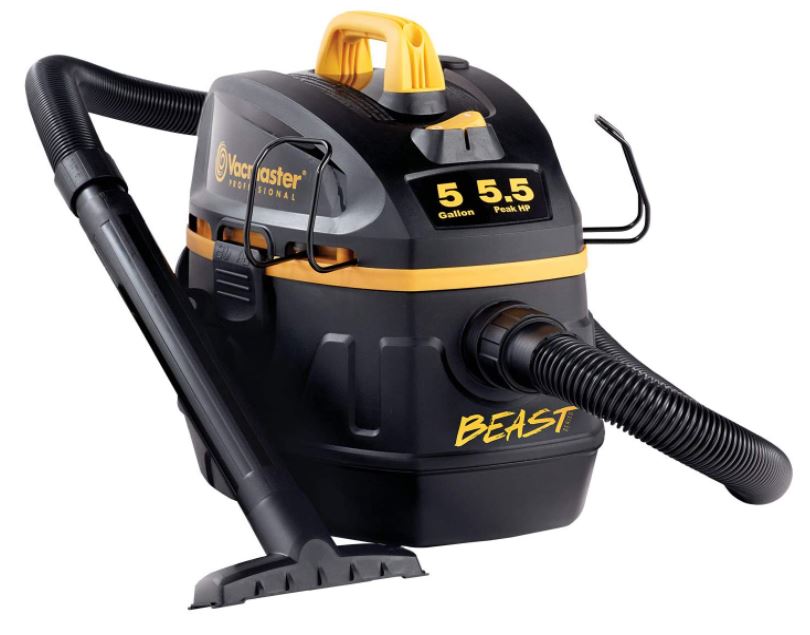 Buy On AmazonBuy On Walmart
A professional solution for cleaning jobs on the go, the Vacmaster Professional boasts many solid features to fight against both wet and dry messes. Despite packing a punch with its 5.5HP motor, the vacuum still manages to ensure proper mobility for the user. It's reasonably lightweight and includes onboard storage for efficient portability. The unit is equipped with an 18-foot power cord for expanding your reach. Thanks to the dedicated port, the vacuum is also able to convert to a blower.
When it comes to cleaning capacity, this machine offers a 5-gallon tank built with anti-corrosion polypropylene material. In terms of versatility, the vacuum is able to cover multiple cleaning duties, whether wet or dry. It arrives together with a selection of 8 accessories such as a car nozzle and a utility nozzle. The lack of caster wheels might be a problem for some shop workers but it's really not a big deal considering the overall value for the money.
Best Portable Wet Vacuum
Buy On AmazonBuy On WalmartBuy On Home Depot
With a solid wheeled system and flexible accessories included, the Craftsman portable wet/dry vacuum shouldn't be overlooked. It has great potential in dealing with various cleaning tasks around the house, garage, and job site. Thanks to its oversized drain, the vacuum is especially suited for cleaning and emptying liquids. The 4.25HP motor offers generous suction performance while the blowing function contributes to some extra versatility.
While this isn't the most lightweight vacuum cleaner you can find, it's perfect for many heavy-duty jobs that require portability. This is because the added caster wheels that enhance mobility. The machine uses a cartridge filter that's easy to change and a classic dust bag. When it comes to accessories, Craftsman provides a set of extension wands and different nozzle styles to tackle more cleaning tasks. In conclusion, any workshop environment would benefit from having this kind of reliable wet/dry vacuum cleaner.
Buy On AmazonBuy On WalmartBuy On Home Depot
DeWalt has a great reputation in the world of power tools. The brand is also a good choice if you're looking for a well-designed wet/dry vacuum cleaner for the shop. Check out this 6-gallon model that's mainly designed for small clean-up tasks. It's highly focused on portability considering the reasonably lightweight construction as well as the addition of rubberized casters for smooth movement. The machine features a 10′ power cord.
Although the 4HP motor doesn't feel like the strongest we've seen, it should cover most workshop needs without problems. The vacuum function is nicely complemented by a blowing feature to increase overall cleaning flexibility. With the help of a supplied crevice nozzle, you should be able to extract dry debris and liquid spills from areas that are typically harder to reach. A nice feature of this model is the particularly strong handle for easier carrying.
Buy On AmazonBuy On WalmartBuy On Home DepotBuy On Best Buy
Another decent choice for a wet/dry vacuum cleaner, this Stanley model offers multiple advantages to clean your house and workshop. It features a great capacity of 6 gallons while the 4HP motor can easily handle most cleaning applications. This is a 3-in-1 cleaning machine considering how it can suck up dry and liquid messes as well as work in blowing mode. The vacuum cleaner is particularly effective at dealing with water or wet spots.
It's equipped with buoy technology to maximize safety when absorbing liquids. The hose and all the related accessories can be stored directly on the unit to save space. Another great feature is the wheeled system of the vacuum that allows it to move around more conveniently. The casters are designed with a swiveling operation for maximum mobility. In terms of suction ability, the Stanley vacuum cleaner might not be that strong for very demanding workshop environments but it's worth considering for medium-duty cleaning jobs.