This post may contain references and links to products from our advertisers. We may receive commissions from certain links you click on our website. As an Amazon Associate Rhythm of the Home earns revenues from qualifying purchases.
Share this article:
Anyone who's serious about gardening knows that weeds are a pain to deal with. Even if you're carefully applying weed killers, those undesirable plants can resurface again and put competitive stress on the rest of the garden. Instead of the hard work involved in pulling weeds manually, why not consider a more efficient method to remove weeds? The weed torch is a very reliable tool that shouldn't miss from your weed management gear. It simply smokes out any unwanted plants in your garden, quickly eliminating even the most stubborn ones.
There's no risk of introducing harmful chemicals because the weed torch runs on propane gas and can be conveniently operated manually. Although it's a small flame, the torch can be easily focused to fight against any weeds throughout your yard with very intense heat. Some models are designed to be more portable and simple to operate whereas larger weed torches can cover more heavy-duty needs. Choosing the best weed torch for the money isn't easy but this article should help you navigate the market of these products.
Buy On AmazonBuy On Walmart
Anyone who needs a highly reliable weed torch should consider this Flame King burner. It offers lots of attractive features at a reasonable cost. This propane torch is designed to make garden cleaning a breeze. It delivers 24,000 BTU thermal output while its canister is simple to refill. You can work comfortably with the help of its molded handle that offers a more solid grip.
If you wish to remove annoying weeds from your yard effortlessly, this torch provides a convenient method without the use of any chemicals. It can also come in handy for other purposes such as melting ice. Thanks to an integrated lighter, the torch is also practical to start barbecue grills. The long 33" reach allows for reliable weed control without affecting the health of your back.
Buy On Amazon
One powerful weed torch comes from Ausail. This propane-based model delivers an impressive performance rating of 50,000 BTU. It's also equipped with a more reliable stainless steel shell to withstand high-temperature flames. A single standard 14oz propane canister is required to enjoy chemical-free weed control for approximately one hour. Use the control knob to make convenient adjustments to the flame to handle different burning jobs.
Operating this weed torch doesn't take special skills. You simply need to release the gas and activate the ignition to start the flame. Keep the tool steady in your handy by gripping the ergonomic handle. Due to the use of a narrow torch head, you can handle lots of burning jobs that require extra precision. After the removal of any weeds, all that's left to do is to let the torch cool and give it some good ventilation.
Buy On AmazonBuy On Walmart
Easy to use and durable, the Red Dragon VT 1-32 C is an excellent solution for various weed control applications. As opposed to other weed torches out there that can be difficult to operate, this unit boasts a compact and lightweight construction to work in total comfort. The only required fuel source for this torch is a standard 1lb propane cylinder that needs to be purchased separately.
Despite its small and user-friendly design, the manufacturer made no compromises in terms of durability. The sturdy steel material gives it a premium feel to make weed removal a much more pleasant activity compared to manual pulling. Similar to its larger rivals on the market, the weed torch is equipped with an adjustable flame function and a reasonably long reach for added versatility. The tool arrives fully assembled to use right out of the box.
Best Portable Weed Torch
Buy On AmazonBuy On Walmart
Keeping the yard clean from weeds is simple when you have a powerful tool like this BISupply weed torch at your disposal. It can generate extremely hot temperatures of up to 3,000 degrees Fahrenheit so it's actually quite versatile to be used for other applications as well. You can cut materials or burn through solid ice with minimal effort. However, its main strength lies in being a reliable landscaping tool to get rid of weeds.
A propane gas tank is required as a fuel source for this torch gun. It doesn't feature one in the package so there's one extra purchase to be made in case you don't have the necessary gas tank already. The weed torch is made using tough stainless steel and provides flame control features for working on different jobs. While there's no supplied fuel tank, the torch offers a handy accessory in the form of a natural rubber hose that's certified to meet proper safety standards.
Best Long Weed Torch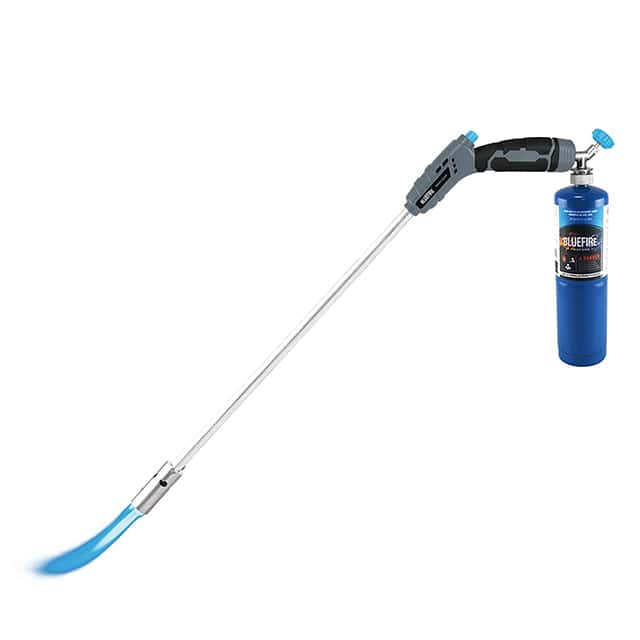 Buy On Amazon
There are lots of interesting weed torches on the market to consider but this long 32" model from Bluefire deserves more attention. It stands out thanks to its extra-long design to facilitate weed removal but it also provides many attractive features for the cost. The long reach makes a great combination with the overall ergonomic design of the tool. It's equipped with a self-ignition system that can be operated one-handedly.
This weed torch features an aluminum body that contributes to a lightweight experience. It can be maneuvered more easily to speed up your workflow when it comes to burning weeds away from the yard. Thanks to the easy-grip handle enveloped in quality rubber, this is also a highly comfortable torch gun to use for landscaping purposes. Standard fuel cylinders are required to benefit from the maximum output of 9,600 BTU per hour of the unit.
Best Heavy-Duty Weed Torch
Buy On Amazon
If you're searching for a heavy-duty propane weed torch, the Steinbrucke Bravex could be your best bet. This is a multipurpose tool that's designed with durable construction and cCSAus certification to maximize safety. The impressive heat output that reaches 500,000 BTU can serve lots of applications around the house, especially when it comes to clearing the yard from pesky weeds.
Although this product has a primary focus on performance and durability, user-friendliness hasn't been neglected. The torch is equipped with an ergonomic grip that boosts overall comfort. To let you work confidently, the weed torch has an advanced system that prevents the majority of propane to flow in case of a detected leak. Thanks to a brass valve construction and high-quality German seal ring, this weed torch is well worth the investment.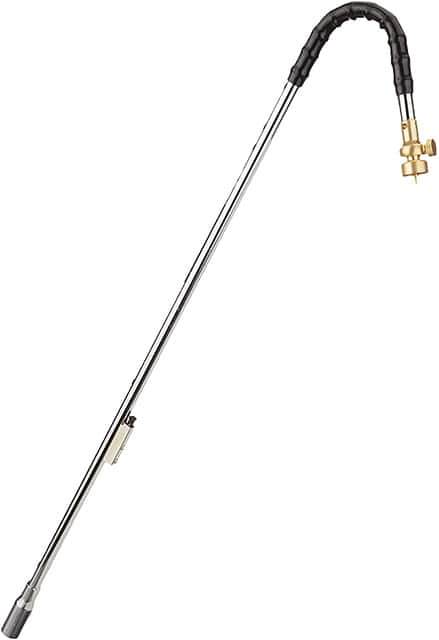 Buy On AmazonBuy On Walmart
Another great weed torch for the cost, the SPARC propane model finds an ideal balance between sturdy construction and a lightweight design. This utility torch offers a fairly long reach of 34" so you don't have to put in too much effort to easily burn the weeds in the garden. It's also a safer choice to keep you as far away from the flame as possible.
The output of 20,000 BTU is more than enough for most landscaping projects. You can conveniently toggle between different levels of intensity for the heat to adjust the flame to your particular needs. This weed torch is compatible with either propane or MAPP gas tanks. Just make sure you purchase the fuel source separately to be able to use the tool. In terms of construction quality, one great detail is the use of a slip-resistant handle and curved silhouette for extra comfort.