This post may contain references and links to products from our advertisers. We may receive commissions from certain links you click on our website. As an Amazon Associate Rhythm of the Home earns revenues from qualifying purchases.
Share this article:
If you're searching for a reliable machine to use for your vinyl cutting projects, the market can easily overwhelm you with so many options. To choose the right one you will need to somehow manage to balance speed with quality output. It's essential to look for machines that perform good enough to match your productivity level as well as your quality requirements.
Whether you're dreaming to start a business or simply wish to get your hands on the right tool for bringing your ideas to life at home, the following list of carefully selected products should help. Purchasing a vinyl cutting machine represents a considerable investment, particularly if you wish to get a more professional model.
What makes our selection worth checking out? The primary factor when assembling this list was cost-effectiveness. Being happy with your new vinyl cutting machine and getting your creative work done in the most accurate and efficient manner are definitely the most important aspects taken into account. A lot of research went into this article for your convenience as your buying decision will be greatly simplified. Without any further introductions, here are the best vinyl cutters available right now: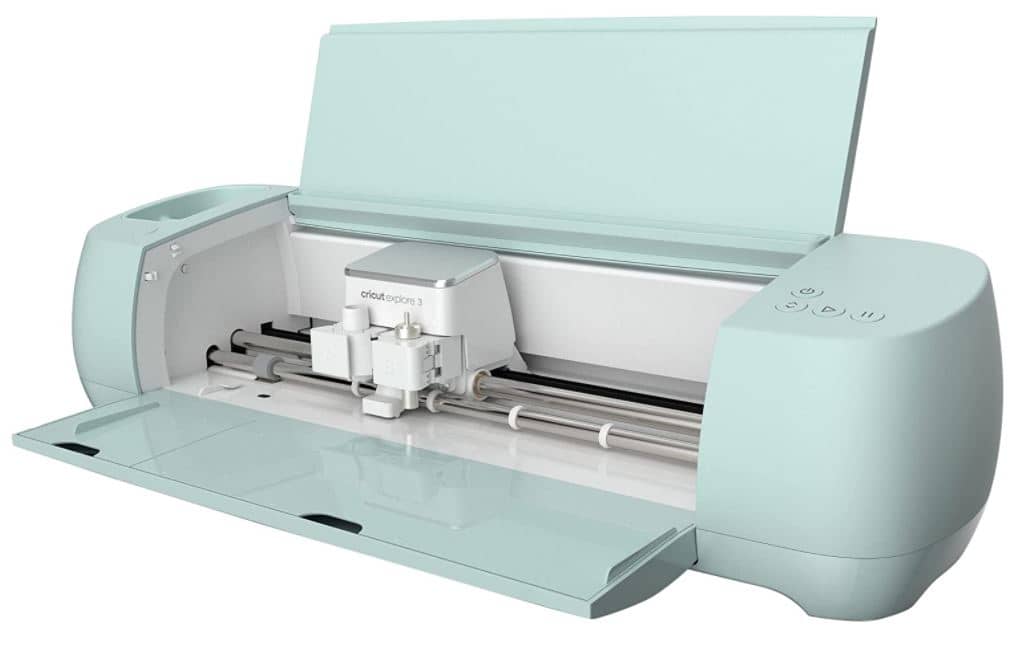 Buy On AmazonBuy On WalmartBuy On Home Depot
Cricut is one of the biggest names in the world of craft cutting and perhaps their most appreciated model is the Explore 3 which boasts a lot of capable features for a desktop cutting machine. This one is another beginner-friendly unit which simplifies your workflow with the help of wireless connectivity and an intuitive software.
In terms of performance, the machine stands out due to its impressive speed. You'll definitely like the 'fast mode' setting which enables users in a hurry to finish their projects in a more timely manner. There are also hardly any sacrifices when it comes to precision even when you're dealing with more complicated designs.
Vinyl cutting seems to be one of this machine's specializations, but it can easily handle more than 100 material types. One thing some people who were familiar with the older Explore Air 2 will notice is the increased noise of this machine. That extra speed plays a role in this. All in all, this machine seems to retain all the great features of its predecessor while improving the performance and adding a more modern look in multiple colors.
Buy On AmazonBuy On Walmart
The latest addition in the Cameo line from Silhouette, this model offers pretty much everything you'd wish for in a die cutter. Some of the most interesting upgrades over the previous version are the improved wireless connectivity, AutoBlade, and an improved user interface. For its cost, the Cameo 4 seems like a very reliable investment if you're searching for a vinyl cutting machine.
If you're a beginner in this craft, it's strongly recommended to get a starter bundle to be able to get creative right away. You don't just get access to many designs, but you can also learn how to use the machine thanks to the helpful guides and accessories. The question of extra performance and usability remains – would this die cutter be worth the expense over the older versions?
The Cameo 4 by Silhouette is definitely our top pick on this list considering its versatile capabilities and overall user-friendliness. It may lack powerful cutting power suitable for commercial-grade projects, but beginners will definitely have a blast with it. It's a very solid die cutting machine for a hobbyist who primarily works with light items such as vinyl and paper.
Buy On AmazonBuy On Walmart
If you're not satisfied with your regular hobbyist machine and need something closer to a professional vinyl cutter, take a look at the USCutter's MH series. Their 34-inch model has a lot more to offer for hobbyists that aspire to the next level for their craft. As its price indicates, it's still affordable enough for most people. This isn't really a commercial cutter, but it can truly deliver some impressive results.
Aside from vinyl, this machine won't have issues with cardstock, craft paper, and many other materials. The cutting capacity of its 34-inch blade is reasonable for the cost. Perhaps one of the strongest points of this unit would be the convenient software called VinylMaster Cut. It's designed to let you handle all manner of designing related tasks in the most efficient way possible.
This is a more powerful vinyl cutting machine, but it can be used by everyone. The learning curve is not very steep and thanks to its solid cutting performance, anyone can bring their crafting projects to life. Even small businesses can benefit from this USCutter machine as it has a larger cutting capacity. With a solid ratio of performance per price, this vinyl cutter could be an excellent choice for serious hobbyists or small business owners.
Buy On AmazonBuy On WalmartBuy On Home Depot
Another powerful competitor on the market for vinyl cutters is the Cricut Maker. This unit is very reliable when it comes to fabric cutting considering its premium rotary blade which makes use of both rolling and gliding to finish the job more effectively. One of the main advantages of this machine and the reason for its increased price is the superior cutting pressure.
The cutter has lots of performant features in store allowing you to save some precious time. This can be especially useful for small businesses where you have waiting customers. The rotary blade doesn't just move fast, it's also very precise to ensure the best quality possible for any crafting project. A disadvantage to consider for this model is the limited cutting space which could be a problem when working with larger designs.
Overall, the Cricut Maker is still a great machine despite its 12×24 inch cutting space. It's stronger in other regards and brings together many smart features such as computer and smartphone integration. The machine can also detect whether you're using the correct blade and arrives packed with a rich sewing library. Those who favor quality cuts above all else will definitely be satisfied with this machine.
Buy On Amazon
Those looking for a larger vinyl cutter and also have more generous budgets should consider the Roland GS-24. This is a high-performance machine designed for handling any project regardless of size. As you've probably guessed, this is the kind of vinyl cutter that feels at home in the shop of a small or large business. Although it's primarily intended for vinyl cutting, the unit can cut other materials just as well.
With the help of its 350 grams of blade force, this machine allows for a smooth workflow in any environment. One of the most sophisticated technologies integrated into this unit is called crop mark recognition. This is very useful when it comes to making precise cuts on loaded media. The quality of the hardware is definitely on par with what you'd expect from Roland.
The only downside of the GS-24 vinyl cutter would be figuring out how to use it. Learning to operate this machine is not really a simple task. The included software is powerful, but a little too complex for some. Those who are unfamiliar might get a little confused initially. Thankfully, there are also other resources such as YouTube videos which can help you with the set-up process. Once you finish this, the machine works nicely requiring minimal maintenance. If you wish for commercial-grade quality, this is the ideal vinyl cutter for you.
Buy On AmazonBuy On Walmart
The Brother SDX85C is an advanced vinyl cutting machine which comes with a built-in scanner. Scan your design using the generous space provided and then let the technology take care of the rest. The machine will be able to cut a wide range of materials to suit your project. It's an easy and fun machine to use which comes at a reasonable price.
If you're not yet confident in using your own designs, you can always try out one of the hundreds of built-in ones. A key feature of this machine is its versatility. It can take care even of the more complicated patterns as it cuts any intricate design with ease. The Japanese-designed blade works flawlessly, but keep in mind that you shouldn't expect a quiet machine.
There's a lot to learn when using this Brother cutting machine, but once you figure out how to operate it properly, the only limit left is your imagination. A well-rounded machine in terms of features per cost, the SDX85C can scan and cut your designs in no time. The mat can sometimes slip away, so you need to be patient when using it. This is the kind of tool that any crafter should have at home.
Buy On AmazonBuy On Walmart
If you prefer a more portable vinyl cutting machine, one of the best options to consider is the Portrait 2 by Silhouette. Despite having a smaller form factor compared to a standard home cutting machine, the unit performs nicely on multiple material types. The second installment in the Portrait series offers some welcomed improvements while maintaining a low weight.
The Cameo 3 is surely impressive with its AutoBlade, Bluetooth, and deep cut capabilities, but all these features are found on this smaller model as well. The Portrait 2 also arrives complete with the latest version of the Silhouette Studio design software. As expected considering the increased portability, this model has a more limited cutting width and its 210 grams of blade force don't sound very impressive.
That being said, the Silhouette Portrait 2 offers many reliable features for its cost and performs well on-the-go. You can wirelessly cut reasonably long and thick materials. While not as popular as the Cameo 3, this model shouldn't be missed if you have some space and budget constraints. A great tool to use in a small craft studio or for classrooms.
Buy On Amazon
Anyone looking to purchase a die cutter for their children will be pleased to know about the existence of a dedicated product for their needs. It's called the Cricut Cuttlebug and its main strong points are affordability and ease-of-use. It may not be suitable for intricate designs, but this hand-crank machine can do wonders for basic cutting tasks.
By far the most important aspect regarding this little tool is the simple way it can be operated. Older people with an aversion to complex technology and children with creative potential can start using it right away without too much hassle. It's a very fitting machine for anyone to learn what it takes to create fun designs. The performance is quite solid as the unit cuts cleanly with decent accuracy.
Most users of the Cuttlebug are probably not going to put the machine to work on complicated projects. Even if it's not designed to be used heavily, the vinyl cutter has a certain sturdiness to it which means you can safely use it for years without worries of breaking down. It's small and lightweight, perfect for lots of basic cutting and embossing jobs. As long as you respect its limitations, the Cricut Cuttlebug can serve you or your kids well.
Buy On Amazon
A vinyl cutter that looks very promising is the USCutter Titan 2. This 28-inch workhorse comes with an aluminum alloy construction, powerful software, and laser registration. Compared to its predecessor, this new model offers a quieter motor and some extra performance for truly professional vinyl cuts.
Whether you have a sign shop or wish to get to the next level in your crafting hobby, this machine seems capable enough to handle anything you throw at it. The cuts are clean and precise which is somewhat expected for a commercial-grade machine. What's more impressive is the level of consistency as various projects are handled with the same great quality.
The included software is decent for beginners, though more advanced users will probably prefer other options. There are hardly any disadvantages for using this machine when you take into account the robust construction, performance, and ease-of-use. It takes a bit of practice to get the hang of this vinyl cutting machine, but it will surely pay off in the end. This represents a safe investment for a more professional vinyl cutter.